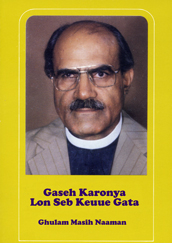 Keluarga kamoe jeumeulah jih na lapan droe, na kheueh ayah ngon ma. Peuet droe aduen lon meunan cit sidroe adoe lon dan lon keu droe. Ulon lahe di Jammu – Kashmir, nibak teumpat ma lon meulancong watee ilee, teuma gampong leuen ulon nyang si beuna jih na kheueh di Zaffarawal _ Sialkot. Indatu kamoe asai gobnyan di Mongolia, dan awaknyan jeuet keue toke tanoh nyang kaya leumpah na. Meunan cit ayah lon sidroe toke tanoh nyang kaya. Gobnyan geupula gandom rab ngon Nala Dek Krueng nyang ie jih ile tajam that watee musem ujeuen dan ji – ile bansaboh bineh – bineh meunan cit tanoh nyang na bak bineh – bineh nyan. Watee musem mupot hase gandom leumpah that jai sampoe kamoe hantom na kureueng gandom.
Keluarga kamoe jitamong nyang menaseb get dan hantom na teurasa kureueng sapeeue – sapaue. Meunan cit kamoe na nyang meubuet di blang ngon bak lading atawa lampoh. Gohlom na kamoe kalon ayah kamoe geumeubuet keudroe bak tanoh geuhnyan. Watee aduen – aduen lon ka meutamah rayeuk awaknyan laju geucok alih buet ayah sibagoe geunantoe gobnyan nyang ka tuha. Oh ka lheueh lahe aduen lon, Ma kamoe mantong geupeulahe padub – padub droe teuk aneuek teuma awaknyan meninggai watee mantong ubit. Lahe lon keudroe lagee saboh peujuangan dan jeuet teupeu gah sibagoe mujizat, dan sampoe ajinoe nibak on na tanda nyang teuba na kheueh geulinyueng lon nyang meuruhueng. Ma lon luempah hawa beuna aneuek lom. Gobnyan sidroe muslimat nyang saleh teuma teutab peucaya ubak dewa ngon dewi nyang na kheueh atra waresan nibak ureueng syiek gobnyan. Gobnyan geujak u gunong nibak Kashmir nibak teumpat nyan na saboh kuil nibak padub – paduboh dewi. Gobnyan meujanji ubak dewi nyan, watee gobnyan meuteume sidroe aneuek gobnyan geupeu seumah aneuek nyan ubak dewi sibagoe teupeugah syukoe. Lom aneuek nyan na kheueh ulon keudroe, le sababnyan geulinyueng lon teutindek ngon saboh anteng meuh sibagoe tanda bahwa ulon na kheueh atra dewi nyan. Jeuet teubayang keudroe peue nyang teu jadi ateuh lon watee lon mantong sikula. Rakan – rakan sabe jihi na lon hainyoe teuma nyang teupeue jeuet jaroe jahe gob jai that keujitarek – tarek geulinyueng lon watee uulon kumuloe. Tanda ajaeb nyang na geulinyueng lon meunan cit teuhinda ulon ni bak mate watee ma lon geupeulahe ulon, rupari ka jeuet keupeudeh lom teuma jeuet keumalee nibak droe lon. Teuma oh lheueh nyan udeb oh lheuehnyan lom, ulon ka jipeu phon muphom bahwa na jaroe Illahi nyang brie beureukat keue lonna kheueh jaroe Allah nyang udeb, dank on jaroe dewi nyan.
Aphon lon leumpah that gaseh keue ulon sampoe gobnyan geucok keurabu nyan, le sababnyan teupeujeuet Ma lon seudeh that ate lom keucewa sabab gobnyan peucaya bahwa meunyoe keurabu nyan teucok la ju ulon mate. Ma lon geuanggab bahwa keurabu nyan na kheueh sibago ejimat nyang jeuet keupeulindong nibak dewi nyan. Meunyoe hana keurabu nyan ulon teuma ueb lam bahaya meunan cit mawot. Teuma le apha lon geupeuseulamat lon deungon geupeugah deu ngon yaken: "Gata hana mate" watee Ma geulakee bak lon mangat lon jak u kuil, ulaon tulak ngon cara jroh. Wateenyan umu lon baroe 9 thon.
Watee laju jiajk, rupari ulon hana mate. Ulon leupah nibak man dum nyang teurasa teumakot nyang mantong meuleukek nibak ate lon. Phon wateenyan ulon hana le teurasa teumakot, sampoe trok watee tuha lon meunan cit nibak situasi nyang meubahya ulon teutab hana teumakot. Teuma ulon leumpah that seudeh watee adoe lon Ramzan ngon hana teusangka – sangka keunong peunyaket pneumonia laju meninggai na padub uroe teuma oh lheuenyan. Ulon mantong bujang watee bak peut droe aduen lon meukawen. Kamoe mandum tinggai lam saboh rumoh raya, ngon lapan boh kama eh lom saboh ruweueng jame nyang luwaih. Aduen – aduen lon meusajan peurumoh meunan cit aneuek – aneuek gobnyan meuteuma kama nyang teuaseng. Kamoe kayem that meubagie masaalah. Nyoe na kheeh sibagoe bantuek udeb social masyarakat India nibak wateenyan. Hai lageenyan na kheueh saboh unsur nyang paleng peunteng nibak udeb keuluarga, bahnyan di gampong – gampong meunan cit lam banda – banda deumi teupeu ama keuluarga nyan keudroe. Tieb – tieb anggota keuluarga, peuekheueh jihnyan kaya atawa gasien, na nyang meubuet atawa nyang hana buet (Meunganggo), awaknyan saleng teumulong am hai teupeureu lee keue ureueng rame meunan cit jitamong keunan keuhai atra keukayaan. Rumoh tangga kamoe na kheueh keuluarga bahgia, ngon sidroe Ma nyang ramahmeunan cit sidroe ayah nyang meuhase ngon get. Ulon sabe lon sapa teumuda – teumuda lon ngon lon hoi, "Po", meunan cit hainyan geupeurunoe le ayah ubak ulon sabab ulon hana cutpo nyang inong. Kamoe keubiet sabe lam gaseh sayang sidroe ngon nyang laen.
Lazem jih saboh keuluarga ngon peuet droe meulintee pasti teuma teuka meubagoe hai. Teuma hainyan hana teujadi nibak keuluarga kamoe. Ma na kheueh figur nyang paleng get, gobyan hase geupeujeuet kamoe saleng meugaseh sayang meunan cit saleng na peungeurtian. Nibak ma kheueh ulon meurunoe lon peutimang ureueng laen. "Keue udeb nibak droe keudroe nyan saban lagee beulatang". Kheun ma lon. Kamoe baroe jeuet kamoe brie bukeuti kamoe nyoe manusia meunyoe kamoe hase kemoe brie udeb keue ureueng laen. Lon ngieng keudroe bahwa ma lon biet – biet geumumat that bak prinseb nyoe meunan cit udeb paih lagee prinseb nyan. Sikeub ngon teuladan nyang jroh nibak Ma lon nyan keubiet ka jeuet keudasai udeb nibak ulon. Bahpih seupot lam udeb lon ka teuguncang ulon keudroe teuma ulon teutab hana lon weeh nibak dasai nyang saboh nyoe.
Ayah ulon sidroe tantra dan meuteume tanda jasa meunang nibak Prang donya nyang phon. Bak wateennyan nasionalis India gohlom trok ubak tingkat oposan, lom mantong meusaboh ngon angkatan meusinjata nyang na dimiyueb kawai le Inggreh. India mantong bagian nibak keurajeuen Inggreh, dan na kheueh saboh horeumat nyang jroh that meunyoe rhoh jak muprang u luwa nanggroe. Ayah ulon keubiet that bangga ngon keunangan watee ka u likot gobnyan khusos jih watee gobnyan na rhoh jak muprang. Gobnyan le that calitra nyang hase teupasoe lam imijinasi kamoe, lom kamoe leumpah that galak watee meudeungoe calitra – calitra keuhai muprang di Afrika. Ayah komoe meuhase geupula lam jiwa kamoe rasa beuhe ngon ceubeueh meunan cit rasa droe kamoe lagee pahlawan. Seucara hana langsung gobnyan geupeurunoe kamoe bahwa manusia haroih beumeuteume jati droe jih ngon cara jipeubuet sapeu – sapeu buet nyang luwa biasa. Manusia haroih hase jituri ubak mampu jih, hana peureulee teupeugah bak gob teuma jihnyan haroih jimubuet lageenyan bagoe sampoe gob laen hase jiboh nilai ateuh jihnyan ngon jujoe. Prinseb nyang lageenyoe keubiet teupeungaroh that lam udeb lon. Hana teumakot meunan cit hana meuheuet keuteupeudeuh droe nibak udeb, ka teupeujeuet ulon teitamong lam meubagoe peungalaman udeb nyang punoh bahaya.
Keumalon ayah ubak seusabe droe keubiet manyang that. Meunyoena sidroe-droe ureueng nyang leumpah teuteungon lam udeb jih, atawa gasien leumpah na atawa nyang jipeusaneuet ateuh jih nyan ngon cara hana ade, teuma ayah ulon siab geutulong ureueng nyan mangat meuteume keubeubaisan ngon keuadelan. Teuma ayah lon keudroe hantom na geutuntot sidroe-droe ureueng ubak kantoe peungadelan. Le that tantra ka peunsiun jilakee tulong ubak ayah lon keujimita rot teubiet keue masaalah udeb awaknyan. Ayah keubiet jroh that ate lom punoh gaseh, sayang, sababnyan kheueh gobnyan keubiet jihoreumat that le teutangga lom meuteume keududukan ngon yuem nyang manyang lam masyarakat luwaih. Sabab ayah na sifeuet deurmawan nyang kheueh sabab jih le that jame nyang tinggai di rumoh kamoe. Bak saboh watee gobnyan geuteu rimong sidroe ureueng nyang ban jipoh mate aduen jih keudroe, aduen ayah lon nyoe meusangkot masaaalah tanoh dan ache jih na saboh kawan ureueng jipoh mate gobnyan. Kawgannyoe jiplueng dan jiusom. Ngon hana teusaja, awaknyan jimusom bak saboh jamboe nyang geupeudong le ayah lon bak lampoh gobnyan. Ayah hana geuteupeu peue nyang ka awaknyan pubuet laju geu – undang awaknyan u rumoh keugeujok bu. Hana padubna treb teuma oh lheuehnyan, rakan-rakan meureuhom aduen lon jipeulet awaknyan dan keuneuk jidrob awak nyan lam rumoh kamoe. Watee geudeungoe le ayah peue nyang ka teu jadi ateuh droe aduen gobnyan, gobnyan teuma geuteukui mantong sabab seudeuh that. Nyang paleng teukeujot lom na kheueh gobnyan hana beugeh ureueng nyang poh mate nyan, meunan cit hana geutroh dam bak soe mantong.
Ayah na watak nyang lageenyoe nibak ajaran agama gobnyan. Gobnyan hana that geupakoe ubak agama laen, dan hana geupeucaya ubak mullah (guree-guree agama Islam), meunan cit gobnyan hana galak geupeudeuh ibadah gobnyan dikeue ureueng rame, teuma sabe keudroe atawa geupeu aseng droe meunyoe keuneuk meudoa. Ayah sidroe ahli keubatenan atawa kaum sufi lam agama Islam. (Meusaboh ngon Allah). Le that geucok contoh nibak ajaran Kristen nyang na meutabu ban saboh nanggore Meuse meunan cit di nanggroe-nanggroe Arab khusos jih Arab Saudi. Geurakannyoe jiaku lam Islam Imeum Al-Gazali nyang meuninggai thon III oh ka lheueh thon maseuhi. Bak awaiphon alerannyoe yang paleng peunteng cara teuseumah Tuhan, miyueb ate, jak tape mangat na disiplen meunan cit teupeu aseng droe. Taat ubak Allah teukalon saboh hai nyang teubit nibak lam ate. Geunaseh ubak Allah tumita, kon mantong teukalon ubak hukom-hukom.
Nibak teumita keusucian meunan cit peungalaman droe keudroe ubak Allah, geurakannyoe teupeu peunteng ubak meudoa meunan cit meuditasi. Teunekmat keuhai sukacita ubak teuturi ngon geunaseh Allah. Sabab gasenyoe kheueh awaknyan hase jigaseh Allah meunan cit seubalek jih. Oh lheuehyan awaknyan jipeuguna ubat bius meunan cit mangat trok ubak tingkat keubahgiaan. Mistik ayah lon kheueh saboh useuha nyang teusaja mangat teupeubudaya saboh hubongan pribadi ngon Allah, teuma hantom na meukeumang ubak saboh keurinduan keusaboh kumpulan mintek ngon Allah. Gobnyan hana geupeuguna ubat bius, musik, nari-nari, atawa doa-doa mangat trok ubak keuadaan mistek. Gobnyan teutab geujaga ubak keuseuimbangan moral nyang teupimpen ubak mandum udeb gobnyan. Lam rumoh, gobnyan na kheueh sidroe nyang meuwibawa, leumpah that prihaten ubak jaminan social meunan cit peundedekan. Aduen lon ngon lon keudroe geujok bak sikula nyang jiohjih na 2 mil nibak rumoh kamoe. Mangat mudah nibak kamoe beubaagih trok u rumoh sikula, le ayah geupeudong saboh rumoh di Zaffarawal tho that ngon rumoh sikula kamoe, mangat kamoe sabe teupat watee trok u rumoh sikula.
Lon tuan tamong sikula dasai nibak umu limong thon. Nibak umu nyoe ulon pih geuyue jak ubak meuseujid nyang na tho ngon rumoh. Tieb-tieb aneuek Muslim umu 5 thon teuntat ubak Meuseujid sigoe lam sigoe aleuhat keujijak beuet ngon meurunoe Al-Quran. Meuseujid na kheueh pusat ibadat meunan cit sira teudongoe peurintah-peurintah, dan ulon sabe na teuka tieb-tieb uroe jeumeuat, na kheueh uroe ibadat keue umat Islam. Sira teuengku Imeum geubaca doa-doa gobnyan kamoe banmandum sujud sibagoe umat teusitot cuntoh gobnyan. Lazem jih gobnyan geubaca khutubah nyang paneuk-paneuk, nyang geupeugah padub-padub boh nyang peunteng nibak ajaran Muhammad. Hana gampang keubeumuphom gobnyan, teuma peumimpen agama kamoe teupeujeuet kamoe yaken mangat kamoe meurunoe yoh ubitkon, keusaksian lam Islam ka teupula na kheueh:
La Ilaha Illa Allah 
Muhammad Rasul Allah 
Tiada illah selain Allah 
Muhammad adalah Rasulnya.
(utusanNya)
Peungaroh ulee sikula di SD keubiet that-that teupeungaroh nibak ulon. Gobnyan sidroe peusya-e (peunyair), carong teubeulie (pidato) carong teumuleh meunan cit carong bak meumusik, ngon geuyue sabe le gabnyon ulon ka lon peuphon tuleh sya-esya-e keudroe. Halnyoe na kheuh sibagoe sumber sukacita that lam udeb lon, le sababnyan hantom na jioh buku tuleh ubit nibak ulon. Meunan cit ulon meurunoe yueb genggong (harmonica), teuma ureueng syiek lon hana geubrie lon lateh droe lam rumoh. Le ulee sikula geubrie nibak rumoh gobnyan keulon meurunoe. Jaroe Allah kana ateuh ulon yoh lon mantong ubit. Gobnyan ka geupeusiab ulon keuhai udeb nyang peunoh ngon peulayanan. Gobnyan prihaten ngon mandum lam udeb lon sampoe ubak hai-hai nyang ubit. Sikeubiet jih Gobnyan Allah nyang luwabiasa. Ulon peuabeh watee peuet thon nibak sikula dasai watee ulon ka meu-umu 9 thon, aduen-aduen lon geujak geutinggai rumoh; dua droe geujak u Jamnu dan dua droe u Lahore. Trok watee jih lonjak ubak sikula meuneungah. Nibak teumpat nyoe ulon hana padubna meukeumang lom meuheuet nibak buet akedemis, teuma keuluarga ka geucok keuputosan ulon haroih sikula di Jammnu – Kasmir, Sikula Meuneungah Maha Raja Rambeer Singh. Saboh keuhoreumatan nibak ulon keulon sikula nibak sikula nyang jipeudong keue aneuek-aneuek Raja atawa aneuek peunguasa. Raja – raja na kheueh peunguasa nyang ka jipeutaloe raja laen dan ji baiat droe jih jeuet keupeunguasa nibak meubagoe daerah di India. Na 22 raja di Kashmir nibak wateenyan, ulon sidroe kong sagai aneuek Muslim nibak sikulanyoe. Aneuek-aneuek Muslim hana jeuet sikula disinoe, teuma aneuek-aneuek Hindu mantong nyan jeuet. Teuma le sabab ayah lon sidroe tantra lom teuma leumpah that meupeungaroh nibak udeb social, gobnyan hase geubujuk ulee sikula mangat jeuet jiteurimong lon. Le that ureueng payah that jitulak meunyoe ayah lon nyang lakee.
Sikulanyoe jipeurunoe lagee phon meurunoe ieleume tantra sibagoe hai nyang patot that nibak aneuek-aneuek raja. Pasang ateueh guda keubeiet hayeue that dan ulon galak leumpah na. Meunan cit ulon galak teumimbak. Beude ulon "Greener Gun" leumpah phui dan ulon hase lon peuteun watee jitulak. Ulon ingat that le that watee nyang ulon peuguna meunyoe na watee keue nyan. Nyoe leubeh harok that nibak buet teujak prah ie susu leumoe tieb-tieb beungoh saboh tugaih nyang phui that nyang haroih jipubuet le peulayan ulon, nyoe pih ulon tulak hana lon tem. Teumiyeub beulatang buih leubeh harok nibak jak sikula (meurunoe), sabab jumot ngon buet nyang kreuh (brat) gohlom jeuet keujeumba nibak watak lon. Nibak sampeng nyan tujuan ngon peusiapan lon di sikula gahlom deuh that (gohlom trang) aneuek-aneuek raja jipeusiab mangat jeut jimat propesi nyang peunteng. Na nyang tamong jeuet keupeuwira muda nibak angkatan prang, na duek bak saboh jabatan nibak peulayanan umum. Teuma meunyoe ulon mantong hana jeulaih hoe peudedekan (sikula)nyoe jiba ulon.
Sabab sikula nyoe khusos keu ureueng Hindu. Kamoe ka teuntee meurunoe cit praktek-praktek Hindu. Ulon meurunoe beudoh bongoh keumeudoa. Kamoe haroih meupai doa nyang get, tutoe ngon tutoe, mantra-mantra ngon ayat-ayat lam kitab suci Hindu nyang jeuet keudasai ajaran dan Iman Hindu. Agama Hindu hana teutarek nibak ulon. Teuma peue nyang ulon meurunoe teubrie makna nyang leumpah that peunteng nibak agama nyoe. Meunan cit ulon haroih meurunoe basa Hindu nyang jinoenyoe hase lon meututoe ngon lanca that ngon basa nyan. Na keuseunjangan nyang leumpah that lhok nibak peundedekan lam sikula meuneungah. Ulon hana meurunoe sapeue pih keuhai Islam. Ulon galak, teuma aduen lon Khuda Bakhsh hana galak. Sabab ayah ka wafeuet, dan gobnyan kheueh nyang cok alih tanggong jaweueb keupeundedekan ulon. Gobnyan geuyue-geuyue ulon mangat lon teubiet nibak sikula Hindu dan minah u sikula Meuneungah Islam di Jammnu. Rasajih lagee nibak pante asuhan nibak saboh sikula, teuma aduen lon hana geupakoe, gobnyan meunan that meucen mangat ulon meuteumeieleume peungeutahuan keuhai Islam. Gobnyan hana geupakoe ulon teume nyan nibak teumpat nyan.
Ulon kureueng minat jeuet kesusiswa, ulon kayem that hana lon tamong kayem lon jak pajoh buroecot atawa pajan mantong nyang ulon tem, lom teuma aduen lon hana dirumoh. Cut olon nyang inong hana geupakoe ateuh tingkah lon teuma sikula jilapor ulon ubak aduen, le sabab nyan hubongan kamoe ka jeuet keuteugang. Gobnyan geubayeue peng sikula lon, teuma ulon kureueng lon peuguna nyoe dipat gobnyan geu meubuet ngon kreuh that keugeupeu sikula lon.
Hainyoe meutamah brok watee lon meuhubongan ngon sidroe sidara. Watee trok watee musempre, ulon jak bak saboh gambong nyang thongon Srinagar, nibak teumpat gobnyan na saboh bideueng tanoh. Inan kheueh ulon meurumpok ngon sidroe aneuek dara nyang nan jih Salamah ulon pih rhot cinta bak dara nyan. Ulon ka teuikat yoh phon that lon meurumpok ngon jihnyan, jihnyan aneuek sidroe ureueng nyang meubuet bak tanoh kamoe dipat kamoe kureueng get hubongan ngon jihnyan. Kamoe ka jeuet keurakan nyang krab that lom kayem that meurumpok, ulon hana sada bahwa hubongan nyoe meuteuma sambotan sampoe ulon haroih lon jak. Kamoe teugah na meusajan-sajan dan sidara nyan jimoe. Jihnyan hana jitem lonjak, hainyan keubeit that weueh ate lon lom teuma gaseh kamoe meutamah timoh leubehkong lom nibak nyang ka-ka. Thon ukeue nyan watee ulon gisa keunan, ulon kalon sidara nyan meutamah rayeuk lom teuma meutamah ceudah. Teuma ulon hase lon kalon na meubah lam droe jih. Jihnyan jipeusie ngon hana jitemle meurumpok ngon lon hana saban lagee yoh watee ilee kamoe na meusajan-sajan lom teuma aneuek daranyan ka jijaga jarak ngon lon. Jhihnyan jipeuyaken ulon bahwa jih ubak ulon leubeh rayeuk nibak yoh awai ilee lom jihnyan meurasa ulon nyoe gadoh nibak mata jih. Ulon meutamah bingong. Peue nyang salah? Ulon bingong. Hubongan komoe meunan that gle (murni). Komoe rasa ngon nekmat that hubongan nyang seudeuhana nyoe, gaseh sayang seujati hase teurasa ngon hana ekspresi seks. Yoh ubit kon ka lon meurunoe bahwa hubongan seks hase teupeurusak saboh hubongan nyang ceudah. Sidroe-droe ureueng haroh jikeubah atranya keujipeuguna watee jih nya ka jimeukawen teuma dudoe. Rupari ka jeuet keutrang nibak lon bahwa meukawen kamoe meudua nyoe mantong jioh that. Keluarga jih sada that keluarga ulon hana tuju meunyoe teujadi meukawen nyoe. Keluarga salamah kon ureueng kaya lom keuluarga kamoe hana teupeuizin teupeusaboh nyang lageenyan bagoe. Ulon patah ate, teumapeue nyang haroih lon peubuet, hubongan keluarga lon ngon droe lon ka jeuet teupeukaru.
Ngon ate nyang peudeh ulon gise lom u sikula. Ulon hana hase lon peusisuai droe ngon buet nyang haroih ulon pubuet. Ulon keubit hantom na teutarek atawa meuheut ngon buet, lom jinoenyoe meutamah hanco lom. Ulon hana galak bahnyan di rumoh meunan cit nibak teumpat buet. Ulon rasa keluarga kageupeurusak keuseumpatan lom keudeb meubahgia. Hana treb hubongan kamoe trok ubak puncak jih. Bak saboh watee, ulon hana lon sitotuibak saboh mata peulajaran, aduen lon geuwoe bagaih dan geukalon ulon na lam saboh warong. Warong nyoe lazem jih jeuet keuteumpat peugah haba nyang beutoi, galak kheuen keugob, (gossip) lom teuma teumpat gob duek-duek sira teubot-bot (beu-o), teubeu-o-beu-o, teuma ulon galak lon duek di sinoe sira lon kalon ureueng jak keudeh keunoe. Hana teusangka-sangka ulon teukeujot, aduen lon ka teudong bak bineh lon. Gobnyan meuheut keugeuteupeu pakon lon na lam warong, nyang sikeubit jih ulon kana nibak sikula. Ka teuntee hana jeunaweub nyang hase teupeuuih ate gobnyan le sababnyan gobnyan ka jeuet keubeungeh, gobnyan geukalon na aneuek manyak umu 7 thon jimubuet nibak warong nyan lon hainyoe geocok keusempatan keuegeuhina lon dikeue ureueng rame. Aduen lon geutawok aneuek nyan dan geupeuphon peugah padub-padub boh teuma nyong. Teupeubuet aneuek miet hana teutam, meunan cit peundedekan pih hana wajeb. Ngon nyan ka lazem meunyoe teukalon aneuek miet jimeubuet. Teuma keududukan jih jioh meulaen ngon keuseumpatan nyang ulon teurimong.
Lheuehnyan le adeuen lon nyan geutanyong lageenyoe: Sony, poh padub kah beudoh eh tieb-tieb beungoh? Ulon beudeh eh poh lhee beungoh pak, ulon peubuet ngon lon peugleh mandum cipe ngon pingan makheun malam, lheuehnyan lon peusiab makheun lheuhnyan lon tulong nyang po warong nyoe sipanyang uroe." " Poh padub kah eh tieb-tieb malam?" " Hantom nap oh 11 pak". Lheuehnyan adeueb lon geupaleng bak lon, mata gobnyan tajam sira geublie ateuh lon beungeh gobnyan geupeugah lageenyoe: "Kalon aneuek nyoe, gohlom seb tuha keue jitinggai ma jih, aneuek nyoe jieh peuet jeuem lam siuroe. Bah kheueh jihnyan jeuet keucuntoh ngon peulajaran keue gata. Kah hana meurunoe meunan cit hana meubuet. Beujeuet kheueh sidroe aneuek agam. Udeb hase jeuet keukreuh ngon brat nibak ureueng nyan jiboih watee.Lheueh geupeugah haba nyan gobnyan geujak geutinggai ulon lam warong nyan.
Ulon bingong ngon malee that. Ulon meuhadab ubak malee lom nyan ulon malee. Keluarga ulon na reputasi nyang get, teuma ulon ka jeuet keudukroe lam asoe awaknyan. Keuteugantung ulon ka peutron ulon, ngon nyan ulon cok tutoe haba aduen lon nyan sibagoe tantangan keudroe lon, laju lon cok keuputosan phon wateenyan ulon ku dong ateuh gaki lon keudroe. Ulon hana udeb meugantung nibak murah ate ureueng laen. Resolusi nyoe pakriban pih mantong hana teuba-ubak meu-ubah nibak buet ulon di sikula. Banmandum nyan ka jeuet keuteupeu luwat lam udeb lon. Ujian semester X teupeuna nibak buleuen Maret, teuma sigohlom nyan ulon ka lon plueng nibak sikula.
Prang donya keu II bicah watee ulon mantong meu-umu 16 thon. India jitamong bak saboh dilemma. Pakibran mungken India jimuprang ngon teunaga imperialisme nyan jikuasa bansaboh aneuek beunua Nyoe? Nazisme na kheueh saboh keujeuhetan dan haroih teupeuhancoe. Teuma nibak pikeran nyang le ureueng India, hainyan teuwaki nibak saboh banteuk rasisme ngon imperialisme nyang saban jikuasa India. Kongres National India ngon sun yang meudumpek jipeugah bahwa teuma India nyang meusaboh sapeue kheun ngon sapeu anggok nyang hase teulawan Jeureuman. Rakyat haroh teupakat meusyawarah atawa meurok pakat, meunan kheueh nyang geupeugah. Na siladum jibanci keue Hitler teuma na cit nyang jidong blah Hitlernyan. Na teuma nyang dong blaih Inggreh lom Inggreh nyan haroih teu tulong. Teuma saboh neugahra hana hase jipeuteuntee keudroe meuheut jih dan bak watee bicah prang, India jimuprang sira jidong blah Inggreh. Meunan cit lagee banmandum ureueng India, ulon pih meuheuet keunek meudehka nibak keukuasaan Inggreh, teuma ulon leumpah that muda keubeumeuphom peue nyang teujadi lam peulitek ngon teknologi. Ulon haroh reujang-reujang keulon teuma sapeue-sapeue Ulon keudroe lom hana lon meuharab ubak keuluerga lon, atawa ulon peureulee keue awaknyan lam hainyoe. Hana, ulon ka lon cok keuputosan keulon dong keudroe ngon nyan ulon kutamong lam angkatan udara. Watee meulamar keulon tamong angkatan tamong angkatan udara. Peue-peue nyang ji tanyong hana that payah, lon tuan akhejih luluih dan jeuet keue angkatan udara, buet lon na kheueh sibagoe montir udara nyang tugaih jih teupeuget ngon teupeujeuet mangat kapai po nyan hase jipo. Latehan phon lon meurunoe di Lahore bak teumpat nyang ulon jilatoh ngon jididek dimiyueb peulatih-peulatih Amerika dan tuagih lon na kheueh nibak bandara Kalkuta. Oh lheuehnyan lon tuan jikirem u Burma dan Rangon. Ulon meutugaih nibak angkatan udara nyang ruten lom siab siaga 24 jeuem. Oh lheuehnyan lon tuan jikirem u Akademi angkatan udara di Kalkuta. Nibak teumpat nyoe ulon meuteume Master lam hai Intelegen Tantra. Sidroe tukang lateh na jipeugah lagee nyoe, "peumeuneng sabe keupeucayaan aneuek buah gata". Nyoe na kheueh prinseb ulon lam hai meuhubongan ngon aneuek buah lon. Ulon sabeh meu-useha lon peudong saboh hubongan nyang get ngon awaknyan. Meunyoe na lamkawan awaknyan nyang sosah, ulon meu-useha lon tulong awaknyan sikeumampuan lon. Nibak lon yuem sidroe-droe ureueng hana teupeusabab le hi kulet, ras atawa agama jih. Udeb nyan meuyuem that nibak tieb-tieb pribadi. Teuma sayang that hana bandum ureueng nyang na jikeumalon lageenyoe.
Ulon hantomna lon tulak peue-peue nyan geupeurintah le atasam. Meunan cit ulon han hase lon teurimong aneuek buah lon jitulak peurintah lon. Watee prang, teutulak peurintah keumandan nyan saban eit ngon teuhukom mate. Teuma lon hantom na lom peuguna hukoman nyan. Meunyoe sidroe si dadu mantong muda hana jitem bak peurintahnlon, teuma lon mita rot mangat hukoman nyan teupeu bateue. Meungabdi punoh ubak buet, intergri taih meunan cit dan jeuet teupeucaya keue keuwalitaih nyang hase teupeumampu ulon sampoe meuteume sukses nibak tieb-teib keududukan. Ulon hana hase lon teurimong nyang hana ade atawa hana jujoe nibak buet meunan cit lam droe ulon keudro atawa lom tuboh ureueng laen.Ulon hantom na lon paksa aneuek buah lon meunyoe hana alasan nyang paih dan teuma jeuet keutukang deungoe nyang seutia ubak peu-epeu nyang awaknyan meugadu. Teupike bak awaknyan, lon ka siab lon ubah buet atawa tugaih awaknyan, Nyang kheueh sabab jih awaknyan siab ji keureuebeuen droe awaknyan droe awaknyan sampoe ubak darah keuneu lheueh. Ateueh naseuhat atawa rekomendasi keumandan lon, ulon mengabong ngon korp tantra atawa Intelejen, ulon kon ureueng Inggreh, teuma ulon hana jeuet lon peubiyeue mantong bahwa hubongan peuwira ngon peuwira lam angkatan udara kureueng get. Padub-padub droe peuwira Inggreh meusikeueb jianggab phui that peuwira-peuwira India. Awaknyan jianggab kamoe sibagoe peuwira nyang mutu jih miyueb that dan jikheun kamoe: "bloody Indians" dan tutoe haba awaknyan rab banmandum gasa-gasa ngon hana sopan, Ka teuntee kamoe hana sabe hase kamoe peubeda lamkawan peue nyang get meunan cit peue nyang brok nibak meututoe awaknyan. Bak siuroe ulon geutawok le keumandan laju geutanyong lom beuhase lon jaweueb istilah-istilah brok peue mantong nyang na lon deungoe. Keumandan nyoe sidroe Kristen dan geudeungoe ulon ngon saba. Oh lheuehnyan gobnyan geupeugah, "Hai, aneuek lon, dipat kheuh gata meurunoe basa Inggreh nyang get nyan?" " Bak ngon-ngon seusabe peuwira!" jaweueb lon. "laen watee bek peuguna le tutoe haba nyang lageenyan boh?" kheueh gobnyan. Ulon biet-biet malee that. Teuma na probema nyang keubiet teupeu aloh alah ulon. Ulon meurasa teuganggu nyang jijok ubak ureueng-ureueng Inggreh. Udeb awaknyan leumpah that jinareuga teuma kamoe-kamoe ureueng India nyoe hana jihareuga jianggab miyueb meunan cit bacut salah jipeuteubiet ban galak droe jih. Hainyoe ka jeuet keusaboh ruweueng that-that teuhah atawa teipeujioh le peuwira Inggreh ngon peuwira India, bahpih awak nyan pangkat jih saban. Diskriminasi le sabab meulaen kulet ka meutabu luwah. Ureueng Inggreh hana jitem atawa hana niet keujipeusisuai droe ngon ureueng-ureueng India. Le that nibak awaknyan jipateh bahwa meunyoe teujak u Simla, saboh teumpat meureuhat atawa meu lancing nibak lamkawan gunong-gunong Himalaya, kon matong keue teupeusie nibak udara nyang seu-uem, teuma na kheueh keuteujioh droe awaknyan nibak peunduduek aseuli. Hainyoe atawa sikeub nyang lagee nyoe ka lheueh na teujadi lam saboh tragedi watee sidroe rakan krablon keumandan Skudron Surinder Singh meuteume bala. Kemandan wilayah ka teulapor na rusak padub-padubboh ngon bom. Bak siuroe gobnyan geupeurintah ubak Surender Singh keujipeuna ujoe po kapai po bom. Surrender ka siab keujijak teuma na bacut kuate. Jihnyan jipo lom jijak rot arah nyang ka teupeuteuntee. Oh ka lheueh jipo 15 minet, kamoe gadoh kontak ngon radio. 15 minet oh lheueh nyan kamoe kalon kapai po nyan teuka rot lhok Beunggala. Nyan Surender Singh. Angkatan darat gohlom jibritee mangat jibrie sinulong, sinulong ubak jihnyan sampoe Jeupang na watee jitimbak Surender Singh sampoe siladum nibak muka jih meunan cit sineuk mata jih keunong (luka). Peuristiwa nyang keudua na kheueh keuhai jiteuka bala musem deuk di Banggala. Nyoe na kheueh teugamba sibagoe buet jeuhet manusia nyang paleng gawat. Phon thon 1943-1944 Benggala Timu ngon Seulatan nibak India jiteuka musem deuk nyang brat that. Bahpih peunyaket jiseutot ubak bala musem deuk nyan, na kheueh lagee peunyaket kolera (muntah ciret) ngon malaria, (deumam sijeuk seu-uem). Balanyoe laju jimeu-eue u Pronpinsi laen. Teui tong nyang mate hana reuseumi na kheueh 3.400.000 jiwa teuma teuiitong ngon reuseumi na kheueh 1.500.000 ribee droe mate di Benggala.
Padub mantong kheueh jeumlah jih, soe mantong hana ragu-ragu bahwa jai that nyawong ka gadoih tieb-tieb uroe. Hase nyang keubiet parah that nibak bala musem deuk nyoe nyang sibeuna jih hase teuatasi, teuma le nyang mat kuasa jiatasi hainyan ngon cara diskriminasi lom bagaih puih. Sidroe-droe ureueng jeuet keuteumakot watee jikalon laporan nibak wilayah-wilayah nyang keunong bala musem deuk. Padub-padub droe nyang mat kuasa jipeuhsalah bahwa laporan-laporan nyan jipeurayeuk-reyeuek. Teuma na watee jih nyang toh laporan nyoe hana hase jibantah / jisanggah ngon nyan laju jimeudebat saleng jimita salah gob laen ngon cara jimita kameng itam, nyan na kheueh teimita peurati gob keuejimita jipeubeutoi droe.
Meuribe droe manusia meninggai tieb-tieb uroe, teuma makanan nyang teukeubah lam gudang peumeurintah sampoe ka brok-brok. Malaria na kheueh peunyakit nyang keunong laju mate bak wateenyan, teuma ubat malaria nyag na teuseudia teutab hana jipeiguna atranyan teutab na lam gudag-gudang ubat. Sabab luwat le lengkongan ulon cok the, saka breueh meunan cit peunajoh laen nyang na nibak depot logistek laju lon bagi ngon hana jibloe ubak masyarakat. Meunan cit ulon bagi-bagi teuma ubatmalaria. Keuadaan nibak watenyan keubiet ka meupaloe that sampoe ureueng-ureueng kaya hana hase jiboe peunajoh keudroe awaknyan keudroe. Ureueng jipaksa keujitua aneuek dara awak ngon ngon peunajoh. Teuma na cit ureueng jipeusalah guna keuseumpatan nyan keujipaksa seusabe keudroe-droe ngon cara jipibloe ubat malaria saboh rupee lam sineuk ubat. Na teuma ureueng nyang hana jipakoe ubak tragedinyan. Dan bala musem deuk ngon bala peunyaket sabe jicok keureuebeun. Ureueng-ureueng Inggreh ngon ureueng-ureueng India nyang kaya-kaya di Kalkutta teutab meusukacita. Awaknyan ngon galak that ubak meuseunang-meuseunang, awaknyan teutab meusikeub lagee hantom na teujadi sapeu-sapeu pih. Pikeran ulon hana meuteuntee sabab keujadian keujadian nyan, teuma ulon hase meureuaksi ngon beungeh nyang hana meuteuntee ngon peue nyang teujadi banseuligka lon nyan. Masa muda bagaih that jijak dan lon ka jeuet keudewasa sabab le stuasi. Bak siuroe ulon dan Puran, sidroe rakan peuwira, kamoe cok dua droe aneuek manyak bak rot laju kamoe ba u kamp. Nam buleuen kamoe som aneuek miet nyan. Akhejih keumandan kamoe geuteu, kamoe jibeungah raya. Ulon ngon rakan-rakan laen ka siab kamoe terimong risikoe jih atawa yuem nyang haroih kamoe bayeue keuteupeulara aneuek miet nyoe, akhejih awaknyan jikirem ubak kamp peungungsi di blaih barat Beunggala. Kamoe meuharab aneuek miet nyoe meurampok ngon teutangga nyan get nyang hase jitulong awaknyan sabab kamoe hana hasele kamoe tulong awakyan. Padubna brat jih emosi ngon beungeh lon. Pakon udeb disinoe jipeuyuem sidubnyan murah, Pakriban keuhai udeb manusia disinoe? Peue kheueh hana meusidroe pih nyang pakoe? Maeunyoe na Tuhan (Allah) dipat kheueh Gobnyan lam keuadaan lageenyoe? Teumanyong nyang teuka lam seupot. Keubiet beutoi sikeueb peuwira-peuwira Inggreh ateuh peuwira-peuwira India nyan sombong ngon angkoh. Sabab meurasa droe leubeh bahkan na nyang sikueb jih gasa that; teuma na cit nyang udeb get jeuet teucok keucuntoh nibak keuhai get awaknyan lom na gaseh. Awaknyan na kheueh ureueng Kristen nyang jisitot Guree droe jih, Isa Almaseh dan awaknyah jipeugah trang lom geunaseh Allah. Teuladan awaknyan ka jeuet keubijeh lam droe ulon nyang ooh lheueh nyan timoh laju meukeumang ubak meutobat nyang punoh.
Sidroe lamkawan awaknyan na kheueh Kapiten Baxter. Gobnyan sidroe peuwira muda nyang jipinah ubak bagian kamoe. Lagee banmandum peuwira Inggreh gobnyan lagee teutob droe (jiteun droe) teuma gobnyan pih meupikeran maju (luwah). Nibak buet-buet hana get nyag jipubuet le aneuek buah gobnyan, kamoe teupeue soe gobnyan. Gobnyan hana geupeusaneuet ngon hana geuanggab remeh peuwira-peuwira Indona. Gobnyan geukalon jaminan social kamoe. Bak siuroe na padub-padub droe peuwira India jilakee mangat nyang teutaguen meunan cit teumpat boh peujaoh teupeung kreeh, sabab teumaguen keue ureueng Muslim peureulee that teupeusaneut nyang khusos meunan beulangong nyang khusus mangat jeuet teupeusaneuet ngon teutaguen nyang get. Kamoe peureulee saboh chulhas (angko yang teupeuget nibak tanoh) nibak bilek nyang baroe. Gobnyan situju geutem teuma kamoe hana hase kamoe teumeatranyan teukalon nibak hai udeb nyang kamoe peujak. Cuba bayang pakriban teuhireuen jih lom mangat that ate lon watee bak saboh watee woe nibak buet lon kalon Baxter geumat saboh buku peudoman meunan cit teuuseuha teupeuget saboh sinungkee. Yuem gobnyan nibak ulon ka jipeuphon timoh. Ulon kalon ngon ulon kawai meunan cit ulon ka jipeuphon sada lom rasa gaseh keue ureueng laen na lam droe gobnyan (ate gobnyan). Nibak teumpat nyan gobnyan geu ujoepeuget sinuengkee le droe geuh keudroe. Gobnyan geuhareuga nyang kamoe usui dan geucok keuputosan keugeukalon pakriban meulakeenyan geupeupunoh. Buet nyang siharoih jih lom patot that, ngon nyan teuma ka teupeujeuet kamoe meukeusan nyang lhok that. Na kheueh sibagoe tanda saleng teuteurimong meunan cit keuteuba ubak meusahabat meu nyoe gob jitem pajoh bu meusajan. Ureueng aseng jiteupeue bahwa awak nyan jisambot ngon jiteurimong meunyoe awaknyan teuka watee teutawok (teuhoi) dan pajohbu meusajan nyang po rumoh. Baxter geupajoh bu bungoh ngon kamoe tieb-tieb uroe sapeue-sapeue hai nyang hantom na jipubuet le peuwira Inggreh nyang laen. Hainyoe nyang sikeubiet jih saboh hai nyang phui lom hana that peureulee, teuma nibak keukuasaan Inggreh dipat tanyoe udeb hainyoe na kheueh saboh hai nyang keubiet teupeungaroh that lam udeb lon. Nyoe na kheueh buet nyang meurakan ngon meusahabat nyang sikeubiet jih (seujati) dan kamoe mandum kamoe teurimong gobnyan ngon punoh meusyedara. Baxter kon kheueh ureueng nyang seugah ureueng nyang dimiyueb jih, (aneuek buah jih), keuhai-hai nyang phui bahpih koreksi teupeureulee.
Cuntoh, bak siuro epadub-padubdroe aneuek buah gobnyan jipajoh bu bungoh sigohlom teucukoe atawa teukreh janggot ngon misee. Baxter hana beungeh teuma gobnyan geupeuteubiet sikin silet lam keh (baluem, ipok) gobnyan laju geujok ubak awaknyan mangat jeuet jimeucukoe. Nyang paleng meukeusan keuhai Baxter na khueh, tendakan gobnyan dimideun prang. Meunyoe na Jeupang lom gobnyan na disinan, nibak teuplung lam ureuek teumpat meusom (kurok) gobnyan geutawok rakan-rakan geuh (ureueng-ureueng geuh): Jak tajak u Geureuja, gobnyan keudroe nyang meudoa. Peue nyang haroih kamoe peubuet na kheueh ngon cara teupeugah, 'Amin' Meunyoe gobnyan ka seuleusoe meudoa. Nyoe hase teujadi na lheegoe lam siuroe. Nibak siuroe na lom seurangan rot ateuh (udara). Langet punoh ngon kapai-kapai musoh dan kamoe mandum plueng lam uruek-uruek teumpat musom. Oh, lheuehnyan hana hase le teupeusie, Baxter jikuk sira jidumpek ngon jikliek su yang teuga: "He rekan-rekan lon, hana guna gatanyoe taping mandum lam uruek teumpat musom. Gata mandum hana aman lam uroek nyan, jak tanyoe tajak lam geureuja." Kamoe mandum teukem-kem watee meudeugoe peurintah nyang bangai nyaoe. Jak bak geureuja meunyoe na seurangan ubit hana peu-peu, teuma goenyoe seurangannyan rayeuk leumpah na lom teuma kapai po nyang seurang nyan le lagoena, hainyoe keubiet hana jitamong lam akai. Teuma Baxter na wibawa meunan keuyaken nibak su gobnyan.
Gobnyan geupeugah, "Ulon teuma meudoa ubak Tuhan Isa, Gata hana peureulee peucaya ubak isa atawa tapubuet sapeu-sapeue buet; bahpih kheun mantong "Amin" meunyoe ulon ka seuleusoe meudoa", bahpih kamoe skeptic, kamoe taat laju kamoe tamong lam khimah meusajan-sajan. Kamoe meuduek dan lumpah that kagum ubak sikueb gobnyan lam situasi krises nyang lageenyoe bagoe. Baxter nyanmantong teudeungoe lam geulinyueng lon:
"TUHAN ISA PEUDEUH KHEUEH TEUNAGA DROE NEUEH NGON KEUKUASAAN DROE NEUEH UROE NYOE UBAK AWAKNYAN BAHWA DROE NEUEH NA KHEUEH NA NGON NYATA. SABAB UREUENG NYANG AWAKNYAN GASEH DAN UREUENG SYIEK AWAKNYAN. LINDONG KHEUEH AWAKNYAN JIPRANG ROT MANYANG NYOE. BAH KHEUEH AWAKNYAN JITEUPEUE BAWA DROE NEUEH UDEB MEUNAN CIT DROE NEUEH KON MANTONG NEUPEUSEULAMAT TUBOH HANCOE." AMIN".
Teungoh Baxter meudoa na keujadian nyang hantom na teujadi lam geureuja. Banmandum ureueng jeuet keusuengab, keuteunangan laen that. Kamoe hana meudeungoe peue mantong di luwa. Kamoe na lam saboh khimah teuma sang-sang na jipeusiimbot le peureudam ngon ballot khimah. Watee kamo meuteubiet lam khimah, deuh teukalon peumandangan nyang leumpah that gli ngon yo that. Tuboh manusia nyang ka teukoh-koh meutabu beba dipat mantong. Keusatuan nyang meumarkah di meurandeh kamoe jibom dan hancoe. Sue kliek ngon moba-e nyang leumpah that seudeh nibak ureueng-ureueng muda teudeungoe dipat mantong bak geulinyueng kamoe, ie jih mantong jue, luhob jai that bak bineh jih meunan cit asab mantong deuh dipat mantong. Nibak hancoe nyang luwabiasa nyoe kamoe seulamat. Bingong ngon teukeujot that kamoe hana hase kamoe kheuen nyang laen seulaen Tuhan si Baxter, na kheueh Isa Almasih udeb lom ka geudeungoe doa dan geupeuseulamat umat Gobnyan.
Soe kheueh Tuhan Isa nyan? Sipanyang ulon teupeue lam Al Quran, gobnyan na kheueh sidroe nabi. Nabi nyang ka meuninggai donya teulakee peubeubaih gobnyan / teupeu lheueh. Ulon gohlom na seulawet nyoe lon deungoe doa lagee nyang geupeugah le Baxter. Doa nyang keubiet seudeuhana teuma langsong ubak Tuhan. Watee ulon mantong sidroe aneuek miet di gampong, ulon kayem that ngon rakan-rakan kamoe jak rumoh sidroe missi Amerika.
Nyang leumpah that galak, kamoe jak u rumoh misi nyan oh ka lheueh seumayang na kheueh keue kamoe jak meunyanyoe meusajan ngon peurumoh gobnyan lheueh nyan meueuen disinan. Teuma meunyoe seumayang, (keubaktian), ulon hana muphon peue nyang geupeugah le peundeta lam doa gobnyan. Gobnyan le that meudoa ngon sun yang teuga teuga. Teuma Baxter len, deuh jih lagee teungoh meututoe ubak sidroe rakan nyang na jidong bak bineh gobnyan. Deuh jih mudah that. Peu kheueh nyan keubiet mungken?
Hana treb oh lheueh jibom le Jeupang nyan seuleusoe, ulon jak keureuja lom sibagoe mekanik kapai po. Teuma buet lon nyan teupi yoh sabab le keunong ceulaka nyang rab teusuit nyawong lam tuboh. Kamoe teungoh peuget saboh kapai po laju teu ujoe oh ka lheueh teu peuget. Bak siuroe ulon geupeurintah le keumandan ujoe saboh kapai po. Sabab teupeuget kapai nyan kureueng phuih ate (keureueng get), system komunikasi jih kureueng lanca, nyang wateenyan sidroe ngon (rakan) lon nyang keunong ceulaka jipeuingat lon. Teuma ulon haroih taat, lon ngon sidroe rakan laju tamong lam kapai. Kamoe jibrie watee 30 meunet keuteu ujoe dan teuwoe lom. Watee kana 30 mil nibak bangkee, ulon keunong timbak rot miyueb. Rakan ulon Pusan laju jicok alih control ateueh kapai nyan. Kamoe hase meutron ngon seulamat dan watee lon trok, ulon laju jibri sinulong phon. Ulon rab hana sada peue nyang sibeuna jih teujadi, teuma ulon sada na saboh hai nyang payah that deungon jipeutamong lon lam rumoh saket. Paih ua uree sigohlom bom rhot u rumoh saket keue peuwira-peuwira Inggreh. Lon teu eh siteungoh sada ateuh usongan, laju teudeungoe su ureueng marit sidroe dokto ngon jururawat. Watee awak nyan jitanyong peue nyang haroih jipubuet ateuh ulon, ulon laju ji usui le dokto nyan bahwa ulon hana jeuet jipeutamong lam ruweueng kama saket keue ureueng rame (umum), sabab ulon sidroe peugawee RAF (Royal Air Force) jururawat nyan bingong, sabab jihnyan jiteupeue keuadaan luka-luka lon. Sidroe lamkawan awaknyan jitanyong ubak dokto nyan, "Peue kheueh nyang leubeh peunteng, pangkat jih atawa udeb jih?" Teuma awaknyan teutab hana jibrie izin keujipeutemong lom lam teumpat peurawat umum. Awaknyan laju jiba ulon lam ruweueng peurawat, Ulon hana hase lon kalon dipat lonnyoe na, sabab bandua mata lon ji ballot ngon peureuban. Ulon lonteupeue tingkat luka lon nibak mariet-mariet nyang teudeungoe lon simak nyan. 20 Uroe treb jih ulon na lam ruweueng nyan, teuma ulon hana kureueng sapeue, sabab dua peurawat nyan teutab jijaga ulon. Ngon jumot awaknyan jisuleueng lam babahlon watee trok watee pajoh bu, meunan cit jipeusiab mandum peu peumantong nyang ulon peureulee. Ulon hana teuingat le peu-ubat peue mantong nyang ka lon teurimong. Nyang ulon teupeu na kheueh, phon teujadi keuceulakaan nyan mata uneuen lon hana lon meungieng ngon trang le.
Bungoh-bungoh that watee ulon keuneuk tinggai rumoh saket. Bandua droe jururawat jitamong lam ruweueng lon laju jipeuturi droe jih. Nyang sidroe nan jih Amber dan nyang laen nan jih Merry, bandua jururawat India. Ulon keuneuk teupeue pakon awaknyan meunan get that jigaseh lon, dan nyang lae-laen hainyan hana jikalon mantong, 'ah, nyan kon masaalah nibak ulon'. Ulon meugrak ate le sabab jaweueb awaknyan: "Alasan pakon kamoe peutimang Droneueh, kon le sabab Droneueh lagak, (awaknyan hase jipike lageenyan, lam kondisi lom keuadaan mata lon bandua teubalot ngon feureuban) atawa kamoe meulakee hadiah, le sabab kamoe na kheueh ureueng-ureueng Kristen. Tuhan Isa Guree kamoe meudeurita keuteupeuseulamat manusia, lom tugaih kamoe na kheueh keuteupeutimang seusabe manusia."
Ulon teuharu keusaksian awaknyan meunan seudeuhana. Ulon sampoe tijoh I emata sampoe siulah-ulah ulon lham ngon ie mata nyan. Bahwa bandua droe jururawat jikalon ngon jiuseuha jirawat lon meunan cit jihiboe ulon deumi nan Tuhan jih, teupeumiyueb ate lon. Awaknyan jihoboe lon sira jipeugah lom, "Bek moe, sabab luka-luka droe neueh mantong teuhah." Ulon tukui ulee lom lon peugah teurimong gaseh nyang sirayeuek-rayeuk jih meunan cit ulon meuheut keuneuk com gaki awak nyan, hainyoe sigoe teuk jikonfrontasi ngon Tuhan Isa rot mandua droe mured Gobnyan; lagee gobnyan geupeurunoe lon dan lon tuan hana lon peu plueng droe. Lamkawan seumeupoh mate meunan cit kureueng jih jikalon ateuh udeb manusia nyang lon ngieng ngon mata ulee lon tieb-tieb uroe, teuma nibak teumpat nyoe aneuek-aneuek Tuhan, jikalon ngon jipeutimang seusabe manusia. Awaknyan na norma ngon nilai (yuem) saban lagee malon geupeurunoe ulon. Ulon meurasa teuka Allah meunan cit ureueng-ureueng gobnyan meunan cit ulon hireuen peu kheueh Gobnyan geupeujeuet ngon keujadian nyoe sibagoe saboh syarat nibak ulon.
Teuma hana watee keuteu refreksi nyan treb-treb. Ulon teubiet lam rumoh saket dan haroih lon woe lom u markash. Meunan ulon trok, ulon jibritee bahwa keu-ulon jijok buet nyan pheu-pheu mantong. Tugaih lon na kheueh lon tam peugawee-peugawee angkatan manyang bek jitamong lam daerah-daerah panyot mirah, daerah-daerah teumpat inong jeuhet,(lunte). Lam hai posisi lon lageenyoe ulon meuturi ngon ureueng-ureueng nyang na di daerah-daerah nyan. Nyoe saboh teumpat nyang hana mangat nibak lon keumeusaksi cinta nyang seujati. Teuma inoe keueh teumpat ulon dong. Na sidroe AM (AU) bangkke kamoe nyang nan gobnyan Philips nyang lahe nibak propinsi Bihar. Ngon teuka gobnyan teupeujeuet kamoe sabe teukem-kem sabab gobnyan carong that geupeuget lawak.
Sikeubiet jih gobnyan kayem that mangke (hana geutamong keureuja). Teuma le sabab kamoe meunan galak ngon lawak-lawak nyang geupeuget Philips nyan, hana meusidroe pih nyang jitem tinggai watee gobnyan teuka. Teuma le sabab sifeuet gobnyan nyang keubeit mangat that, teugrak ate lon keulon perab bak gobnyan. Le sabab keureubeuen gobnyan keugeupeugah gaseh sayang gobnyan ubak Juru Seulamat geuh.
Bak siuroe, ulon haroih lon peugah ubak Philips bahwa gobnyan keuneuk jipinah u bengkee nyang laen, gobnyan beungeh dan hana geutem jak. Watee teutanyong, pakon gobnyan hana geutem jak, gobnyan geujaweuwb bahwa na sidroe aneuek dara nyang nan jih Kumla, sidroe inong jeuhet nibak keuluarga gasien dan gobnyan ka rhot cinta bak inong nyan. Ulon loncuba brie alas an bak gobnyan bahwa meukawen ngon inong nyang lageenyan teulawan norma social, teuma gobnyan teutab ubak peue nyang ka geucok keuputusannyan. Keuputosan na kheueh dasai jih ubak keupeucayaan nyang lhok. Gobnyan geupeugah, "Agama lon meudasai nibak peungorbanan (nibak keureubeuen), Tuhan Isa geugaseh ubak sidroe ureueng jeuhet lagee ulon dan geukeureubeuen. Udeb Gobnyan sineuboh keuteupeue seulamat jiwa lon. Meunyoe gobnyan hase geuteurimong ureueng nyang lagee lon, ngon nyan teuma ulon haroih hase lon teurimong ureueng nyang meudesya lon jihina le donya."
Tutoe haba gobnyan keubiet hireuen that lon. Philips ka geucok saboh keuputosan meunan saboh keusan nibak lon, sibagoe ureueng nyang sabe lam riya geupeuna kem pajan mantong meunan cit gobnyan hana geupike sapeu-sapeu titek tang lam seupot. Gobnyan meulaen ngon peue nyang ta kalon lam udeb geuh.
Hana meusapeue pih tutoe haba lon nyang hase teuleupie ate gobnyan. Pikeran gobnyan ka hana hasele teu-ubah, rab sa ngon guree gobnyan. Teuma Kapitan Baxter muphon, ngon sinulong gobnyan ulon hase lon peu trang ubak ubak keumandan keuhai nyoe meunan cit surat minah teutarek lom teuma. Kumla jiundang u markash sampoe meukawen nyan geupeusah le Peundeta disinan. Philips ngon Kumla laju tinggai di gampong Philips. Nyoe na kheueh saboh langkah beurani, sabab lam gampong keudroe ureueng-ureueng disinan jituri awaknyan lom ka pasti meuteme upat ngon meubagoe teunak. Uroe-uroe oh lheuehnyan ulon sabe teuingat peungalaman-peungalaman watee ilee, na kheueh keuhai teunang that lam udeb le sidroe nyang meu agama Kristen lagee pak Baxter nyan. Meunan cit keuhai get that ate Amber ngon Merry, teutamah lom ngon keuteuladanan Philips. Banmandum keuteungngan nyoe sang-sang meuputa lam ulee lon. Ulon hana meudaya seulaen lon refleksi mantong. Rot toh kheueh teuka keumurahan meunan cit ngon teunaga nibak manusia keuteuteuntang udeb social udeb manusia meunan cit anggapan brok keuteumeukawen ngon inong lagee Kumla? Ureueng-ureueng nyoe peucaya bahwa awaknyan meu-utang lam udeb awaknyan ateuh teukeureubeuen nyang geupeubuet le Isa Almaseh keue awaknyan, dan awaknyan jiseurah udeb si punoh jih mangat geuatoe ngon geuarah le Gobnyan.
Awaknyan konmantong geuseubot saboh peurangkat doktrin. Pikeran-pikeran nyoe ka teuba ulon ubak alam pikeran nyang laen atawa lam donya nyang laen, na kheueh saboh donya dipat ulon hase lon bayang bahwa banmandum ureueng udeb saleng na gasek sayang atawa jimeugaseh sidroe ngon nyang laen meunan cit saleng jikalon teuma. Nyoe na kheueh saboh visi nyang hayeue that teuma hana watee keuteupike nyang lageenyan bagoe. Mungken pikeran nyang lagee nyoe nyang siget jih na lam donya nyang peu-peumentong hana meuteuntee atawa hana meumakna le. Udeb hase lon drob sapeu-sapeu nibak donya laen dipat keuhai udeb manusia mantong na yuem jih.Ulon keubiet that-that keumeulot, sabab le keunyataan udeb hana sisuai ngon peue nyang ulon pike. Harok-hara lam nanggroe lon meunan cit situasi peulitek nyang hana meuteuntee. Aneuek beunua India kana lam karu ngon beuncana rayeuk lom teungoh jijak ubak keuhancoran.
Prang donya nyang keudua ( II ) seuleusoe nibak thon 1945. Meudame pih ka trok keue bansa Eropa, teuma keue India na kheueh saboh priode nyang paleng meudarah nibak na nanggroe nyan. Kon peungusa-peungusa luwa nyang meutanggong jaweubeb, teuma keuhai keuagamaan. Agama ka jeuet keubatee meuantok dipat jai that ureueng nyang meugantoh. Hindu ngon Muslim hana hase le udeb meudame, konseb keue ureueng-ureieng India na kheueh: "India meusaboh dan jeuet keusaboh udeb lam dame", nyan ka hancoe meukeupeng-keupeng. Jinoe kamoe teupeurangkab nibaksaleng teubanci sidroe ngon nyang laen. Teumakot meutamah meunan cit banci sidroe ubak nyang laen seumaken meutamah seu-uem jih ka jeuet keuluwa biasa. Skala poh mate gob, harok hara lam karu sabe meunan cit teutot ideh inoe seumaken meutamah-tamah keibiet meutamah-tamah bingong soe mantong ureueng nyan.
Islam kon agama nyang baroe. Islam jitamong u India nibak thon 712 oh ka lheueh thon Maseuhi. Kadang-kadang na meupake, hainyoe teupeubiyeie mantong sabab awaknyan udeb meuteutangga ngon Hinduisme nyang ka teupula that lam neugahra nyoe. Oh lheueh nyan Islam jicokalih teunaga peulitek nibak bagian Utara India, sibagoe keuturonan nibak Jengis Khan nyang jipeutaloe Delhi nibak thon 1526, dan laju jipeu dong Dinasti Moghal. Dinasti nyoe hana jiuseuha keue jiubah peunduduk nanggroe mangat jeuet keue Islam, sabab golongan Hindu Brahmana nyang teuga hana jibrie keuseumpatan, bahpih awaknyan ka jiujoe ubak nyan. Meunan cit teuma na padub-padub droe Islam nyang teuga nibak gulongan Mughal na kheueh ureueng nyang meutobat nibak kasta Hindu nyang paleng miyueb. Akhejih Hindu ngon Muslim hana hasele teupeubeda. Bandua nyan na meuteume nibak golongan ureueng gasien meunan cit awaknyan nyang ji eksplotir teuma.
Pakon manusia nyang bunoe awaknyan udeb meuteutangga ngon dame, jinoe jibeudoh ngon saleng jibanci sabe keudroe-droe sidroe ngon nyang laen. Jaweueb jih na meuteume nibak car jipeuk peulitek ureueng-ureueng Muslim jitakot bahwa dominasi Hindu di India nyang meudheka teuma jipeudeuk awaknyan nibak posisi nyang leumoh. Golongan Muslim hana peucaya bahwa golongan Hindu jipeudong ade ateuh awaknyan. Golongan Muslim ka jiteuka sada sibagoe masyarakat ngon identitaih keudroe. Peusatuan Muslim nyang jipeudong thon 1906 jisaja keujilindong hak-hak Muslim, dan awaknyan pih muteume secara peulitek nibak Inggreh, dan meuhase jiubah hak awaknyan meutameh get. Nibak ide-ide peulitek nyang teutarek pikeran Hindu ngon Muslim, laju teuka saboh seuruan nyang kreuh lom trang that: "Muslim haroih na nanggroe jih keudroe, na kheueh Pakistan. Ngon nyan teuma propaganda nasionalisme laju hu meuhueb-hueb ngon imajinasi Muslim. Teutamah ngon seumangat keuagamaan, ngon nyan meukeureubeuen banmandum keugiatan peulitek. Sigohlom nyan, useuha cultural dipat Hindu ngon Muslim teupajak lam udeb meusajan-sajan, aman that hana masaalah sapeu nibak bandua nyang paleuk agamanyan (Hindu ngon Muslim).
Teuma jinoenyoe keupeucayaan awaknyan kajijampu ngon seumangat nasionalisme ka jeuet keubatee nyang hase meugantoh, awaknyan hana hasele teupeusaboh lom akhejih bicah ka hanale saleng peucaya. Keuteu peuwoe lom keuamanan lam nanggroe, tantra Inggreh jilakee keuteupeu aman lam nanggroe ngon jitulong peulisi nasional. Jeumba lon lam calitranyo paneuk that. Baxter ka hanale meusajan ngon kamoe, hana jipinah ubak stasion nyang laen. Bak siuroe, oh ka lheueh pajoh bu malam, ulon jidrob. Dan bak uroe nyang laen atawa bak uroe oh ka lheuehnyan, ulon jiba ubak saboh pulo di Indo – Cina nyan nan jih Pulo Bala Nakamatti toe ngon Singapura. Ulon hana lon teupeue peue nyang jitudoh le awaknyan ateuh lon, teuma hana treb oh lheueh nyan lon meurunoe na hubungan ngon angkatan prang India. Sigoe aleuhat oh lheuehnyan. Surat keulon trok nyoe kheuh tudohan awaknyan ateuh ulon:
Ulon teudrob teungoh lon publoe ransom ubak sidroe ureueng Benggali, dan sigohlom teujaga keusatuan hase teuyueb peuluwit jih, ulon timbak dan lon peuluka jihnyan ngon piseutol.

Ulon ngon Kopral Izhak kamoe seupot ngon kamoe gantung karang bungong ubak Mr. Mahatma Gandhi, kamoe meupeukayan uniform peumeurintahan.

Ulon ngon seureusan Aslam teuka ubak musyawarah peulitik nyang geuba le Mr. Muhammad Ali Jinnah, dan teupasoe tutoe haba kamoe ngon rangsangan revulusi.
Peuwira kantoe nibak kompi nyan jibaca bandum surat-surat lheuehnyan jijoklom pulang. Tudohannyoe hana hase teucok sibagoe bukeuti, nyang gurajih ulon hana jipeuriwang u Chittagong, teuma jikirem ubak group laen toe ngon Barakcpur. Banmandum nyang jitudoh teulawan angkatan meu sinjata Nasional India jipeubateue nibak buleuen April 1946, resolusi teulakee mangat jipeubeubaih banmandum tahanan (ureueng nyang teuteuen) hana lanca, ulon jipeulheuen buleuen Maret 1947.
Ulon na bak sipang rot udeb. Ulon hana lonteupeue peue nyang haroh lon pubuet keu udeb lon. Deuh jih ka hana meumakna le lon nyoe na lam angkatan udara, dan lon keibiet that keucewa ngon udeb disideh. Muprang ngon meuloe ka teupeujeuet ulon rhot bak saket dan ngon keucelakaan nyang meupaloe nyan, nyang hase lon peubuet na kheueh buet-buet nyang phui-phui mantong. Banmandum latehan lam angkatan udara meunan cit ngon buet "cantoi" (intelejen), hana meuguna le nibak ulon. Watee ulon meulateh (latehan) pakriban teupoh mate gob lam angkatan udara, ulon ka lonpeuphon sitot langkah ayah lon. Ulon meuharab lon ngieng nanggroe nyang ceudah lom mungken teuteurimong tanda jasa. Ulon harok that meuteume tugaih di Burma ngon Singapura, teuma tanda jasa nyang ulon harab hana lon teurimong. Udeb nibak angaktan udara ngon meubagoe diskriminatif meunan cit meubagoe prasangka ka hana ek lonteun le nibak droe ulon. Ulon haroh lon teubit. Sigoe teuk, keuluarga ulon ka jipeuphon teogon lam hai udeb lon ulon teutab na hubongan ngon awaknyan simantong lon na lam Angkatan Udara, lom teuma, meunyoe na sidroe keuluarga nyang saket, ulon sabe meuteume woe, teuma jinonyoe awaknyan jilakee ulon mangat lon woe. Sabab ayah lon meuninggai donya, ngon nyan lon cok keupeutosan atau sinutoh keue lon woe bak awaknyan ateuh meulakee meunan cit laju lon lakee piyoh bak buet ngon cara lon kirem surat mangat ulon jipeubeubaih.
Bak awaiphon deuh jih mandum lanca-lanca mantong. Peuratoran jipeugah sidroe-sidroe ureueng nyang meubuet bak buet 'cantoi' haroih na tinggai nyang treb jih 18 buleuen lam angkatan prang, phon watee meulakee nyan teupeutamong. Ngon meukeusut ureueng nyang lakee piyoh nyan jipeutuwoe mandum kode-kode teusom (rahasia), sampoe jihnyan hana hana jiteupeue mandum haba-haba nyang jitamong (inpormasi) meunyoe jih nyan jiwoe lom ubak sipil (ureueng biasa). Rupari Captain Dr.Abdullah teuka keugeujak peuseulamat ulon, gobnyan geupeugah keuhai kondisi lon, lom geupeugah bahwa ulon peureulee that teurawat seucara medis ngon sigra. Ulon jipeulheueh laju lon woe u rumoh ngon dokumen-dokumen nyang geuteken le Dr.Abdullah keuhai cidra mata uneuen lon. Ma lon leumpah teukeujot watee ulon woe ngon tanda jasa.
Deungon ka soh lam udeb lon, ulon riwang u Jammu Kahmir, bak buleuen Maret 1947. teuma le sabab ikeulem saleng meumusoh dan karu ideh inoe teupaksa ulon lon peuseulamat keuluarga lon meunan lon tulong awaknyan nibak saat-saat udeb lam keuadaan sosah nyang haroh kamoe peujak lom kamoe rasa. Disinoe na watee keuteupeuget lom hubongan nyang ka rusak nyan. Wateenyan na kkheueh watee nyan leumpah gawat lom geunteng that. Tanyoe haroh tapeubuet. Sabab nyang jai peunduduek Jammu na kheueh Hindu, nibak blah utara Kashmir na kheueh Muslem. Tanyoe sada that bahwa tanyoe udeb na lheueh lam kawan ureueng nyang saleng meumusoh ngon nyan posisi Kashmir hana teunang.
Keukuasaan Inggreh lheueh nibak buleuen Agustus thon 1947, teuma dua boh neugahra lahe ukeue nibak saboh. Neugahra Muslem di Pakistan ngon saboh sayeueb di Timu saboh sayeueb teuk di Barat, teupeung kreh nibak Neugahra India. Ngon nyan harok hara peunduduek laju teuka, meuribe-ribee keuluarga laju meupisah nibak nanggroe nyang jipileh. Nibak ureueng Muslem nyoe na kheueh saboh meuneujak nyang jioh jih meureutoh kiloe meutee u Pakistan Barat. Deurita hana hase teubayang Ngon na harok hara ka teupeuhah rot ueh keusaleng poh meupoh mate. Nanggroe nyang ka meurdehka jeuet jipileh lagee Kashmir hoe nyang jipileh. Kashmir na kheueh saboh neugahra nyang paleng peunteng, nyang hana jitem teupeuralat lagee neugahra-neugahra nyang jiundang mangat jitem teken. Maharaja nibak neugahra Kashmir deuh jih nyoe na kheueh saboh deulemma. Hari Singh, maharaja nyang mat kuasa na kheueh sidroe Hindu nyang kong that jimumat bak atoran droe jih lom teuma jimeumusoh that ngon Pandit Nehru. Peudana Meuntroe nibak neugahra India Medheka. Gobnyan jitakot bahwa India jiba demokrasi u nanggroe gobnyan, Hari Singh laju jipeupreh ilee meubagoe-bagoe keusatuan sitreb-treb mungken. Bahpih gobnyan hana putoh-putoh jipaksa le peumuka-peumuka peilitek mangat geupeupunoh meulakee masyarakat. Gobnyan hana geupeudeh bahwa gobnyan na meuheuet keuneuk geupeubuet lageenyan. Jai that-that nibak peunduduek nanggroe jihnyan na kheueh nyang paluek agama Islam (mayoritaih), teuma nibak sidroe-droe peunguasa Hindu hana jitamong lam akai keujitundok ubak keukuasaan Islam. Gobnyan laju geupeumeuen keureutu geutah (jiundo-undo) ngon bangalak ate geuh. Poh matee meunan cit buet-buet jeuhet yoh phon that na meupisah dua boh neugahra laju meukeumang ngon hebat that. Hana meusaboh teumpat pih nyang aman dipat mantong. Keujadian-keujadian meupinah-inah meunan bagaih that terror meunan cit teumakot ka jimeue ngon bagaih that nibak meubagoe tingkat udeb masyarakat. Teuma nibak seupot glab nyoe na bacut titek trang ubit nyang meu cahya. Hana mandum meu-ubah jeuet keumusoh sabab sisitem peulitek meu-ubah. Wareh liengka tanyoe nyang jroh ate, Iqbal Singh, sidroe ureueng Sikh jibrie naseuhat ubak tanyoe mangat tatinggai banda, sabab situasi ngon kondisi nibak wateenyan keubiet seudeh that. Gobnyan geupeugah bak ulon, "Meunyoe na peukaru udeb gatanyoe, tanyoe meuteutangga saleng tabila bahpih ngon nyawong tanyoe keudroe." Roh nyang get lageenyan bagoe diteungoh masyarakat nyang saleng poh meupoh matenyan na kheueh saboh titek trang nibak ancaman-ancaman nyang jipeukaram tanyoe. Tanyoe tateupeue bahwa Maharajah mungken jitem meusaboh ngon India, bahwa mayoritaih (jai that) nibak peunduduek Kashmir na kheueh Muslem.
Udeb geutanyoe sabe na lam bala, dan tanyoe haroih tapeubuet sapeue sapeue buet. Ulon naseuhat adeuen-adeuen lon mangat geukirem peurumoh-peurumoh ngon aneuek-aneuek gobnyan u gampong kamoe. Awaknyan seugan geupeubuet lageenyan, teuma hana keumungkenan laen. Keuadaan seumaken meut tamah brok. Tieb-tieb uroe sabe tadeungoe bbuet-buet keujam nyang jipeubuet le gob, tieb-tieb jitam le naluri keuteupubuet jeuhet nyang keujam nibak sidroe-droe ureueng rasajih peureulee that keuwateenyoe. Le nyang mat kuasa hana meudaya keugeupeupiyoh ataranyan. Ulon haroh lon paksa aduen-adeun lon geujak lom geisitot peurumoh geuh maseng-maseng di gampong. Nyoe na kheueh saboh keuputosan nyang leumpah that brat nibak awaknyan. Sabab awaknyan haroh geutinggai mandum atra geuh meunan cit ngon tanoh nyang na di jammu. Teutinggai mandum nyan meumakna geupeu lheueh peue nyang ka geupeubuet lam udeb geuh awaknyan. Teuma, yoh phon keuadaan udeb awaknyan lam keuadaan meubala, awaknyan teupaksa keugeupileh ngon geupeuyaken bahwa keuhai udeb awaknyan hana hase teugantoe ngon hareuta. Ngon keuadaan awak nyan meunan cit dukacita awaknyan geujak, ulon meujanji meunan cit mangat lon tinggai lom lon kalon ubak peue-peue nyang awaknyan pereulee. (atawakamoe).
Teror seumaken rab dan ka jiseurang pabrek kamoe, kamoe na sidroe peumbantu nyang umjih 14 thon, nan jih Ilyas. Bak siuroe jihnyan hana jiwoe u rumoh keujipojoh bu cot uroe, teuma adoe jih nyan inong jijak bak pabrek keujijak kalon peue nyang teujadi ngon aneuek nyan. Ulon peugah bak adoe jihnyan bahwa aduen jih nyan hana jitamong keureuja uroenyoe. Teuma adoe jihnyan jipeugah bahwa aduen jihnyan jitinggai rumoh lagee nyang ka-ka. Prasangka lon teuka. Peue kheueh kamoe jeuet keukeureubeuen nyang keuneu lheueh? Ulon khawatee ngon teumakot ubak peue nyang teuma teujadi. Ulonmat jaroe adoe inong nyan laju kamoe jak rot nyang kayem jijak le aduen jih uroenyan. Hana teusangka-sangka kamoe ngieng aduen jihnyan, ka teutiek dan mate lam paret. Ulon jiteuka seungkoe lam ate dan aneuek inong ubit bak bineh lon jikliek siabeh seuneuga. Ulon useuha keue lon peumangat ate jih, teuma teutab hana hase. Oh lheuehnyan lon peusampoe haba ubak keuluarga dan teutulong teukubu aneuek nyan. Ilyas teuseumuyueb bak uroenyan cit teuma. Soe kheueh nyang seulanjut jih? Tanyoe mandum na kheueh sasaran nyang get. Teutangga kamoe ureueng Sikh nyan, jibujuk ulon mangat lon jak. Hana mudah tabujuk peugawee mangat jipiyoh meubuet, sabab hase awaknyan nibak pabrek na kheueh nyan mantong nyang jiharab. Piyoh nibak pabrek nyan meumakna hana le buet nyan meumakna hot akibat jih ateuh keuluarga jih. Disampeng nyan awaknyan seutia meunan cit hana jipeubiyeue ulon sidroe nibak keuadaan nyang payahnyan ngon teumakot that nyan. Teuma ulon teupaksa ulon yue awaknyan mangat jiteubiet meunan cit gaji awaknyan ulon bayeue.
Sialkot, na kheueh banda nibak siblaih bataih ngon Punyab, Pakistan, disinan na jibrie bacut teumpat meuceue atawa meusadeue, le nyan awaknyan jijak keunan. Ulon laju lon tob pabrek, nyoe na kheueh saboh hai nyang lumpahseudeh. Harapan tanyoe nyang keuneu lheueh na kheueh keuteupeuseulamat nyang na bak tanyoe, ka gadoh. Di Jammu, kamoe na lhee boh rumoh, saboh ruko meunan cit pabrek dan na 400 aree tanoh nyang suboe. Jinoe banmandum nyan haroih teutinggai. Teubayeue keunugahra baroe biaya jih meuhai that, teuma saboh konseb idealis na kheueh saboh neugahra Muslem keudroe lagee Pakistan na kheueh saboh meunang nyang luwabiasa.
Watee akhe buleuen September 1947, ulon ngui peukayan seuragam R.A.F meunan cit beude. Laju ulon jak-jak. Ulon jak-jak paih lagee sidroe peutugaih, ngon nyan ulon hana jicuriga meunan cit hana jienenya. Malam nyan seupot lumpah na, watee ulon ka trok ubak Krueng Tui laju lon meulague u meurandeh. Oh trok u meurandeh laju teu deungoe su, "Piyoh" laju alarm jiusue. Watee jikalon seuragam lon, le awaknyan piket nyan jipeugah, "Ulon teuma meurondo" Ulon kujak laju. Meunan ulon teubit nibak jikalon le awaknyan, ulon lon peuphon plueng 30-35 km u rumoh di Zaffarawal. Ma lon geusambot lon ngin ie mata. Keuhai udeb nyang kamoe peudong meusajan ka reuloh bansiseun liengka kamoe. Watee ukeue kamoe seupot that, teuma meunurot ureueng-ureueng peulitek nyoe na kheueh saboh peumangat ate that ngon keuadaan baroe. Tanyoe meu untong, situasi tanyoe leubeh get nibak nyang siharoh jih. Tanyoe mantong na rumoh nyang keubiet mangat that, seb peunajoh lom teuma tanyoe bektajak atawa hana peue tajak ubak kamp peungungsi. Udeb ka hana meumakna le nibak ulon. Banmandum nyan hana tujuan lom soh hana meuasoe. Teuma nibak ulon hana lon peulheueh ide bahwa udeb na meukeusut ngon makna. Lagee ulon ka gadoh tugaih dan hainyan ulon teurimong lom teuma. Ulon riwang ubak agama keulon mita rot peuseuleusoe ngon arah nyang baroe, sapeu-sapeu nyang udeb, meunyoe jeuet mate keunyan. Ulon that-that meuharab aktivitaih nyang na faidah. Ulon yakin bahwa peu-peu mantong nyang ulon rasanyoe meunan cit lon latehnyoe, kateuntee peureulee saluran nyang baroe. Ulon peu phon meurunoe Islam nyang bit-bit. Nyoe na kheueh dipat ulon teurayeuek. Ulon teuma jeuet keusidroe Muslem nyang taat meunan cit seu mayang na kheueh jeumba nyang ka teuntee keue ulon. Muslem haroh seumayang limong goe lam siuroe. Teuma ulon hana lon mumat nibak watee-watee nyang lageenyan teuma lon anggab nyoe paleng miet. Ulon mita guree-guree agama nyang hase geuba ulon u arah nyang beutoi.
Jihoi mangat teujak muprang jihad atawa prang sabi (suci), jitawok nibak tieb-tieb meusijid. Lagee nyang jitakot le Maharajah nibak Kashmir dan jipileh keue jimeusikutu ngon India. Le that-that Muslem meuharab mangat Kashmir bek meusaboh ngon Pakistan, meunan cit awak nyan meuharab mangat teupeungkreh ngon India. Ngon nyan kheueh teuma jinoenyoe awaknyan teutawok keujijak muprang sabi keu keumeurdehkaan droe jih keudoe (Kashmir Merdheka). Nyoe na kheueh peulayanan nyang lumboi sa lom manyang that. Prinseb jihad nyan na kheueh teutawok ureueng Muslem nyang saleh mangat jijak muprang keujilawan ureueng-ureuang nyang hana meuiman atawa ureueng-ureueng kaphe. Phon teudong Islam, peulitek ngon agama sabe meusandeng dua. Dan nyo kheueh tugaih ulon nyang paleng peunteng lom manyang that mangat lon peutimang Allah nyangka geubimbeng ulon mangat jeuet keupeujuang keumeurdehkaan. Ngon nyan teupeuphon kheueh priode nyang paleng miyueb nibak udeb lon, dipat mandum peunghargaan na heueh teuancam, seumangat lon teutulak keusadaran lon dan teupeutaloe glaih keuteubalaih dam meunan cit ngon mate. Ulon puphon peusiab droe keugeurakan nyang baroe nyaoe, nyang jipeutaba peue nyang ulon peureulee nibak watee nyoe. Akhejih, nyang soh ka mulai teupasoe.
Ulon meurumpok ngon Sardar Muhammed Ibrahim, Presiden phon. Presiden phon keue Kashmir Merdheka. Gobnyan geujok keulon keureu tu pribadi laju geukirem ulon ubak Markas Rayeuk peujuang-peujuang Muslem untok keumeurdekaan. Ulon tamong lam pasokan laju meuteume teumpat sibogoe tantra biasa. Ulon hana lontem brie keusan ubak soemantong keuhai peungalaman ulon yoh watee ilee, ngon nyan teuma ulon hana lon peugah keuhai udeb lon watee mantong lam RAF.
Le that nibak peujuang-peujuang nyan asaijih nibak angkatan darat ngon Angkatan Udara. Teuma, geurakan merdheka nyoe hana jiorga nasasi ngon get meunan cit hana meusidroe pih nyang jibayeue. Awak nyang dukong tanyoe jibri bu ngon peunajoh, tanyoe hana sumberdana keudroe. Meunyoe hana sapeue keuteupajoh, laju tapoh mate saboh beu latang laju tasie tataguen keungon peutroe pruet tanyoe. Karu ngon sabe krek lam tantra Pakistan kayem that teujadi, sabab awak nyan jikeuneuk kalon saboh organisasi ngon peujuang-peujuang nyang meusiplien. Teuma nyoe gohlom teujadi.
Nibak buleuen Oktober, jai that-that ureueng nibak bataih Barat laot jijak u Kashmir, padub-padub droe rakan meunan ulon jak sitot awaknyan lalu muprang phon di Muzaffarad trok u Bada Mavla. Muprang ubit-ubit hana putoh-putoh sampoe trok 2 buleuen. Watee ka trok bak musem sijuek, ulon jikirem u gareh keue nibak bagian seulatan. Nibak teumpat nyoe na cit padub-padub goe muprang. Peuleton bak teumpat ulon jikirem keuteu blokade rot ueh nyang teuhubong Pathankot (teumpat laen di India) ngon jammu, dan meunyoe mungken, teuprang laju teuduek teumpat nyan. Oh ka lheueh Maharajah meusikutu ngon India, tantra India laju jikirem keuteutulong jihnyan nibak teuatasi musoh laju jiprang sampoe jisurot musoh jih teuma. Kamoe meupeuteun rot ueh, teuma hana hase kamoe padub-padub goe kamoe taloe lom teuma jai that nyang meuninggai donya. Teuma le that nyang jeuet keuakibat musoh jai that mae, bahpih kamoe taloe. Seudangkan ulon teulibat nibak le that ubak jai that geurakan keumeurdhekaan. Nibak teumpat nyoe, ulon meurumpok lom ngon Salima. Jihnyan galak that dan meuharab teupeubaroe lom hubongan kamoe meunan cit teupike keuteumeukawen. Keluarga ulon ka teupeusona ngon keukayaan jihnyan le sababnyan hanale ampeueng keubeujeuet kamoe meukawen. Meunan cit ulon muharab nyang lageenyan bagoe, teuma kon jinoenyoe. Ulon mantong meuseumangat that keumeujuang sibagoe nasionalis dan keugiatan agama keuteupupunoh keubahgiaan droe keudroe. Kamoe meucre lom dan ulon teupeue bahwa nyoe kheueh meurampok kamoe nyang keuneuleuh.
Hana padubna treb teuma ohlheuehnyan ulon jak u gampong Salima, laju lon kalon jihnyan lam keuadaan saket. Ulon hana jeuet lon kalon jihnyan meunyoe gohlom teuteupeu peu saket jihnyan, ulon cok keuptutosan keulon sitot khusos nyang ka ulon pileh keudroe. Ulon tinggai gampong keulon jakkalon jihnyan. Teuma lam sibeuleuen ulon ka meuri wang u gampong nyan. Lagee leupie tuleueng likot atawa tuleueng likot jisambot ulon, jantong lon mendok-dok bagaih leumpah na lagee dada lon rab beukah. Ulon kalon aduen nyang agam nibak Salima, keuluarga awknyan meunan cit rakan meuturi awaknyan jiwoe lom u rumoh nyan ngon rumah nyang seudeh meunan cit ie mata nyang sosah. Ulon ka jeuet keusada meunan cit teumakot jiteuka lam ate lon. Peunyang ka teujadi ateueh Salima? Aduen jihnyan peugah bak lon bahwa Salima ka meuninggai bunoe bungoh dan kamoe banmantong kamoe jak seumiyueb jihnyan. Ulon hancoe sabab lumpah na. watee lon kalon ateuh mata uroe nyang teungoh jilob. Na cahaya nyang ceudah ateuh langet nyan.
Dan uroe nyan keuneuleuh saban cit lagee Salima nibak uroenyoe. Peue kheueh jihnyan mate sabab le patah ate dan peue kheueh ulon jeuet keuakibat jih? Seudeh ngon meunyeusai teupasoe lam ate lon. Pintoe keubahagiaan pribadi ka teutob keue ulon keu siumumasa. Ulon ka gadoh sapeue-sapeue nyang paleng peunteng nyang hase ulon cok. Ulon riwang ubak keusatuan prang ngon ate nyang hancoe. Teuma na saboh rot keungon teupeulam dukacita lon nyan na kheueh ngon cara lon peuseunom droe lam mideuen prang keugeurakan keumeurdhekaan. Nyan na keueh saboh mantong nyang ulon lakee lam udeb.
Keumandan-keumandan lon bagaih that geucetet peungalaman lon nyang jeuet jipeuguna nibak geurakannyoe. Ka teucok keuputosan bahwa ulon haroh jeuet sidroe lamkawan awaknyan dan ulon jijok tugaih sibagoe keumandan upacara bak saboh seupot. Banmandum teupeubuet lam keuadaan teusom (rahasia) nibak prang geurilya nyoe. Ulon jibai'et jeuet keumandan sector dan meuteume tangong jawaueb deungon latehan nibak peujuang-peujuang keumerdehkaan. Seucara bacut-bacut atawa teuangsoe, treb bak treb ulon meuteume teuma buet nibak jeuet keue tukang 'cantoi' (intel). Ulon ingat bak saboh keujadian. Kamoe teungoh operasi dan teupeureulee dua uroe keu operasi nyan. Na lhee droe nibak kamoe teungoh jimita inpormasi nibak gunong-gunong. Kamoe ka abeh beukai peunajoh. Peunajoh kamoe kayem that jagong nyang kamoe taguen ngon meuntega. Kamoe deuk leumpahna. Hana padubna jioh nibak teumpat kamoe na saboh teumpat dipat ureueng-ureueng Hindu teungoh jitot manyet-manyet awaknyan. Jipike nibak teumpat nyoe jai that hantu nyang kheueh sabab jih ureueng-ureueng Hindu hana jijeuet jak keudeh keunoe nibak teumpat nyan.
Teuma ulon hana teumakot ubak peue mantong dan ulon teumanyong, Pakriban mangat pruet kamoe troe lheuehnyan nibak lon n aide nyang jroh, nyan kheueh pikeran lon. Hana padubna jioh nibak teumat nyan deuh lon kalon asab jiek u ateuh bak bineh nyan na saboh lampoh ja gong. Laju lon cok padub-padub boh boh jagong nyan laju lonba bak apui nyang na asab nyan. Rupari nyan na kheueh teumpat tot manyet ureueng Hindu nyang mate. Kamoe na bak tetorial musoh ngon nyan hu apui nibak kamoe nyan teuma teuterek ate musoh. Ulonjak laju lon tot boh jagong ateuh teumpat tot manyet nyan. Rakan-rakan lon galak watee jikalon lon gisa sira lon ba boh jagong teutot lom teuma awak nyan hana jitanyong pakriban cara lon teuma boh jagong nyan. Oh ka lheueh awaknyan seuleusoe jipajoh, laju lon peugah bak awaknyan sira santai mantong, pakriban cara lon teuma boh jagong nyan. Hana hireuen, awaknyan jipeuphon luwat lom teuma na nyang saket pruet. Ulon galak sabab awaknyan jiamai nyang jeuet keureaksi psikologis.
Operasi-operasi geutanyoe meunan cit jitamong keunan meubagoe cara tipee daya. Nibak saboh keuseumpatan, ulon ubah droe jeuet keusidroe Hindu Brahmin dan si ulah-ulah jeuet keusidroe peungungsi nibak nanggroe Pakistan. Ngon cara teupeuhancoe ureueng-ureueng nyang mungkreh nibak nanggroe India, ngon teuka peungungsi nibak Pakistan meunan cit India ka jeuet keupeumandangan biasa. Ulon keteupeue bahwa ulon hana jicurigai sabab meuribee ureueng Hindu jiting gai keududukan jih di Pakistan laju jipeuplueng droe India. Misi ulon na kheueh mangat lon teupeue teunaga meunan cit asai teupeuna tantra India nibak daerah nyan. Watee ulon katrok ubak bataih neugahra, ulon ka jipeuphon moe dan lon calitra pakriban keuluarga lon jipoh mate dan atra kamoe jicok. Awaknyan weueh that ate dan laji peumangat ate lon sira jipeujanji jijok bantuan.
Ulon jipeujanji teuma lon teurimong rumoh meunan cit ngon meuba goe peurabot jih, mangat ulon jiyue mangat lon peugah padub-padub boh kilimat nibak kitab suci Hindu. Ulon le yaht nyang lon teupeue nibak kitab nyoe sabab ka lheueh lon merunoe nibak teumpat sikula lon jamnu. Teuma ulon hana lon teupeue nyang khusos nyang keuneuk awaknyan tanyong. Meuneu euen ka seuleusoe. Meupaloe….!!
Ulon haroih seumike beubagaih. Laju lon cok keuputosan keulon seurah dro ubak keumurahan ate awaknyan lheuehnyan lon moe lom. Ulon peugah,ulon lumpah that bingung meunan cit hek that keulon peugah keuhai mantra nyan. Teuma awaknyan hana jipateh ubak alasannyoe le sababnyan ka jeuet keucuriga. Ulon ka I jipeuphon putoh asa. Meunyoe awaknyan jiteupeu soe ulon, meunan cit awaknyan curiga sabab na padub padubdroe aneuj buah laon na rab ngon awaknyan.
Hana payah nibak awaknyan keujiteupeue peue kheueh lon nyoe Hindu atawa, sabab indentitaih lon bak tuboh. Lagee tieb-tieb aneuek agama Muslim, ulon jipeukatan. Awaknyan teuma peureulee jipeulon ulon mangat jiteupeue soe ulon. Mangat situa sijih meutetama seu-eum elon ba dua boh granat nyan lon som lam bajee watee awaknyan jipeungkreh ulon keujipareksa, ulon hase lon peuplueng droe ngon cara lumpat binteh beuton, ulon rhon granat nyang phon. Lon preh 15 detek laju lon rhom granat nyang keudua, bansaboh cit ngon hareuta teumpat nyan abeh tutong ngon apui. Teupeurusak udeb manusia meunan cit ngon hareuta beunda kon nyang luwabiasa teuma ka jeuet keubiasa. Peunduduek jigireng ngon beude jitodong, hainyoe kamoe kalon watee kamoe tamong bak saboh gampong. Peunduduek nyang jigireng u rumoh jih maseng-maseng jiyue tamong lam rumoh lheuenyan jiyueb tob pintoe rot luwa lheuenyan laju jitot. Saboh buet nyang biet-biet jeuhet that hana rasa weueh meubacut pih lam ate jih. Haiyan pih teutab hana teupeukaru pikeran lon sabab kalazem haiyan na. Ulon teuma lon peujak tugaih dan buetnyan haroih lon peubet ngon get, meunyoe Allah teupeuphuih pakon ulon ragu-ragu.
Prang reubot meurdheka nyoe ka jijak dua thon. Nibak akhe muprangnyoe, padub-padubboh peuristiwa teuka, nyang tepeuingat ulon ubak nilai-nilai nyang ulon meurunoe sibagoe aneuek; keuhai gleh ngon suci udeb meunan cit udeb keue ureueng laen. Idam-idaman nyoe ka gadoh, teuma awaknyan teuka lom ka jeuet keu nyang paleng lon peuphon lam udeb lon. Teuma kon jinoe.
Sibagoe keumandan sector, ulon boh reuncana leubeh le lom lonpeuna prang atawa leubeh le teupeuna seurangan. Sinulong nibak Pathans nibak barat laot, nyang deungon tepeukong pasokan kamoe. Awaknyan jai that kon peujuang-peujuang nyang get, awaknyan leubeh jiharok keue ureueng inong nibak jimuprang untok merdheka Kashmir. Teuma kamoe meurok pakat nibak sector lon keulon meurok pakat keuhai reuncana-reuncana kamoe ngon awaknyan. Watee saat meurok pakat kato that, ulon lonjak-jak. Hana teusangka-sangka ulon hireuen that, sabab lon deungoe nan ulon na nyang hoi. Su nyan na kheueh nibak su sidroe ureueng inong, teuma lon turi su nyan, nan nyan teuma jipeuguna le keuluarga meunan cit le ngon-ngon nyang rab. Gobnyan geuhoi nan lon ngon nan 'Gama' nan gala teujok keu ulon. Ulon kalon ubak sun yang teuka nyan dan laju deuh lon ngieng sidroe aneuek dara, cutpo inong nibak padub-padubdroe rakan lon nyang Hindu, dara nyan jidong dilikot tiengkab nyang jibrikade.
Rab hana lon turi jihnyan, teuma lon ingat bahwa jihnyan na kheuh anggota nibak keuluarga dipat ma lon ka lheueh geubri awaknyan jimu som nibak rumoh kamoe nyang treb jih dua buleuen, sigohlom awaknyan hase jiteubiet bak bataih u India ngon aman.
Lon tanyoeng, "Peu kheueh kahnyoe poda nyang inong nibak rakan lon Sudessh?" Inong nyan ji anggok. "Pakriban carajih gata trok keunoe?" Inong nyan malee that keujipeugah. Ulon bile jihnyan, sabab lon ngieng jihnyan stress that. Gobnyan laju geucalitra bak ulon peungalaman nyang seudeh leumpah na. 12 pa thans ka jilewat ubak bataih, jiprang gampong jihnyan laju jiba inong nyan keunoe dan awaknyan laju jipeukosa inong nyan. Ulon hana jeutle lon peugah haba. Peue kheueh nyang haroih ulon ngieng? Peu kheueh nyoe keugiatan agama? Peu kheueh Islam jipeuhase pi-e ngon peurangoe jihnyan lageenyan? Keue nyang phon that nibak kariel nyang lon pileh keudroe, saboh teumanyong nyang rayeuk that jiteuka ateuh lon jilawan ubak keugiatan-keugiatan lon ate lon jipeuphon bimbang, beureutoh lam ate bahpih ubit nyoe payah that teupeulon. Lam hai nyang lageenyoe, ulon haroih lon peubuet sapeu-sapeu nyang positef. Ulonba peue nyang jipeureulee meunan cit lon peuguna mandum peungaroh lon keulon peubebaih jih. Ulonba jihnyan ubak ma lon laju geurawat jihnyan lam rumoh kamoe sampoe puleh lheuehnyan kamoe peibiyeue jihnyan jijaklom keue jijak meurumpok ngon syedara-syedara jih rot bataih nanggroe.
Keujadian nyang hana ade nyoe, teuingat ulon ubak saboh keujadian nyang ulon kalon keudroe. Ulon na bak saboh banda di Gujarat nibak meuneujak u Kashmir. Watee teungoh lon jak lam pasai, laju lon kalon ureueng teungoh jipubloe manusia. Yuem lhee droe ureueng inong deuh lon kalon yuem nyang jilakee keue awaknyan. Sidroe inong atawa sidroe aneuek dara yuem jih 300 upees; nyang laen, nyang ka meukawen atawa na aneuek ubit 200 rupees dan inong nyang ka tuha yuem jih 50 rupees Ulon ingat pakriban rasajih ulon meuguncang that. Padub kheueh yuem sidroe manusia? Ulon teumanyong bak droe lon keudroe.
Stabilitaih meuntal lon ka teupeukaru, ulon hana yaken ubak droe lon keudroe. Teuma ulon hana jeuet piyoh bak teungoh krueng nyang iejih tajam ji-ile. Saboh peujanjian situju nibak Pandit Nehru, Peudana Meuntroe India ngon Liaquat Ali Khan, peudana Meuntroe Pakistan ka jipubuet. Tantra India meuteume untong ngon na peusitujuan nyoe dan jipeukhong posisi jih di Kashmir. Teuma, peujuang keumerdhekaan lam tantra Kashmir Meudheka laju jiteuka demoralisasi. Grak ngon ngon siseue leudeh keunoe nibak peujuang keumerdhekaan jijak buet ngon hana teureuncana ngon get, sampoe rab lapee le sabab sumber-sumber nyang teubataih. Peujuang-peujuang Muslim nyoe teuma hase jimuprang watee malam teuka. Bak simalam ulon ngon rakan-rakan kamoe seureubu saboh gampong. Gampong nyan hana jioh nibak bataih India. Ulon deungoe bahwa na padub-padub droe non Muslim nyang udeb lam gampong nyan, teuma lon tawok laju Mumberdar, Geusyiek gampong laju lon tanyong bak geuhnyan peue kheueh beutoi lagee nyang geupeugah. Seuot gobnyan, "Inoe hana ureueng Hindu, teuma na saboh keuluargaKristen". "Kristen? Meukeusut bapak peungikot Isa?"
Tanyong lon hireuen. (Isa na kheueh nan nyang teubri lam Alquran keue Yesus). "Nyoe, teuma cit lhee droe." "Ka jeuet, awaknyan kon Islam, intat kheueh kamoe u rumoh awaknyan dan kamoe keuneuk peugot urosan ngon awaknyan.
Langkah nyoe saboh hai nyang lazem nibak ulon nibak hubongan ngon peungeurtian lon ngon ureueng Kristen wateenyan. Ulon ingat bahwa ulon na peueunah lon tanyong bak sidroe Mullah, (Sidroe guree agama Islam nyang meukualitaih) keuhai makna nibak haba atawa tutoe haba "Kaphe" (Kaphe nyang hana meuiman). Gobnyan geujaweueb, "Barang sigasoe nyang hana jeuet jikheun kalimat syahadat Muslem, na kheueh kaphe" Kalimatnyan na kheueh dua boh dasai prinseb na kheueh "Hana laen Tuhan seulaen Allah dan Nabi Muhammad na kheueh Rasul Gobnyan).
Tieb-tieb Muslem seujati haroih jiteupeue prinseb-prinseb iman seujatinyan. Soemantong nyang hana hase jikheun nyoe jihnyan na kheueh ureueng kaphe. Ngon nyan na kheueh dua boh keumungkenan nibak soemantong, na kheueh pintoe prang atawa meudame. Laen hai ureueng jitem teurimong kalimat syahadat nyoe laju jimeurunoe meuneubeuet Nabi Muhammad, jihnyan nyang hana hase jiteume buet meudame dan lindongan Allah; dan gobnyan geupileh muprang ngon meubagoe akibat jih. Banmandum nyan ka trang ngon nyata. Teuma, saboh teumanyong pangkai jiteuka lam pikeran lon. Pakriban teuma pikeran Mulah keuhai Kristen? Jaweueb gobnyan teupeujeuet ulon bingong. Gobnyan geupeugah bahwa awaknyan na kheueh ureueng nyang na Alkitab. Kristen ngon Islam bandua agamanyoe jipeugah awaknyan jiseumah Allah nyang sidroe. Peucaya bahwa gobnyan ka geubri wahyu. Keue Kristen, hainyoe na lam Peujanjian Awai ngon peujanjian Baroe. Keue Islam na kheueh Alquran. Islam peucaya bahwa Wahyu ubak muhammad nibak abad keue VII di Meukkah ngon Medinah geupeutron le malaikat Jibrail dan hainyan na lam syeuruga. Awaknyan geupeupaneuk feureuman Tuhan sigohlom geujok ubak nabi-nabi, dan wahyu nyoe na kheueh wahyu keuneu lheueh nibak Allah keue manusia. Lam Alquran, Isa geutulak sibagoe aneuek Allah, teuma jiyuri sibagoe nabi lazem jih nabi-nabi nyang laen. Islam peucaya bahwa kitab Yahudi (torat) meunan cit kitab Kristen, (Injil) ka teupeue bateue dan teugantoe ngon wahyu nyang teubrie ubak Nabi Muhammad na kheueh Alquran. Teuma nibak ulon, meunyoe ureueng-ureueng Kristen, meunan cit ureueng-ureueng Alkitab, ngon nyan awaknyan hana mungken saban tingkat jih ngon ureueng-ureueng kaphe atawa ureueng-ureueng nyang hana meuiman. Teuma meunyoe divinisi kheun "kaphe" na kheueh nyang hana jeuet jikheun dua kalimah syadat, baroe kheueh awaknyan teukheun kaphe dan muprang ngon awaknyan atawa teuprang awaknyan na kheueh beutoi. Sampoe meunan jioh Mullah nyan geunilai ulon, atawa situju buet nyang keuneuk ulon peubuet. Meututoe nyang lageenyoe kateuba ulon ubak bingong nibak nyang jeulaih. Teuma keue ulon, masalah jih ka nyata; peue kheueh awaknyan na kheueh ureueng-ureueng kaphe dan haroih siap keuteuprang.
Deungon pikeran lageenyan, ulon jak ukue rumoh awaknyan. Lam leuen rumoh nyang meubinteh beuton na saboh ruweueng ubit, pintoe jih teutob rot dalam. Laju kamoe keutok dan pintoe nyan jipeuhah. "peue kheueh droeneueh sidroe Kristen?" Tanyong lon. "Nyoe, beutoi" jaweueb awaknyan. "Sampoe jinoenyoe gata na kheueh Kristen, peue kheueh hana gata tem jeuet keue Muslem?" tanyong lon lom. Bandua droe ureueng siteungoh umu nyan jidong ngon yo lom teumakot that dikeue lon. Lam cahya panyot nyang reuneue sabab panyot miyeuk tanoh, awaknyan jiuseuha jimita jeunaweueb. Laju hana teusangka sidroe aneuek inong ubit nyang umu jih baroe 10 thon jiteubiet rot lam bilek jih laju jidong bak bineh bandua ureueng syiek jihnyan lheuehnyan laju jiseuot sira jijaweub nyang lon tanyong. "Han, kamoe hana jeuet keu Muslem". Lon deungoe meunan ulon teukem lheuehnyan laju lon tanyong, "Pakon hana jeuet?" Kamoe hana jeuet kamoe ubah agama komoe ngon alas an peuemantong".
"Aneuek dara nyang carong, uroe-uroenyoe gata haroih gata pike keuseulamatan jiwa gata dan nyoe kheueh rot saboh sagai", kheun lon lom teuma. Aneueknyan han jitem meunyeurah. "Kamoe peucaya ubak sidroe ureueng geupeugah,"Ulin na meusajan gata sampoe akhe jameun, lom kamoe meupateh bahwa Isa na meusajan kamoe meunan cit nibak uroenyoe". Leumpah that sulet nibak lon keulon saba leubeh teb lom. Ulon bacut geunggeun sabab kreuh ate jihnyan, lheuehnyan laju teucok keuputosan.
"Ka jeuet kamoe poh mate bandua droe ureueng syiek kah, kahnyoe kamoe ba ubak kamp kamoe lheuehnyan kamoe tuka ngon sidroe dara Muslem di India." Kheun lon. Aneuek dara nyang mantong 10 thon umu jih hana teumakot ngon peu nyang ulon peutakot nyan. "Peubuet kheueh bangalak droe droeneueh, teuma kamoe na bacut meulakee", kheun aneuek dara ubit nyan ngon ate anyang kreuh.
"Peue nyan?" tanyong lom.
"Kamoe hana meulakee droeneueh neupeubiyeue kamoe udeb, teuma jok kheueh kamoe watee meupadub meunet mantong keukamoe meudoa, mangat kamoe jeuet meulakee ubak Gobnyan nyang ka geubrie janji Gobnyan keugeutulong kamoe". Kheun aneuek daranyan ngon punoh keuyakenan. Hana meubacut pih teumakot lam mata jih.
Aneuak inong bagai! Hana Allah nibak wateenyoe nyang hase geupeuseulamat sidroe-droe ureueng, hana meusidroe pih nyang ka peuseulamat ureueng-ureueng India nibak India, hana meusidroe Allah pih nyang peuseulamat ureueng-ureueng Hindu nibak teumpat nyoe atawa disinoe. Peue kheueh hana gata ngieng teumpat ibadat di Port Haptal, pakriban kamoe meupeuhancoe teumpat ibadatnyan sampoe rata ngontanah teuma lam padub-padub jeum mantong."
Ulon peugah lageenyan keulon peutakot ngon lon peuyoe aneuek nyan. "Brie kheueh keukamoe meupadub minet mantong," aneuek nyan jipeugah ngon kukoh that. "Ka jeuet, kajeuet, peubuet laju tutoe haba ibadat gata ngon cara seumayang gata, bah kheueh komoe meukalon peue kheueh gata hase tapeuget bom atom ngon cara meudoa", jaweueb lon.
Aneuek inong nyan ngon bandua ureueng syiek jih laju jimeuteuot,. Ulon hana meudeungoe peue nyang awaknyan peugah lam doa nyan, teuma ulon kalon ie mata aneuek inong nyan ji-ile bak bandua mieng jih meunan cit bibi jih nyang meumet-met. Sungue ngon oa nyan bicah watee ban lhee droe awaknyan jipeugah, "Lam Nan Tuhan Isa Almaseh, Amin". Meunan tutoe haba "Amin" jipeugah, laju deuh saboh caya lagee beuton jiek rot lam tanoh laju teusom awaknyan nibak meuneungieng kamoe. Bahpih ulon kayem that lon meu-euen ngon apui meunan cit ngon beureutoh- beureutoh nyang rab-rab ngon mawot, teuma ulon gohlom na lon kalon cahya nyang meunan trang lom keubiet teumakot lagoenya. Saboh keujadian nyang unik that. Cahya nyan haloih that sampoe ulon hana hase lon calitra keuhai nyan. Bacut-bacut cahya nyanjipeurab bak lon dan ulon ka jiteuka teumakot deuhjih cahya nyan keuneuk jimaju jikeuneuk tot sampoe abeh ulon nyoe. Ulon ka jipeutphon teubiet reuoh ie babah lon jiteubiet leumpah that le. Keue nyang phon that phon lon meu-umu 9 thon, ulon jiteuka teumakot nyang hana teukira, teumakot nyang keubiet yoe lumpahna. Ulon hana lon teupeue peue nyang haroih lon pubuet. Teuma bagaih that saboh pikeran teuka lam ate lon, nyang siget jih lon lakee ampon bak makhlok-makhlok nyang malang nyoe dan lon lakee meu'ah bak jihnyan; ngon nyan ulon peugah laju ngon su nyang yo meukot-kot, "Peu amphon kheueh ulon". Pakon ulon meulakee jipeuamphon le awaknyan, nyan diluwa keumampuan ulon, teuma awaknyan ngon kuasa nyang rayeuk nyang ka ulon ngieng keudroe teupeujeuet ulon haroih lon lakee amphon ubak kuasa nyan. Ngon hana teusangka-sangka lon deugoe sun yang jipeugah, "Kamoe meupeu amphon droneueh lam nan Isa Almaseh". Oh ka lheueh tutoe haba nyan jipeugah, beuton cahya nyan alu gadoh dan ban lhee droe ureueng nyan jidong dikeue kamoe, dame lom peunoh keuteunangan siap keujipeubuet nyang ulon peurintah, kamoe hana jeuetle tinggai leubeh treb lom. Kamoe jai that batee peumata nyang kamoe cue nibak rumoh-rumoh nyang jitanggai le peundduek ureueng-ureueng Hindu. Kamoe jok keuawaknyan padub-padub neuk bate peumatee nyan oh lhueh nyan laju kamoe jak. Kamoe meurasa eu-utang that bak awaknyan, sabab meubagoe masaalah nyang rhot ateuh awaknyan le buet kamoe.
Oh ka leupeh ulon woe u Markaih, ulon hana lon eh. Nan Isa Almaseh teutab meudengong-deungong bak geulinyueng lon, dan meuputa-puta lam pikeran lon. Ulon peuphon teuingat ubak peungalaman watee nyang ka u likot, dan nan Isa Almaseh teupaksa ulon jeuet keu peuratian ulon. Na Tuhan Isa nyang jipeucaya le teungku Baxter, nyang lindong ulon ngon rakan-rakan watee jibom le Jeupang. Meunyoe haba Baxter nyan beutoi dan kamoe banmandum meuteupeue keunyataan nyoe na kheueh saboh sagai peunjeulasan nyang teupeujeuet kamoe banmandum teutab udeb. Meunyoe meunan meu-utang nyawong ubak Gobnyan. Teuma ulon gohlom lon turi Gobnyan seucara pribadi, meunan cit ulon hana lon teupeue nyang leubeh le keuhai Gobnyan. Pakriban mungken ulon haroh lon peugah syukoe ubak "sidroe-droe" ureueng nyang gohlom lon turi? Teuma ulon haroh meusyukoe sabab le Gobnyan ka geupeuseulamat jiwa ulon.
Oh lheueh nyan Isa Almaseh nyang jipeucaya le Amber dan Marry, deumi Gobnyan, awaknyan ka jipeuseulamat udeb sidroe ureueng agama nyang ka hana hase teutulong, jirawat luka-luka gobnyan. Tuhan Isa kon mantong ka geupeuseulamat udeb lon, Gobnyan ka geupeuseulamat mured-mured Gobnyan keujirawat ulon watee ulon luka hana soetulong. Pakon gobnyan geupeubuet hainyoe keue ulon? Ulon keubiet hana muphom pandangan udeb nyang lagee toh nyang Gobnyan yue ubak mured-mured Gobnyan. Sibagoe ureueng Islam seujati, ulon meunilai hukom-hukom Islam, ulon hana jitamong atra Isa Almaseh.
Isa Almaseh nyang geupeucaya le Philips, teujok teunaga keue gobnyan mangat teujok keureubeuen keue ureueng laen. Meunan cit ulon ka meukeureubeuen ngon jalan teubri keubahagian pribadi keue Salimah, dan oh lheuehnyan ka gadoh jihnyan keusiumumasa. Banmandum nyan sabab meuheuet ulon keuneuk peugalak Allah nibak prang sabi. Teuma bahpih meunan ulon hana meurasa na hubongan pribadi ngon Poteu Allah, meunan cit ulon hana peucaya bahwa gobnyan geubrie keubeuranian keu ulon mangat lon peubuet sapeue-sapeue. Ulon meusadeue ubak keumampuan ngon keuahlian meunan cit ceureudek lon sibagoe sumber nyang teupeuna hase.
Nyang paleng meukeusan ubak mandum nyan na kheueh meurumpok ulon ngon Isa Almaseh nyang jiimani le aneuek dara ubit nyang teuka lom dan jipeuseulamat bubena mured gobnyan nibak watee nyang paih. Meunan cit Gobnyan geupeuteupat janji Gobnyan. Meunyoe ulon bimbang keuhai Gobnyan nyang ka peuseulamat unit kamoe watee jibom le Jeupang, kateuntee goenyoe ulon hana alas an keulon ragu, sabab mata ulon keudroe ka lon ngieng keuhai Isa geupeuseulamat mured Gobnyan nibak dara cut meusajan-sajan ngon ureueng syiek jih. Hana pilehan laen, rupari Tuhan Isa hana piyoh-piyoh geuseutot grak grik ulon hoe mantong nyang ulon jak. Nyang paleng hireuen na kheueh watee ulon lakee amphon bak keuluarga nyan, nyang sikeubit jih ulon seumaloe that lon pubuet hai nyang lageenyan bagoe. Peue kheueh hainyan na le sabab ulon meusalah na niet keuneuk poh matee awaknyan? Dan awaknyan jipeumeuah ulon lam nan "Isa Almaseh".
Lam watee sikeujab lon teuma jaweueb nibak banmandum peungalaman lon. Awaknyan na kheueh lagee 'mutiara-mutiara' nyang meutabu, meunyoe teupeusapat teuikat lom jeuet keutaloe a takue nyang paleng ceudah. Ulon ka jipeuseulamat nibak mawot, jirawat dan lon ngieng keudroe demontrasi peungorbanan Tuhan Isa Almaseh rot mured-mured Gobnyan, dan meuteume amphon lam nan Gobnyan. Peue kheueh ulon teungoh geureuncana keue sapeue-sapeue? Dan meunyoe beutoi lageenyan peue kheueh nyan?
Pikeran nyang lageenyan sabe teuseksa dan teubayang-bayang, hana teuba keuteunangan lam droe lon. Ureueng-ureueng nyan jinoe kajeuet keupusat peurati lon.
Teuma dilon hana teunaga keulon peusie pikeran-pikeran laen meunan cit tanggong jaweueb nyang laen. Ulon ka tuelalu jioh lon peurhoh droe nibak geurakan keumeurdehkaan nyoe. Ulon hana jeuet meunyeurah dan lon tinggai tanggong jaweueb meunan mantong. Ulon keubiet hana meudaya, bahpih keugiatan ulon seumaken meukureueng, teuma ulon teutab lon peujak keugiatan nyan.
Bak simalam, peuleton lon kana reuncana keuneuk peuna seurangan nyang sukses dan keuneuk tot saboh gampong nyang hana padubna jioh nibak distrek Jamnu, ulon dong keudroe nibak bineh lading bak bineh rotjak tamong lam Propinsi. Ulon hase meudeungoe sumoe meunan cit su kliek ureueng-ureueng nyang jipeh mate meunan cit tutong lam apui sabab gampong awaknyan teutot. Ulon preh awaknyan nyang keuneuk jipuplueng droe ngon beude nyang siap timbak nibak laras piseutoi lon.
Ngon hana teusangka-sangka sidroe inong tuha deuh lon kalon di keue lon, sira geuplueng geukipaih-kipaih apui lam sineungkuegeuh. Rupari ma tuha nyan teungoh geutiengkue sidroe aneuek manyak ubit, wateenyan ulon seumike, meunyoe lon timbak inong nyoe rugoe sabab aneuek beude teuboih hana meuguna. Watee ulon peurab bak inong nyan, gobnyan laju geukeubah aneuek manyak nyan bak gakilon sira geupeugah, "Poh mate kheueh aneuek nyoe, poh laju aneuek nyoe. Nyoe na kheueh aneuek Hindu. Allah gata galak geupoh manusia, le sababnyan poh mate kheueh jihnyoe!"
Jaroe lon wateenyan cit teuma leumoh lagee hana jitem meugrak, keulon cok piseutoi mantong hana hase. Keulon cok pinseutoi mantong lam sarong hana hase, peurasaan lon karu hana meuteuntee. Keulon poh mate awaknyan, nyan buet nyang hana brat, teuma ngon teuka inong tuha nyan muenan cit aneuek manyak dikeue lon, na kheueh saboh konprontasi seucara langsong dan ka jeuet saboh tantangan nibak lon. Keuteupeubuet tugaih nyan, kajeuet keutanggong jaweueb nyang haroh lon pubuet ngon hana ragu-ragu. Teuma, jinoe ulon ka jeuet keuragu. Jikalon ateuh keuhaiulon nyang ka ragu-ragunyan, inongnyan jiseuk ukeue laju jipandang lam matalon sira jipeugah ngon sun yang teuga, "Neuk, peu kheueh gata na aneuek?"
" Hana, ulon hana meuaneuek", ma, jaweueb lon bak inong nyan. 'Teuma, cutpo lon na aneuek', jaweueb lon lom. (ulon teutab hana gadoh horeumat bak ureueng nyang leubeh tuha nibak lon, nyang kheueh jeuet lon peugah, "ma").
Kheuen ma nyan lom, "Peu kheueh gata na takalon aneuek miet leubeh rab lon watee aneuek miet nyan jimeu-euen-meuen jipeuget rumoh pura-pura nibak luhob". Oh watee ujeuen?"
"Nyoe, ma. Ulon keudroe nan lon peuget guda-guda nibak tanoh meunan cit keubeue ngon rumoh pura-pura nibak tanoh". Jaweueb lon lom.
Ngon meututoe nyang lageenyan bacut-bacut ate lon teunang ngon mangat. Padubna ceureudek jih inong nyang jitarek peuratian lon ni meututoe nyan, lagee nyang geupeubuet bak saat nyan. Lheuehnyan geupeugah lom, " Pakriban peursaan gata meunyoe na ureueng jireu loh rumoh-rumoh ngon meuneuen nyang laen?" "Ka beungeh that lon Ma". Jaweueb lon lagee bubiri.
"Nyang kheueh aneuek lon, coba tabayang Tuhan geucebta tuboh nibak aneuek manyak nyang ubit nyoe ngon jaroe Gobnyan keudroe. Kon kheueh Gobnyan meunan teusinggong sabab na jaroe laen nyang jireuloh hase cibtaan Gobnyan? Peue kheueh Tuhan geutem peue nyang teungoh gata peubuet nyoe, ngon cara tatot gampong meunan cit tapoh mate ureueng-ureueng nyang na lam nyan? Meunyoe kamoe na kheueh ureueng 'Kaphe' lom Tuhan hana galak ngon kamoe, ngon nyan Gobnyan hase geupeuhancoe kamoe ngon hana geulakee tulong ubak gata. Atawa peu kheueh Tuhan gata ka meunan leumoh hana mudaya sampoe Gobnyan peureulee geulakee tulong bak gata keuteupoh mate ureueng-ureueng kaphe?
Ngon tutoe haba inong nyan keubiet jiheuntam that ate lon meunan cit pikeran lon lagee keunong palee raya, teupeujeuet ulon teukliek abeh seuneuga sira lon peugah, "Ma, kaseeeeeb". Phon uro nyoe jaroe lon hana le teunyon ateuh soe mantong deumi agama. Ma ka neupeusada ulon bawa ulon na kheueh ureueng nyang malang. Ulon teuma lon piyoh banmandum buet lageenyoe, wahe ma nyang teugaseh, meudoa kheueh keu ulon. Ulon sada bahwa ulon ka siasat. Ulon sada lam ate lon nyang lhok bahwa ma tuha nyoe beutoi. Gobnyan ka geuba ulon ubak saboh klimaks nibak mandum ragu-ragulon yoh awai dipat ulon ka teulibat. Keuteutapan ate lon keulon peujak laju peujuangan nyoe ka jeuet keuleumoh. Keuneu lheuh jih ulon hana hasele lon peujak buet nyoe. Ulon ka patah seumangat banmandum. Laju ulon peurintah seksi lon mangat jitarek droe laju surot dan pasokan jiwoe lom u markaih. Aneuek buah lon jipike bahwa ulon ka pungoe dan awaknyan jipeuphon meukhob-khob sirameu oek-oek. Hainyoe biet-biet hana lon galak. Awaknyan hireuen teuma awaknyan teutab patuh ubak peurintah lon.
Malam nyan ulon ingat mandum peu-peu nyang ka lon peubeuet khusujaih ateuh keukeujaman nyang lon pubuet. Peue nyan ulon manueng ngon lon pike nyan na kheueh teupeujeuet ulon meurasa bahwa hukom abadi lam awaknyan. Sapeu-sapeu jih teumpat ureueng-ureueng nyang lagee lon, sabab ngon jaroe lon keudroe ka lon poh mate peue nyang jeuet atra Po teu Allah. Allah Nyang Mahakuasa ka geucebta seumeusta, dan ulon ka lon peureuloh cebtaan Geuh nyan. Teuma ulon hana lon teurimong manum tanggong jaweueb ateuh banmandum buet lon. Ka teuntee ulon turot ubak guree-guree agama lon. Teuma ulon hana meutanggong jaweueb teuroe darah soe….? Allah !!?
Meurasa teuseksa le pikeran-pikeran nyoe, laju cok keusimpolan bahwa ulon hana hase lon peujak udeb nyang lageenyoe. Ulon hana le meurasa bahwa ulon peumangat Allah ngon lon poh mate gob atawa ureueng-ureueng kaphe. Ulon haroih meuteubiet. Lon tarek droe na kheueh rot saboh-saboh jih nibak ulon. Teuma ulon gohlom hase lon seuon akibat-akibat jih. Ulon teuma meuteupeue bahwa mandum nyoe haroih na akhe. Ulon jak meuhadab ubak keumandan laju lon peugah sira teumanyong, peue kheueh jeuet lon piyoh nibak geurakan keumeurdhekaan nyoe? Keubeunaran ngon hana peucaya teulukeh lam mandum rumah gobnyan.
"Pakon gata keuneuk piyoh?" tanyo gobnyan.
"Ulon hana hase lon peugah banmandum kisah, nyan na heueh fantasi nibak gobnyan, pakriban kheueh mantong hana hase lon peugah bak soe mantong keuhain peue nyang na lam pikeran lon nyang si keubiet jih. Ulon hana watee keulon pike droe lon keudroe, teuma ulon peugah bak gobnyan bahwa ulon hana teuikat ngon geurakanyoe. Ulon hana teurimong gaji dan awaknyan hana hak ateuh ulon. Ulon tamong sukarela (galak keudroe) dan jinoe lon teubiet bangalak droe cit. Keumandan lon sada bahwa hana meuguna teudiskusi hainyoe ngon ulon. Gobnyan geulakee mangat lon lakee surot ngon cara teutuleh peue nyang ka jeuet meulakee ulon nyoe. Ulon teumuleh peuet on keureutah laju lon cuba peutrang alasan-alasan pakon ulon keuneuk piyoh. Gobnyan geubaca ngon saba lom lumpah ate-ate. Gobnyan geupeugah istilah-istilah nyang geupike keuhai ulon. Gobnyan geuanggab ulon ka pungoe. Ulon meuteu rimong gaseh ateuh opini gobnyan dan Gobnyan geuanggab ulon ka pungoe. Ulon meuteurimong gaseh ateuh opini gobnyan laju lon jaweueb bahwa ulon meubahgia meunyoe ulon teungoh pungoe. Meulalu rot nyang leumoh lam pikeran lon, akhe jih ulon pih sada cit lom. Peuwira nyang meuwenamg leumpah hireuen, teuma gobnyan geupakat lon bak buet nyang atra nyang meugrak nyang jitinggai le ureueng-ureueng Hindu nyang jipuplueng droe u India. Meusajan ngon lon na padub-padub droe sukarelawan nibak pasokan nasional Islam dan sidroe nyang tunyok rot nyang saleh.
Ngon buet nyang lageenyoe, ulon teuintan lom bak keuluarga lon. Bak siuroe ulon woe u rumoh keulon jak pajoh bu. Aduen ulon nyang nan geuh Haji Khuda Bakhsh geukalon bahwa ija seulendang nyang na bak lon ceudah that. Gobnyan geutanyong dipat lon teume atra nyan. Laju lon peugah ulon cok nibak barang-barang nyang teusita nibak rumoh ureueng-ureueng Hindu. Laju bagaih-bagaih aduen lon geucok seulendang nyan laju geutot lam apui.
"Gata ka tapeumalee droe gata meunan cit kamoe ngon cara gata cok seulendang nyan", kheun gobnyan ngon beungeh that. "Phon jinoenyoe gata haroh tinggai dirumoh, dan phon watee nyoe gata hana jeuet le tapeubuet buet teureupah atra gob. Kah eungoe nyan?" Kheun gobnyan.
Ulon hireun leumpah na. ulon hana lon peubuet hai nyang diluwa biasa gobnyan. Guree-guree agama kamoe hana geupeutimang peue kheueh nyan hana sopan atawa teupeumi yueb meuruwah meunyoe teungui barang atar gob laen. Ulon teuingat ubak sidroe Mullah nyang geucok oven sidroe ureueng Hindu laju geukeubah lam rumoh gobnyan. Ureueng nyoe meugah that lam keuluarga kamoe. Watee saat gobnyan ka geujak u Deoband dan Bulanshahr, dua droe maha siswa nyang kuliah mangat jeuet keu teungku agama Islam nyang meusyeuhu nibak blain utara India, dan ayak ayah lon nyang jok biaya keujih nyan. Mullah nyoe geu-uroih mangat meuteume saboh rumoh nyang rayeuk rab ngon saboh gampong ureueng Hindu. Bak siuroe ulon kalon gobnyan geulakee, bahwa sibagoe peugawee distrek meunan cit sibogoe sidroe peungungsi dari India. Gobnyan geupeugahlam tuntotan geuh nyan bahwa gobnyan ka geutinggai tanoh nynag ka geupula di India, gobnyan meulakee mangat bandum nyan jigantoe keurugoe di India, gobnyan meulakee mangat bandum nyan jigantoe keurugoe geuh. Padub na beutoi istilah dimiyueb nyoe.
Ulon meurumpok ngon jai that peunyamun jisok peukayan lagee peumimpen, peukheueh ulon haroih lon peuseulamat droe lon atawa atra lon?" Teuma inoe kheueh aduen lon nyang jiteuka beungeuh geuh nyang hana teukira nyan sabab ulon cok sion seulendang. Teuladan soe kheueh nyang nyang jeuet lon peucaya? Ulon na lam bembang dan keucewa lom dan kahana le buet. Peu kheueh nyang haroih lon pubuet ngon udeb lon?
Konprontasi lon ngon inong tuha, nibak malam nyang teutakeudi nyan ka teubrie durongan keue lon mangat lon taseudek lam ate hana lon poh mate le gob laen. Keulon peuteupat janji nyan ulon teubiet nibak geurakan keumeurdhekaan. Oh ka lheueh lon tinggai RAF, ulon pih meuheuet that keuneuk peumangat ate Allah nyang teuba ulon ubak geurakan keumerdhekaan keue Kashmir. Udeb lon deuh jih na makna ngon tujuan. Teuma jinoenyoe keuamanan meunan cit keugairah peulitek ka teutot sampoe abeh. Kanmantong seumangat meunan cit imajinasi, masalah ulon meuhadab keue ngon keukejaman meunan cit muprang peue mantong tujuan jih, sigoe teuk ulon piyoh watee nyoe cit teuma, nibak keugiatan ulon, ulon ka teudong bak simpang rot dan hana teupeue rot nyang toh nyang haroih ulon jak. Nibak keuhampaan lon nyan, ulon ka peunoh ngon bimbang meunan cit teumakot, sapeu-sapeu nyang khusos hana jitinggai pikeran lon., na kheueh mate lheuehnyan jipeutamong lam nuraka. Ulon hana hase lon kalon tujuan nyang laen lam udeb lon. Mate na kheueh keunyataan nibak lon. Ulon jitanyong lam ate peue nyang teujadi meunyoe ulon mate watee nyoe cit teuma. Ulon nyang hantom teumakot yoh umu sikureueng thon, nyang hantom teumakot keuteupeubuet misi-misi nyang meubahya dan nyang kayem that teupeuhadab ubak mate. Teuma jinonyoe na lam teumakot, takot ateuh peue nyang ulon teurimong. Ulon kalon droe keudroe paih that keu asoe nuraka. Keu hana pasti jiheuntamlon dan jitiek ulon lam keuadaan bingong yang leubeh rayeuk. Pakriban meunyoe hana Tuhan? Keue soe nyang ka lon peubuet. Meunyoe meunan hana peureulee teumakot keue nuraka. Ulon ka lon ngieng keudroe keuhai mate meunancit keuhai hancoe udeb manusia nyang na ban sikeulileng lon. Allah ka pasti hana lam banmandum nyoe. Teuma su ate lon jitulak keulon seungab. Teukliek ngon otoritaih dan su ate lon jipeugah, "Beutoi, na Allah".
Keuhai na seumeusta alam kaseb jeuet keubukeuti nibak ulon. Bahwa banmandum nyan na sumber jih. Meunyoe hana lageenyan, Allah hana to ngon cebtaan Gobnyan ngon nyandonya ka jeuet keusunggeu dan hana meunarek. Teuma ulon kuteupeue bahwa nyoe kon masaalah jih; keuceudahan alam bansigom donya na kheueh keusaksian Gobnyan.
Bahpih ulon aku bahwa na Allah nyang cebta donya nyoe ngon meubagoe keuceudahan jih, ulon teumanyong pakon Gobnyan geupeu izin hancoe peue nyang Gobnyan cebta. Ulon peucaya dan teudorong le peumimpen-peumimpen agama nyang seumike bahwa Allah teupeumangat ngon cara teupoh mate ureueng-ureueng kaphe meunan cit ureueng-ureueng nyang hana meuiman. Teuma, pakriban nyoe jeuet teujadi meunyoe Gobnyan cebta mandum nyoe? Ka teuntee na leubeh get meunyoe Gobnyan geutem peumeunang keuseutiaan manusia. Mungken gobnyan sagai-sagai hana geutem ateuh teupoh mate manusia. Teuma bak akhe jih meunurot pikeran lon Allah haroih metanggong jaweueb, yoh phon Gobnyan geujok keubebasan ateuh manusia nibak awai phon. Meunyoe ulon poh ureueng-ureueng kaphe, ulon rasa bahwa ulon nyang geujok peurintah keuelon peubuet nyan.
Meunyoe mandum nyan hana teupeugalak Allah, ka teuntee ngon mudah Gobnyan geutam keuheundak ulon keulon peuseuleusoe tujuan Gobnyan. Sibagoe sidroe Muslem nyang mukmin, ulon peucaya bahwa ulon ka lon jaweueb seucara positef teutawok rot meuseujid mangat teujak muprang nibak prang sabi (prang suci). Ulon ka tundok ubak hukom Islam, nyan meumakna teuseurah droe. Ulon hana jeuet jita nyong keuhai tanggong jaweueb keupeue nyang ka ulon pubuet dan meunyoe ulon hana meutanggong jaweueb ngon nyan hana dasai keurasa meusalah ngon nyan teuma hana dasai keumeutobat. Mungken banmandum nyan ulon salah dan haroih teulateh keuheundak ulon seulageenyan bagoe dipat lon peubuet buet nyang teupeusalah keusadaran lon. Meunyoe keusadaran lon teupeusalah; dan na Allah ngon nyan Gobnyan haroih leubeh rayeuek nibak keusadaran lon. Maken le ulon pike keuhai hainyoe maken bingong dan teupeujeuet leubeh lom putoh asa nibak droe lon. Pikeran lon ka jiguncang ngon jipeulawok ngon pikeran-pikeran nyang teuseksa. Ulon meurasa lagee sidroe ureueng agama nyang keunong peunget, hana meubacut pih cahya lam udeb lon, dan meuntal lon ka saket keulon tanggong teumanyong-teumanyong nyang lagee nyan bagoe. Ulon kana nibak situasi dipat ulon hana hase lon teunget ngon lon eh watee malam teuka. Kayem that ulon eh dan lon pike; teunget teuma teuka sabab le kahek bak seumike. Mungken ulon haroih piyoh bak seumike mangat meuteume jeunaweueb. Mungken mandum agama na kheueh hase pikeran manusia nyang jitem teupeujeuet manusia laen meurasa hana seb.
Pikeran lon nyang saket nyoe meulet-meulet ngon pikeran-pikeran laen teuma hana hase jih. Haroih na jeunaweueb! Ulon haroih mita atranyan. Teumanyong-teumanyong peureulee jeunaweueb dan hainyan gohlom lon teuma meusaboh pih. Eh ngon makheun hana meumakna nibak lon. Bak siuroe atawa bak saboh watee ulon puasa 17 uroe ngon malam. Ate lon nyang karu hana meuteuntee teupeubrok lom le pi-e ngon sikeub lon keudroe dan awaknyan nyang na ban seulingka lon. Ulon ka jeuet keu ureueng bagaih beungeh meunan cit payah that teu atoe. Ngon-ngon lon ka hana jikalon le ulon. Ulon kritek agama meunan cit ulon peumiyueb yuem jih. Ulon sagai-sagai hana lontem meu konseling ngon peumimpen-peumimpen agama kamoe. Ureueng rame ka jipeuphon peugah bahwa mungken ulon ka jeuet keupungoe. Awaknyan jipike bahwa teupoh-teupoh mate ureueng dipat lamkawan nyan na rhoh lon ka teupeukaru watak lon. Ulon hana lon teupeue peu kheueh ulon nyang hana galak le keu ureueng laen atawa ureueng laen nyang hana galak keue ulon.
Ulon ka lon peuphon peujioh doe nibak keuluarga. Ulon teurasa lagee ureueng aseng dirumoh droe dan hana meusidroe anggota keuluarga pih nyang geutem meututoe ngon lon. Awaknyan hana muphom peu nyang teungoh teujadi ateuh lon dan meurasa lon hana meudaya. Keuputosan nyang lageenyoe kayem that teubalek jeuet keubeungeuh. Ma lon leumpah that meudeurita ngon keuadaan nyang lageenyoe. "Peugah kheueh bak ulon wahe aneuek meutuah peue nyang jeuet keumasaalah bak gata". Kheun ma lon bak siuroe. "Ulon teuma lon tulong gata". Geupeugah le ma lom. Teuma hana meusidroe pih nyang hase geutulong lon. Akibat jih lom le sababnyan ulon hana hase lon peubuet sapeue. Lagee jih ulon nyoe ka teugunci lam saboh spiral pikeran nyang hana putoh-putoh jipeukaru sabe meunan cit teuma nyong teumanyong nyang sifeut jih meulakee.
Kadang-kadang, sikreb mata, na cahya nyang ubit lam seupot pikeran lon nyang teujadi, bahwa hana mandum lam udeb na kheueh sia-sia meunan cit hana tujuan nyang paih. Na Tuhan, keusan donya nyang meuatoran teupeugah keuhai tuntotan ngon meulakee nyang keubiet meumakna keuhai sapeue-sapeue keukuasaan nyang jikontrol. Ubak keukuasaan nyoe bansigom donya, manusia meunan cit cebtaan nyang laen laju meutanggong jaweueb. Manusia hana hase jipeubuet banmandum nyan meunyoe sapeu-sapeu pikeran nyang jimeurunoe keuhai akibat-akibat jih; atawa jikeubah peumantong pangkai soai nyang teupeutakeudi. Ulon ka jipeuphon saba atawa jumot lon mita kuasa Allah nyan nibak meudame. Meunan cit ulon ka jipeuphon teumakot nibak keuseuhatan lon. Ulon yaken bahwa hainyan hana lon teume nyan dipat mantong na lon nibak wateenyoe. Ulon ka meunan ji peuaseng that le awaknyan nyang brie gaseh sayang gobnyan ateuh ulon atawa nyang ulon gaseh.
Bak awai buleuen Mei 1949, ulon tinggai rumoh. Ulon hana tujuan ho nyang teuma ulon jak. Nibak ulon na saboh nyang lon mita na kheueh mangat meuteume dame lam ate. Ubak keuluarga lon pih hana lon lakee idin. Nyang ulon mita biet-biet sunggoh that, teuma ulon hana lon gisa ubak keu Kristenan. Ulon meurumpok ngon ureueng-ureueng nyang udeb geuh dame nyang ulon mita, teuma ulon hana meu-useuha ubak arah nyan. Ulon teutab sidroe Muslem dan teutab na teukad keue lon tilek Islam ngon leubeh teuatoe. Sidroe-droe ureueng hase jitinggai le that hai lam udeb jih, teuma teutinggai agama ngon hana alas an nyang kong na kheueh saboh buet nyang bangai nibak lon. Leubeh-leubeh lom meunyoe agama nyoe na kheueh Islam jeuet keuleubeh payah sabab Islam na kheueh banmandum keuhai udeb ubak Allah. Ulon hana keuraguan nyang bit-bit ngon lon teurimong prinseb dasai phon na kheueh: " Hana Tuhan seulaen Allah".nibak ulon, teuma na sidroe Allah lagee Islam nyang jiproklamir seucara luwabiasa. Pakriban luwabiasa jih agama nyoe jeuet teuka lon ulikot nibak asai jih. Ureueng-ureueng Arab na kheueh Peulitisme, na 360 boh beurala bak bineh Ka'bah, saboh teumpat suci di Meukkah teupeuingat ureueng-ureueng Arab sabab metiorit itam nyang teuseubee nibak saboh lamkawan beuton nyan. Teupujoe ubak allah Lat, Manat, dan Uzza na kheueh biet-biet bagian nibak agama nyang hana jeuet teumeusulet. Dewa-dewa nyoe jiaku sibagoe putroe-putroe Allah. Allah na kheueh dewa nyang paleng manyang (rayeuek). Nabi Muhammad geuaku bahwa Allah na kheueh Allah sidroe sagai dan teutinggai politisme. Keue teupaluek keupeucayaan nyoe na kheueh teupaluek keubeunaran nyang mulia; teuma. Islam ka gadoh peucaya nibak ulon. Peu kheueh agamanyoe hase jikeubah peue nyang lon peureulee? Meunurot peumimpen-peumimpen agama kamoe, Allah ka geupeurintah peungikot-peungikot Gobnyan keujimuprang suci atawa meujihad teulawan kaphe-kaphe (ureueng-ureueng kaphe).
Nyang kheueh sabab le na rhoh ulon nibak uprang suci nyan, ka teuba ulo lam keuadaan putoh asa. Ulon seulidek leubeh lhok dan meuteume bahwa Islam jipeurunoe bahwa ulon meuteume atawa meuharabteupeu amphon, oh ka lheueh mate meunyoe ulon meubuet nyang jroh ateuh rhueng donya. Teuma, ulon meuharab teupeu amphon nyan jinoe nyoe, dame meunan cit teupeupuleh nibak udeb lon jinoenyoe. Oh ka lheueh ulon mate mungken ka teulat. Keu udeb nibak udeb nyang mantong na tinggai bacut teuk dan meuharab teupeu amphon oh ka lheueh mate, hainyan hana seb lom hana puih, meunan cit hana teupeuseulamat ulon nibak keuadaan nyang sosah. Lom teuma, sosah that nibak ulon lon horeumat ngon lon deungoe ureueng-ureueng Maulvis, ulon teuingat ubak tutoe haba ayah lon: "Deungoe kheueh neuek, dengue kheueh wahe aneuek lon, le that lamkawan ureueng-ureueng Maulvis na kheueh tuna susial. Deungoe kheueh peue nyang jipeugah le awaknyan teuma bek sitotpeue nyang awaknyan peubuet. Awaknyan jikirem ureueng-ureueng nyang hana meusalah ubak teumpat teugantung saban cit lagee awak nyan jipoh mate peuikot-peuikot ieleume baten Mansoor. Teuntee gata haroih tahoreumat awaknyan teuma bek kheueh tapeubuet lagee awaknyan. Meunyoe mungken, peujioh kheueh awaknyan nibak babah pintoe rumoh gata". Mungken yah lon geupeugah nyoe nibak watee sidroe ureueng inong lam keuadaan nyang geuragu, teucok nibak rumoh sidroe agam ka teuntee, nyang hase jideklamsi banmandum asoe Alquran lam ate jih nibak saboh ambisi nibak ureueng-ureueng syiek Muslem bahwa aneuek agam awaknyan umu 12 thon, ka hase jideklamsi banmandum asoe Alquran dan jeuet keusidroe nyang apai Alquran, nyang kawai Alquran. Rupari Maulvis nyoe na kheueh sidroe nyang kawai Alquran dan hana teuteun gobnyan nibak buet-buet nyang asusila. Nyoe na kheueh hase langsong nibak udeb najis (kutoe) nibak peumimpen-peumimpen agama nyang teupeujeuet ayah ulon geupiyoh hana geute jak le ubak meusijid meusajan ngon ureueng-ureueng Muslem nyang jak seumayang tieb-tieb uroe jeumeu'at dan teupeulara seucara meusajan-sajan identitaih awaknyan. Sidroe peunganut ieleume keubaten Mansoor, ubak soe ayah geukagom nyang paleng rayeuk udeb nibak abad nyang keue siploh. Gobnyan jipoh mate seucara biadab di Bagdad. Meunurot ureueng-ureueng Muslem ortodoks, gobnyan na kheueh sidroe bidad nyang hina Tuhan. Gobnyan geupeugah ngon haba, "Ana Hagg" atawa "Ulon beutoi". Nyoe na kheueh dokren keuteudewa sidroe-droe ureueng. Gobnyan ka trok ubak nyang paleng manyang lamhai mistek. Meusaboh nyang sampoereuna ngon Poteu Allah.teuma, tieb-tieb meubeda nyang kureueng trang ngon Allah, keunyataan dan manusia nyang geucebta hana geutem teurimong le Muslem Ortodoks. Ayah lon nyang geuanggab droe sibagoe ureueng mistek, mungken hantom na geukalon problema nyang lageenyan bagoe. Nibak gobnyan tutoe haba peupatah nibak saboh ayat Persia, teupeugah makna jih keuhai hubogan Allah ngon manusia: " Manusia nibak Allah hantom na tuejadi jeuet keue Allah teuma awaknyan pih hantom na jioh nibak Allah".
Meunan cit lagee ulon ka lon repleksi tutoe haba ngon ide-ide ayah ulon, nyan nyang teupeu jeuet ulon lagee gobnyan. Meunan cit ulon hase jeuet keusidroe mistek, mungken ngon rotnyoe hase lon teume dame nyang ulon mita.
Ka lheueh lon peugah sigohlom nyoe, lam donya Islam nibak abad keulapan dan sikeureueng, manusia nyang saleh dan jimita udeb nyang punoh dame seujahtra teupeugah ureueng sufi. Le that nyang awaknyan cuntoh nibak ureueng-ureueng Kristen nyang jak tapa ngon meupeuneutrasi di Asia Teunggara, keue ureueng-ureueng Sufi, keuhai nyang jipeurintah le Islam ka jeuet keu kode Eksteren, dan tingkah ngon pi-e manusia nyang peunten na kheueh responnibak ate manusia ubak Allah Nyang Maha Peungaseh. Awaknyan jipeucaya nibak saboh peungalaman ngon Tuhan. Teuntee mandum nyan meunurot pikeran lon dan nyoe nyang teuma lon pileh di ateuh banmandum nyan. Ka jeulaih bahwa ulon peureulee sinulong (nyang tulong). Nibak seulidek ulon ka teuba lon nyoe u meubagoe atawa hoe-hoe mantong. Konsekwensi jih na kheueh ulon haroih lon peuabeh tieb-tieb malam hana teunget nibak meubagoe peuratah teumpat eh dan lon ulah ngon rakan-rakan "ureueng-ureueng suci" atawa allah-allah manusia, teuma ulon seumaken kecewa. Mungken cit, bahwa nyoe na kheueh saboh nibak meubagoe keubiasaan lon watee latehan nibak angkatan meusinjata, nyang kheueh ulon jeuet keu skeptis. Meunyoe ulon lon peurinci keuhai udeb awaknyan maseng-maseng, awaknyan sabejipeugah bahwa awaknyan na kheueh ureueng-ureueng nyang boh ponten keubeunaran, awaknyan jipeugah bahwa awaknyan jibimbeng. Ulon meuteme atawa lon teume bahwa awaknyan na kheueh ka rhoh lam buet nyang jeuhet, nyang teupeujeuet ulon malee keulon calitra hai nyan. Watee ulon seulidek cara udeb nibak Murchidis atawa nyang nyok rot keue ureueng-ureueng Sufi, sigoe teuk ulon jipeusaket. Watee ureueng-ureueng meutani awaknyan jiteuka deuek, awaknyan laloe ngon hiboran sira jipeulara asee-asee import nibak nanggroe Rusia. Peutani-peutani awaknyan meubuet di lampoh dan hana hase jijok makheun keue aneuek-aneuek droe keuh, teuma, asee-asee awaknyan ka jeuet keu tembon sabab jihnyan meuteume dua goe jipajoh eungkot sie baroe tieb-tieb uroe. Lon pike keuhai meurosot nyang lageenyan bagoe ka teuba ulon ubak lapee pikeran.
Pakriban kheueh mantong ulon hana bagaih meunyeurah. Ulon jak sampoe jioh lon jak meurumpok ngon saboh group siswa Muslem nyang jiphieb ganja, musik ngon meunari-nari keujipeurangsang keuadaan mistek keue jideungoe ata Allah, teuma nyoe jeuet keusaboh bukeuti bahwa banmandum nyan na kheuh latehan hana meuguna dan ulon hana meu untong peu-peu mantong. Ngon meutamah leubeh bingong lom. Seulidek ulon keulon mita dame hana meuhase akhejih meuantok ubak keu-keucewaan. Lam keuadaan putoh asa ulon teuingat ubak ayat phon nibak Alquran: Tunyok kheueh kamoe rot nyang teupat (beuna). Rot keue awaknyan bak soe Droneueh peilimpah keumurahan Droneueh. Kon keue awaknyan nyang siasat. "Rot nyang beuna" (Sirat) peunoh, nyan meumakna sibagoe keuimanan Islam. Meunan cit nan keue jeumatan nyang sampiek dipat Islam peucaya bahwa gobnyan teupeubeudoh nibak babah nuraka. Ureueng-ureueng 'mukmin' Islam hase jijeumeurang ngon seulamat, teuma nyang laen teuma rhot lam apui.
Gadoh banmandum keupeucayaan "Jeuet keu agam" lon rasa na saboh rot teubiet dan teubeubaih ulon nibak nuraka droe lon keudroe dan ulon lakee ubak Allah mangat geutunyok rot keu ulon lam udeb nyoe. Ulon meurunoe beudoh bungoh-bungoh laju lon lakee ngon punoh ate ubak Tuhan mangat geupeutakteh lon, (geutunton lon). Nibak baten lon nyang lhok, lon kliek lon lakee tulong rohani lon peu ek ubak Gobnyan: "Oh, Tuhan Nyang Mahakuasa, hana mungken ulon ieng keue ateuh na Droneueh, tieb-tieb urat darah aloh lon meunan cit beuneung tuboh lon na kheueh manifestasi nibak keumuliaan Droneueh. Tieb-tieb cebtaan na kheueh konsentrasi nibak Droneueh na. Jiwa jipeugah ngon nyata bahwa Droneueh na, ulon lon angkee bahwa Droneueh kheueh nyang cebta ulon meunan cit banmandum manusia. Teumeuguree ubakpeunghargaan peumimpen-peumimpen agama dan teusi tot naseuhat-naseuhat nyang destruktif, ulon ka lon tindeeh nyang Droneueh cebta. Buet jeuhet lon teupugah bahwa nuraka na kheueh jeumba lon nibak Droneueh. Ya Tuhan nyang teuma peusidang ureueng-ureueng meudesya. Ulon hana lon pateh le ubak sapeu-sapeu agama atawa jitawok le donya nyoe. Oh, Tuhan lon, tunyok kheueh rot nyang beutoi, mangat lon hase meukalon Droneueh. Ulon meuderita, oh Tuhan, ulon meuharab keuteunangan lam baten lon teuma hainyan hana lon teume. Tulong kheueh lon, Tuhan, peuamphon kheueh lon amin."
Tanggai nyan hana teuingat le nibak lon, teuma na kira-kira poh lhee atawa poh peuet bungoh laju lon seumayang lagee lame jih. Ulon moe lon roe ie mata lam keuadaan phet that meunan cit seudeh lagoena. Ulon na nibak ruweueng teumpat preh keunderaan nibak saboh teumina geuritan apui watee ulon peugah keuhai doa lon nyan. Ngon hana teusaja ulon teuingat sabab na ureueng jak rot likot lon, laju jikeubah jaroe jih ngon punoh gaseh sayang ateuh bahoe lon. Lheueh nyan geupeugah: "Seb kheueh gaseh kaonya Lon keugata."(2 Kor 12:9). Kalimat nyoe geupeugah sampoe trok lhee goe, laju lon teurasa lagee na aleran liseutrek nyang jitamong lam tuboh lon. Beuban nyang na lam ulee lon ka jeuet keu phui. Lagee na sapeu-sapeu nyang jiba lon ubak nyang leubeh seugar meunan lagee na nyang peuriyang keugeumbiraan nyang luwabiasa ngon hana teuduga-duga lam tuboh lon. Ulon laju teurasa phui teuma hase teupeugah lagee meusaboh ngon Tuhan. Hana meusapeu-sapeu pih nyang hase jipeucre ulon. Makna teupeu amphon meunan cit meudame na kheueh keunyataan nyang beutoi. Ulon peuphon lom lon peugah tutoe haba nyang geupeugah le Tuhan laju lon peu bayang ngon harok lumpah na. ulon gohlom na lon rasa sapeue-sapeu peurasaan ngon keugeumbiraan dilee. Keubit luempah that seunang lon rasa. Sidroe peugawee geuritan apui teungoh jisampoh teumpat duek di miyueb bangku dipat ulon teungoh teu eh, dan watee jikalon ulon lam keuadaan geumbira, ureueng nyan jipiyoh dan laju jitanyong bak ulon peue kheueh lon sidroe ureueng Kristen. Watee lon asek ulee lon ureueng nyan hireuen that sira jipeugah, "Pakon doeh peugah meuulang-ulang kaseb kheueh gaseh karonyan lon keue gata…?"
Ulon jaweueb, "Ulon hana lon teupeue pakon tutoe haba nyan lon ulang-ulang lon peugah. Nyang ulon teupeue bahwa na sidroe-droe ureueng nyang jipeugah nyan bak lon meunan cit jipeuleumah laporan keuhai buet ulon nyang jeuhet. Teuma, ngon geugusuek catetan padub-padub boh buet lon nyang jeuhet nyan, banmandum nyang na lam catetan nyan khusos jih keuhai buet jeuhet ulon, mandum teusampoh ka hana le, gleh lumpah na. Phon wateenyan ulon meurasa lagee ureueng baroe. Banmandum beuban teubeuot nibak lam ate lon. Ate lon meuheut keuneuk meunyannyoe siabeh teunaga."
"Aneuek lon" kheun tukang sampoh aleue geuritan apui nyan lom, "Gata haroh meuteurimong gaseh ateuh peungalaman gata nyoe". Geupeugah lom, " Nyang Esa ka trok bak gata Gobnyan na kheueh Tuhan Isa Almaseh. Gobnyan geupeugah tutoe haba nyoe bak Rasui Paulus. Teuma ulon hana tueingat ngon paih dipat, teuma nyang lon teupeue na kheueh banmandum nyan na teutuleh lam kitab Peujanjian Baroe. Tuhan Isa Geutem mangat droneueh jeuet keue hamba Gobnyan".
Watee lon deungoe nyan lju lon jaweueb, "Pakriban Pak, peue kheueh hase jeuet keue hamba Gobnyan?" Seuot ureueng nyan sira geupeugah, " Teupeue manoe lam nan Isa Almaseh lheuehnyan beudoh laju jaksitot Gobnyan". Kheun ulon lom, "Neupeugah laju bak ulon seucara paih that peue nyang haroih ulon pubuet pak. Ulon ka meuteume titek meuriwang lam udeb lon."
"Aneuek lon" seuot bapak nyan lom, "Ulon hana lon teupeue leubeh le. Nyang ulon teupeue na kheueh lagee nyoe, meunyoe gata tajak teubeudoh rot inoe laju jak Isanagri, disinan na sidroe Peundeta, awaknyan geupeugah nan geuh geuh na kheueh Peundeta Inayat Rumah Shah. Gobnyan teuma geutulong gata". Ureueng tuha laju geukeubah peunyampoh geuh dan geupeurab bak lon. Mata gobnyan ka punoh ngon iemata. Lon wa gobnyan, lon reugam gobnyan biet-biet lam jaroe-jaroe lon. Kamoe meudua keubiet-keubiet kamoe moe leubeh teuga lom laju kamoe peue lheueh emosi kamoe nyang na lhok lam ate kamoe. Bak watee nyang paneuk laju lon tanyong bak droe lon keudroe, peue kheueh mungken gobnyan nyoe ayah nibak aneuek inong ubit nyan. Nyang ulon ngon mandum rakan-rakan lon keuneuk poh mate? Ulon hana hase lon peukeumang pikeran nyang lagee nyan bagoe. Ulon leumpah inseuh sabab ureueng agam nyang na nyoe dan jianggab paleng hina nibak mandum tingkat lam masyarakat, tukang sampoh-tukang sampoh, bah kheueh na disinan mangat teutunyok langkah ulon teuma lom. Keubiet hana payah takalon pakon le that nibak awaknyan jiteurimong Injil nibak Isa Almaseh. Lam Gobnyan, awaknyan jiteume identitaih nyang beutoi. Sada bahwa awaknyan na kheueh cebtaan Tuhan meunurot gamba Gobnyan, dan bahwa awaknyan na kheueh aneuek-aneuek Allah, awaknyan jiteurimong martabat nyang baroe lom jihareuga teuma. Ulon leumpah meubahgia teue idenfikasi meusajan ngon awaknyan.
Deungon tutoe haba, "Seb kkheueh gaseh karoenya Lon keu gata…" mantong na meusu lam geulinyueng lon meunan cit ate lon punoh ngon geumbira lom leumpah that mangat laju ulon ek geuritan apui lon jaku Isanagri. Harok hara saleng meumusoh ka gadoih. Jinoe dame nyang mat peurintah. Padubna rayeuk keubahagiaan nyan, rab teupeubasah bansaboh tuboh lon. Pikeran lon hana lon teurimong mandum nyan. Tuhan Isa Almaseh nyang peuseulamat ulon nibak mate jasmani, geujaga ulon nibak lon saket atawa watee lon saket, geupeuleumah bak lon peungorbanan Gobnyan dan geupeugah banmandum nyang seb karonyoe Gobnyan ngon nyan mandum ka teupeue taklhok ate lon. Gobnyan ka meunang, ulon hana le ulon ka hana le meuwot-wot keudeh keunoe ngon hana tujuan lam donya nyoe, jak mita meukeusut ngon makna nyang teupeusie ulon. Jinoenyoe ka lon teume makna nyang beutoi meunan cit meukeusut tujuan udeb lon. Ulon ka meurumpok Gobnyan nyang geubrie dame Geuh nyan dan geupeudame lon ngon Gobnyan. Gobnyan na kheueh atra lon meunan cit ulon na kheueh atra Gobnyan.
Jiwa ulon ka teupeubeubaih putoh asa ngon patah ate nyang keubiet seupot leumpah na. Ata lon keubiet ka mangat that punoh ngon geumbira watee ulon tron nibak geuritan apui di gampong Isanagri nibak wilayah Faisalabad dan laju meurumpok Peundeta Inayat Rumal shah. Gobnyan geuteurimong lon ngon rumeh that meunan cit geupakat lon mangat tinggai diumah gobnyan. Oh ka lheueh pajoh bu gobnyan teuseungeh teukem sira geupeugah: " Jinoe lon tanyong, pakon Teueng ku keuneuk jeuet sidroe Kristen?" Gobnyan hana geuteupeue pakriban rot udeb lon nyang ka u likot nyoe meunan cit hana geuteupeue pakriban ulon meuharab that beumeuteume dame nyang hakiki, nyang ka teujadi ateuh lon seucara ajaeb lom keubiet teupuih ate lon, nyan na kheueh keubeutolan mantong. Teuma bukon nyang ka pileh Almaseh atawa keukristenan. Ngon nyan kon kheueh saboh teuma nyong pakon ulon jeuet keu Kristenan. Isa Almaseh nyang pileh lon. Ulon hana niet keulon singgong peurasaan pak Peundeta, ngon nyan laju lon jaweueb, "Sidroe ureueng geupeugah bak ulon. Na kira-kira poh lhee atawa poh peuet bungoh bunoe, Isa Almaseh geujak bak ulon dan geupeugah: Seb kheueh gaseh karonya lon keue gata…"
Bak binteh beuton na meugantung saboh gamba teulukeh nyang gamba nyan na kheueh gamba Isa nyang teusaleb. Peundeta Shah geumat jaroe lon lon ngon jaroe nyang siblah teuk geutunyok ubak lukesan nyan. (Peue kheueh nyan Isa Almaseh nyang saban nyang ka meututoe ngon lon?). Ulon deungoe Peundeta Shah geupeugah, "Manusia ka jireupah nyawong Almaseh, meunan cit ngon jubah Gobnyan. Gobnyan jipeulon jipoh dan jisaleb bak kayee saleb! Peue nyang hase geupeugah bak teuengku? " Ulon muphom meukeusut teumanyong pak Peundeta nyan dan teusinggong ulon meunyoe lon na lam kondisi nyang hana meubeda. Teuma, wateenyoe ulon hana meuheut peue mantong seulaen keudamaian ate ngon Gobnyan. Keuseulamatan nyang ulon mita, dan nyan teuma lon teume. Menyoe lon sidroe ureueng sombong ulon hase beungeuh ngon teumanyong nyang lageenyan, meunan cit ulon jeuet lon pike teuma geusambot lon ngon ramah. Teum banmandum situasi mantong baroe nibak ulon dan sampoe ka teupeubasah ulon. Teuma, ngon emosi-emosi nyang lageenyoe ka hana le lam ate lon nyang jinoe ka punoh ngon rasa bahgia. Ulon hana lon teupeue le, teuma ulon haroh bagaih lon tume pakon ureueng nyang seulidek keukristenan atawa nyang meuheuet keuneuk jeuet keue ureueng Kristen jisambot ngon punoh curiga. Peue kheueh di ureueng laen nyang le lageenyan meunyoe tamong agama Kristen sabab galak le get jih ureueng-ureueng nyang ba Injil nyan nyang hase teubri peundidikan? Sikula nyang get, peunajoh meunan cit teumpat meulindong. Hana hireuen meunyoe jai that ureueng-ureueng Hindu nyang jiubah agama jih dan jeuet keu ureueng Kristen, teuka nibak tingkat tukang-tukang sampoh rot nyang gasien lom paleng gasien. Teuma bak bagaih-bagaih teucok keusimpolan bahwa banmandum nyang meu-ubah agama jih sabab le jimita untong le material. Lagee ulon, ulon meuteume keubahagian meunan cit phuh nyang si lhok-lhok jih lam Kristen. Keue awaknyan, keubiet beutoi kheueh lagee nyang tepeugah dimiyueb nyoe:
"Hana saboh pihlam jaroe lon nyang lon ba 
Teuma nibak Saleb Droneueh ulon mumat.
Peu suci kheueh ulon Juru Seulamat lon 
Atawa ulon mate"
Nibak teumanyong nyan ulon hase meujaweueb lagee nyoe: "Bek peugah bahwa Almaseh hana hase geutulong dan hana hase geubrie sapeu-sapeu keue ulon. Gobnyan ka geujok keulon peu-peu mantong. Gobnyan ka geupeijeuet ulon jeuet keubaroe dan geubrie dame lam pikeran lon."
"Get", kheuen gobnyan, "sapeu-sapeu jih nyan lon peubuet teueng kun a kheueh lon kirem teuengku ubak sidroe guree Injil, rakan ulon di Gojra. Gobnyan hase geutulong teuengke." Ulon hana lon tem teurimong lagee nyan mantong lom ulon hana meuharab hainyan. Rot raya nyan meunan panyang lom seungue. Padub-padub meunet oh lheueh nyan le Peundeta Shah geujok sion surat meunan cit peng mangat ulon jeuet lon jak ngon moto bus u Gojra. Padubna sial jih awai nibak ziarah lon, teuma lon hana cut ate dan hana teuma putoh asa. Iman lon nyang baroe nyoe that-that meumakna nibal ulon. Nibak akhejih ulon ka meuteume hareuta beunda dan hana sapeue pih nyang teuma jireupah nibak ulon.
Ulon trok u Gojra mantong uroe laju meurumpok ngon Peundeta R.W.F.Wooton. Jinoenyoe ulon pike bahwa ulon na kheueh sidroe ureueng bangai dan rot jak ukeue hana mudah. Peundeta Wooton geupeugah bahwa awaiphon keuneuk geu ujoe keuhai carong lon dan meuheuet ulon mangat jeuet keusidroe ureueng Kristen meunan cit lon cok keuputosan mangat teupeumanoe. Ulon gala ngon harok that. Pumanoe na kheueh langkah phon. Teuma nyan kon sapeue-sapeue nyang teujadi nibak sidroe-droe ureueng nibak masa jak beuet nyan atawa peuristiwa lazem na. Nyang meumakna bahwa nyan na kheueh saboh hubongan ngon Almaseh dan Injil keurajeuen Allah. Saboh udeb baroe nyang banmandum dan mandum nyan teunilai teubuka sigohlom jeuet keue mu allaf. Lam saboh neugahra nyang hana seujarah keukristenan, meu-ubah hana hase teupeusie meunan cit keuhai meukeumang nibak simpang bataih-bataih kutural. Keu padub-padub droe ureueng, nyoe hase jeuet keu saboh peungalaman nyang saket that. Pumanoe hana jeuet teuanggab enteng, mangat jeuet keu sidroe ureueng Kristen nibak neugahra Islam, saban cit lagee teupubuet buet khianat. Ureueng-ureueng Islam nyang teubalek jipileh Kristen, ka jipeu lheueh hak-hak istimewa sibagoe sidroe Muslem nibak neugahra / nanggroe Muslem. Nibak padub-padub boh neugahra Islam teu-ubah agama saban cit ngon teupeuteubiet droe nibak undang-undang nyang jilindong jihnyan. Ureueng nyang lageenyan hana jeuet jimita keuadelan nibak kantoe-kantoe peungaelan (kantoe) mahkamah meunyoe atra milek jih jicok atawa jipeurusak le gob meunan cit meunyoe na keuluarga jihnyan keunong ielanya.
Nyoe na kheueh saboh hai nyang luwabiasa keue muallaf Kristen deungon dasai Islam, teuma gadoh nyawong jih. Teuma ulon meugeumbira sabab ulon teuma ji-ujoe. Nibak proses nyoe, awaknyan meunan cit ulon teuma teuteupeue asoe pokok nyang beutoi nibak keuseutiaan lon.
Peundeta Wooton geu-useuha mangat ulon tinggai nibak ruweueng ja me. Peurabot nyang na lam ruweueng nyan na kheueh saboh peuratah teumpat eh nyang ka tuha lom krek krok ngon sion ija seulimbot, watee ulon nguji ija seulimbot nyan, laju teurasa seu-eum nyang keubiet teupeukaru lon eh; meunyoe lon peunah ija seulimbot le jamok laju ji phieb darah lon. Hana nyang pike keue punajoh lon. Meunyoe keulon jijok sapeu-sapeu, atranyan ulon pajoh, meunyoe hana meusidroe pih nyang pike keupeunajoh lon nyang treb jih na lhee uroe! Dua uroe nyang phon, ulon peuseulamat droe ngon cara lom meudoa. Teuma nibak uroe nyang keu lhee lon ka leumoh, nyang kheueh jeuet ulon eh. Peundeta Wooton teungoh geujak nibak rumoh missi dan watee gobnyan ka geuwoe, gobnyan laju geutamong lam bilek lon nyang seupot. "Peue kheueh gata saket, syedara?" tanyong gobnyan.
"Hana, ulon hana saket." Jaweueb lon ngon peuleuheun that. "Menyoe meunan pakon gata leumoh that, peu kheueh gata hana meuteume pajoh bu?" Tanyong Peundeta nyang lom.
Ulon anggok ulee, lheuehnyan gobnyan geutanyong lom: "Ka padub uroe?" Hana le teunaga lam tuboh lon, dan ulon meu-usaha ia mata lon bek ro nibak mata lon. Ulon tunyok ngon jaroe lon, bahwa ulon ka lhee uroe hana pajoh bu. Gobnyan keucewa that geudeungoe haba lon nyan, dan gobnyan geu-useuha geuhibor lon. Pak peundeta nyan geupeugah. "Ureueng lagee peue nyang na disinoe"? Meunan brok dan gasa that. Peue kheueh hana meusidroe pin manusia disinoe nyang jipike gata atawa jitanyong keuhai peunajoh watee ulon ka lon jak?" Laju lon jaweueb, "hana peue Pak, mungken nyoe na kheueh saboh ujian keue ulon, nyang kheueh ulon hana lon tanyong bak soe mantong, ulon pi hana meuteubiet nibak kama teumpat eh, sabab ureueng-ureueng diluwa jimeushah-shah haba nyang hana get keuhai ulon. Sidroelam kawan awaknyan jipeugah ulon lontem jeuet keu Kristen, sabab ulon keuneuk meurumpok ngon sidroe aneuek dara mangat jeuet lon meukawen ngon jihnyan. Nyang laen jipeugah teuma bahwa ulon tamong Kristen sabab keuneuk mita buet sibagoe missi. Dan nyang laen lom jipeugahulon tamong Kristen sabab keuneuk mita peng. Banmandum nyan ulon deungoe teuma ulon hana lon peugah sapeue.
Ureueng-ureueng nibak missi nyan ka jipeubuet gasa ateuh lon yoh phon lon na disinan. Nibak awaknyan, ulon jianggah sibagoe sidroe ureueng nyang peukaru buet jih. Posisi keumeubuet sibagoe missi nyan na kheueh atra awaknyan. Nyang kheueh sabab jih awaknyan hana watee keue ulon.
Nibak awai phon ulon sikeubuet jih leubeh meurasa sayang keu awaknyan khusos jih ureueng-ureueng Kristen nyoe nibak jipeusaket atawa beungeh. Mungken awaknyan na kheueh ureueng-ureueng nyang paleng seudeh lam masyarakat. Udeb nibak teumpat missionaries teupeu aseng nibak keuluarga jih keudroe. Awaknyan meusaeng sidroe ngon nyang laen mangat meuteume pujoe nibak missionaries, dan hai nyang lageenyoe jipeuteuka sikueb hipokrit, nibak saboh keujujoran. Teuma jisambot ngon jiseulidek ureueng nyang teuka keujijak mita cita-cita nyang paleng manyang nibak saboh keu-udepan nyang punoh makna. Awaknyan cendrung jikalon dan jianggab ureueng laen sibagoe peusaeng jih. Awaknyan hana meurasa biet-biet peunteng nibak keureubeuen ureueng nyang jiseulidek nyan. Awaknyan nyang jimita sapeu-sapeu keujipeumangat ate ureueng-ureueng missionaries nibak jipeumangat ate Tuhan nyang awaknyan peucaya (imani). Ulon na kheueh sidroe keureubeuenkeueb nyang lagee nyan.
Peundeta Wooton, pakriban kheueh mantong teutab geutunyok ubak murah ate geuh. Gobnyan laju geuba ulon u rumah gobnyan laju geupeurintah ubak peulayan gobnyan mangat jitaguen bu keue ulon. Bahpih gobnyan na dirumoh atawa hana, ngon nyan ulon ka hantom na lekureueng peunajoh, teuma hubongan ngon missi teutab hana meu-ubah. Sikueb awaknyan keubiet ka hana ek le teuteuen. Dan sibagoe hase nibak banmandum nyan ulon lakee ubak Peundeta Wooton keulon peuget reuncana keulon keudroe, mangat ulon jeuet tinggai nibak asrama missi. Seulawet wateenyan, ulon hantom na lon peugah ubak Peundeta Wooton keuhai droe lon. Nyang ka u likot kon kheueh hai nyang peunteng. Ulon hana lontem meunyoe awaknyan jiteupeue keuhai asai lon nyang ka u likot atawa ulon beukaih peuwira RAF mangat lon peungaroh sikeub gobnyan keue ulon. Gobnyan geujok usui mangat lon jeuet keupeunjaga keuamanan atawa nyang jaga malam (tukang meurundo). Ulon kutem lom galak ngon buet nyan, sabab ulon hana lon tem jeuet keue beuban nibak gobnyan. Sikula ngon asarma di Gojra teutob watee buleuen Juni, sibuleuen punoh. Konsekwensi jih reuncana-reuncana keulon geupeucaya bak sidroe ureueng Kristen nyang saleh. Nan gobnyan na Sewak Boota Masih. Ulon leumpah meu-untong meubuet ngon gobnyan, di sampeng ureueng nyang lagee gobnyan. Gobnyan na kheueh sidroe tukang teuyue-yue bak saboh rumoh sikula meunan cit bak asrama putroe (asrama aneuek inong). Upah gobnyan ubit that, teuma gobnyan geutulong ureueng-ureueng nyang lagee lon.
Boota Masih teuma jeuet geubaca basa Gurmukhi (tulehsan Punjabi, basa sukee bansa Sikhs). Meusahabat ngon gobnyan ka jeuet keudasai nibak rohani lon. Banmandum nyan na kheueh nibak gobnyan, bahwa ulon meurunoe keuimanan nyang beutoi nibak keupeucayaan Kristen dan peue nyang meumakna nibak udeb ureueng Kristen. Meudoa na kheuh bagian nyang paleng peuntang nibak keuhai udeb gobnyan. Jeuet teupeugah bahwa keuhai udeb meudoa na kheueh saboh lamkawan ibadat nyan. Kamoe meusajan-sajan kamoe peuguna tieb-tieb malam keue meudoa. Ulon ingat, bak simalam, sigohlom ulon jak meutugaih, kamoe meudua meudoa ngon khusyuek that sampoe watee keujak meuronda ka lewat ngon hana kamoe sada. Nibak kagum ulon nibak uroe nyang seulanjut jih, na ureueng jipeugah bak ulon bahwa ureueng nyan jikalon lon na peuet goe bak malam nyan. Awaknyan hireuen, bahwa ulon meunan jumot that ngon tugaih meurundo lon. Ulon sada bawa nyag teujadi nyan na kheuh saboh nyang ajaeb. Kamoe teungoh meudoa. Isa Almaseh kageupeujak tugaih lon. Ata lon mangat that lam Juru Seulamat lon sabab Gobnyan ka geupeujeuet sapeu-sapeu nyang trang ngon nyata keue ulon.
Akhe September 1949 ulon jibrie tee bahwa ulon jikeuneuk peuma noe bak tanggai 2 Oktober, nibak meurok pakat phon nibak musyawarah Gojra. Padub-padub boh teumanyong atawa seu eue ka teukeubah dikeulon mangat teuteupeue padub na lhok peungeurtian lon ngon langkah nyang ulon cok. Sidroe la kawan awaknyan keuneuk jitepeue keuhai kitab-kitab Kristen nyang ka ulon beuet. Ulon galak watee teupeugah, bahwa ulon ka lon beuet rab mandum kitab-kitab Urdu nibak Peundeta Wooton, jitamong cit keunan padub-padub kitab nyang basa Inggreh.
Bak simalam tanggai 30 September, ulon teungoh meudoa, Tuhan teu ka sira geushash lam ate lon, bahwa ulon hana jujoe ubak Peundeta Wooton. Beukti jih, ulon hana lon calitra peue nyang ka teujadi, dan ulon ka lon som sapeue-sapeue. Dan nyoe na kheueh saboh teuma makot nyang teupeudaya dan ka jeuet keutabeng nyang teuhalang nibak jitimoh ngon keumajuan rohani lon. Ulon hana hase lon peuteunang droe oh ka lheueh lon teurimong wahyu nyan. Laju ulon dong di teungoh-teungoh malam laju lon jak u rumoh Peundeta Wooton, ulon haroh lon peugah banmandum asoe ate lon ubak gobnyan dan lon calitra keuhai peu-peu nyang ka teujadi nibak udeb lon. Gobnyan galak keuhai teubuka ngon jujoe lon, kamoe na watee nyang get keu meudoa. Ulon geupeu manoe bak tanggai 2 Oktober. Keubiet saboh geumbira nyang meunan rayeuk nibak ulon sabab ngon nyan ka lon sitot cuntoh nibak Tuhan Isa. Ulon jinoe ka jeuet keujeumba nyang trang nibak peusikutuan Kristen. Dan sibagoe utang budo lon keue rakan nyang meunan udeb seudeuha geuh dan meusahbat ngon nyang ek teupeuyuem yuem jih, ulon cok nan Ghulam nyang makna jih "hamba" atawa jeuet cit 'namiet' (Aceh) lagee toh peumanoe dan nan Masih nibak Mesiah atawa Almaseh, mangat teu ekspresi nan baroe, "Hamba nibak Isa Almaseh" 'Namiet nibak Isa Almaseh, Aceh, Red' Dua goe aleuhat teuma oh lheuehnyan ulon udeb nibak keubahagiaan nyang paleng rayeuk. Muphom keuhai Almaseh dan jeuet keu atra miliek Almaseh meunan cit meusahabat ngon ureueng-ureueng Kristen ka teubeuot ulon u planet laen. Tuhan Isa na kheueh keunyataan nibak ulon. Keupastian keulon peutimang Gobnyan siumu udeb lon nyang mantong na tinggai nyoe laju jitimoh tieb-tieb uroe ngon khong meunan teuga. Ulon bit-bit lon rasa keumurahan ate Tuhan na ateuh ulon dan lon teupeue peue maknajih geugaseh le Peucibta dan teurasa gaseh Gobnyan nyang geutem deungoe dan geumpaanyang beunan teuga lom baten lon, bahpih ulon hana patot.
Teuma, hana treb oh lheuehnyan ulon teupeue peue makna jih teu teumpah nyan lam apui. Situasi di luwa lon ka meu-ubah mandum. Nyan teujadi bak watee siuroe lading missi geutinggai le Peundeta Wooton, Charan Dass ulee asrama agam, atawa nyang jeuet keu nyang tanggong jaweueb nibak asrama ureueng agam, dan Peundeta B.M.Agustine nyang peumanoe ulon. Ulon baca surat dan lon tepeue teuma bahwa awaknyan banmandum geujak u Lahore meurok pakat. Ulon tinggai sidroe, watee ulon meuhadab keue ngon sidroe apha nibak blah ma lon dan ngon sidroe aduen agam nyang ban trok disideh nibak uroenyan, keugeujak meurumpok ngon lon.
Nibak siladum nanggroe-nanggroe Timu, kheun "keuliarga" kon mantong ayah ngon ma, cutpo inong dan uduen nyang agam mantong, teuma apha, ma cut, ma wa meunan cit aneuek keumuen nibak ban dua balih pihak nibak keuturonan agam meunan cit inong. Awaknyan na tugaih ngon tanggong jaweueb sidroe ateuh nyang laen. Hubongan nyang get nibak awaknyan na kheueh peunteng that, nibak teupeudong naseb sidroe-droe ureueng. Ulon hana hase lon peubiyeue awaknyan meunyoe ulon hana geuhukom, rab hana mungken nibak ulon keulon peuproklamirkan keumerdhekaan lon nibak awaknyan. Awaknyan na keukayaan, kuasa meunan cit ngon peungaroh. Apha lon geujok keulon dua boh nyang haroh ulon pileh:
Ulon haroh bubagih lon jak ngon awaknyan ngon jiteupeue le meusidroe ureueng pih

Saboh ancaman meunyoe hana lon tem keu lon jak ngon awaknyan.
Ngon nyan awaknyan teuma geujak u dalam banda laju geupeugah-peugah bak gob keuhai ulon ka meutobat seucara teubuka. Ngon nyan teupeujeuet peunduduk beungeh dan teuma ji ienanya ulon meunan cit dan ureueng-ureueng Kristen di Gojra. Keuhaina keuluarga Kristen baroe kheueh ulon teuboh keutarohan meunyoe ulon hana lontem peue nyang awaknyan lakee. Ulon hana lonpeubiyeue ureueng Kristen jipeu saket. Bahpih lam ate lon keubiet beungeh that dan bacut hana pasti pakriban nyang haroh ulon atasi hainyoe sabab nyoe na kheueh awai nibak udeb lam keukristenan lon. Ulon teuingat ubak soe nyang haroh lon peujok nyawong lon. Na kheueh geulakee le Guree Agong Lon, nyang wajeb ulon taat hana nyang laen. Keuhendak Gobnyan na kheueh teunaga nyang bimbeng udeb lon, le sabab nyan ulon peugah ubak apha, "Ulon tanyong ilee ubak Guree Agong lon". Laju lon tob pintoe kamalheuehnyan lon meudoa ubak Tuhan peue nyang haroh ulon pubuet. Ulon hana ragu-ragau, Tuhan meufeureuman ubak ulon, "Na leubeh le lom duro duro meunan cit nyang meubintang dikeue gata nyang haroh gata hadab dan menyoe gata keuneuk sitot Lon. Jak kheueh ngon awaknyan, sabab dirumoh gata kheueh phon that gata peuphon meubuet ngon meusaksi. Gata haroh tadong sibagoe saksi Lon' phon that di Yerusalem oh lheueh nyan di Yuea, Samaria dan oh lheuehnyan bansigom donya. "Padub na takjob jih bahwa ulon ka lon teurimong tugaih ngon teukirem lagee nyang geuteurimong le mured-mured Isa Almaseh nibak nyang teutuleh lam Kisah Rasui-Rasui.
Ulon woe dan lon peugah bahwa ulon ka siab lon seutot ngon awaknyan. Ulon hana teumakot keulon peucaya droe lon bak awaknyan, sabab lon teupeue soe mantong nyang meulakee atawa soe kheueh nyang lon sitot, dan meunan cit lon teupeue jaroe soe kheueh nyang tumpang ateuhlon. Ngon lageenyan ulon peungon awaknyan u Lyallipur nyang jinoe teupeugah Faisalabad.
Deungoe meuubah lon ka teubrie keuteunangan nibak watak lon keudroe meunan cit tujuan ngon makna nibak udeb lon. Keubiet jioh that beuda jih ulon jinoe ngon watee uroe jeh watee mantong na meusajan ngon keuluarga lon. Keubiet sayang that bahwa banmandum nyoe hana meumakna meubacut pih nibak awaknyan. Nibak awaknyan teuma na saboh nyang jilakee: meuharab ulon mangat lon tinggai keukristenan dan beujeuet ulon sidroe Muslem nyang get teuma. Ngon meu-ubah ulon na kheueh saboh ayeb nibak awaknyan dan awaknyan hana meuhareb ulon beujeuet lageenyan. Ureueng-ureueng nyang na saboh tingkat ngon awaknyan jeuet meutoleransi sidroe Kristen na lam keuluarga awaknyan. Teuma nyang gasien nibak nyang paleng gasien nyang jeuet meuubah jeuet keu Kristenan, awaknyan jiteupeue bahwa ulon hana ragu-ragu keumeujampu seucara social ngon ureueng-ureueng nyang lagee nyan bagoe. Nyoe na kheueh saboh tendakan nyang teuba malee dan hana teuteuen le. Keuhormatan keuluarga lon ka teusinggong. Ulon ingat peue nyang jipeugah le sidroe nibak aneuek keumuen lon nyang inong, sabab lon meu-ubah, le that nyang keuneuk teuka bak lon jeuet keupeurumoh lon jijak. Peue nyang ka lon peubuet ka jeuet teupeu sosah nibak lon keudroe. Simatong awaknyan meurasa hase jipeugaroh lon, ulon haroih beuhase jipeuyaken keuhai jeuhet lon.
Keue awaknyan, Islam na kheueh saboh agama nyang agong lom mulia. Pakriban ulon hase lon tuka ngon ke kretenan nyan? Teuma na sidroe Allah nyang beutoi dan Muhammad na kheueh utosan Gobnyan. Nyoe jipompa meu ulang-ulang lam yieb-yieb geulinyueng umat Muslem, lom hai nyoe ka teupeuphon yoh aneuek-aneuek Muslem nyan mantong ubit ka yeu peue deungoe hainyan. Teuma inoe kheueh teuma ulon proklamirkan bah Isa Almaseh kon mantong Rasul lagee rasul-rasul laen, teuma Gobnyan na kheueh Aneuek Allah. Nyan na kheueh saboh hujat keue keuluarga lon sabab nibak Awaknyan Allah nyan hana meu aneuek. Phon that Islam ka teubrie gambaran bahwa nyang na aneuek nyan na kheueh lam keuadaan jasmani, ngon lon meungaku lagee nyoe kheueh saboh peulanggaran, ngon nyan konsebnyoe di lua ajaran Islam. Sidroe lam kawan Nabi Muhammad dan gobnyan Abuhurairah, "Makna jih na kheueh ayah nibak mie-mie", sabab gobnyan lumpah that geugaseh keu beulatang-beulatang nyoe. Apha Nabi Muhammad teuhoi Abu Jihad. Makna jih na kheueh:"Ayah nibak banmandum nyang nyang beubal" Sabab gobnyan hana geuteu rimong Nabi Muhammad sibagoe Rasui. Ngon nyan teuma "Keu Bapaan nyoe" jipeuguna keue teupeujioh banmandum konsep totol nyang teupeujioh nibak banmandum jasmani. Saban lagee "Keu Aneuek an" nibak Almaseh". Kayem that-that manusia jitulak hana jiteuimong peue-peue mantong sibagoe hana beurakah (buhak, sulet, aceh cit) sabab awaknyan hana muphom, lom teuma le that tantang ngon resikoe jih. Meunyoe sidroe Muslem jiaku Isa sibagoe Aneuek Allah dan meumakna bahwa Muhammad sibagoe Rasui Allah meunan cit Wahyu lam Alquran teucok teumpat nyang keudua nibak nyang saboh, na kheueh Aneuek Allah. Gobnyan nyang yok wahyu sipeunoh jih nibak Allah ubak manusia. Ureueng-ureueng Muslim peucaya bahwa peubuet nyang jroh/get lam udeb na kheueh meuteume teupeu amphon desya-desya meunan cit keubahgian lam udeb oh lheuehnyan teuma. Teuma teurasa bahwa desya-desya ka teupeu amphon nibak watee nyaoe, ngon nyan teuma ulon hase lon brie banmandum udeb lon ubak Po teu Allah dan lon peubiyeue Gobnyan geuatoe udeb lon ubak arah nyang geugalak.
Keue keuluarga lon, ulon ka jeuet sidroe kaphe dan awaknyan hana geupeubiyeue ulon nyang lageenyan bagoe. Oh ka lheueh ulon woe u rumoh, ulon geupaksa mangat lon pajoh peunajoh lon bak rot ueh. Teuma, ulon meuteurimong gaseh laju lon pajoh hana meupheb-pheb. Ngon geuteugon lageenyan le keuluarga lon ka teubrie watee keulon meusaksi seucara teubuka keuhai Tuhan lon. Hana meu-ubah keuhai useuha gobnyan mangat ulon woe lom bak Islam. Apha lon laju geuba lon u gampong gobnyan di Sheikupura. Guree-guree agama jimata geuba u rumoh mangat geupeugah haba ngon lon Sidroe Maulvi nyang ban teulateh, geupioh oh ka lheueh geupeugah saket, sigohlom gobnyan geujak gobnyan deuh jih lam keuadaan putoha asa. Namgoe alehuet meuduek ngon peugah haba keuhai agama ngon dumna Maulvis ka jeuet keubeukti sibagoe nyang sia-sia mantong. Bak watee nyan lon cok keuputosan keubeumeuteume meurumpok ngon Sayyed Ata Ullah Shah Bakhari (Keutoranan nibak Rasul Muhammad) nyang teuma geujak saweue Seikhupura nibak watee nyan. Nibak jeuem nyang ka geupeu janji, ulon geuingat ukeue gobnyan. Pakriban mantong nyan ka meu laen ngon lon dan geuuseuha mangat ulon woe ubak Islam lon tinggai keukristenan, gobnyan geukem ngon sikeubiet-keubiet jih dan ngon sun yang meuhina gobnyan geupeugah, "Jadi, gata ka jeuet keusidroe Kristen"?
"Nyoe" jaweueb lon. Bak watee nyan na tujadi seungab that lom keubiet meulaen that nibak swasana nyang nay oh awai. "Kajeuet, peugah kheueh dan meututoe kheueh laju leubeh lom". Kheun pak Sayed nyan lom. Ngon nada su yang punoh horeumat lom leumpah that beungeh. "Peue lom nyang ulon peugah?" kheuen pak Sayyed nyan goe nyoe su gobnyan ka miyueb. "Mugken droneueh jeuet neubrie leubeh le lom naseuhat ngon bimbengan, " kheun lon teuma. Meukeusut lon lagee nyan mangat lon teupeue peu nyang keuneuk geupeugah ubak sidroe ureueng agam nyang deuh jih keuneuk peuna peurubahan, meunyoe jibujuk ngon kreuh that. "Bimbengan peue nyang gata peureulee, teuma na saboh alasan pakon dan keusoe gata nyang tamong Kristen lagee gata". Balaih gobnyan. Ulon teupeu bahwa gobnyan teungoh geupike geukeuneuk hubongkan lon tamong Kristen sabab lon keuneuk meukawen ngon sidroe dara Kristen. Ngon nyan ulon hase lon peuteun beungeh lon watee nyan dan laju lon peugah, "Pak Sayyed nyang teuhoreumat, ulon teuka keuneuk deungoe droeneueh, sabab keuluarga lon muharab rayeuk that, meunyoe droneueh neubimbeng lon ubak jalan nyang beutoi, teuma hai nyan hana lon teume nibak droneuh, e teuleubeh lom bahwa seks ngon agama na dua hai nyang meulaen that, lom tieb-tieb ureueng nyang jituka atawa jiteurimong agama na kheueh le sabab seks na kheueh bangai. Ulon pih keuneuk brie tee bahwa meunyoe lon sidroe Muslem, ulon na hak keulon meukawen ngon peuet droe inong. Leubeh nibak nyanhase lon uruih. Meunyoe ulon mate hase meuharab tujuh ploh dua peurumoh lam syeurga." Kheuen lon paneuk panyang. Teuma agama ngon iman na kheueh lebeh peunteng nibak teutimang-teutimang seucara donyawi. Awaknyan hana jeuet meuanggab sabab seks. Droneueh neutudoh ulon sabab seks dan meukawen nyang jeuet keudasai nibak keuimanan lon nyang baroe nyoe. Teuma nibak banmandum nyan, ulon teuma na prospeks nyang leubeh get ngon bandua hai nyan. Meunyoe ulon riwang jeuet keu Muslem lom. Argumentasi droneueh kureueng meubobot/hana meumakna. Le beungeh lon nyan teupeusabab Pah Sayyed ka gadoh saba laju geukuk lam beungah geuhnyan. "Seungab, gata saket teupeuget-peuget, ureueng gasa!" kheun gobnyan. Ulon peugah ngon hana meulawan: "Sayyed nyang teuhoreumat, hana alas an jeuet keubeungeh, jak kheueh tameusyawarah meusajan-sajan."
"Boih jihnyoe nibak reunyeun!" kheuen Sayyed nyoe beungeh jih. Peurasaan aduen lon lagee teupeubeudoih lom. "Ulon tam droneueh tapeuduek meusiblah jaroe ateuh jihnyoe. Meunyoe mandum nyan meunan seudeuhana, poh kheueh jihnyoe, keuluarga teume teupeubuet lageenyan" Kheuen aduen lon lom.
Oh ka lheueh keujadian nyang hana mangat ate nyoe, aphe ngon adue en lon ka geupeuphon yaken bahwa ulon hana mudah jibujuk keulon peu lheueh droe nibak keuimanan lon nyang baroe nyan. Awaknyan ka geucok keupeutosan keuneuk kirem ulon u Lahore Hussein Ali keuluarga apa lon, mungken na peungaroh lam hainyoe. Gobnyan ka geudiskusi hainyoe, sira ulon dong ngon apha, cara nyang sabe lon peuguna meunyoe ulon meurumpok ngon Peundeta. Kapiten Isaac nibak Bala keuseulamatan, bak malam nyan na bak gampong teutangga keugeumeudoa. Nyoe hana jibrie le keue teupeubuet meunan.
Watee ulon na di Lahore, keuluarga lon hana geupeubuet atawa geupeugah peue mantong dikeue ureueng rame keuhai ulon ka meubah-ubah haitoh teuma jiteupeue le keuluarga nyang laen. Seumantong watee nyoe, ulon hase lon peujak atawa meuhubong ngon pendeta Wooton rot surot lon kirem bak poih, dan bak siuroe, sidroe ureueng nyang nan geuh Dauglas nibak missi geu-useuha geujak meurumpok ngon lon. Gobnyan ka geumita lon ngon na Kristen lon, na kheueh Ghulam Masih ka teuntee hana meusidroe pih nyang turi ulon ngon nan nyan. Bak watee lon ngieng gobnyan geudong bak teungoh pasai, laju lon peurab bak gobnyan sira lon peugah, "Ulon Ghulam Masih". Laju geuta nyoeng pakriban keuadaan lon lheuehnyan laju geujak. Teuma haba keuhai meurunpok nyoe geuteupeue le aduen lon gobnyan meunan cit ngon padub-padub droe rakan gobnyan geucok bahwa watee keuteucok keuputosan seucara kreueh ka trok watee. Awaknyan jikeuneuk peuseuleusoe soai nyang keubiet malee that nyaoe jinoe dan keusiumu masa. Lahore geupeuleh keuteumpat teujadi nyan sabab Krueng Ravi jiile nibak daerah nyan. Makna nibak krueng nyan na kheueh: "Teusampong ureueng lam ie ile nyang saboh arah" dan teupeu akhe udeb lam donyanyoe le awaknyan. Manyet-manyet nyang jitiek lam nyan laju jiba le ie sampoe jioh u baroh. Krueng Ravi ka jipeubuet tugaih nyan meuthon-thon, teuma puncak jih teujadi nibak thon 1947 dipat meureutoh manyet ureueng Muslem meuampong-ampong laju trok u Gusdaspur dan Pathankot distrek nibak India. Bak malam nyan Krueng Ravi teuma jipeumeu euen tugaih jih. Aduen ulon ka geucok keuputosan bahwa ulon keuneuk geupasoe lam guni. Tanggai 6 Desember na kheueh saboh malam nyang sijuek that. Di Lahore nibak malam musem sijuek jeuet keu sijeuek leumphan. Oh ka lheueh pajoh bu seupot ulon laju jipeulon, nyang na pakaian dalam ngon taloe keuieng nyang na bak tuboh lon. Ulon geugunci lam ruweueng nyang soh lom leupie that. Alas an nyang lageenyan na kheueh mangat ulon jeuet keukeubai sabab le sijuek deungon nyan teuma ulon hana hase lon meulawan. Watee awaknyan geugunci ulon lam ruweueng nyan, ulon teupeu peue nyang teuma teujadi teuma ulon hase meudoa mantong. Watee ulon ka jeuet keu ureueng Kristen, ulon peukeumang keubiasaan droe mangat hase lon apai kitab Injil. Ulon peuphon peugah nyang ulon teupeue lam ate, na kheueh lagee ayat-ayat, "Tuhan na kheueh nyang rabe lon" Ngon nyan teuma ka teubrie keu ulon keuteunangan nyang paleng rayeuk.
Kadang-kadang ulon moe, kadang-kadang ulon deklamsikan, teuma nyang le that watee na kheueh ulon meututoe ngon Tuhan. Ulon kuteupeue bahwa Gobnyan na meusajan lon meunan cit meuheut keuneuk pangkee Gobnyan oh ka lheueh ulon mate. Baten lon sang-sang beukah antara seudeh ngon ngon na Gobnyan dan ngon seudeh nyang lhok nyan teupeusabab ulon teuma mate. Na cit kadang-kadang lon kem sabab ulon teupeue keukuasaan Tuhan.
Ide bahwa keuluarga lon keuneuk geupeu abeh udeb lon na kheueh hana jitamong le akai. Hana meubacut pih ulon ragu ateuh gaseh Tuhan ateuh ulon. Hana meusingoe pih ulon pike bahwa rot nyang ulon pileh na kheueh salah. Ulon lonteupeue bahwa keu Kristenan na kheueh saboh sagai rot nibak ulon. Ulon na jaminan nyang pasti nyang lon teurimong oh ka lheueh ulon mate. Hana meusapeu pih nyang hase jiyok-yok ateuh keuyakinan lon. Ulon teupeue bahwa ulon ka lon pileh rot nyang beutoi bahpih nyan lon teupeue bahwa nyoe sibagoe saboh nyang akhe nyang paleng hina lom donya nyoe. Watee teungoh lon ulang dan meuteume keuseunangan lam kitab Injil, saboh ayat nibak surat Rasui Paulus ubak Timotius teupaksa ulon mangat teupiyoh.
"ULON JIPEUSAK NIBAK DUA BLAIH PIHAK; DAN KEUNEUK JAK LOM TINGGAI MEUSAJAN-SAJAN ALMASEH. NYAN JIOH LEUBEH GET; TEUMA LEUBEH PEUREULEE KEUE LAM NYA SABAB LE GATA" (Filipi 1:23-24)
Rab ulon rasa bahwa mate nyan leubeh get sabab udeb keikai nyang teuma lon teurimong. Jinoe ulon jipaksa u arah nyang laen. Udeb mangat seulamat aduen-aduen ngon cutpo lon. Hainyoe teuka sabab ulon haroih udeb deumi awaknyan nyang mantong udeb lam seupot. Ulon meuheuet keuneuk ba trang Injil keue rakan-rakan nyang peureulee Haba Get keuhai peue nyang Allah ka geupeubuet keue manusia rot mate ngon geubeudoh lom teuma Isa Almaseh. Missi baroe nyoe teupeukhong lom ngon tutoe haba Sadhu Sundar Singh (sidroe Sikh nyang meutobat) Mudah mate keue Almaseh teuma leumpah that payah udeb keue Gobnyan. Sabab mate peureulee sa dua jeuem mantong, teuma udeb keue Gobnyan peureulee mate tieb-tieb uroe." Peuleuheuen-leuheuen teuma pasti, tutoe haba nibak Sadhu Sundar Singh nyoe teupeukong lon dan teupeupunoh ulon ngon peurasaan nyang laen that (hireuen) meunan cit ngon geumbira nyang luwa biasa.
Saboh keumalon nyang ceudah leumpah na nibak mata lon. Hana mate sigoe mantong keue Tuhan ulon teuma mate tieb-tieb uroe. Jiwa ulon keubiet harok leumpah na lam tuboh lon le sabab keumalon nyoe jitamong trok bansaboh tuboh lon. Untong nyang saboh sagai keu keuluarga lon na kheueh deungon ulon mate awaknyan ka hana le teupeumalee le sabab iman ulon ubak Isa Almaseh. Awaknyan geucuba keuneuk peuteubit lon nibak seumike awaknyan, yoh phon awaknyan geuingat bahwa ulon nyang ba phet keue awaknyan. Baten lon teupriek ngon beukah antara mate keue Tuhan ngon mate tieb-tieb uroe keue Gobnyan lam udeb nyang meukomitmen total dan peungorbanan nyang gobnyan ke geubri keue ulon nibak kayee Saleb na kheueh saboh keujadian nyang perses dan na meukeusut nyang lhok lumpah na, dan bahpih ulon mate siribee goe lam siuroe, nyan hana hase teupeusaban ngon titek darah Gobnyan nyang ka peuroe keu ulon. Ulon ka yaken bahwa ulon haroih meudoa beubiet-biet keuteupeubeubaih, kon sabab le teumakot keue keumatean jasmani atawa nyang laen-laen, teuma sabab le ulon hase udeb meunan cit mate tiebtieburoe nibak keusaksian keue Gobnyan nyang ka geugaseh ulon dan geujok nyawong Gobnyan keue ulon, le sabab nyan ulon peu ek doa lagee nyoe:
"Ya Tuhan dan Juree Seulamat lon, Jiwa lon jinoe na lam dame,sabab ulon teupeue bahwa oh ka lheueh udeb nyoe Ulon teuma teuka ubak Droneueh. Hana bataih le Droneueh ngon Ulon. Teuma manusia nyang rhoh ubak meubagoe keugiatan meunan cit meubagoe meuneu eun nibak seumeupoh mate, ka meuteume keusan bahwa awaknyan na hak keue jipeuabeh umu lam udeb lon. Mate na kheueh peuluang keue udeb nibak lon. Siladum nibak ulon teuma jitamong, teuma keuhai mate lon meumakna keuneu lheueh nibak keusaksian lon lam nan droneueh nyan lam neugahra nyoe. Le sababnyan meunyoe banandum nyan teupeumangat ate droneueh peuteubit kheueh ulon nibak teumpat nyoe eunteuk malam dan jok kheueh keue lon watee keulon peukeureuja buet-buet nyang rayeuk keumanusia. Ulon meuheuet beuna keumampuan keuelon peugah haba ngon awaknyan, pakriban Droneueh meuhase neupeubagoe jiwa manusia meunan cit dan teubrie udeb nyang keukai ubak ureueng-ureueng meudesya. Oh Tuhan dan Juree Seulamat lon, ulon meuharab mangat watee lidah lon teupeuguna keuteupeu rintah teupoh mate ureueng laen, teuma bak malam nyoe cit teuma, ulon jeuet lon peuguna tutoe haba Droneueh nyang brie udeb. Mata lon ka lon ngieng keukuasaan Droneueh, meunyoe banmandum nyan teupeumangat ate Droneueh, peu lheueh kheueh ulon nibak teumpat nyoe, mangat nibak nyang teuma teuka. Jeuet keubeungoh nyang baroe nibak udeb lon, teupeu lheueh lon, nibak ruweueng nyoe jeuet keubuekti nibak ulon bahwa Droneueh neutem ulon udeb sibagoe saksi Droneueh. Oh Tuhan, malam nyoe Neupeubaroe ulon nibak keuheundak droe keudroe nyang teuma teuingat keuhai udeb lon keudroe. Meunyoe Droneueh neutem mangat ulon udeb, ulon meujanji keulon ikat droe ubak udeb lon keulonpeutimang Droneueh mantong ngon meukeusut tinggai dan teuba keumuliaan keue nan Droneueh. Tuhan, Droneueh hana peureulee teutulong le lon ngon peulayanan, teuma ka jeuet keuseunangan ngon keubahgiaan ulon keu lon peutimang Droneueh. Lagee ulon meuseum seumangat keuteusampoh manusia nyang ka Droneueh cebta, le sababnyan jok kheueh keulon seumangat mangat lon ba awaknyan ubak Droneueh, meunyoe banmandum nyoe Droneueh meuheuet, peubeubaih kheueh ulon nibak malam nyoe cit teuma nibak teumpat nyoe. Amien.
Oh ka lheueh peugah tutoe haba nyoe atawa doa nyoe, laju lon rasa malam ka jeuet keubeuku. Keuneng (dhoe) lon ka meureuoh. Siat nyan, na ureueng buka gunci di luwa, ulon preh mantong ngon saba, peue kheueh na teudeungoe langkah gaki ureueng tamong. Watee lon ngieng hana nyang tamong, ngon ate-ate that ulon grieb u luwa, rupari bansipanyang rot ka hana sapeue na le. Watee nyan kheueh teuma ulon deungoe su Tuhan geushah bak geulinyueng lon sira geupeugah lagee nyoe.
"Plueng, ulon teuma lon peuhah pintoe keugata". Ulon ka lon peu phon plueng teuma hana lon teupeue u arah toh keuneuk lon plueng. Ulon teuma na dua dro rakan di Lahore, teuma awaknyan na kheueh ureueng-ureueng Islam.
Ulon hana lon teupeue peue kheueh na ureueng Kristen nibak teumatnyan. Ulon kuplueng laju lon sitot rel geuritan apui nyang teuka di Lahore u Raiwind. Dikeue stasion Cantonment, ulon meugantoh dan laju rhot lam lhueng ubit. Ulon hek leumpah na dan tinggai kheueh lon nibak teumpat nyan simalam suntok. Ulon teunget ngon teu-eh oh singoh nyan poh siblah uroe baroe kheueh ulon teujaga, nyan pih le sabab tuboh lon ka seu-uem that jipoh le uroe. Laju lon peuphon dong dan laju lon jak u banda Mode (na kheuehsaboh lamkawan wilayah nyang kaya nibak Lahore). Nibak teumpatnyan ulon ngieng-ngieng bangunan-bangunan nyang get-get, wateenyan cit teuma baroe kheueh lon sada keuhai peukayan ulon nyang meulaen that ngon ban sikeulileng lon. Di likot banda Mode nyan laju lon kalon saboh gampong dan lonjak teuma ubak gampong nyan. Watee ulon peurab ubak gampong nyan, deuh laju lon ngieng na padub droe aneuek miet teungoh jimeu-euen-meu-euen lam padang. Laju lon tanyong ubak sidroe lamkawan kawan aneuek miet nyan. "Neuek, peue kheuehna ureueng Kristen nanibak gampong nyoe?" "Na" seuot aneuek nyan, "Yah ulon na kheueh Peundeta disinoe. Peue kheueh yang hase lon peubuete ateuh bapak?" tanyong aneuek miet nyan. "Tulong ba ulon bak ayah gata", kheun lon sira meulakee. Aneuek miet nyan laju jiba ulon ubak ayah jih di rumoh droe jih, ureueng nyan na kheueh Kapitan Samuel nibak Balakeselamatan.
"Ulon ka jipeubeubaih". Kapitan Samuel rumeh that keue ulon meunan cit watee ulon meucalitra peue nyang ka teujadi ateuh ulon, gobnyangeujamin ulon meunan cit meunyoe na sapeu-sapeu ateuh lon gobnyannyang jamin. Kamoe cok watee sikeujab keue kamoe meudoa siat, lheueh nyan laju geuyue jak ulon bak saboh peurantah lheuehnyan geuyue sidroe ureueng mangat jijak tawok dokto gampong mangat jipeureksa ulon lheueh jijarom lon. Lheuehnyan geujok teuma padub-padub macam ubat. Ulon tinggai nibak rumoh Kapitan Samuel treb jih peuet uroe lheueh nyan lon lakee izin keulon jak u Gojra. Hamba Tuhan nyang jroh ate nyoe laju geujok keulon saboh bajee keumeja, sipasang sipatu, saboh seulendang meunan cit peng limong rupees. Tanggai 15 Desember ulon trok u Gojra. Mandum rakan-rakan galak jika lon lom, leubeh-leubeh Peundeta Wooton. Peundeta B.M.Agustine, Bootha Masih meunan cit peungusaha Charan dass. Hai nyang lageenyan na kheueh saboh dasai keu keugeumbiraan nyang rayeuk. Bak uroe Natal, ulon ngon rakan lon ba Masih jak meuibadat ngon lon nibak gampong ngon ureueng-ureueng laen nibak wilayah-wilayah nyang teuaseng (jioh-jioh that). Ureueng syiek nibak Bawa Masih meunan cit adoe jih nyan inong Grace. Awaknyan leumpah that rab ngon ulon. Nyang paleng peunteng nibak ulon na kheueh bahwa ulon jinonyoe na kheueh bagian nibak masyarakat Kristen. Ulon horeumat keue ureueng atawa masyarakat nyang gasien nyang papa hana sapeue na.
Sibagoe ureueng nyang rab ngon lon meunan cit ngon geunaseh ate lon Gaseh keu sidroe ubak nyang laen na kheueh peunteng that. Ibadah na kheueh saboh sumber nyang luwabiasa dan keudurongan mangat jeuet timoh lom mangat jeuet tuha iman Kristen nyang sapoereuna. Ulon aman na lam kawan akan-rakan lon. Jai that hai nyang teupeujeuet ulon meuteurimong gaseh ubak Tuhan.
Nibak keuamanan dan keudamaian ibadah-ibadah Kristen, ulon ka lon peuphon pike lam bantuek peue nyang teuma ulon brie keue jeumaat lon Sampoe an ulom meutobat, bahwa seulidek ulon na kheueh keuteupeu punoh keupribadi,teuma jinoenyoe pikeran ulon uluwa. Ulon teingat haba meusajak nibak sidroe ureueng tukang ca-e nyang nan geuh Ghalib:
"Hana meunang nyang hase meuteume, seulaen galak ubak meudoa nyang hase teu-ubah nafeusu manusia ubak jiwa nyang teupeusuci".
Teubrie seumangat ulon di Gojra na meubagoe bagoe sugesti. Padub-padub droe ureueng jipike bahwa ulon bah kheueh lon tamong lam grob bisnis meunan cit nyang laen geupeugah bahwa ulon bahwa kheueh lon pimpen jeumaat mantong. Teuma ulon kuteupeu peue nyang keuneuk lon pubuet. Ulon gohlom tuwoe resolusi nyang lon peugah nibak malam lon teupeubeubaih nibak mate nyang ka teupeuteuntee. Sira lon pujoe Tuhan keue peu-peu mantong nyang Gobnyan ka geupeubuet ateuh ulon, laju lon peuget meuneuhoi doi nyang lageenyoe:
"Tuhan, jok kheueh keulon karenya Droneueh keuteupeugah banmandum buet ajaeb Droneueh lam donya nyoe. Jok kheueh keu ulon taat ubak Droneueh mangat ulon jeuet keusampoe reuna. Bah pih lam donya nyang meudesya nyoe. Brie khueh keulon geunaseh Droneueh mangat ulon hase lham nibak lam nyan. Mangat donya hana hase jiteume lon. Peutrang kheueh rot ueh lon meunyoe ulon meulangkah nibak rot nyang meubatee nyoe. Mangat ulon bek meugantoh dan juet keumalee keulon teuka ateuh nan Droneueh nyan."
Ulon yakin bahwa buet ulon keu Tuhan na kheueh jakba haba Injil, nyalon cok keuputosan buet nyan lon peu phon dipat ulon na. Ngon padub-padub roe ureueng muda nyang na lam asrama, laju lon jak ubak gampong-gampong nyang na ban siseunligka Gojra dan laju lon peuphon keutubah keuhai Injil. Kadang-kadang Peundeta Wooton geujak cit meusajan ngon kamoe, teuma ulon kureueng galak ngon cara lageenyan, sabab ngon keuadaan nyan jeuet keumalee ureueng-ureueng nyang keuneuk meugeumbira ulon lagee nyang awaknyan lakee. Nyang sikeubiet jih ulon keuneuk ukoe jiteurimong ulon meunan cit hase ulon lam kawan ureueng laen. Daerah peulayanan lon meutamah luwaih dan hana teb oh lheuehnyan ka trok ubak gampong atawa bansaboh gampong Punyab. Phon-phon that ulon jak ngon gaki, lheueh nyan le sidroe rakan geubloe keulon sabog gari (geuritan angen). Ureueng-ureueng rame jihoi lon Sadhu (ureueng suci).
Ulon keupeubiasa droe keulon dong sabe ngon ureueng-ureueng gasien ho mantong nyang ulon jak. Nyoe kheueh nyang ulon peubuet keulon identifikasi droe ngon peuikot-peuikot Kristen lon. Ulon keuneuk meubahgia ngon cara udeb nibak meubagoe bideueng, meunyoe awaknyan jijak ngon gaki (ngon tapak), ulon pih lagenyan. Keuhai latar udeb lon nyang kaya hana jeuet keuhalaman nibak lon. Pajan mantong nyang ulon jak ubak daerah nyang baroe, ulon laju peuturi droe ubak peundeta disinan, mangat ulon hana lon peubuet sapeue meunyoe hana gobnyan geuteupeue. Ngon nyan teuma ulon na keumungkenan ulon meututoe ngon ureueng-ureueng Kristen, teupeukong iman awaknyan. Nibak meuneujak keujak ba haba Injil, bak si malam ulon trok ubak saboh pih Anglican, pos nyan to ngon Lahore. Ulon dong ngon Canon Stanley Huck dan lon cok jeumba nibak murok pakat nyang gobnyan peuna. Teungoh ulon preh gobnyan lam kantoe geuhnyan, Tuhan meufeureuman ngin trang that ubak ulon, meunoe kheueh su feureuman nyan:
"Gata wajeb tajak gatabrie keusaksia gata ubak syedara-syedara gata di Lhore. Nyan kheueh teumpat gata peuphon mubuet".
Su nyan teuka watee jih kira-kira poh sikureueng malam. Ambisilon na kheueh taat ubak Tuhan. Ulon hana ragu-ragu keulon peubuet peunyang Geuyue le Gobnyan. Ulon that-that meugrak ate mangat malam nyan cit teuma ulon jak keudeh. Laju lon tinggai geuritan angen lon dan laju lon ek geuritan apui ulon jak u Lahore. Trok keudeh ulon keutok pintoe rumoh cutpo lon lju geupeuhah pintoe rumoh nyan, Gobnyan hireuen that ngon na bacut meuharab nibak mata gobnyan, laju geutanyong, "Peue kheueh kah kawoe?" Ulon pike gobkon mantong keuneuk geuteupeue peue kheueh ulon keuneuk woe lom ubak keuluarga, meunan kheueh teuma peu kheueh ulon kuriwang ubak iman lon yoh watee ilee. "Nyoe", jaweueb lon. "Ulon woe" teuma uloan hana udeb ngon gatanyoe le. Teuma ulon keuneuk peugah ubak gatanyoe bahwa Tuhan Isa Almaseh na kheueh Juree Seulamat. Gobnyan geupeuseulamat ulon meunan cit ulon yaken that bahwa gobnyan pih hase geupeuseulamat droe-droeneueh nyoe cit teuma."
Watee geudeungoe haba lon nyan deuh laju hi rumah gobnyan meu-ubak. Gobnyan geucuba geupeuteunang beungeh geuhnyan laju gajaweueb seucara teupaksa: "Teurimong gaseh beule that. Teuma kamoe hana meutem, kamoe hana peureulee Tuhan Isa gata nyan. Meunan cit kamoe hana peureulee keuseulamatanya. Selamat gatajak". Ngon cara nyan gobnyan laju geutob pintoe dikeue ulon. Ulon sedah that teuma hana hireuen. Ulon pih peucaya bahwa ulon ka lon peupunoh tugaih lon, bahpaih nyan hana meuhase. Feureuman Tuhan malam nyan teupula lam ate lon dan ulon pih peucayabah kheueh lon jak meusaksilom ubak rakan-rakan Muslim nyang laen, na kheueh nibak gampong teumpat lon lahe di Zaffarawal. Ulon teuingat watee ulon jak u rumoh missi lon ureueng Amireka meunan cit peurumah gobnyan nyang pos missi nibak gampong kamoe. Sibagoe aneuek miet, ulon ka lheueh jak meujame u rumoh awaknyan, ngon pdub-padub droe aneuek agam laen meunan cit kamoe meunyenyoe meusajan ngon peurumoh gobnyan. Oh ka lheueh ulon meubalek, ulon peusie mangat bek lon tamong lam daerah nyan, teuma jinoe ulon tuleh surat keu ureueng-ureueng missionaries laju calitra bak awaknyan bahwa ulon keuneuk meurampok ngon awaknyan. Sabab Tuhan ka geupeudeuh bak ulon haroih lon peuphon peuna peulayanan lam gampong lon. Gobnyan kuneuk meurampok ngon lon. Le sabab nyan laju ulon jak Zaffar awai buleuen Maret 1950. Watee ulon trok keunan, laju lon teurimong haba meuduka cita bahwa ma ulon ka meuninggai donya padub-padub uroe nyang ka u likot. Sabab dukacita gobnyan geumeucre ngon lon. Ulon keubiet meunyeusai that sabab hana hase lon kalon gobnyan sigohlom gobnyan meuninggai donya.
Gobnyan hana geuteupeue keuhai reunsana keuneuk jipoh mate lon. Awaknyan ka jireuncana ngon cara padub-padub cara keuneuk jipoh mate lon ngon cara seungah-seungah. Ulon teungoh na tinggai di rumoh missi dan awaknyan kayem that jiteuka sira jiundang ulon u rumoh awaknyan. Phon-phon that tulak hana lon tem, teuma lon lakee nasihat nibak ngon-ngon lon. Awaknyan laju jijok saboh usui lageenyoe, ulon jeuet lonjak keunan teuma bek sidroe. Beuna lon ba dua droe rakan keungon lon. Ulon sitot naseuhat nyan laju lonjak meujame u rumoh cut po lon. Sira kamoe duek-duek meupeugah haba, laju lon ngieng bahwa na saboh peudeueng ateuh meuja baih ulon. Ka lheueh jiasah meunan cit ka siab keijipeuguna. Ulon pike bahwa ulon kheueh nyang jeuet keutarget awaknyan. Laju lon bot peudeueng nyang sira lon pike, "Keuteupoh mate gob ngon peudeueng nyang lageenyan gobnyan haroh jipoh droe jih teuleubeh ilee. Sabab ate gata teuma mate sigohlom jaroe gata teupeubot. Nyan na kheueh saboh keuleumohan. Laju lon peutamong lom peudeueng nyan lamsarong jih".
Tuka pikeran nyan meutameh panyang, le aduen-aduen lon laju geutawok sidroe Mullah u rumoh gobnyan, Mullah nyan teuka keugeu meutuka pikeran ngon lon. Ulon hana meudaya, pakriban mantong nyan hana relevan keuteumeutuka pikeran nyan. Awaknyan geuidang keulon the keu iejieb. Teh nyan leumpah that phet dan lon yaken that bahwa tehnyan kaka jiboh tuba. Le sababnyan ulon jeuet teeakot, ulon teuingat ubak tutoe haba Isa ubak mured-mured Gobnyan watee Gobnyan ka geubeudoh nibak lam kubu. Bahwa soe-soe mantong nyang jipateh ngon teupumanoe (teubaptis) le ureueng nyan teuma jai that jikalon tanda-tanda. Tanda-tanda nyan na kheueh: meunyoe awaknyan jijieb ie tuba (racon) awaknyan hana mate (Markus 16:18), ulon kupateh hainyan, dan na kheueh saboh laba ngon keubiet meu-untong that keudroe lon mangat lon rasa hai nyang ka jeuet keutanda nyan. Laju lon jieb ie tee nyan sampoe abeh sira meudoa: "Tuhan, peukong kheueh ulon", ulon jeuet aloh-alah laju jiteuka peuneng ngon mumang, laju lon pakat rakan-rakan lon nyan jeuet kamoe jakwoe. Aduen-aduen lon nyan hana geuteupeue pakriban peurasaan lon. Trok u luwa banda, lon lakee bak ngon-ngon mangat jitinggai ulon keudroe disinan. Wateenyan poh 10 malam. Oh ka leupah rakan2 lon nyan jijak laju lon meudoa, "Tuhan, meunyoe ulon jadeh mate nibak malam nyoe awaknyan laju jipeugah bahwa Kristen nyan peuleusu, meunan cit hana kuasa. Kon nan hamba Droneueh, teuma nan Droneueh nyang cupa, meunan doa nyan seuleusoe lon peugah, laju ulon muntah dua goe dan banmandum tuba nyang na lam pruet lon jiteubiet lam pruet, lheuehyan ulon hase lon eh laju teunget ngon meusinyeunya.
Bungoh uroe ulon jak u pos missi, aduen-aduen lon keuneuk geuteu peue nyang ka teujadi ateuh lon. Bak wateenyan deuh lon kalon sidroe ureueng teungoh geujok lam gampong meukeusut jih gujak teuka rot di gampong. Ulon kuteupeue bahwa ureueng nyan jikirem le awaknyan. Ulon turi gobnyan sibagoe sidroe lamkawan peumbantu aduen lon. Laju lon yue ureueng nyan jigisa lom lon yue peugah bahwa ulon mantong udeb.
Kon mantong iman lon nyang peukaru keuluarga lon. Aduen-aduen lon pih teumakot meunyoe hainyoe ulon lakee tanggong jaweueb atawalon tuntot. Meunan cit aduen-aduen lon teumakot atra waresan lon lakee sibagoe hak ateuh wareh nyan. Awaknyan laju geureuncana nyang laenateuh udeb lon. Bak siuroe ulon teungoh meujame di Narowal, sidroe rakan nyang Muslim trok u rumoh Peundeta Izak Dass laju jipeugah keuhai ulon bahwa ulon le padub-padub droe ureueng muda teungoh jipreh ulon nibak jeumatan tol. Ulon haroih loncok keuputosan nyang nyata mangat bek teupeurugoe peulayanan lon keue Tuhan. Ngon nyan laju lon cok keuputosan mangat lon jok waresan atralon nyan ubak Chaundhry Lal Khan, na kheueh aduen lon nyang paleng meusyeuhu lam keuluarga. Ulon peuputoh banmandum hubongan ikatan peue mantong ngon awaknyan. Awaknyan bek teumakot le keulon jinoenyoe. Mungken awaknyan jipeubiyeue ulon keudroe hana jipakoe le nibak meuneujak udeb lon. Rupari bacut-bacut seucara sistimatis udeb lon hana aman di Punyab, ulon ka lon pubuet peulayanan lon disinan, lagee nyang ka lheueh lon peugah, teuma hana sapeue alas an, pakon ulon haroih tinggai disinoe. Watee lon pike peuristiwa-peuristiwa nyoe laju meurumpok ngon lon sidroe rakan nyang jroh ate gobnyan na kheueh peundeta Chandu Ray, nyang uh dudoe gobnyan jeuet keu Uskop. Kamoe meutuke pikeran le that-that keuhai peilayanan lon. Gobnyan geubri nasihat keulon mangat lon jak u Sukkurin Sind. Ulon teurimong usui geuhnyan. Hainyoe teuingat ubak nyang geupeugah le Bulhe Shah, sidroe peuca-e di Punyab lagee nyoe su jih:
"Jak hai Buhle, jak tajak ubak saboh teumpat. Nibak teumpat tajak hana meusindroe pih nyang teupeue peu nyang jeuet keu masaalah nibak geutanyoe atawa jikalon geutanyoe".
Nyang ba haba Get atawa haba Injil di Sukkur nibak wateenyan nyang patot teuhareuga na kheueh Peundeta Carson, Keue padub-padub buleuen ulon mubuet nibak Leumbaga Alkitab. Buet lon disinan na kheueh keuhai administrasi meunan cit lon tuleh laporan-laporan. Ulon ka jeuet keu sosah that. Ate lon han teutarek bak buet lageenyan, teuleubeh lom ulon meurasa bawa ulon meuorentasi ubak bideueng komorsil. Ulon meurasa kureueng teunag dan ka meusimpang nibak visi nyang phon. Le sababnyan lon cok keuputosan keue lon peu lheueh buet nyan.
Ulon kalon droe keudroe sibagoe ureueng ba beurita Injil le sabab nyan ulon haroh lon peuleungkab droe keutugaih nyan. Ulon puphon peuleungkab droe ngon basa Sindhi ngon geutulong le peundeta Carson. Bagaih lom hana le useuha, ulon carong meubasa Sindhi ngon cara lon peuphon peugah haba, meunan cit meubaca ngon teumuleh ngon lanca teuma. Keuhai keundala basa ka hana masaalah le sabab nyan ulon hase lonmuphon keuhai Peundeta Carson lamhai teuba haba Injil. Na saboh keauhai jisurot nibak buet lon di Suhkur, musem seuem ka jipeuphon dan ulon hana ek lon teun seu eum that. Bahpih ulon ka meureuncana bahwa Sindhi nyan na kheueh daerah dipat ulon teuma meulayani, dan ulon haroh tinggai disinan meusikeujab.
Ulon gisa u punyab, disideh ulon meurampok ngon peundeta Leray Selby sidroe Amerika di Lyallpur (Jinoe Fasalabad). Gobnyan geu-undang lon mangat lon jak meurumpok ngon geuh keulon meubuet nibak gobnyan nibak peulayanan keu kawom muda. Komperensi di Lyallpur banmantong teupeuna. Keu dua thon nyang phon na konperensi dan nibak konferensi nyoe teubahaih hai-hai nyang paleng peunteng keukawon muda.
Ulon han hase lon dong dipat mantong sabab ulon hana lontem udeb lagee ureueng-ureueng buet peuhaba Injil, le sababnyan ulon peuget reuncana mangat jeuet meusajan ngon Chaudry Jalal Masih sidroe Kristen. Gobnyan na kheueh sidroe ureueng agam nyang rumeh ngon ramah that dan gobnyan rab lagee ayah nibak ulon. Ulon geyteurimong sibagoe sidroe ureueng lam keulurga gobnyan. Aneuek-aneuek gobnyan agam ngon ining jianggab ulon sibagoe aduen jih. Deungon na lageenyan ka teupeuhah leubeh le lom pintoe peulayanan lam masyarakat keue ulon dan ka jeuet teutarek ate nibak peulayanan Tuhan. Nibak bases nyoe, di Lyallpur, laju lonjak nak mandum teumpat ngon geuritan angen lon. Ulon ka lon jak 12000 mil (80000) Km. Meuneujak lon na kheueh phon di kemari di balih seulatan Karachi dan landi di Kotal nibak blaih utara rab ngon paeshawar na kheueh bataih Afganistan.
Ka lheueh lon piyoh bak saboh banda ubit nibak sidroe ureueng bahaba Injil, Gobnyan ureueng Amerika nibak Geureja Reformasi Presbyterian. Ulon geulakee mangat lon meukutubah nibak teumpat gobnyan meulayani nyan. Watee pireng peuseumahan teuba, ulon na saboh peugumulan meuntal. Nibak lon na lapan annas atawa siteungoh rupee. Peuenyang haroih ulon pubuet? Ulon peureulee peng nyan, teuma ulon hana lontem pireng peuseumahannyan jijak meunan mantong ngon hana lon jok sapeu-sapeue, watee pireng peuseumahannyan trok bak ulon dilon hana pilehan laen. Laju lon peutamong jaroe lam baluem laju lon cok nyang lapan annas nyan, lju lon keubah lam pireng peuseumahan. Debat lam bathen lon ka hana le. Ibadat tetab dan ulon laju jita nyong tanyong lam ate: "Peue nyang haroih lon peubuet ngon han lon met peng?"
Ulon teuma keuneuk teupeue lam watee nyang paneuek dan teurasa keuajaeban nibak nyang ka geupeuteuntee le Tuhan sigoe teuk. Ulon u rumoh sidroe rakan ureueng Pakistan, peurumoh ureueng nyang geusabot ulon sira geupeusan lagee myoe: "Syedara, na sidroe ureueng nyang keuneuk meurumpok ngon droe neueh". Ulon hantom na meuhareb sidroe-droe ureueng beuteuka bak lon. Peurumoh rakan lon nyan geupeugah lom na dua droe juru rawat rumoh saket teuka keuneuk meurumpok ngon on, sabab awaknyan jiteu peue ulon keuneuk jak bak uroe ukeue nyoe. Awaknyan jilakee meu'ah sabab hana hase teuka watee seumanyang, teuma wknyan jitinggai amplop keue ulon. Ulon cok laju lonba atranyan lam kama eh dan laju lon buka, lam nyan napeng saboh geucai le jih, na kheueh peng rupees meunan cit sion surat, "Tuhan geupeugah bak kamoe bahwa droe neueh peureulee peng keu droneueh jak lom. Cok kheueh peng nyoe dan meusyukoe kheueh". Ulon keubiet teuceungang that, Tuhan nyan biet-biet get that. Saboh keujadian nyanghana gadoh lam pikeran lon. Ulon cok keuputosan keulon jak saweue sidroe ureueng agam nyang meuheuet keuneuk teupeue keuhai iman Kisten. Laju ulon jaku banda ureueng nyang, teuma hana meurumpok ngon ureueng nyan. Keubiet keucewa that meunan cit leumpah na, laju lone k moto bos keuneuk lon riwang u stasiun. Bak geunireng lon geuduek sidroe Muslem tuha, laju peugah-peugah haba. Gobnyan geutanyong keuhai droe lon, laju lon peugah bahwa ulon sidroe ureueng seumeubeuet kitab Injil, gobnyan leumpah galak lom harok. Lagee jih ulon nyoe na kheueh jeunaweueb Tuhan ateuh doa gobnyan. Lagee ka lame nibak ureueng Islam, awaknyan haroh geujak paleng hana sigoe u Mekkah dan gobnyan ka geujak tujoh goe, teuma hana geuteume peue nyang geumita. Gobnyan meucalitra bak lon bahwa na sidroe ureueng geujok seunalen kitab Injil nibak basa jih keudroe lom gobnyan ka geubeuet nyan. Lagee kisah sida-sida nyang na meuteume lam kitab kisah rasui-rasui. Gobnyan peureulee sidroe ureueng nyang peutang hainyoe ubak gobnyan. Watee kamoe katrok nibak tempat gobnyan haroh geutron, gobnyan haroh geutron, gobnyan geutawok lon mangatlon jak u rumoh gobnyan. Gobnyan na kheueh sidroe ureueng kaya leumpah na, kaya gobnyan na kheueh ngon atra nibak tanoh nyang luwah, na 7000 hektar tanoh atra geuh keudroe. Oh ka lheueh kamoe meututoe keudeh keunoe panyang ngon luwah lam rumoh gobnyan, ngon meuharab that gobnyan geulakee bak lon mangat lon meudoa keu gobnyan. Ulon peugah bak gobnyan mangat geumeudoa keudroe geuh keudroe. Gobnyan lumpah hireuen sira geutanyong, "Peu kheueh ulon hase?"Teuntee" jaweueb lon. "Meunyoe droneueh hase neumeututoe ngon lon, bapak pih hase neumeututoe ngon Tuhan". Lheuehnyan laju geumeudoa "Tuhan Isa teurimong gaseh, sabab Droneueh ka neukirem hamba Droneueh. Keuji peutakteh ulon ubak rot nyang beutoi. Teurimong kheueh ulon, dan ulon keuteurimong Droneueh sibgoe Juree Seulamat lon nibak ureonyoe. Ulon kuteupeu bahwa Tuhan geutem teurimong jihnyan. Hana bataih nibak keuget ngon murah Tuhan. Soe-soe mantong nyang biet-biet keuneuk mita Gobnyan, teuma geupeuseulamat!.
Tuhan ka geubimbeng ulon ubak rot nyang ka Gobnyan peuteutab keulon. Le sabab nyan ulon haroh taat ubak Gobnyan. Ulon meu-utang peu-peu mantong ubak Gobnyan. Teuma ngon rot nyang lagee nyan ulon hase udeb untok keumuliaan Gobnyan. Ulon meu-utang peu-peu mantong bak Gobnyan nyang ka geugaseh ulon leubeh ilee dan geukeubah gasuh sayang nyang na nibak Gobnyan keue ulon. Ngon teunaga droe ulon hana hase lon peubuet sapeue. Banmandum teunaga ulon meunan cit mandum nyang na nibak lon. Ngon bimbengan Gobnyan ulon hase lon pubuet peu-peu mantong, teuma le sabab Gobnyan nyang meubuet keue ulon lam droe ulon. Rot u "Kalvari" nibak ulon na kheueh saboh rot nyang punoh ngon du roe. Hainyoe leubeh sulet nibak peue nyang ulon harab, teuma ulon ka lon teupeue bahwa pemuda nibak Nazaret nyang na Gobyan Isa ka leubeh ilee Gobyan geupeujak meuneujak nyoe. Pikeran nyoe ka teubrie keulon teunagga keuteupeujak laju meuneujak lon, bahpih kadang-kadang "saleb" ulon leumpah that geuhon. Ulon ha roh sabeh-sabeh lon ingat tutoe haba Gobnyan.
"Tieb-tieb ureueng nyang jitem sitot ulon,
Ureueng nyan haroh jibantah droe jih,
jigulam saleb gobnyan dan jisitot Ulon".
(Markus 8:34)
Nibak lon, nyoe na kheueh saboh sagai rot nyang hase lon jak, dipat ulon hase lon peutimang Gobnyan dan teuba ureung laen ubak gaki Saleb Gobnyan. Nyan kheueh jeunawueb lon ubak geunaseh Gobnyan nyang meunan rayeuk nibak ulon. Rot ubak peulayanan na kheueh rot nyang sungue. Kadang na cit sungue nyan jipeusalah boh makna, meunyoe lam padub-padub goe aleuhat atawa buleuen ulon hana meuteume mangat ate (hana geumbira) lam hai meutotoe ngon nyang laen. Teuma, watee nyang lageenyoe ulon hase meuturi ngon lon peutoe droe ubak Tuhan nyang meukuasa. Mate keue Almaseh lam donyanyoe ka teupeumungken ulon mangat lon rasa kuasa Geubeudoh Gobnyan. Lam Gobnyan ulon meuteume rasa meunang lam udeb nibak mate nyang na lam udeb nyoe. Sidroe tukang ca-e nyang meusyeuhu di Pakistan, Sir.Muh.Iqbar ka geupeudinivisi keuhai udeb meunan cit mate lagee nyoe.
"Udeb na kheueh nan nibak banmandum nyang trang; 
mate na kheueh meunyoe sapeu-sapeu nyoe putoh dan meutabubeba"
Oh ka lheueh lon tinggai keuluarga nyang le jih na 42 anggota, ulon teurasa leumpah that payah keulon atoe udeb lon keundroe nyang baroe nyoe. Ulon na paduh-paduh droe adoe parui nyang inong nyang ramah that, awaknya rumeh ngon ramah-ramah dan deuh teulakon jitunyok lam sikeub jih gaseh ngon sayang keu ulon, ma lon nyang hantom na geupeu gah tutoe haba nyang gasa ateuh ulon atawa ubak soe mantong nyang ulon turi meunan cit ayah lon nyang na sifeuet nyang ramah that, dan jeuet keucuntoh nyang get keu-ulon dan geubimbeng ulon ngon nasihat-nasihat nyang bijaksana. Meunan cit ban peuet droe aduen nyang sabe na geukalon lon sidroe peumuda nyang meubahgia. Teuma keubit sayang that awaknyan ka jeuet keumusoh lon nyang paleng karu.Udeb hana awaknyan na kheueh saboh hai nyang teuba ubak bingong. Lom teuma rakan-rakan lon nyang Muslem yoh watee ilee, ka jipeupe toh taloe sahabat lom teuma awaknyan hana jitemle turi keu ulon. Bahpih yoh watee ilee meusahabat kamoe lam keuadaan situasi-situasi nyang leumpah payah. Ulon teuingat siwatee kamoe jak operasi bak bataih Kashmir. Kamoe na lam mideuen prang. Su beude beureu toh meungantoe-gantoe ideh ngon inoe nibak blah dua blah nyan. Rakan ulon, Akbar Kazmi, jiteume beude jih atawa beudeh jih teusum pai/ coh. Rakan nyan deuh jih leumpah yo ngon teumakot, lagee jih nyan ha meujaroe. Ulon ngieng jihnyan dan lon kalom ruman jih- ka punoh ngon rasa putoh asa. Laju lon rhom beude lon nyan ubak Kazmi mangat jipeuguna keujipeuteuen droe. Ulon meurasa bahwa ulon hana peureulee le nyang lagee rakan nyan, sabab ulon na kheueh ureueng muda nyang teuga meunan cit hase lon bila droe ngon hana meubeude.
Ngon buet lon lagee nyan jeuet keuteu ikat nibak meusahbat- kamoe. Teuma, watee keuluarga keuteuntang atawa geumeumusoh ngo lon, Sahabat lagee Kazmi hana hase jitulong lon, jitinggai le keuluaraga meunan cit rakan, ulon haroh lon mita rot udeb lon keudroe. Udeb lon sang-sang teurasa "mate social". Teuma teutab lon jak ateuh rot nyang ka ulon pileh. Mate tieb-tieb uroe nibak Tuhan Isa kon kheueh keuhai udeb nyang phui. Ulon hana meunyeusuai sabab ulon ka lon pubuet lageenyan. Meunyoe ulon kalon padubna le jih anugeurah keuhai udeb nyang Gobnyan jok, dan keulon sucita nyang nyang rayeuek. Teuma, na watee-watee nyang cut ate, meunyoe useuha ulon jeuet keuhana meuguna. Meunyoe ulon kalon inong-inong muda nyang ka ulon tulong dan teubibeng awaknyan ubak iman Kristen rupari jeuet keupeurumoh nyang keudua nibak agama Muslem. Hainyoe teupeujeuet ate lon peudeh that lom teuteugon. Ulon ingt bahwa Tuhan ka meuninggai keumandum-ureueng, teuma cit bacut nyang jibalaih geunaseh Gobnyan. Le sababnyan ulon tanyong ubak droe keudroe: "Peue kheueh gase gon aseuha ulon na meumakna nibak Gobnyan?".keureubuen Gobnyan bak kayee Saleb jianggab sibagoe nyang leumoh hana meudaya. Meunyoe ulon salah peuguna dan hana teubalah, ulon pih jeuet teudakwa lagee nibak nyang leumoh. Ulon hana hase meuaab – meuteume anianya meulaen nibak Tuhan lon. Ulon jinoenyoe ka siab meunyoe Gobnyan geutawok lon keuteugantoe.
"Peukayan nyang ka treb ngon nyang baroe" Ulon kuteupeue bahwa mate nibak ureueng Kristen kon kheueh udeb nyang keuneu lheueh, teum teuma na kheueh awai nibak udeb nyang baroe nayang leubeh get. Oh ka lheueh ulon jak dan donya nyoe atawa oh ka lheueh lon tinggai donyanyoe ulon hana le meuteume watee keu mate tieb-tieb uroe keue Gobnyan. Ulon hase lon tulang lonjok dorongan ubak uerueng nyang rame lam donya noyoe ngon keuyakenan na kheueh keuteupeu mulia nan–Tuhan ulon kupujoe Gobnyan Tuhan dan Allah lon ka geubimbeng ngon seutia simantong ulon udeb. Teupujoe kheueh nan Gobnyan!
Na padub thon nyang ka u likot, ulon jak ubak saboh rapat keuuskupan di Karachi dan meurumpok ngon Manzur meunan cit ngon Dadu geupimpen peujame suci (Peujamuan Kudus) nibak geureuja Tri Tunggai nyang Suci. Ulon lontukui teubrie teurimong gaseh ngon pujoe. Bak watee ulon teurimong sakramen nibak jaroe awaknyan laju na rasa tuboh lon lagee jimeu-eue le sapeue-sapeue nyang hana lon teupeue sampoe rasanyan bansaboh tuboh lon sampoe teurasa ate lon ka bicah sabab sukacita! Meunan cit ka juet keu alat keulon ba bandua awaknyan ubak Tuhan. Peue kheueh nyang jilakee le sidroe hamba nyang hana meuhareuga?
Ulon meusyukoe ubak Tuhan sabab Gobnyan ka geudrob lon. Doa ulon na kheueh bahwa soe mantong nyang beuet kitab keuhai Gobnyan, teuma teukira lamkawan ureueng-ureueng suci nyang pujoe Gobnyan lam cahaya abadi.
Ghulam Masih Naaman geulayani Tuhan Isa Almaseh nyang treb jih tujoh thon sibagoe nyang peubeuet kitab Injil. Oh lheuehnyangobnyan kuliah nibak Gujranawala meukawen ngon sidroe juru rawat nyang nan jih Daisy nyang jeuet pasangan saboh iman nibak teuharong udeb rot meukawen awaknyan, awaknyan geubrie le Tuhan aneuek dua droe agam dan sidroe inong. Banmandum keuluarga geuhnyan geulayani Almaseh nyang udeb. Meunyoe gata na meuheuet keuneukteumaong keuhai keusaksian nyoe, gata jeuet tatuleh langsong surat ubak nyang tuleh kitab nyoe.
Tuleh kheueh lam basa Aceh atawa lam basa Inggreh ubak: 
Rev. G. M. Naaman
Peumbaca nyan budiman! Meunyoe gata ka lheueh ta beuet keusaksian nibak Peundeta Ghulam Masih Naaman, Gata pasti hase tajaweueb teumanyong-teumanyong nyang na dimiyueb nyoe:
Peue makna jih keularga nibak nyang tuleh kitab nyoe?

Pakon ayah gobnyan jeuet keusidroe Muslem Sufi?

Peue kheueh tujuan kawom Sufi?

Pakon nyang tuleh kitab nyoe hana geupeutrok sikula geuh lom geutamong angkatan udara?

Pakriban doa Baxter sampoe teupeungaroh aneuek buah jih?

Prinseb Kristen nyang toh sampoe dua droe peurawat nyang rawat Naaman nyang luka?

Pakon nyang tuleh kitab nyoe jitinggai angkatan udara?

Pakriban beujeuet sidroe peujuang kemerdhekaan?

Pakriban Islam jeuet teupeuna prang jihad?

Pakriban kheueh Isa geujaweueb ngon meusaksi sidroe aneuek dara ubit ngon ureueng syiek jih bak saboh gampong?

Peue kheueh nyan gjilakee le peujuang nibak keuluarga nyang geulindong le Almaseh dan peue jaweueb awaknyan?

Peue kheueh peunjelasaan nyang geujok le sidroe ma Hindu ubak keukeumandan unit poh mate keuteu peuseulamatan sidroe aneuek manyak nibak mate?

Pakri ban peumikeran Naaman keuhai jihad watee gobnyan geupeu pon peubagoe cara seumika keuhai Islam ?

Tutoe haba-tutoe haba peue kheueh nyang Naaman peugah lam doa keucewa ubak Po teu Allah Nyang Maha Akbar ?

Tutoe haba nyang toh kheueh nyang Isa Puegah keuteupeu seulamat ureueng nyang patah ate nibak jimita Allah nibak ruweueng teumpat preh nibak stasiun ?

Peu kheueh nyang isa karonya ubak Naaman watee gobnyan teungoh peugah haba ubak sidroe ureueng tukang seumampoh lam peron – nyang rupari ureueng nyan na kheueh sidroe Kristen nibak kasta miyueb nibak stasiun Apui ?

Pakriban Ghulam meurunoe meusikutu lam doa meusajan ngon Sewa Boota Masih dan peue makna jih nibak gobnyan ?

peue makna teupumanoe (babtis) nibak nyang tuleh kitab nyoe sibagoe ureueng nyang ban peucaya (meuiman) ?

Pakon Ghulam geusitot apha ngon adune geuh geuwoe bahpih nyan geuteupue bahwa udeb gobnyan na lam bala ?

Pakriban useuha keuluarga Ghulam jiba gobnyan mangat mangat jiwoe lom ubak Islam ?

Pakon aduen gobnyan keuneuk geupoh mate Ghulam dan pakriban kheueh cara jih?

Peu kheueh tujuan doa nyang tuleh kitab nyoe watee gobnyan jiteun lam glab (peunjara)nyang leupie-sijuek hana mubajee nyan?

Peue kheueh Isa peugah ubak hamba Gobnyan dan pakriban gobnyan hase lheueh?

Dipat kheueh Ghulam geupeupon peubeuet kitab Injil? Dan hoe kheueh gobnyan geujak?

Prinseb-prinseb iman peue kheueh nyang peunteng nibak geupeubeuet Injil le Ghulam?

Peue kheueh nyang gata meurunoe nibak keusaksian nyoe? Cuba gata peugah ngon sijujoe jih.
Kirem kheueh jeunaweueb gata ubak :