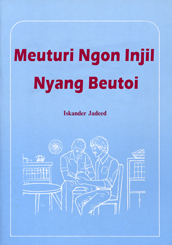 Peu kheueh hase droeneueh jok bukeuti Keu Bapaan Allah ateuh Almaseh ?

Na nyang peugah bahwa kitab Torat ngon kitab Peu.janjian Baroe ka jiubah, pakriban peundapat droeneueh ?

Peu kheueh droneueh na bukeuti bahwa Isa mate bak kayee saleb ?

Kon kheueh ngon na peuet boh Injil ka jeuet keubukeuti bahwa Peujanjian Baroe nyan ka jiubah ?
M.Z.S.TRIPOLI - LIBANON
Injil keubiet sabe teutarek ate keuteubeuet, teumanueng ngon teuseulidek keuhai keubeunaran jih. Sabab kitab Injil nyang pusat jih nibak Almaseh nyan teubuka bak soe mantong ngon hana teupeubeda-beuda ras ngon wareuna kulet. Goenyoe ngon mangat ate kamoe peugah tanyong jaweueb nibak sidroe ureueng nyang teungoh jimita keubeunaran Injil ngon bapak Iskander Jadeed rot surat seumeurat nyang ka teuntee teuma meunurot hemat karnoe keubiet meumaanfaat keu nyang syeudara nyang baca nyang budiman.
Lagee nyangka-ka kutepan-kutepan ayat-ayat Alkitab teucok nibak Alkitab teujeumah baroe nyang jipeuteubiet le Lembaga Alkitab Indonesia (LAI) Jakarta thon 1988. Teuma ayat-ayat Al Qur'an teukuteb nibak nibak "Teujeumahan Al Qur'an Al Karim", le Prof.H. Mahmud Yunus dan .jipeuteubiet le P.T. AI-Ma'arif Bandung, thon 1982. Na kheueh doa ngon harapan kamoe, kira jih rot kitab nyoe peungeutahuan droneueh keuhai Injil seumaken jipeukaya.
Seperti biasanya, kutipan ayat-ayat Alkitab diambil dari Alkitab terjemahan baru yang diterbitkan oleh Lembaga Alkitab Indonesia (LAI), Jakarta tahun 1988. Sedangkan ayat-ayat Al Qur'an dikutip dan "Tarjamah Al Qur'an Al Karim", oleh Prof. H. Mahmud Yunus dan diterbitkan oleh PT Al-Ma'arif, Bandung, Tahun 1982.
Sahabat nyang budiman,
Ulon keubiet mangat that ate meunan lon teupeue bahwa gata na niet keu teuseulidek keubeunaran-keubeunaran Injil Keubiet jroh that gata na niet - ubak hainyoe, sabab tanyoe meurumpok Paulus, sidroe rasui ngon sidroe pahlawan iman geupeugah lageenyoe: "Ujoe kheueh sapeue-sapeu nyan dan mat kheueh nyan ngon get-get." (I Tesalonika 5:21).
Nibak tatoe haba awai lam surat gata deuh jih gata meuheuet keuneuk peugah lam padub-padub boh hai pokok iman Kristen. Rupari seumangat gata ka teuba gata ubak pintoe meudobat ngon 'malem kitab' nyang meulaen ngon peurintah - Al Qur'an nyang su jih lageenyoe, "Bek kheueh gata meudobat ngon malem kitab, teuma ngon(rot) nyang jroh" (Al'Qur'an Al Angkabut 46).
Meunan cit gata rupari ka gata peutuwoe naseuhat Al Qur'an nyang geupeugah, "Pakriban awaknyan jilakee hukom bak gata, seudangkan bak bineh awaknyan na, kitab Torat, lam nyan na hukom Allah?" (Surat Al Maidah 43). Lam useha gata tasinggong pokok-pokok keuyakenan Kristen nyang paleng peuka, gata leubeh le tapeuguna ayat-ayat Al Qur'an nibak Alkitab dan teupeuteutab Al Qur'an sibagoe wasit keumeubagoe masaalah lagee ureueng-ureueng Kristen - ngon ureueng Islam. Saboh bukeuti trang that lam hai nyoe na kheueh bahwa Nabi Muhammad keudroe ka geutunyok bak 'Malem Kitab' keue teupeuteugaih keubeunaran tieb-tieb keupeucayaan, Al Qur'an teutuleh lagee nyoe, "Meunyoe gata syak - wasangka, keuhai peue nyang kamoe peutron ubak gata ( ya Muhammad) bah kheueh gata tanyong bak ureueng-ureueng nyang beuet kitab sigohlom gata" (Yunus 94).
Peurintah nyoe teutuntut tieb-tieb ureueng Muslem nibak jihadab ubak meubagoe hai nyang paleng mendasai ngon malem-malem kitab mangat jiteurimong peue nyangka teugareh lam Kitab nyan keudroe. Teusangkot ngon hai nyan, saboh ayat lam Al Qur'an jipeugah, "Sikeubiet jih kamoe ka meupeutron Kitab Torat, lam nyan na peutunyok dan nur (cahya), dan nabi-nabi nyang tundok (ubak Allah) geuhukom ngon Kitab Torat nyan, ateuh ureueng-ureueng Yahudi dan (meunan cit teuma) ulama ngon peutua-peutuha agama, aabab awaknyan geuapai Kitab Allah dan awaknyan jeuet keusaksi ateuh nyang lageenyan. Barang sigasoe nyang hana jimeuhukom meunurot nyang geupeutron le Allah nyan, awaknyan teupeugah - ureueng kaphe". (Almaidah 44).
Oh lheuehnyan teupeugah teuma bahwa ureueng Kristen hana teuikat ubak tutoe haba Al Qur'an dan seubalek jih, Al Qur'an geuhoi ureueng Kristen mangat jimumat beukong bak Kitab jih, ngon lageenyan teupeugah lom: "Bah kheueh malem Injil jimeuhukom meunurot nyang geupeutron le Allah lam Injil nyan" (Al Maidah 47).
Jinoe ulon jaweueb ateuh peue nyang gata sanggah nyan ateuh padub-padub boh meuneubenet Kristen.
Nibak useuha gata ta teuntang Almaseh nyan aneuek.Le gata tapeuguna dua boh ayat Al Qur'an, na kheueh surat Al ikhlas ngon Surat Maryam, rupari gata lalee keugata sangkot ngon ayat laen lagee Surat Al An'am nyang toh ayat nyoe sujih na kheueh: "Nyang cebta langet ngon bumoe. Pakriban kheueh nibak Gobnyan na Aneuek, sabab Gobnyan hana peurumoh?" Gobnyan geucebta tieb-tieb sapeu-sapeu dan Gobnyan Maha geuteupeue peu-peu mantong" (Surat Al An'am 101).
Meukeusut lon ngon teutunyok bak ayat nyoe, na kheueh keuteutarek peuratian gata ubak leumoh jih nibak peu-peu nyang geusanggah le Islam nyang teupeugah watee meuhadab ubak masaalah keuhai Almaseh nyan aneuek. Sigohlom Islam jibeudoh padub-padub droe nyang paluek agama Kristen, umumjih latar nibak udeb dilikot awaknyan yoh ilee na kheueh kaphe, jipeutabu ngon jai that saboh ajaran sisat nyang peugah peurawan Maryam na kheueh Dewi. Mungken awaknyan jiturinyan santeut ngon dewi awaknyan. "Al-Zihara". Aleran sisat nyoe jiboh nan droe jih "Maryamisme" atawa "Peuikot-peuikot Maryaa" Seujana Ahmad Almakrezy" (Hal.26) Meunan cit teuma ngon tukang teumuleh nyang laen, lagee lbn-Hazm, geutuleh aleran sisat nyoe lam kitab gobnyan, "Al Milal Wal Ahwaa Wal Nibal" (Leuen 47). Jinoe hana neusidroe Kristan pih nyang .jipateh ubak ajaran nyoe. Dilikotnyan le ureueng-ureueng Kristen jikalon nyan sibagoe teuhina ateuh awak nyan nyang jituju ubak keumuliaan Allah nyang teuliengkau jioh banmandua sifeuet jasmaniah. Le theoloq-theoloq Kristen ka seurang nyang salah nyoe ngon punoh seumangat ngon geupeuguna tieb-tieb ayat Alkitab meunan cit alasan-alasan nyang hase jiteurimong le akai seuhat trok ubak hainyan gadoh bak akhe abad nyang keutujoh.
Nibak uraian nyang teupeugah nyan jeuet teukalon bahwa Al Qur'an hana geukritek peuikot-peuikot Maryam nyang sisat nyoe nyang sikeubiet jih meukeue nibak keukapheran nyang ka jeuet keuhai nyang lazen bansaboh nanggroe Meuse, Arab meunan cit Yunani dipat bannandum nyang anut nyan jipateh that bahwa dewa-dewa meukawen laju jimeu aneuek.
Umat Kristen pakriban kheueh mantong hana jipeucaya ubak Almaseh nyan aneuk nibak hase hubongan seucara jasmaniah na kheueh lagee hase hubongan lakoe binoe. Awaknyan yaken bahwa Gobnyan sibagoe Aneuek Allah lam meumakna jiteubiet nibak Droe gobnyan keudroe lam keuadaan Illahi. "Gobnyan na kheueh feureuman Allah dan meuasai nibak Roh Gobnyan."
Rasui Paulus geutunyok ubak keubeunaran nyoe watee gobnyan geupeugah: "Nibak Paulus, namiet Isa Almaseh, nyang geutawok jeuet keurasui dan geupeukudus mangat geupeusampoe Injil Allah nyoe ka geupeujanji le Gobnyan sigohlom ngon peurantaraan nabi-nabi Gobnyan lam kitab-kitab suci, keuhai Aneuek Gobnyan, nyang meunurot asoe teupeu aneuek nibak keuturonan Nabi Daud, dan meunurot Roh Kudus teupeugah le keugeubeudoh Gobnyan nibak lamkawan ureueng mate, Nibak lamkawan ureueng mate, dan bahwa Gobnyan na kheueh Aneuek Allah nyang meukuasa, Isa Almaseh Tuhan geutanyoe". (Roma 1:1-4).
Nibak teubeuet ulang banmandum nyang geupeugah le Almaseh, inan tateume peunyataan-peunyataan nyang nyata ngon trang nyang teupeukong ubak Gobnyan sibagoe aneuek seucara illahi nyan, miseu jih:
"Meubahgia kheueh gata Simon ben Yunus sabab kon manusia nyang kheun nyan bak gata, teuma na kheueh Bapa Ulon nyang na lam syeuruga" (Matius 16:17).

"Teuma Bapa Lon nyang na lam syeuruga geupeubuet cit lageenyan ateuh gata."...(Matius 18:35).

"Pakon gata tamita Ulon? Peu kheueh hana gata teupeue, bahwa Ulon haroh na lam rumoh Bapa lon?" (Lukas 2:49).

"Teuma Gobnyan geupeugah bak awaknyan, 'Bapa lon geumubuet trok 'anjinoe, le sababnyan Ulon pih Ku mubuet cit". (Yahya 5:17).
Meunan cit na ta beuet lam kitab Injil,"Jai that buet nyang jroh nyang asal jih nibak Bapa Lon nyang ulon peudeuh ubak gata; buet nyang toh kheueh lamkawan nyan nyang jeuet teupeusabab gata keuneuk ta geulawa Ulon?" (Yahya 10:32).
Tulehsan kitab injil keuhai Isa teupeu manoe lam Krueng Yordan, nyan pih ka jeuet sibagoe sinunyok bahwa saboh su nyang asai jih di langet teudeungoe nibak keujadian nyan, su nyan lagee nyoe: "...Nyoe kheueh Aneuek nyang Ulon gaseh, ubak Jih kheueh Ulon harok" (Matius 3:17).
Jinoe tariwang lom bak ayat Al Qur'an nyang na teutuleh: "Nyang hana meu aneuek dan hana teuma teupeu aneuek". Le Imeum Baidawi geutafeuse ayat nyoe lageenyoe: "Hana meuaneuek," nyan meumakna gobnyan hana meu hubongan lagee lakoe binoe dan hana peureulee teutulong (meusaraya), meunan cit sidroe peuneurus. .."Hana teupeu aneuek" meumakna gobnyan hana kureueng meusapeue pih meunan cit hana nyang hampa nyang teuawai Gobnyan, Teuma, "Lahe" (atawa teupeu aneuek) lagee nyang teupeuguna lam surat Al lkhlas hana teupeu makna laen seulaen keuhai lahe nibak hubongan lakoe binoe seucara jasmaniah. Ngon nyan teuma ka pasti nyang lageenyan kon kheueh keuyakinan ureueng-ureneng Kristen!.
Umat Muslem jianggab bahwa Nabi Muhammad leubeh rayeuk nibak nabi-nabi nyang laen. Seukira jih Almaseh sidroe nabi, ka pasti ulon meudobat ngon gata keuteu mita soe nyang paleng rayeuk. Teuma hainyan. hana peureulee le teupeu soai bahwa Almaseh na kheueh nyang paleng rayeuk nibak banmandum nabi meunan cit nibak banmandum malaikat meunan cit ngon panghulee malaikat teutab Almaseh nyang paleng rayeuek. Gobnyan di ateuh banmandum hase cebtaan bahnyan lam syeuruga meunan cit di ateuh bumoe; ateuh banmandum nyang deuh teukalon meunan cit ateuh nyang hana deuh teukalon. Le sabab nyan peureulee that keuteupeu-masaalah nyoe leubeh jioh lom. Lam Injil Yahya 1:1-5 inan deuh takalon keuhai Almaseh: "Bak awai phon na kheueh feureuman; feureuman hyan meusajan-sajan ngon Allah dan feureuman nyan na kheueh Allah. Gobnyan nibak awai phon meusajan-sajan ngon Allah. Peu-peu mantong geupeujeuet le Gobnyan dan meunyoe hana Gobnyan hana meusapeue pih hase teujadi nibak banmandum nyang ka geupeujeuet. Lam Gobnyan na udeb dan udeb nyan - na kheueh trang manusia. Trang nyan meuble-ble lam seupot dan seupot nyan hana jikuasa Gobnyan."
Lheuehnyan lam lbrani 3:1-6 teupeugah teuma lagee nyoe: "Le sabab nyan, he syedara-syedara nyang kudus, nyang meuteume jeum nibak panggelan syeurgawi, ngieng kheueh ateuh Rasui ngon lmeum rayeuek nyang ka ta angkee, nyan kheueh Isa, nyang seutia ubak Gobnyan nyang ka geupeuteutab le Gobnyan, lagee toh Nabi Musa pih seutia nibak mandum rumoh Gobnyan. Gobnyan teukalon patot keumeuteume keumuliaan leubeh rayeuek nibak Nabi Musa, hainyoe saban cit ngon ureueng nyang campen (ahli) nibak jipeudong saboh-saboh rumoh leubeh jihoreumat nibak rumoh nyang jipeudong nyan. Sabab tieb-tieb rumoh jipeudong le ureueng nyang malem nibak buet peudong rumoh nyan, teuma malem peudong rumoh nyan banmandum nibak nyan na kheueh Allah. Dan beutoi Nabi Musa keubiet seutia nibak tieb-tieb rumoh Allah sibagoe peulayan keugeubrie keusaksian keuhai peue nyang geupeugah teuma oh dudoe, teuma Almaseh setia sibagoe Aneuek nyang jeuet ulee nibak rumoh Gobnyan dan rumoh Gobnyan na kheueh tanyoe, meunyoe tanyoe trok ubak akhe jih ngon teuga that ta mumat ubak keupeucayaan dan peuharapan nyang tanyoe peumeugah."
Meunan cit tanyoe jeuet tabeuet lam kitab lbrani 1:1-6 nyang su jih lagee nyoe:"Oh ka lheueh yoh jameun ilee Po teu Allah meuulang-ulang dan nibak meubagoe cara geumeututoe ubak indatu geutanyoe ngon peurantara nabi-nabi, laju nibak jameun akhe nyoe Gobnyan ka meututoe bak geutanyoe ngon peurantara Aneuek Gobnyan, nyang ka Gobnyan peuteutab sibagoe nyang hak geuteurimong peu-peu nyang na. Le Gobnyan Allah ka geupeujeuet alam seumeusta. Gobnyan na kheueh cahaya keumuliaan Allah meunan cit Gobnyan gamba wujud Allah dan teutumpang teuma peu-peu nyang na ngon feureuman Gobnyan nyang punoh keukuasaan. Dan oh ka lheueh Gobnyan seuleusoe geupubuet teupeugleh desya, Gobnyan laju geudueb blah unenen Allah Maharayeuek, bak teumpat nyang paleng manyang jioh leubeh manyang nibak malaikat-malaikat, dan lagee nan nyang geukaronya ubak Gobnyan jioh leubeh get nibak nan awaknyan. Sabab ubak soe kheueh lamkawan malaikat nyoe ka lheueh Gobnyan peugah, 'Aneuek Ulon Gata! Gata ka Ulon peuaneuek nibak uroenyoe'?
Dan Ulon teuma jeuet keue Bapa Gata, dan Gobnyan teuma jeuet keue Aneuek Lon? Dan watee Gobnyan geuba teuma Aneuek Gobnyan nyang tuha lam donya, Gobnyan geupeugah, 'Banmandum Malaikat Allah bah kheueh jiseumah Geuh nyan." Lheueh nyan lam kitab Zabur 2:7 teutuleh teuma lagee nyoe; "Aneuek Ulon Gata! Gata ka Ulon peue Aneuek nibak uroe nyoe." Lheuehnyan tabeuet lom lam kitab Kolose 1:15 nyang su jih lageenyoe: "Gobnyan na kheueh gamba Allah nyang hana deuh, nyang tuha, leubeh peunteng nibak banmandum nyang geucebta."
Tieb-tieb kitab agama ka teuntee jitudoh ka teu-ubah-ubah. Teuma na saboh nyang meubeda le nyang peuget sinudoh laju jipeusiab bukeuti nibak peu nyang gata tudoh. Bukeuti phon nyang gata tudoh lom gata peugah na kheueh bahwa Peujanjian Baru teutam bek jitaleuek peurumoh teuma Al Qur'an hana geutam hai nyan meunan cit Injil jeuet teujieb le anggo Al Qur'an geutam.Hainyoe na kheueh seunangkeh gata nyang leumoh, hana meudasai nibak teupeu phom nyang beutoi sabab na dua hai:
Kitab-kitab Injil hana geutam teutaleuek peurumoh/ meucre, teuma teu useuha teubataih alasan-alasan le malem-malem kitab Torat meunan cit ureueng Farisi nibak geutafeuse hukom Torat keuhai teumaleuek nyan. (Ulangan 24:1). Almaseh geutawok banmandum umat mangat jiwoe ubak peue nyang ka geupeu teutab le Allah nibak awai phon. (Kejadian 2:24), na kheueh mangat - agam ngon inong mangat teutab tinggai meusajan-sajan simantong awaknyan udeb. Hainyan teumeukeusut mangat teupeulara keubahgiaan keuluarga, teujaga seundi-seundi udeb seucara luwah dan teupeulara hareukat ngon yuem peurumoh le teuengku lakoe sibagoe ma ngon jidoe gobnyan lam rohani ngon lakoe. Almaseh geubrie izin meutaleuek nyan meunyoe na teujadi buet meumukah/meuzina nibak sidroe lamkawan dua lakoe binoe nyan, saboh tendakan nyang teuma teupeuputoh taloe meukawen. (Matius 5:31). Bak thon-thon akhe nyoe kamoe ka kamoe ngieng keudroe bahwa padub-padub droe ceudeukiawan meunan cit pimpenan Islam ka geupeuteutab hukom-hnkom dan geutam teutaleuek peurumoh bek jimeucre nyang hana teusang-sangka mangat teujaga keuharmonisan keuluarga dan bansa. Mungken nyoe na kheuh sibagoe tanggapan ateuh tradisi nyang sifeuet jih nubuatan nyang toh sujih lagee nyoe: Meucre na kheueh saboh hai nyang keundoe nyang paleng geu banci le Po teu Allah" (Sunan Abi Dawood Kitab 13 ayat 3).

Injil hana teupaksa gob mangat jijieb ie anggo, seubalek jih Injil geutam hainyan lagee teutuleh di miyueb nyoe: "Dan bek kheueh gata mabok le ie anggo, sabab jipeuteuka hawa nafeusu, teuma bah kheueh gata punoh ngon Roh" (Efesus 5:18). Meunan cit lam Injil na teupeugah lom, "atawa peu kheueh hana gata teupeu bahwa ureueng-ureneng nyang hana ade hana meuteume jeumba lam keurajeuen Allah? Bek kheueh sampoe sisat! Ureueng cabui, (meuzina, mukah), nyang seumah beurala, ureueng meumukah, wadam, ureueng peumburit, ureueng ceumucue, ureueng kliet, ureueng mabok, tukang ba fiteunah/ peusuna, dan tukang teumipee/ peungeuet gob, ureueng nyan hana meuteume jeumba lam keurajeuen syeuruga/keurajeuen Allah" (I Korintus 6:9-10).
Lheuehnyan nyang meulaen lam Injil ngon lam Al'Qur'an na kheueh lam hai-hai nyang leugal hana teujok bak gata keugata peuhukom keudroe bahwa Injil ka teuubah. Seukira jih tanyoe tapeuphon ngon peundapat nyoe, peu kheueh nyang hase ngon tam tutoe haba umat Kristen bahwa Al'Qur'an ka jiubah sabab teu peuizin ureueng jimeucre/ taleuek peurumoh ateuh sabab-sabab nyang hana teu turi lam Injil?
Injil Na Geupeugah bahwa Isa Almaseh Jisaleb, Teuma Al Qur'an Geupeugah Bahwa Isa Hana Teusaleb.
Deuh jih gata jeuet teupeusanteut ngon ureueng-ureueng laen nyang meuuseuha gata meuteuen bak hurof nibak Al Qur'an ngon teupeutuwoe bahwa Al Qur'an keudroe geucalitra bak tanyoe keusaksian bansa Yahudi bahwa awaknyan ka jisaleb Isa, sabab jipeugah, "Sikeubiet jih kamoe ka kamoe poh mate Almaseh, Isa ben Maryam, sidroe Rasui Allah" (Surat An-Nis'a 157).
Bansa Yahudi ka jipeutron tradisi nyoe phon nibak ayah keue aneuek jih phon abad nyang keuphon trok 'an jinoe nyoe. Keusaksian awaknyoe kon kheueh saboh nyoe mantong keusaksian nyang na hubongan ngon Isa teusaleb. Di miyueb nyoe na kheueh laporan nyang laen keuhai awaknyan nyang ka jikalon peuristiwa paleng rayeuek nyoe.
Nubuatan-nubuatan: Nyoe kheueh bukeuti nyang hana hase jibantah le soe mantong. Meuabad-abad sigohlom nabi-nabi ka teuileuham mangat teutuleh leubeh le hai-hai seucara rinci keuhai Almaseh mate bak kayee saleb lagee cuntoh dimiyueb nyoe.

Jipubloe Isa ngon yuem 30 keupeng peng pirak: "Laju ulon peugah bak awak nyan, 'Meunyoe nyan kamoe anggab jroh, jok kheueh upah lon!' Laju awak nyan jibayeue upah lon ngon cara jitimang lhee ploh peng pirak" (Zakaria 11:12).

Jibloe lampoh tukang peucaye logam ngon peng nyan. Lheuehnyan TUHAN meufeureuman bak lon, 'Jok kheuehnyan bak tukang peucaye logam!' – yuem paleng meuhai nyang awaknyan takse lageenyan keu ulon. Laju lon cok ban lhee ploh peng pirak nyan laju lon jok bak tukang roe logam caye nibak baet TUHAN" (Zakharia 11:13).

Luka-luka nyang paleng parah nyang jirasanyan. "Teuma gobnyan kaunong tob le sabab tanyoe ta beurontak, gobnyan jipeureumok le sabab buet tanyoe nyang jeuhet: ganjaran nyang teupeuteuka keuseulamatan keue geutanyoe teu peutimpok ateuh gobnyan, dan le bilur-bilur gobnyan tanyoe jeuet keupuleh" (Yesaya 53:5).

Gobnyan hana geupeugah sapeu watee gobnyan lam keuadaan meudeurita. Gobnyan ji ienanya, teuma gobnyan geupeubiyeue droe geuhnyan jitindeh dan hana geupeugah sapeu ngon babah geuhnyan lagee aneuek bubiri nyang teuba ubak teumpat teusie; lagee ma bubiri nyang kalu dikeue ureueng-ureueng nyang gunteng bulee jih, jihnyan hana geupeugah sapeue" (Yesaya 53:7)

Gobnyan jiseunuet sira jiludah. "Ulon kubrie rhueng lon ubak ureueng-ureueng nyang poh lon, meunan cit mieng ulon ubak ureueng nyang tarek janggot lon. Meunan cit ulon hana lon som muka lon watee ulon jipoh ngon ji ienanya sira jiludah." (Yesaya 50:6).

Awaknyan jipeukem Gobnyan; "Jai that leumoe agam nyang jikeulileng ulon; meunan cit banteng-banteng di Basan jikeubok ulon; bannandun awaknyan jipeuhah babah jih ateuh ulon lagee singa nyang teumeugom ngon jitaum." (Zabur 22:13-14).

Awaknyan jibagi-bagi peukayan gobnyan lamkawan awaknyan keudroe laju jitieh undi atawa bajee jubah Gobnyan. Awaknyan pih ji bagi-bagi peukayan lon sesabe awaknyan keudroe, meunan cit awaknyan jitiek undi keuhai bajee jubah lon"(Zabur 22:19).

Gobayan geutanyong pakon Bapa geutinggai Gobnyan. "Allah lon, Allah lon, pakon Droneueh Neutinggai lon?" (Zabur 22:2).

Saboh kapak laju jitob dan beusot bak sh'ueb Gobnyan. "dan awaknyan laju jingieng ateuh Gobnyan nyang ka awaknyan tob, dan laju jipeumoe ba-e Gobnyan lagee gobnyan jipeumoe ba-e aneuek tunggai, dan jipeumoe ngon jipeuratok gobnyan ngon seudeh that lagee gobnyan jipeumoe ba-e aneuek tuha". ( Zakharia 12:10).

Gobnyan teuma jisaleb bak teungoh pancuri laju jipeutamong lam jrat ngon ureueng kaya. "Ureueng laju jikeubah jrat Gobnyan bak bineh jrat ureueng jeuhet, dan watee Gobnyan meuninggai Gobnyan na bak teungoh-teungoh ureueng jeuehet, bahpih Gobnyan hana geupubuet nyang jeuhet meunan cit ngon tipee daya hana teuma lam babah Gobnyan". (Yesaya 34:21).

Hana meusikrak pih tuleueng Gobnyan nyang reumok. "...Gobnyan geulindong banmandum tuleueng Gobnyan, hana meusikrak tuleueng geuhnyan pih nyang patah" (Zabur 34:21).

Meunyoe tanyoe tabeuet lam kitab Peujanjian Baroe, nyang na teutuleh ngon laporan disinan, inan deuh takalon bahwa banmandum nubuatan nyoe ka teupeuseuleusoe sampoe bak hurof nyang keuneu lheueh.

Tanda Saleb: Ureueng Kristen phon-phon that geupeuguna tanda Saleb nyan sibagoe tanda teupeuturi droe watee awaknyan keunong ienanya. Awaknyan jiuke tanda saleb nyan bak jirat-jirat dan nibak katombe-katombe teumpat awaknyan meusapat, nibak geupeusom droe le sabab Nero nyang keujam ateuh awaknyan. Nero na kheueh sidroe Kaisar nyang paleng keujam nyang mat peurintah ateuh keurajeuen Romawi: Tieb-tieb ureueng nyang jijak u banda Roma deuh jikalon tanda-tanda nyoe.

Teubrie haba keuhai Almaseh teusaleb le mured-mured Gobnyan: Peutrus geupeugah bak umat Yahudi, "He ureueng-ureueng Israel, deungoe kheueh tutoe haba nyoe, 'Nyang ulon meukeusut na kheueh Isa nibak Nazaret, sidroe ureueng nyang ka geupeuteuntee le Allah dan nyang geupeugah ubak gata ngon teunaga-teunaga dan mujizat-mujizat nyang geupeubuet le Allah ngon peurantaraan Gobnyan di teungoh-teungoh gata, lagee nyang gata teupeu, Gobnyan geuseurah le Allah ngon meukeusut dan reuncana Gobnyan, ka gata saleb dan gata poh le jaroe bansa-bansa doraka. Teuma Allah geupeubeudoh Gobnyan deungon cara geupeu lheueh Gobnyan nibak seungsara mawot, sabab hana mungken Gobnyan teutab na lam kuasa mawot nyan" (Kisah Rasui-rasui 2:22-24).

Geupeugah keudroe le Almaseh. Le tukang-tukang tuleh kitab Injil geupeugah bahwa Almaseh geupeugah teuhai teusaleb ngon keuhai mate meuulang-ulang geupeugah sabab keuseulamatan awaknyan nibak desya meunurot Gobnyan mate bak kayee saleb. Dimiyueb nyoe teupeugah saboh cuntoh keuteupeu jeulaih makna jih. "Matee Isa geujak u Yerusalem, Gobnyan laju geutawok bandua blah droe mured Gobnyan lheuehnyan laju geupeugah bak awaknyan bak teungoh rot. Jinoe tanyoe tajak u Yerusalem dan Aneuek Manusia jijok ubak Teuengku-teuengku Imeum Ulee ngon ubak nyang malem-malem kitab Torat, Dan awaknyan jipeurhot ateuh Gobnyan hukoman mate dan awaknyan pih laju jijok Gobnyan ubak bansa-bansa nyang hana jituri Po teu Allah, mangat Gobnyan jihina ngon jipeumalee, jijok laju jisaleb, dan bak uroe nyang keu lhee Gobnyan teuma teupeubeudoh lom teuma. (Matius 20:17-19).

Keusaksian-keusaksian nyang khong nibak tradisi-tradisi umat Kristen yoh phon that teuka keu Kristenan peuikot-peuikot Kristen ka geupeuraya 'Peujame Kudus', nyang teupeugah cit sibagoe peuseukutuan ngon tuboh dan darah Almaseh' Peurintah nyoe ka geupeuteutab le Almaseh keudroe nibak malam watee Gobnyan jikianat. Gobnyan geupeugah nyoe ubak mured-mured Gobnyan mangat jipubuet sibagoe peuingat keue Gobnyan. Almaseh geupeugah, "Ulon keubiet that meucen pajoh Paskah nyoe ngon gata, sigohlom Ulon meudeurita. Sabab Ulon peugah bak gata; hainyoe hana Ulon pajoh le sampoe trok ubak meuteume nyang teupeugeunab lam Keurajeuen Allah', Oh lheueh nyan Gobnyan laju geucok saboh cawan, Geupeugah syukoe ubak Po sira geupeugah, 'Cok kheueh nyoe dan bagi kheueh keue rakan-rakan gata nyang na disinoe. Sabab Ulon peugah bak gata; phon watee nyoe Ulon hana Lon jieb le hase bak anggo sampoe trok ubak Keurajeuen Allah trok teuma'. Lheueh nyan laju geucok ruti, geupeugah syukoe ubak Po sira geupeugah, rutinyan geupriek-priek (Peubincah-bicah) laju geujok bak awaknyan, laju geupeugah, 'Nyoe kheueh tuboh Lon nyang teujok keugata, peubuet kheueh lahee nyoe sibagoe peuingat keue Ulon'. (Lukas 22:15-19).

Almaseh ka geupeugah ngon teugaih bahwa Gobnyan ka mate keuteuboh desya-desya tanyoe dan geupeujeuet droe keureubeuen keue umat manusia. Mured-mured ka geupeuna Peujame Kudus nyoe dan teupeutrok laju bak gata: "Bahwa Tuhan Isa bak malam watee Gobnyan jiseurah nyan, geucok ruti dan oh ka lheueh teupeugah syukoe ateuh nyan, Gobnyan laju geupeubicah-bicah sira geupeugah, 'Nyoe kheueh tuboh Lon, nyang teujok keue gata; peubuet kheueh nyoe mangat jeuet keupeuingat keu Ulon!' Meunan cit na teuma Gobnyan geucok cawan, oh ka lheueh makheun laju geupeugah, 'Cawan nyoe kheueh Peujanjian Baroe nyang teuboh materai ngon darah Lon; peubuet kheueh lagee nyoe, tieb-tieb watee gata jieb, jeuet keupeuingat keue Ulon!" (I Korintus 11:23-25).

Keusaksian seujarah: Meunan cit seujarah na teutuleh keuhai Isa meuninggai. Le malem-malem seujarah geutuleh peuristiwa nyoe, teujok ruweueng nyang leubeh le keugobnyan nibak tulehasan - tulehsan awaknyan. Lamkawan malem-malem seujarah nyan na kheueh; Tacitus, sidroe malem seujarah bansa kaphe, thon 55 oh ka lheueh Maseuhi; Lucinus, sidroe ureueng Yunani, nyang teumuleh bak thon 100 oh ka lheueh Maseuhi. Yosephus, sidroe bansa Yahudi nyang udeb padub-padub thon oh ka lheueh peuritistwa teusaleb nyan. Banmandum tulehsan-tulehsan nyoe saboh rot atawa saban ngon tulehsan nyang na lam Injil nyang na hubongan ngon gobnyan lahe, ajaran-ajaran, teusaleb gobnyan, meunan cit keuhai gobnyan geubeudoh lom teuma.

Keusaksian nibak kutepan-kutepan Romawi: Na saboh laporan nyang paleng peunteng na kheueh laporan nyang geukirem le Pilatus ubak Kaiser Tiberias. Lam surat nyan gobnyan geupeugah seucara meudeutil banmandum buet-buet Almaseh, nyang jitudoh-tudoh le bansa Yahudi keujiteuntang Gobnyan, dan pakriban teupandang peureulee keugobnyan keue geupeurhot hukoman mate ateuh Gobnyan ngon cara teusaleb guna mangat teuhida/ teupeusie nibak karu ngon riyoh. Dokumen nyoe na kheueh saboh lamkawan nyang laen nyang jipeuguna le seujana Kristen, Tertulianus nibak peumbelaan gobuyan ateuh umat Kristen nyang meusyeuhu/ meugah.

Keusaksian Kitab Yahudi Talmud: Ka jituri ngon that jiteupeue le mandum ureueng bahwa ureueng Yahudi na kheueh bansa nyang jisitot kitab Torat nyang geutuleh le Nabi Musa. Teuma na bacut sagai nyang teupeue kitab peunteng laen nibak tradisi bansa Yahudi nyang teuturi ngon Kitab Talmud. Kitabnyoe asoe jih sinamon nibak tradisi indatu awaknyan, nyang lam meubagoe hai, sibagoe geunantoe Hukom Allah. Isa ka lheueh teuseugah awaknyan le sabab ngon masaalah nyoe nyang gupeugah, "Pakon gata pih taliengkeue peurintah Allah deumi adat istiadat endatu gata?" (Matius 15:3).

Lam kitab Talmud leuen 42 na ta beuet lagee nyoe, "Isa teusaleb siuroe sigohlom uroe Paskah, dan bahwa hainyan ka jiramai 40 uroe leubeh ilee bahwa Gobnyan teuma jipoh mate sabab Gobnyan na kheueh sidroe tukang ramai dan na meukeusut keuneuk tipee (Peungeuet) bansa Israel dan geupeusisat awaknyan."

Keusaksian Al Qur'an: Paleng dit na 5 boh ayat lam Al Qur'an nyang teupeu beutoi Isa nyan mate. Lhee lamkawan nyan na kheueh nyang teupeugah haba mate atawa wafeuet na kheueh:

Surat Maryam 30

Surat Al-Imran 55

Surat Al-Maidah 116-117

Dan nyang teupeuguna haba "poh mate" na kheueh:

Surat Al-Baqarah 87

Surat Al-Imran 183

Keuhai Isa geubeudoh: Mungken keuhai Almaseh geubeudoh ka jeuet keubukeuti nyang paleng kong nibak Gobnyan mate ateuh kayee saleb, sabab Injil nyang Kudus geupeugah bak geutanyoe bahwa "Oh lheuehnyan Yusuf nibak Arimatea gobnyan mured Isa, teuma ngon cara geumusom-musom sabab geutakot ubak ureueng-ureueng Yahudi laju geulakee ubak Pilatus, mangat gobnyan jeuet geupeutron manyet Isa. Le Pilatus geupeuizin meulakee geuhnyan. Lheuehnyan laju geupeutron manyet Isa nyan, dan Nemodemus pih teuka cit keunan. Gobnyan kheueh nyang phon that teuka keunan watee malam. Gobnyan geuba keunan minyeuk mur ngon minyeuk gaharu, na kira-kira limong kati brat jih. Awaknyan laju jick manyet Isa, laju geuboh kapan ngon ija lineun lheuehnyan laju geuboh teuma ngon reumpah-reumpah meunurot adat ureueng Yahudi watee manyet teupeukubu.
Bak bineh teumpat nyan dipat Isa teusaleb, na saboh taman nyang toh bak bineh tamannyan na saboh lampoh jrat baroe nyang lamnyan gohlom na teupeu kubu meusidroe ureueng mate pih. Sabab uroenyan uroe meusiab-siab ureueng Yahudi, dan lampoh jrat nyan hana jioh na jih, le awaknyan laju jikeubah manyet Isa disinan". (Yahya 19:38-42). Teuma bak uroe nyang keu lhee sigohlom mata uroe jiseubiet, (mantong reuneue-reuneue), teuka kheueh geumpa bumoe nyang rayeuek, sabab sidroe malaikat Tuhan geutron rot lam syeuruga laju geugule batee nyang rayeuk nyan nyang na bak babah pintoe jirat nyan. Hainyoe keubiet teumakot that le dumna tukang jaga nyang keumiet manyet nyan oh ka lheueh kubu jiboh materai nyang paih lagee peurintah Pilatus. Mungken rupa malaikat nyang leumpah hayeue meupeusona wateenyan sampoe ka teutob/ teuhalang tukang jaga jikakalon Almaseh ka geubeudoh. Teuma, malaikat nyan keudroe geupeugah ubak Mariam Magdalena dan awaknyan nyang na meusajan ngon gobnyan bahwa Almaseh ka geubeudoh, watee awaknyan trok bak jirat nyan lam keuadaan bungoh mantong reuneue-reuneue keugeujak jingeuk manyet nyan. Meunan kheueh, keuhai teubeudoh saboh bukeuti nyang hana hase teupeukaru ngon teugugat bahwa sidroe-droe ureueng nyang teusaleb na kheueh Isa Almaseh, sabab Isa keudroe geubrie tee bak bansa Yahudi lageenyoe: "Reuloh kheueh Baet Allah nyoe, dan lam lhee uroe Ulon kupeudong lom teuma" (Yahya 2:19). Tieb-tieb ureueng nyang jisanggah keuhai nyoe sikeubiet jih ureueng nyan ka jitudoh Allah, Almaseh dan malaikat-malaikat ka sipakat geutipee (peungeut) umat manusia.
Na kheueh meukeusut ureueng Yahudi keuneuk geusampoh Isa na kheueh keujiampeueng mangat bek meukeumang agama Kristen sabab awaknyan jirasa nibak beurita nyan sibagoe keuneu lheueh nibak panatek rasialisme awaknyan picek. Oh lheueh nyan watee awaknyan hase jipeuyaken peungusa Romawi keuteuhukom mate Gobnyan, dan Gobnyan laju jikeubah lam jrat, ngon nyan awaknyan jianggab ka trok ubak peue nyang jituju le awaknyan. Rupari Injil Allah hana hase ji hampeueng le kuasa-kuasa jeuhet. Siat mantong Injil ka meuhase jitamong bansigom bumoe. Meuribee ureueng jitarek ubak Saleb Isa.
Meunan kheueh jeuet jih, kawom Yahudi nyang sikeubiet jih hana meuhase jiteume tujuan akhe nyang jipubuet. Teuma khayal mantong sang-sang awaknyan ka trok ubak peue nyang jituju... Nyan kheueh sabab jih tutoe haba lam Al Qur'an teuka namreutoh thon oh lheuehnyan. Awaknyan nyan sabe jipeumasaalah Gobnyan Sikeubiet jih hana yaken that ngon fakta-fakta nyang na dan meuanggab bahwa peundapat droe jihnyan kheueh nyang beutoi. Awaknyan nyang sikeubiet jih hana jipoh mate Gobuyan, sabab, "Gobnyan geubeudoh oh ka lheueh lhee uroe!" Tutoe haba lam Al Qur'an, Oh lheuehnyan, teuka sibagoe ngon peuteugaih ateuh peuristiwa nyang luwabiasa nyoe. "Seulamat seujahtra keue ulon watee ulon lahe, bak uroe ulon wafeuet dan bak uroe ulon teupeubeudoh lom teuma." (Surat Maryam 33). Dan, 'Ya, 'Isa sikeubiet jih ulon peuwafeuet gata dan teupeumanyang (deurajat) gata ubak Ulon dan teupeusuci gata nibak ureueng-ureueng kaphe..." (Surat Ali lmran 55).
Lheuehnyan, izin kheueh lon baca surat ganje (aneh) nyang gata peugah lam surat gata. ...nyang sikeubiet jih hana leubeh nibak saboh dongeng nyang meukeumang lamkawan kawom Muslem. Seucara paneuk teupeugah bahwa sidroe geunantoe nyang jisaleb sibagoe geunantoe Isa. Izin kheueh lon peugah bahwa bahnyan nyang jipeuget sigohlom Isa Almaseh meunan cit ngon peu-peu nyang geupeugah le Isa keudroe teupeujeuet sibagoe calitra "ureueng geunantoe". Kon mantong saboh khayalan nyang hana meuhase teuma saboh dongeng nyang hampa ngon brok. Keuliru jih nyang jeuhet na kheueh hainyan teupeu jeuet Allah nyang teupeumulia ngon teupeu Agong sibagoe nyang hana ade ngon sibagoe teumipee. Saboh keu hana adelan nyang rayeuk meunyoe Gobnyan haroh geupeu jeuet nyang laen nyang ruman geuh sa ngon Almaseh mate keugeunantoe Gobnyan. Dan keureubeuen keudroe nyan hana teujok watee jipeugah sapeu-sapeu keuhai masaalah nyan. Dan seumeunget na kheueh nibak Allah nyang ka geuileuham rot nabi-nabi bahwa Isa teuma teuka kengeujak teuboh donya rot keureubeuen Gobnyan mate, keue teucok desya manusia, teuma ... watee saat jih trok Gobnyan haroh geuubah reunca geuh, ngon cara geupeuizin ureueng laen teuhukom mate ngon hana geupeutrang sabab-sabab jih, ngon nyan ka tinggai ubak ragu-ragu nibak rakyat ba. Kon kheueh keu ureueng nyang geukeureubeuen nyan salah, donya teuma jipeusoai klik geuhnyan sigohlom Gobnyan jipoh mate?
Biet, calitra lagee nyan deue leumpah na ngon nyan haroh teutulak/hana teu teurimong le calitra awaknyan nyang meupikeran seuhat. Akibat jih, seujana-seujana Muslem nyang teuhoreumat ka geutulak calitra nyan, dan nyang paleng meuwibawa lamkawan awaknyan na kheueh Fakhr Ed Deen Al Razzi. Gobnyan kheueh nyang seulidek nyan seucara lhok that, dan gobnyan nyang eulidek nyan ngon lhok that, dan geucok keuputosan (keusimpolan)bahwa nyan na kheueh saboh peumalsuan / saboh nyang ka teupeuleusu atawa meusimpang nyang ji saja nibak tradisi-tradisi nyang kana. Beuet kheueh keumeuntar gobnyan nibak pokoknyoe lam tafeuse gobnyan nibak surat Ali lmran 55.
Gata tapeugah lam surat gata: "Ulon yaken bahwa Isa, (seulamat seujahtra ateuh gobnyan), watee gobnyan geuteupeu ateuh sipakat awaknyan keujisaleb gobnyan, 'geutinggai Kitab Gobnyan ateuh rhueng bumoe.' Watee na sidroe-droe ureueng nyang saban ngon gobnyan jisaleb, ka teuntee teuma banmandum kitab-kitab nyan ka teutot. Dan ureueng-ureueng nyang, ka teupeu teuntee teuma nyang tuleh lom teuma peue nyang awaknyan teupeue, ngon cara jitamah leubeh le lom hai-hai nyang laen nibak khayalan awaknyan. Nyoe kheueh nyang teupeutrang bak tanyoe keuhai na Injil nyang le nyan, nyang meulaen saboh ngon nyang laen. Laen hai ngon Al Qur'an hana meuaseng-aseng (Meungkreh-meungkreh) lom hana teuma teuubah. Meunan kheueh Kitab Torat ka jiubah sabab konle lagee nyang geupeutron bak Nabi Musa."
Ulon hana lon dobat gata ngon lon peusoai bahwa Al Qur'an pih meungkreh-meungkreh lom ka teuubah; hainyan kon kheueh urosan lon. Teuma phon that ulon na hak nyang paleng lhok keulon tanyong bak gata keuhai kitab-kitab toh nyang ka teutot seucara banmandum? Meeunyoe gata tunyok bak kitab-kitab Injil, nyoe na kheuh sagai-sagai hana mungken sabab kitab-kitab nyan keudroe bak watee nyan kitab-kitab nyan gohlom teutuleh. 'Teuma, meunyoe nyang teumeukeusut na kheueh Kitab Torat, jaweueb jih pih hana mungken sabab kitab-kitab nyoe teukeubah ngon teujaga leumpah that khong bak teumpat- teumpat seumayang dan Sinagoge. Ulon hana meuteupeue peu kheueh nyang gata meukeusut seucara hurufiah bahwa Isa na saboh kitab nyang geutinggai ateuh rhueng bumoe, laju rhot lam jaroe tukang-tukang tot kitab. Atawa awaknyan jiubah mandum asoe atawa siladum nibak Kitab nyan. Ulon meupeundapat bahwa hana meusidroe Muslem pih lam donyanyoe teuma siwaham (sapeue kheun) ngon gata lam masalah nyoe nyang bak hakikat jih hana hase teuteurimong akai seuhat. Khusos jih watee Al-Qlur'an umat Muslem geusaksi keudroe bahwa Kitab Injil nyan keubiet jujoe that, ngon teupeugah, 'Peugah kheueh, he malem Kitab, gata kon ateuh sapeue-sapeue (keubeunaran), keucuali gata tasitot Kitab Torat ngon Injil dan peu-peu mantong nyang geupeutron bak gata nibak Tuhan gata" (Surat Al Maidah 68) "Dan, bah kheueh malem Injil geuhukom meunurot peue nyang geupeutron le Allah lam kitab Injil nyan. Soe-soe mantong nyang hanajimeuhukom meunurot nyang geupeutron le Allah, teuma ureueng nyang lageenyan jitamong lamkawan ureueng-ureueng fas'ek" (Surat Al Maidah 47).
Meunyoe tanyoe tatamah bak ayat-ayat nyoe peurintah bak Nabi Muhammad mangat meuiman ubak peue nyang ka teutuleh lam Alkitab (Surat Asy-Syura,15), teuma gata jipeuhadab ubak sapeu saboh teumanyong nyang keubit malee that, na kheueh: Kon kheueh bahwa oh ka lheueh meureutoh thon oh ka lheueh Isa geuek lam syeuruga, Allah geutawok Nabi Muhammad keugeupeucaya saboh kitab nyang cupa.
Ulon pike gata hana bangai ngon keunyataan bahwa kawom Muslem nibak tieb-tieb geuneurasi dan umu geuyue ie Al Qur'an mangat teupeucaya ubak Alkitab. Sabab inan na geupeugah lagee nyoe: "He ureueng-ureueng nyang meuiman, meuiman kheueh gata ubak Allah dan Rasui-rasui Gobnyan dan Kitab nyang geupeutron ubak Rasui Gobnyan (Nabi Muhammad) dan Kitab nyang geupeutron sigohlom nyan" (surat An Nissa 136).
Nibak ayat nyang laen geupeugah lom: "Dan, Gobnyan ka geuatoe agama keue gata, lagee toh ka geuwasiet nyan ubak nabi Nuh, dan nyang Kamoe wahyu ubak gata, dan nyang Kamoe wasiet ubak nabi lbrahim, Nabi Musa dan Isa, na kheueh; Bah kheueh gata peudong agama dan bek kheueh gata meucrebre lam agama" (Surat Asy Syura 13).
Meunyoe tanyoe tilek seucara lhok lom ngon tameurunoe Al Qur'an laju tateume nibak leuen-leuen kon mantong na meuploh boh keusaksian ateuh beutoi Alkitab Torat ngon Injil, teuma na cit padub-padub boh janji Allah keugeupeu lara feureuman Gobnyan teuhinda nibak rusak meunan cit teuhinda nibak jiubah ubah. Hainyan na kheueh:
"Sikeubiet jih ka kamoe peutron kamoe peuingat dan sikeubiet jih hainyan kamoe peulara". (Surat Al Hijr 9).

"...Dan hana gata meuteume sunatullah nyan meuubah-ubah (meutuka)" (Surat Al Ahzab 62).

"Keubiet hana kheueh nyang tuka kalimat Allah" (Al An 'am 14).
Deungoe teupeugah bahwa feureuman Allah ka jiubah ka jeuet keusaboh teuangkee (teuaku) bahwa janji-janji Gobnyan nyang teutuleh lam Al Qur'an keu teupeulara feureuman nyan ka hana hase saboh hai nyang hana mungken sabab Allah nyang seutia nyan hase geupeulara feureuman Gobnyan. Hainyoe keubiet beutoi sabab keusucian ngon Gobnyan beutoi teulakee lagee nyan. Akhe jih, peulom nyang hase gata peugah nibak Al Qur'an dan Al Qur'an keudroe geupeugah: "Peugah kheueh, teuma gata tajok kheueh saboh Kitab nibak bineh Allah, nyang leubeh get nibak bandua nyan (torat dan Injil) (meunyoe na) peucaya kheueh ulon sitot ngon jihnyan, meunyoe gata biet-biet ureueng nyang beutoi" (Surat Al Qashah 49).
Jinoe ngon meusikeub jujoe ubak nyang beuna, ulon hana hase lon pubuet nyang laen seulaen lon tanyong bak awaknyan nyang waham jih kreuh that ateuh meu-ubah lam Alkitab keuteutanyong ubak teu-ubah-teuubah nyoe na.
Meunyoe meuubah nyoe teuka sigohlom na Islam, pakon Al Qur'an ka meureaksi keuhai Alkitab, ngon teupeubeutoi asoe Alkitab nyan dan teupujoe keuhai nyan beutoi? Meunyoe dugaan nyang paleng kreuh nyoe meuubah ngon teupeugah bahwa hainyoe teuka oh ka lheueh meukeumang Islam ngon nyan pandangan nyoe meunan cit hana lagot sabab na jai leumpah na naseukah-naseukah Alkitab. Na teukeubah lam musiom-musiom leubeh awai nibak teka agana Islam lhee abad sigohlom nyan. Asoe nibak naseukah-naseukah nyoe hana meulaen saboh tutoe haba pih ngon asoe nibak seunaleun-seunalen nyang teungoh na meuteume nibak watee nyoe.
Nibak keunaweut nyang lageenyoe kheueh ulon hana hase lon peuteun droe keuneuk teumanyong seukira jih keubiet get nibak Al Qur'an keumeusaksi nibak Alkitab mulia nyan sibagoe nyang beutoi nyang geupeutron le Po teu Allah keuteu bimbeng ngon karonya umat manusia dan oh ka lheuehnyan baroe kheueh sikeub ateuh nyan? Nibak praktek jih, meunyoe keubiet hainyan beutoi teujadi ngon nyan nyoe jeuet teupeumakna bahwa Al Qur'an ka hana meuhase nibak geupeujak tugaih geuhnyan sibagoe teujaga Alkitab. Sabab lagee teutuleh: "Kamoe ka kamoe peutron Kitab ubak gata, (Ya Muhammad) ngon (teuba) keubeunaran nyang teupeubeutoi Kitab nyang dikeue nyan meunan cit teukawai teuma." (Surat Al Maidah 48).
Mantong na saboh teumanyong keuneu lheueh keuhai masaalah nyoe: Peu kheueh keududukan awaknyan nyang meuwaham peurubahan nibak ceureumen mata faktor nyang kong (jiteurimong le akai) nyang ka trok ubak akhe nibak meudobat keuhai Kitab Torat nyang ka teuubah nyan ? Keubiet hana hase jiteurimong le akai seuhat keuteupeugah bahwa ureueng-ureueng Yahudi ka jiubah nyan sigohlom Almaseh. Sabab meunyoe keubiet lageenyan, Almaseh hana teuma geuujoe atawa teukuteb droe gobnyan. Meunan cit hana hase teuteurimong akai seuhat pandangan nyang jipeugah bahwa awaknyan ka jiubah nyan oh ka lheueh Isa teuka. Sabab ka teuntee teuma jiteuntang le ureueng-ureueng Kristen. Sikeubiet jih hana mungken kawom Yahudi ngon Kristen ka sipakat atawa sapeu kheun keujiubah Alkitab atawa asoe Alkitab, sabab peue, sabab bandua kawom nyoe saleng meumusoh atawa meusiliseh waham, dan nyang keudua sabab Alkitab ka meutaba/ meusipreuk bansigom donya lam meubagoe basa. Ngon nyan hana mungken keuteupeusapat banmandum seunalen kitab nyang hana teuitong jeumeulah jih keuteupeuleusu.
Peundapat gata bahwa Kitab Injil leubeh nibak saboh meunan cit ngon surat nyang ka jeuet saboh bukeuti bahwa asoe jih ka teuubah, keubiet meunyeusai that nyang gata peugah nyan. Deuhjih gata hana sada bahwa ban peuet boh kitab Injil nyan, teutamah ngon surat-surat, kitab Wahyu meunan cit ngon Kitab Kisah Rasui-Rasui ka teupeusaboh teupeujeuet saboh Kitab Peujanjian Baroe." Le sababnyan ngon na padub-padub boh kitab lam Peunajian Baroe hana meumakna bahwa Injil nyan ka jipeuleusu nyoe saban ngon Al Qur'an nyang na 114 surat kon kheueh sibagoe bukeuti bahwa nyan ka teupeuleusu.
Keue Tieb-Tieb Teumanyong Na Jeunaweueb Jih.
Seukira jih peunalaran ulon lam kitab nyoe gohlom teucukeeh ayat gata meuheuet keuteupeutrang, atawa meunyoe gata na keuneuk teumanyong nyang na hubongan ngon feureuman Allah, gata teupeusila kirem kheueh surat bak kamoe, ngon punoh gaseh sayang kamoe teuma meujaweueb tieb-tieb nyang gata tanyong nyang na lam pikeran atawa ate gata. Keuhai nyoe kirem kheueh bubagaih teumanyong-teumanyong gata nyan ubak:
Suara Pengharapan 
PO BOX 1234
Yogyakarta - 55000
Syeudara nyang beuet kitab nyoe nyang budiman: Meunyoe gata hase tajaweueb 27 boh teumanyong ngon paih, ngon nyan kamoe teuma meukirem ubak gata kitab laen nibak dafeutar kitab nyang kamoe peuteubiet.
Peu kheueh makna jih meunurot gata keuhai surat Yunus 94 ?

Peu kheueh Al Qur'an geulawan waham Maryam nyang sisat nyan lom pakon ?

Peu kheueh ureueng Kristen genteurimong atawa geubantah keupeucayaan atawa keuhai sisat peuikot Yamisme nyoe ?

Peu kheueh kritek-kritek tajam lam Al Qur'an ateuh keukapheran atawa teupujoe ubak le Allah (politeisme) teuarah ateuh umat Kristen atawa nyang anut waham Maryam ?

Peutrang kheueh meulaen keupeucayaan umat Kristen ngon peuikot waham Maryam keuhai Isa.

Peutrang ngon makna peu kheueh umat Kristen jikalon Almaseh sibagoe "Aneuk Allah"

Jok kheueh padub-padub boh peunyataan Almaseh nyang geupeuteugaih keuhai Gobnyan Aneuek seucara Illahi.

Pakriban kheueh hijih keuhai lahe nyan nyang na lam Surat AI ikhlash ?

Peu kheueh Isa nyan teuma sibagoe sidroe Nabi? Peu kheueh beutoi tanyoe meunyoe ta peusanteut Gobnyan saban ngon nabi-nabi nyang laen?

Tuleh kheueh seucara paneuk makna gata keuhai ibrani 1:1-6 meunan cit Zabur 2:7

Pakriban teuma nyang geupeutrang le Isa keuhai peurintah nyang na hubongan ngon teutaleuk lam kitab Injil?

Lam hai peu kheueh Isa geupeugah jeuet ureueng meucre /taleuek?

Pakriban teuma ajaran lam kitab Injil keuhai ie kreuh ngon mabok-mabok?

Peu kheueh nyang meulaen/ meubeda nyang na bah nyan lam Al Qur'an meunan cit nyang na lam kitab Injil teujok keugeutanyoe hak keutatuntot/lakee bahwa saboh atawa bandua nyan ka teuubah?

Peu kheueh keusaksian bansa Yahudi nyang teupeugah lam Al Qur'an nyang na hubongan ngon Isa Teusaleb?

Peu kheueh keusaksian umat Yahudi sibagoe atawa saboh bukeuti keuhai Isa teusaleb?

Cuba peugah padub-padub boh nubuatan nyang teuhubong ngon Isa mate.

Tanda peu kheueh nyang jipeuguna le ureueng-ureueng Kristen phon-phon that sibagoe tanda teupeuturi droe?

Peu kheuh asoe nibak kitab kisah Rasui-rasui 2:22-24?

Peu kheueh Isa na geupeugah bahwa Gobnyan teuma jisaleb bak watee Gobnyan mantong udeb? Dipat?

Upacara keuagamaan peu kheueh nyang geupubuet le peuikot-peuikot Almaseh keuteupeugah keuhai Gobnyan mate, keuhai geubeudoh ngon teuka lom teuma oh dudoe?

Peu kheueh na sapeu-sapeu lam seujarah keuteupeu beutoi peunyataan Injil keuhai Isa teusaleb ?

Peu kheueh nan kitab ureueng Yahudi nyang keudua? dan peu kheueh lsa teusaleb na teupeugah lam nyan ?

Padub na le kheueh ayat lam Al Qur'an nyang teutunyok ubak Almaseh mate?

Peu kheueh nyang jeuet keubukeuti nyang paleng kong ateuh Isa mate bak kayee saleb?

Soe kheueh nyang lakee manyet Almaseh ubak Pilatus watee Gobnyan mantong teugantung bak kayee Saleb ?

Peu kheueh nyang teujadi lhee uroe oh ka lheueh Almaseh meunggai donya?

Peu kheueh peungeurtian gata ngon ungkapan, "teuma teupeusaban ngon ruman Gobnyan sidroe ureueng/ureueng laen nyang teupeudeuh bak awaknyan"?

Soe kheueh seujana Muslem nyang tulak/ hana geupateh calitra "teupeusaban ruman" atawa sidroe geunantoe nyang ka teusaleb sibagoe geunantoe Isa ?

Peu kheueh Al Qur'an geupeusaksi ateuh Injil nyan jujoe ?

Peu kheueh Al Qur'an geulakee ubak nyang malem Kitab mangat geupubuet peue nyang na meuteume lam kitab-kitab hukom gobnyan atawa nyang laen ?

P eu kheueh Nabi Muhammad ngon umat gobnyan teupeurintah mangat peucaya ubak Alkitab ?

Peu kheueh muphom gata keuhai Surat Al Qashash 49 ?

Peu kheueh hase Al Qur'an meuteun meunyoe peunyataan keuhai Alkitab nyan meuubah ?

Peu kheueh mungken keuteupeusapat bamandum seunalen Alkitab nibak bansigom bumoe nyoe mangat teuubah ?

Jitamong lam peue kheueh Peujanjian Baroenyan ?
Kirem kheueh jeunaweueb gata meusajan ngon nan dan alamat gata nyang trang ngon leungkab ubak alamat nyang na di miyueb nyoe.
Tuleh kheueh nan ngon alamat gata ngon trang laju gata kirem ubak: