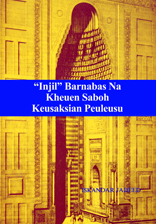 Oh ka lheueh teupeuteutab bahwa kitab nyang jipeugah sibagoe "Injil" Barnabas meubacut pih hana meukualitaih meunan cithana hubongan jih ngon Keukristenan. Sabab kitab nyan na kheueh keusaksian peuleusu keuhai Injil suci dan na kheueh saboh upaya keuteupeugah hai-hai nyang paleng keuliru keuhai agama Kristen. Lam hai-hai nyang le meutame lam kitab nyan, jai that meurumpok na keumirepan jih ngon agama kitab Al Qur'an nyang jituleh le Museilma, na kheueh sidroe manusia galak meusulet, atawa nyang jikarang le Al-Fadhl bin Rabi. Kitab nyang ji peusadeue ngon Barnabas atawa nyang jipeusangkot ngon Barnabas nyoe jiteujeumah u lam basa Arab le Dr.Khail Sa'adah nibak seunalen lam basa Inggreh nibak thon 1907 keuteupunoh nyang geulakee le Sayyed Muhammad Rasyid Ridha, sidroe ureueng nyang peudong atawa peuteubit majalah Al Manar. Hainyoe jitulak sipeunoh jih le ureueng-ureueng Kristen sabab teujeumah nyan na kheueh saboh hai keuteupeu leusu seujarah/ naskah.
Awaknyan nyang teurimong na kheueh saboh sekte Muslem. Awaknyan jipubuet lageenyan ngon saboh alasan nyang leumpah seudeuhana sabab jeumba-jeumba nyang na lam kitab nyan teudulong peue nyang geupeugah keuhai Almaseh bahwa Gobnyan hana teusaleb. Teuma ngon cara Yahuza (Yudas) nyang khianat nyan geupeusaban hi/rumah geuh ngon Gobnyan/Isa. Nyan kheueh keugeunan toe Isa.
Seujana-seujana nyang geutilek ngon that-that ate-ate keuhai masalah nyoe ngon saboh pakat nyang bulat bahwa kitab nyoe, nyang jipeusangkot ngon Barnabas hantom na sigohlom abad keue 15. hai nyoe teuka rab 1500 thon oh ka lheueh Barnabas meuninggai donya. Seukira jih kitab nyoe jeuet teupeuguna nibak priode nyan, ngon nyan teuma seujana-seujana Muslem lagee At Tabri, Al Baidhawi, meunan cit ngon Ibnu Kathir ka teuntee hana muecre bre nibak keumalon gobnyan ubak ache nibak meuninggai Almaseh, dan keuhai meuturi ubak sidroe ureueng nyang jipeugah ka teusaleb keugeunantoe gobnyan (Isa).
Meunyoe tapeusahoe ngon tulehsan-tulehsan Muslem lagee, "GoldenPasturcs"(meurabe Meuh) le Al Mas'udi, "The Beginning and the End" (Awai ngon akhe) le Imeum 'Imad-ud-Din, meunan cit "Ibrizi's Version" (Versi Ibrizi) le Ahmad Al Magrizi, tanyoe jeuet takalon bahwa seujana-seujana nyang meugah ngon meusyeuhu nyoe geupeugah lam karya-karya gobnyan nibak tulehsan geuh, bahwa Injil ureueng Kristen nyang geutulah le peuet droe nyang tuleh Injil, na kheueh Matius, Markus, Lukas dan Yahya. Le Al Mas'udi geutuleh lagee nyoe:

"Kamoe ka kamoe peugah nan-nan bandua blaih droe meunan cit ban tujoh ploh droe mured-mured Almaseh, keuhai meusiprek awaknyan bansaboh naggroe, meunan cit haba-haba laen jitamong cit ubak buet dan teumpat teupeukubu awak nyan. Nyang tuleh ban peuet boh kitab Injil jitamong cit Yahya ngon Matius, na nibak badua blaih droe nyan, teuma di Lukas dan Markus na teuma nibak ban tujoh ploh droe mured nyan."

(Al Tambih wal Usharaf, bak leuen 136).
Meunyoe tanyoe takalon nibak naseukah-naseukah kuno (tuha) nibak Alkitab, jioh u likot nibak watee sigohlom Islam ngon masa watee teuka Al Quran teutunyok ngon deuh that lom teusaksi ngon trang that keubeunaran Alkitab, ngon nyan teuma tanyoe hana tateume peue nyag jipeugah Injil nyang jihubong ngon Barnabas. Dan meunan cit hana teuma tepeugah nibak dafeutar asoe nibak kitab-kitab nyang teupeujeuejeuet keue Alkitab lagee toh nyang ka jipeusiab le peumimpen peumimpen geureja.
Saboh teutilek nibak seujarah teutunyok bahwa naskah aseuli nibak "Injil" peuleusu nyoe teuka phon that bak thon 1709 lam barang atra Craemer, sidroe peunaseuhat Raja Prusia. Naskah nyoe teujok nibak gobnyan laju jikeubah bak saboh Pustaka Wina nibak thon 1738, banmandum seujana nyang seulidek atra nyan laju geucetet bahwa sinalob kitab nyoe teupeuget nibak gaya Timu dan na catetan bak bineh lam basa Arab. Nibak teu-ujoe keureutaih jih meunan cit daweuet nyang jipeuguna keue nyan, deuh teukalon bahwa nya teutuleh nibak abad keu 15 atawa keu 16.
Seujana Inggreh, Dr.Sale geupeugah bahwa gobnyan geuteumekitab nyoe lam basa Spanyol nyang jituleh le sidroe ureueng Ukraina nyang nan geuh nakheueh Mustafa Al Arandi nyang geuklem ka geuteujeumah nyan basa Italia. Nibak haba phon bak seunalen na jipeugah bahwa sidroe biarawan nyang nan jih Marino nyang rab that ngon Paus Sixtus bak siuroe nibak thon 1585 jijak kunjong ubak perpustakaan Paus laju geuteume saboh surat nibak St.Irenacus nyang kritek Rasui Paulus dan dasai nibak kritek jihnyan na kheueh ubak Injil Barnabas. Oh lheuehnyan Marino meuheuet ngon teuga that mangat jiteume atawa beujiteume Injil nyan.
Bak Siuroe gobnyan meurumpok ngon Paus Sixtus V lam pustaka , dan watee awaknyan geumarit-marit, Paus teuh-eh. Laju le biarawan nyoe jipeuguna watee nyang na nyan. Laju jimita buku nyan, laju jiteume, lheuehnyan laju jisom lam sapai jaroe bajee jih. Gobyan na lam putaka nyan sampoe Paus jaga nibak eh lheuehnyan jitinggai teumpat nyan hana tuwoe kitab/ buku nyang ban jicok nyan jiba sajan. Bahpih meunan, tieb-tieb ureueng nyang beuet kitab St.Irenacus hana jiteume peutunyok keuhai kitab injil barnabas meunan cit ha kritek lam hi peumantong nyang jituju ubak Rasui Paulus.
Beutoi na saboh fakta nyang hase teuteupeue le tieb-tieb ureueng. Na teutuleh lam kitab kisah Rasui-rasui bahwa Barnabas keudroe musajan-sajan ngon Paulus Simantong Paulus geuseumeubeuet Injil di Yerusalem, Antiokia, ikonium, Listera dan Derbe. Meunan cit Barnabas geuseumeu beuet Injil meusajan ngon aneuek keumuen gobnyan di pulo Siprus. Hainyoe jeuet teukalon bahwa Barnabas kheueh sidroe ureueng meuiman ubak Injil meunan cit bak Saleb nyang geupeu sampoe le Paulus, Markus meunan cit Rasui-rasui laen dan jeuet teupeu paneuk lageenyoe lam saboh kalimat paneuek. Almaseh ka meuninggai bak kayee Saleb na kheueh sibagoe keurebeuen nyang teuteuboih keue desya-desya donya dangeubeudoh lom teuma bak uroe nyang keu lhee tujuan jih keutepeu beutoi keue mandum ureueng nyang peucaya. Saba Injil Barnabas geusanggah hainyan atawa keudasai nibak keunyataan nyoe, le nyan, bukeuti jih pih ka trang that bahwa kitab nyan na kheueh peuleusu.
Padub-padub droe seujana geuanggab bahwa nyang tuleh Injil Barnabas na kheueh biarawan Marino Keudroe, oh lheueh gobnyan geutamong lam agama Islam geugantoe na Mustafa Al-Arandi. Seujana-seujana nyang laen keubiet geupateh bahwa versi Italia nyoe kon keueh kopi nyang phon sabab jiteujeumah nibak basa Arab sibagoe nyang aseuli. Sabab teib-teib ureung nyang beuet Injil laju jiduga sibagoe Injil Barnabas jeuet teusada bahwa nyang tuleh nyan na saboh peungeutahuan Al-qur'an nyang luwaih lom rab banmandum asoe jih na kheueh hase teujeumah seucara hurufiah nibak ayat-ayat Al-qur'an. Na sidroe sagai nyang na lamkawan laen nyang geupateh ubak nyoe na kheueh Dr.white, nibak thon 1784.
Peue mantong pandangan le seujana-seujana ih singoh teuma, nyang pasti na kheueh bahwa kitab nyoe jipeusangkot seujarah Isa Almaseh lam saboh ragam nyang saban hi jih ngon Al Qur'an teuma meulaen that ngon asoe Injil nyang beutoi. Hainyoe jiba geutanyoe keutapeu yaken bahwa nyang tuleh nyan na kheueh sidroe Kristen nyang oh dudoe jituka agama jeuet keue ureueng Islam. Lagee nyang takalon lam padub-padubboh cuntoh dimiyueb nyoe:
Na meuteume peutunyok nyang jipeuleubeh-leubeh Nabi Muhamad nibak Isa.
Laju jituleh disinan sang-sang Isa geupeugah lageenyoe:
"Dan watee ulon ka muphon ubak gobnyan, jiwalon ka punoh ngon hiboran sira geupeugah, 'Oh Muhammad, seumoga Allah na meusajan droneueh, dan mudah-mudahan Gobnyan geupeujeuet ulon layak keuteubuka taloe sipatudroneueh sabab meunyoe ulon trok ubak nyoe, ulon teuma jeuet keusidroe nabi nyang rayeuek dan siroe ureueng nyang Kudus di Keue Po teu Allah"(Injil Barnabas 44 alinea 6). Meunan cit geupeugah lom lageenyoe.

"Dan Isa geupeugah, bahpih ulon hana patot lon buka taloe sipatu gobnyan, ulon ka lon teurimong anugeurah ngon karonya" (Injil Barnabas 97 alinea 1) kitab nyoe asoe jih paih that lagee ungkapan-ungkapan Muslem awai (kuno) Isa geujaweueb, "Nan nibak Meusias nyan na kheueh teupujoe", sabab Allah keudroe nyang jok nan nyan watee Gobnyan geucebta dan geujok nan nyan, watee gobnyan geucebta Roh geuh, dan geukeubah gobnyan lam keumuliaan syeurugawi dan geupeugah, "Oh, Muhammad, preh kheueh sabab deumi droneueh, Ulon keuneuk cebta syeuruga donya, dan mandum makheulok nyang ulon jok ubak gata, ngon nyan, barang sigaoe nyang jibri beureukkat gata, ureueng nyan meuteume beureukat dan barang sigasoe nyangkutok gata ureueng nyan pih jiteuri mong kutok. Watee ulon ku kirem gata u lam donya nyaoe, ulon teuma lon peujeuet gata sibagoe meuneuyue ulon mangat jeuet seulamat, dan tutoe haba gata jeuet keubeutoi. Langet ngon bumoe teuma hancoe sampoe abeh, teuma keupeucayaan gata (agama) gata hantom na hancoe. Muhammad na kheueh nyang geubrie beureukat. Oh lheuehnyan ureueng-ureueng seucarameusajan-sajan dibeuot su jih manyang-anyang sira jipeugah, "Oh Allah, kirem kheueh bak kamoe peusuruh Droneueh. Oh Muhammad, teuka kheueh bubagih keuneupeu seulamat donya." (97 Alinea 9:10)
Dan watee Nabi Adam geubeudoh laju geudong geukalon saboh tulehsan meucahya lagee mata uroe beungoh (surya), dan su jih lageenyoe, "Hana ilah laen seulaen Allah dan Muhammad na kheueh meuneuyue Gobnyan (Allah). Lheuehnyan Nabi Adam geupeuhah babah geuh sira geupeugah, 'Ulon lakee teurimon gaseh bak Droneueh, Oh Tuhan Allah lon, sabab Droneueh ka neutem ulon. Teuma peugah kheueh ubak ulon ya, Allah, peu meukeusut nibak tutoe haba nyoe, "Muhammad na kheueh meuneuyue Allah" (39 alinea 3). Allah geujaweueb.
Seulamat ka trok hamba Lon Nabi Adam. Sikeubiet jih Ulon peugah ubak gata, 'Bahwa gata nakheueh cebtaan Ulon nyang phon nibak mandum makheulok". Hai nyang gata ngieng nyoe na kheueh aneuek gata nyang teuka lam donya teuma. Jihnyan jeuet keue meuneuyue Ulon keue awaknyan nyang ka Ulon cebta banmandum nyan. Watee jihnyan teuka, gobnyan teuka geubrie trang keu donya, nyang toh jiwa gobnyan kana lam syeuruga 60.000 thon sigohlom Ulon cebta peu-peuman tong nyang na. Nabi Adam geujaweueb: Oh, Tuhan Neujok kheueh tulehnsan nyoe bak gukee jaroe lon, dan Allah laju geutuleh tulehsan bak inong Nabi Adam. Hana Allah laen seulaen Allah dan nibak inong jaroe wie Nabi Muhammad na kheueh meuneuyue Allah (39:14-26).
Po teu Allah geusurot laju, dan Malaikat Mikhail geu-use awaknyan (Adam ngon Hawa) jiteubiet lam taman Syeurga. Watee Nabi Adam geupaleng u likot, laju geukalon tulehsan bak uleue. Hana ilah laen seulaen Allah dan Muhammad na kheueh meuneuyue Allah! Le sababnyan gobnyan geumoe sira geupeugah, "Seumoga hasinyoe jeuet keuridha nibak Allah. O Muhammad teuka kheueh beubagih dan peuseulamat kheueh kamoe aloh alah nyoe" (41 alinea 14).
Peunyataan-peunyataan nyoe leubeh leubeh get nibak tutoe haba meunan cit roh jih deungon tulehsan-tulehsan Muslem awai (kuno) lagee "Al-Ithafat Al Saniyya bil Ahadith Al-Qudusiyyah" dan "Al-Anwar Al-Muhammadiyah Minal Mawahib Al Laduniyyah" dan "Al Isra Mu'jizat Kubra," dan laen-laen.
Keubiet jai leumpah na bukeuti peuleusu nyang teutunyok ubak nyang tuleh Injil Barnabas hana hubongan jih meubacut pih ngon Rasuie-Rasui Almaseh aatawa ngon mured-mured Gobnyan nyang tuleh kitab Injil Gobnyan dimiyueb illeuham Roh Kudus. Di miyuebnyoe kamoe peutron padub-padub boh bukeuti nyan.
Bukeuti phon na kheueh keuhai hana jiteupeue nyang tuleh nyan (Injil Barnabas) keuhai ileume bumoe Palistina meunan cit ngon neugahra bak teumpat teujai kisah-kisah nyang sifeuet jih agama nyan. Gobnyan geupeugah, "Isa geujak u laot Galiles, dan geuek lam saboh peuraho geumeulayeue u banda gobnyan Nazaret; bak wateenyan teuka kheueh angen badee lam laot, sampoe peurahoe nyan nyan rab karam"(20 alinea 1). Ka treb that teuteupeue ngon paih that bahwa Nazaret na jih ateuh buket di Galilea dank on saboh banda bak bineh pante, lagee nyang geupeugah le tukang nyan. Nibak teumpat nyang laen gobnyan geupeugah lom, "Ingat kheueh Allah ka geupeutakeudi keuteupeu hanco Nineveh, sabab gobnyan hana meurumpok meusidroe pih lam banda nyan nyang takot ubak Allah. Allah laju geutawok Nabi Yunus laju geukirem u banda nyan, rupari gobnyan geupeuplueng droe u Tarsus sabab takot ubak peunduduek disinan, le sababnyan kheueh Allah geutiek gobnyan lam laot, lheuehnyan laju ji'uet le eungkot laju jiulee rab ngon Nineveh" (63 alinea 2). Bainyoe ka trang that ngon teuteupeue ngon jeulaih bahwa banda Nineveh na kheueh ma banda nibak keurajeun Asyur dan teudong banda nyan ateuh rot jak blah timu krueng Tigris ateuh saboh pintoe teubiet (geureubang) nyang teuturi ngon nan Al Khist le sababnyan banda nyoe hana teuduek di Timu Teungoh lagee nyang geupeugah le tukang tuleh nyan.
Keudua, ngon hana muphom jih tukang tuleh nyan keuhai seujarah udeb Isa Almaseh. Nibak pasai lhee nibak Injil nyang peuleusu nyan, na teutuleh lageenyoe, "Watee Isa lahe, Pilatus na kheueh Gubernur, nyang meujabat ulee agama nan geuh Ananias dan Cayaphas"(3 alinea 1). Hainyoe meubacut pih hana beutoi sabab Pilatus jeuet keu Gubernur phon thon 26 trok thon 36 Masehi. Ananias geumat sibagoe ulee agama thon 6 Masehi dan Cayaphas 8 s/d 36 Masehi. Nibak pasai 142 alinea keudua bak bagian teungoh jituleh bahwa Mesias hana teuka nibak keuturonan Nabi Daud teuma na kheueh nibak keuturonan Nabi Ismail dankon ubak Nabi Ihaq. (124:14). Nyoe na kheueh salah nyang paleng rayeuek sabab soe mantong ureueng nyang beuet silsilah Isa lam Injil nyang seujati (beutoi) deuh geukalon bahwa silsilah nyan, meunurot asoe, gobnyan meuasai nibak keuturonan Nabi Daud, nibak sukee Yehuda.
Keu lhe peungarang kitab nyan jipeutamong teuma kisah-kisah nyang meubacut pih hana meu ukeue bak agama Kristen. Kutepan-kutepan nyang teupeugah lom nyoe na kheueh cuntoh nibak kisah-kisah nyan. "Laju feureuman Allah ubak peuikot jen, 'Meutobat kheueh gata dan meusyhadat kheueh ubak Ulon sabab Ulon kheueh nyang cebta gata'. Awaknyan jijaweueb, 'kamoe ka meupaleng niba kamoe pubuet sujud ubak Droneuueh, sabab Droneueh hana ade, teuma nyang ade na kheueh Jen meunan cit hana meudesya dan gobnyan na kheueh Tuhan kamoe. 'Oh lheuehnyan Jen laju jijak sira euludah bak tanoh bumoe nyan Malaikat Jibrail laju geucok geubeuot ludah nyan meusajan ngon tanoh bacut, jinoe manusia kana pusat bak pruetjih"(35 alinea 9,10,12).
Isa geubalah, "Sikeubiet jih ulon peugah ubak gata, ulon weueh ubak Jen, watee lon teupeue keuhai gata rhot; dan ulon weueh keue manusia nyang jigoda ledesya. Le sababnyan ulon ka meudoa dan puasa ubak Allah tanyoe nyang meututoe ubak ulon ngon peurantara Malaikat Gobnyan Jibrail, 'Peue kheueh nyang gata lakee wahe Isa, dan peue kheueh nyang gata mohon?' Laju lon jaweueb, ya Allah, Droeneueh neuteupeue keuhai desya nyang teupeusabab le Jen dan rot jigoda sabe nyan jai that nyang ka binasa, geuhnyan na kheueh cebtaan Droeneueh; le sabab nyan lon lakee amphon ubak Droneueh peuamphon kheueh awaknyan ya Tuhan. Laju Allah geujaweueb, Wahe Isa, ngieng kheueh, Ulon Kutem peuamphon jihnyan, ngon syarat meunyoe jihnyan jipeugah, 'Allah Tuhan lon, ulon ka meudesya, brie kheueh amphon nyan keue ulon, dan uon teuma lon peuamphon jihnyan dan lon jok pulang ubak teumpat duek jih yoh awai. Kheuen Isa, 'Watee ulon deungoe nyoe, Ulon keubiet galah that ate lom peucaya bahwa ulon ka lon peuget peudame nyoe. Le sababnyan ulon tawok Jen, dan jihnyan jitanyong, 'Peue nyang haroh ulon pubuet keu droneueh, O Isa?" Laju Lon jaweueb, ' gata teuma tapebuet keudroe teuh keudroe, O Jen, sabab ulon hana galak keubuet gata, teuma deumi keuget gata nyang kheueh ulon hoi gata.' Laju le Jen nyan jibalaih, 'Meunyoe Droneueh hana meuheuet ubak nyang ulon tulong, meunan cit ulon hana teuma lon harok ubak nyang gata meuheuet atawa ubak sinulong gata; sabab ulon leubeh mulia nibak gata. Gata hana patot keugata peutimang ulon, sabab gata na kheueh asai nibak abee dan ulon nyoe na kheueh asai nibak roh" (51 alinea 2-7)
Hana ureueng nyang meupikeran seuhat nyang jitem ngon jipateh bahwa kisah tahyul nyoe asai jih nibak Injil nyang geuileuham le Po teu Allah. Phon that, sabab Allah hana geutem ubak Jen watee Jen nyan rhot dan geuboh nibak Gobnyan na. Hainyoe pih hana sapeue kheun ngon keusucian Po teu Allah nyang illahi nyan keuteupeugah peudameian ngon Jen. Keudua, phon awaikon Almaseh, ka geutamong lam mideun prang ngon ikeub hantom na geumeudame atawa geupeu taloe droe ngon Jen. Alkitab na teutuleh lageenyoe: "Soe mantong nyang teutab jipubuet desya nibak awaiphon. Keunyoe kheueh. "Soe mantong nyang teutab jipubuet desya, jihnyan asai jih nibak Iblih, sabab Iblih jipubuet desya nibak awai phon. Keunyoe kheueh Aneuek Allah geupeugah droe Gobnyan mangat Gobnyan geupeubinasa buet-buet Iblih nya".(1 Yahya 3:8)
Lhee nibak muprang jihnyan ngon Almaseh, Jen hana jijeuet jipeugah bahwa jihnyan leubeh hayeue atawa leubeh hebat nibak Almaseh. Teuma dilikotnyan, lamkawan ureueng rame di Kapernaum watee gobnyan geupeurintah mangat jiteu bit lam tuboh sidroe-droe ureueng, ngon sun yang teuga laju jipeugah.
"He, gata Isa ureueng Nazaret, peue urosan Droneueh ngon kamoe? Droneueh teuka keuneuk peubinasa kamoe? Ulon kuteupeue soe Droneueh ngon kamoe? Droeneueh teuka keuneuk peubinasa kamoe? Ulon kuteupue soe Droneueh nyan , Nyang Kudus teuka nibak Allah'. (Lukas 4:34).
Ngon lageenyan kana saboh keupastian nyang muteulak bahwa nyang tuleh Injil Barnabas nyoe na kheueh sidroe Muslem, soe mantong ureueng nyang jibeuet Injil Barnabas nyoe ngon ate-ate punoh seulidek laju meuteume jai that ajaran-ajaran Islam lam nyan.keu phon, kitab nyang meuasoe kisah nyang rabsaban ngon Almaseh. Bak pasai 112 teutuleh, "Teupeu kheueh, oh Barnabas, kon le sabab nyoe kheueh ulon haroh beuate-ate. Sidroe lamkawan mured lom jikhianat Lon keue 30 ploh keupeng peng pirak. Seulanjut jih Ulon yaken that bahwa ureueng nyang teuma jipubloe Ulon jihnyan jipoh mate ngon nan Ulon, sabab Allah teuma geubeu ot Ulon nibak lam bumoe nyoe, lheuehnyan teuma geu-ubah hi peukhianat nyan la gee nyan bagoe, le sababnyan teuma, tieb-tieb ureung jipateh jihnyan Ulon. Meunyoe jih nyan mate jirasa saboh mate nyang paleng brok. Ulon teuma teutab lam nodapadu-padu na treb donya nyoe, teuma wate atawa meunyoe Muhammad Peusuroh suci Islam po teu Allah nyan teuka, nan brok nyan geubeuot" (112 alinea 4 bagian teungoh).
Kisah nyoe paih that ngon peulajaran Islam nibak abad teungoh. Keu dua, na saboh peundapat nyang khong that bahwa Alkitab ka jiseuleweng. Lam pasai 12 teukuteb lagee nyoe bahwa seukira jih keubeunaran nyan gohlom teusampoh nibak kitab nabi Musa ( Kitab Torat ) , Allah hana geubri babak Nabi Daud nyan gohlom teupeukutoe, Po teu Allah gohlom geujok kitab Injil ubak Ulon sabab Allah Tuhan tanyoe hana meu-ubah metutoe saboh amanat keubanmandum manusia. Le sababnyan meunyoe meuneuyue Allah nyan teuka, gobnyan teuma keugeupeu murnibanmandum hai-hai nyang ka jipeukutoe ki tab lonnyang ka geupubuet le ureueng-ureueng hana meuiman" (alinea 5).
Peutanyaan nyoe saboh hujatan ateuh keubsahan Alkitab,dan hana mungken meuasai nibak Almaseh, nyang meufeureuman, "Langet ngon Bumoe teuma jijak (gadoh) teuma tutoe haba Lon hana gadoh' (Mat.24:35).
Nibak awaiphon ka lheueh lon peugah bahwa kitab nyang jipeuhubong ngon Barnabas na kheueh saboh keusaksian peuleusu ateuh Injil sabab banmandum asoe jih meulaen atawa meuteutang ngon Injil. Dimiyueb nyoe peugah padub-padub boh bagian nyang na meuteume lam Injil peuleusu nyan, nyang teuma bak gileran jih na kheueh saboh keusaksian peuleusu ateuh Al Qur'an :
Teuma Yusuf laju geujak nibak Nazaret, saboh banda di Daerah Galilea ngon Maryam peurumoh gobnyan nyang teugoh mume…mangat meuhase teudafeutar nan lagee nyang ka geudekrit le Caiser, watee Yusuf ka trok Betlehem, sabab banda nysn ubit, dan siladum nibak awaknyan meurasa aseng disinan, awaknyan hana meuteume teumpat, le sababnyan gobnyan geucok teumpat eh atawa teumpat mudom nyang na di luwa banda bak saboh jamboe nyang teupeuget keue teumpat meuceue tukang-tukang meurabe. Teungoh Yusuf tinggai disinan, gobnyan laju hana meuteume teumpat, le sababnyan gobnyan geucok saboh teumpat-teumpat disinan, trok kheueh watee jih Maryam keuneuk peulahe aneuek. Inong dara peurawan nyan jikeulileng lecahya trang nyang luwabiasa, sira geupeulahe aneuek agam geuh ngon hana geurasa saket" (3 alinea 2 bagian teungoh :3:5-10).

Seudangkan asoe Al Qur'an teupeubeutoi bahwa Maryam geurasa saket watee geupeulahe aneuek lagee inong laen-laen saket watee jipeulahe aneuek, sabab geupeugah, "Keumuliaan Maryam mume nyan, laju gobnyan geuminah bak teumpat nyang jioh. Lheuehnyan geumeu ceue bak bakkuruma, sabab saket geupeulahe aneuek, gobnyan geupeugah, 'Aduhai seukira jih, mate kheueh ulon sigohlom nyoe dan na kheueh ulon nyang jipeutuwoe" (surat Maryam : 22:23).

"Ceulaka keudonya nyoe, sabab hainyan pasti teuma meuteume seksa hana putoh-putoh. Oh umat manusia beudeubah/paleh, sabab Allah ka geupileh gata sibagoe sidroe aneuek dan geukeubah gata lam Syeuruga, bak wateenyan gata. Ureueng meupaloe le jigrak le Jen ka jitamong lam hai nyang hana geuridha le Allah dan ka teutiek teupeuteubiet lam Syeuruga." (102 alinea 6).

Seudangkan Al Qur'an geukalon keuhai keubapaan Allah na kheueh sibagoe hujatan, patot meuteume hukoman lam nuraka. Gobnyan geupeuteubiet su atawa geupeugah sibagoe peuingat ubak ureueng-ureueng nyang peugah Allah nyan na aneuek". (Surat Al-Kahfi 4).

"Bah kheueh sidroe agam phuih ngon sidroe inong nyang geubrie karonya le Allah keujihnyan dan bah kheueh jihnyan tuwoe keue inong laen"(116:18).

Teuma lam Al-Qur'an geupurunoe Poligami (jeuet meukawen leubeh nibak sidroe inong). Deungon su ayat Al-Qur'an lagee nyoe:

"Meukawen kheueh gata ngon inong-inong nyang get nibak gata dua, lhee atawa peuet droe. Teuma, meunyoe gata takot, bahwa hana ek gata peusaneuet sampoe ade meukawen kheueh ngon sidroe inong mantong atawa namiet-namiet nyang na bak gata…" (Surat Al-Nissa'3).

"Watee Allah geucebta manusia nyan ngon keubeusaran Gobnyan mangat jihnyan jeuet jiteupeue bahwa Allah hana peureulee manusia, lagee sidroe raja nyang geujok beubaih atawa geupeu beubaih namiet-namiet gobnyan sibagoe teutunyokubak ate geuh murah mangat namiet-namiet geuh leubeh lom jicinta gobnyan…" (155 alinea 6).

Hainyan meuteunang/meulaen ngon Al-Qur'an nyang geupeugah lagee nyoe:

"Tieb-tieb manusia, kamoe ikat useha jih (amai jih) bak maseng-aseng keududukan jih"(Surat Al Isra'13). Tafeuse Al Jalalayn, ngon geukuteb Muhajid sibagoe sumber ngon peukong, geupeutrang ayat nyoe lagee nyaoe: "Hana meusidroe pih nyang lahe hana meusion keureutah nyang teusangkot bak tajeu jih atawa teutuleh peue kheueh jihnyan mangat atawa sosah"

"Oh lheueh meuneuyue Allah nyang geupeugah, 'O allah, na lamkawan ureueng-ureueng meuiman nyang kana lam nuraka 70.000 yhon. O Allah, dipat kheueh kira amponan Droneueh nyan? Ulon lakee bak Droneueh ya Allah, mangat Neupeubebaih awaknyan nibak azeub-azeueb pedeh nyan. Laju Allah geupeurintah bak 4 droe Malaikat geunaseh Allah mangat awaknyan geujak u nuraka mangat geupeuteubiet tieb-tieb ureueng nyang ka jitamong lam aqidah Meuneuyue Gobnyan dan geupimpen lam Syeuruga"(137 alinea 1-2).

Ayat nyoe meuteuntang/meulaen ngon Al-Qur'an nyang that-that geubantah ubak teulakee amphon, sabab na teutuleh lagee nyoe:

"Sikeubiet jih Allah geukutok ureueng-ureueng kafe (kaphe) dan geukeubah keu awaknyan apui nyang hu meuh'ab-h'ab (Nuraka) dan awaknyan tinggai keukai lam apui nuraka nyan siumumasa, awaknyan hana meuteume wali meunan cit hana teuma nyang tulong"(Surat Al-Ahzab 64-65).

"Isa geuaku dan geupeugah keuhai nyang beutoi, 'Ulon kon Masiah nyan'. Awaknyan jipeugah, "Peu kheueh droeneueh Eliyah atawa Yeremiah, atawa sidroe lamkawan nabi-nabi yoh masa ilee?' Jaweueb Isa, 'Kon". Laju jikheun le awaknyan, "Soe kheueh gata? Peugah kheueh mangat kamoe jeuet kamoe peugah keusaksian ubak ureueng-ureueng nyang jikirem bak kamoe?' Jaweueb Isa, 'Ulo na kheueh saboh sun yang teumawok bansigom Yudea, dan teudumpek, 'Peusiap kheueh rot keue Meuneuyue Allah nyan" (42 alinea 2-5).

Al Qur'an geupeugah, (Ingat) kheueh watee malaikat geupeugah. 'Ya, Maryam, sikeubiet jih Allah geujok haba mangat ate ubak gata ngon kalimat nibak gobnyan, (na kheueh sidroe aneuek), nan geuh Almaseh 'Isa aneuak Maryam nyang na nibak gobnyan keubeusaran phon lam donya sampoe akhirat dan Gobnyan pih jitamong ureueng nyang paleng rab ngon Po teu Allah" (surat Ali Imran 45). Peueh kheueh mantong na lam keunyataan jih, saboh keusaksian peuleusu nyang lawan Injil ngon Al Qur'an nibak Injil Peuleusu Barnabas nyoe? Mantong na sidroe Muslem nyang geupateh keuhai kitan Barnabas nyoe peuleusu lom geupateh bahwa Mesias nyan na kheueh Muhammad aneuek Abdullah dank on Isa aneuek Maryam.
Meubahgia Kheueh Ureueng Nyang Deuek Dan Grah Ubak Nyang Beuna Sabab Awaknyan Teupuphiuh Teuma

(Matius 5:6)
Pakriban peundapat le seujana-sejana oh ka lheueh geutilek ngon ate-atekeuhai na jih Injil Barnabas?

Pajan phon teuka Injil, Barnabas nyan?

Peue bukeuti nyang teupeukong bahwa Injil Barnabas baroe na oh ka lheueh abad keu 15?

Meunurot nyang geutilek le seujarah dipat phon that naseukah aseuli Injil Barnabas meuteume?

Pakriban pandangan Dr.White keuhai nyang tuleh Injil Barnabas ? cuba peutrang!

Soe kheueh nyang sikeubiet jih nyang karang Injil Barnabas nyan?

Cuba jok padub-padub cuntoh nyang jeuet keubukeuti bahwa Injil Barnabas jituleh le sidroe ureueng nyang meuagama Islam!

Meunyoe teuseulidek ngon ate-ate peu-peu nyang jipeugah lam Injil Barnabas, trok kheueh laju ubak keuputosan bahwa asoe jih leubeh rab ubak tuleh-tuleh san toh?

Peue kheueh na hubongan nyang tuleh Injil Barnabas ngon rasui-rasui atawa mured Almaseh?

Cuba jok lhee boh bukeuti nyang teupeugah bahwa nyang tuleh Injil Barnabas hana hubongan jih ngon rasui-rasui atawa mured Almaseh!

Kuteb kheueh padub-padub boh bagian nibak Injil Barnabas nyang sikeubiet jih na kheueh keusaksian peuleusu ateuh Al-Qur'an!

Peue kheueh keusimpolan keuneu lheueh keuhai Injil Barnabas?
Kirem kheueh jeunaweueb gata ubak :