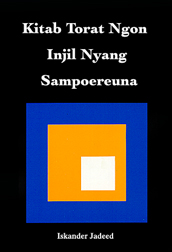 Phon-phon that kamoe peu ek pujoe ngon syukoe ubak Po teu Allah ngon jai that tanggapan nyang get nibak masyarakat ateuh peulayanan nyang jipeucaya ubak kamoe ngon nyan kitab nyoe haroh teucetak ulang lagee hi nyang na jinoenyoe. Teuma sisuai ngon peukeumbangan nyang na nyang kheueh jeuet keueetakan nyang keudua nyoe jeuet teuanggab sibagoe teuceudah lom nibak teucetak nyang phon. Ayat-ayat Alkitab teukuteb nibak Alkitab teujeumah baroe nyang jipeuteubiet le "Leumbaga Alkitab Indonesia" (LAI) Jakarta thon 1988. Teuma meunyoe ayat-ayat Al Qur'an teucok nibak "Teujeumahan Al Qur'an Al Karim" le Prof.H.Mahmud Yunus, nyang geupeuteubiet le PT. Al Ma'arif, Bandung thon 1982. Banmandum saran meunan cit kritek nyang teutulong mangat sampoereuna kitab nyoe kamoe preh ngon rasa syukoe.
Meuribee thon nyang ka u likot, Po teu Allah genpeurintah bak bansa Yahudi rot Nabi Musa, "Bek kheueh gata tamah peu nyang ka lon peurintah bak gata dan bek kheueh gata peukureueng teuma, ngon lageenyan gata ta mumat ubak peurintah TUHAN Allah gata, nyang ulon peusampoe bak gata." (Ulangan 4:2).
Peurintah nyoe geuulang lom lam kitab nyang nyan citteuma. "Banmandum peurintah nyang Lon peurintah bak gata haroh gata peubuet ngon that seutia, bek kheueh gata tamah atawa gata peu kureueng." ( Ulangan 12:32).
Padub-padub abad teuma oh lheuehnyan, Nabi Raja Sulaiman geukalon, "Banmandum feureuman Allah na kheueh gleh. Gobnyan, na kheueh peurisee keu ureueng-ureueng nyang meulindong bak Gobnyan. Bek tatamah peurintah Gobnyan, mangat gata bek geuseugah teuma dan geuanggab meusulet." (Amsal 30:5-6).
Nibak bagian sinutob lam Alkitab, laju meurumpok peuingat nyang leumpah that kreuh ngon brat that lageenyoe, "Ulon meusaksi ubak tieb-tieb ureueng nyang jideungoe tutoe haba tutoe haba nubuat nibak kitab nyoe: Meunyoe na ureueng nyang tamah ubak tutoe haba tutoe habanyoe. Ngon nyan teuma Po teu Allah geutamah bak jihnyan meubagoe bala nyang keubiet brat that nyang na teutuleh lam kitab nyoe. Meunan cit meunyoe sidroe-droe ureueng jipeu kureueng tutoe haba-tutoe haba nyang na lam Kitab nyoe atawa kitab nubuat nyoe Teuma Po teu Allah geujok jeumba nibak bak kayee keuhai udeb dan nibak banda kudus, lagee nyang na teutuleh lam Kitab nyoe." (Wahyu 22:18,19).
Ngon na peuingat nyang meunane krueh lagee nyan bagoe, peukheueh mantong na ureueng meuiman ubak Allah, meunan cit nyang peucaya ubak kitab-kitab ngon Rasui-rasui Gobnyan. Jijeuet peuleusu feureuman Allah nyang jeut ubak akibat jihnyan teuma gadoh banmandum beureukat rohani nyang ka geukeubah le Po teu Allah keujihnyan meunan cit teujamin keuseulamatan ngon udeb nyang keukai nyang geupeujanji le Allah keu umat manusia? Ureueng kaphe keudroe hana hase jipeuleusu kitab-kitab Illahi sabab awaknyan hana hase jipeusapat naseukah nyang na meutabu bansigom donya nyoe keujipeuleusu.
Keubiet patot that teusayang bahwa nibak akhe jameun nyoe mantong na ureueng nyang ngon trok ate jitudoh rasui-rasui Almaseh nyang hana meusalah nyan geupeuleusu kitab Injil nyang ka geupeucaya ubak awaknyan. Saboh hai nyang meuteuntang atawa meulaen ngon Alkitab dan AI Qur'an, kitab umat Islam nyang geusaksi/ geukalon keuhai Rasui-rasui nyan sibagoe ureueng nyang teuturi sabab gobnyan nyan jujoe ngon tupat that ate sampoe le Allah geupeugah keue awaknyan "peunulong-peanulong nibak Gobnyan". (Surat Ali lmran 52).
Jai that bukeuti nyang teupeukong Alkitab nyan aseuli dan teuhinda nibak hi-hi teupeuleusu, meunan cit teuhinda nibak teuputa balek. Hainyoe teuma kamoe peugah nibak bab-bab u keuenyoe teuma.
Allah geukalon kitab geuhnyan jipeujak ngon jipeusampoe seucara seksama lom punoh hikeumat ngon bijaksana. Awaknyan nyang seulidek Peujanjian Awai inan laju meurumpok/ meuteume bahwa Kitab Ilahi nyan keudroe geupeugah keuhai jeut jih Alkitab nyan lam lhee boh tahab atawa lhee priode.
Kitab Suci nyang Geu ileuham le Po teu Allah, geupeutrang bak geutanyoe, bahwa Allah geuba mandum jeuneh beulatang meunan cit cicem bak Nabi Adam mangat geuteupeu pakriban gobnyan geuboh nan beulatang-beulatang nyan. (Keujadian 2:15-19).
Teuma, nibak jeumba nyoe/ atawa nibak teumpat nyoe hana geupeugah pakriban Allah geumeututoe ngon manusia keu nyang keuphon that. Le sababnyan jai that lamkawan tanyoe tacok rot awaknyan sira tahayal nibak teujok peunilaian ateuh seujarah kudus nyoe ngon cara teupeutuwoe meujuta thon nyang teupeujioh tanyoe nibak peuristiwa-peuristiwa nyang teutuleh nibak bagian phon kitab Keujadian nyan.
Tanyoe hana tateupeue pasti pajan Allah geupeugah droe bak umat manusia. Teuma asoe Alkitab teutuleng tanyoe trok ubak saboh keusimpolan. Henokh nyang teupeugah lam kitab Keujadian pasai 5, meunurot Yudas na kheueh sidroe nabi geuneurasi keu VII oh ka lheueh Nabi Adam. Alkitab geucalitra teuma bahwa Henokh "Udeb meurakan ngon Allah". Hana teuragu le bahwa Nabi nyoe na imformasi keuhai watee nyang ka u likot sabab meunurot silsilah Alkitab, gobnyan mantong geuturi Nabi Adam dan geumeututoe ngon gobnyan. Metusalah, aneuek Henokh nyang udeb trok jameun Nabi Nuh na kheueh sidroe ureueng malem ngon udeb lam keuadaan saleh nibak watee geuneurasi gobnyan meunan cit geuhnyan udeb to that ngon Allah.
Hana soe nyang hase jiragu ubak Nabi Nuh, nyang geumeu kutubah keuhai keu adelan ngon keubeunaran ka teuntee teuma geupeusampoe hikayat suci nyoe ubak geuneurasi keugeuneurasi oh ka lheueh le raya. (II Peutrus 2:5).
Sem, aneuek Nuh, mantong udeb trok ubak jameun Nabi Ibrahim (Keujadian10:21 dan 11:10,26). Alkitab geupeugah bak geutanyoe bahwa peuristiwa ubak peuristiwa nibak hikayat kudus (suci) nyan ka geupeutrok bak Nabi Ibrahim. Lam Galatia 3:8 tabeuet: "Dan Kitab Suci sigohlom nyan geuteupeu bahwa Allah geupeubeutoi ureueng-ureueng nyang kon Yahudi le iman ka leubeh ilee geupeusampoe Injl ubak Nabi Ibrahim, 'Le gata banmandum bansa meuteume beurekat." Ayat nyoe teupeuyaken geutanyoe bahwa Nabi Ibrahim kana imformasi nyang trang keuhai keuhai keujadian- keujadian sigohlom nyan nyang oh dudoe trok bak gileran jih gobnyan peutrok teuma ubak aneuek-aneuek gobnyan. Lam Kitab keujadian 18:19 na tabeuet lageenyoe: "Sabab ulon ka lon pileh gobnyan, mangat jipeurintah teuma ubak aneuek-aneuek jih dan ubak keuturonan jih mangat teutab udeb meunurot rot nyang geutunyok le TUHAN ngon jipeubuet buet-buet nyang beutoi ngon keuadelan. Lom teuma mangat TUHAN geupeupunoh bak Nabi Ibrahim peu nyang ka geupeujanji le Gobnyan ubak geuhnyan. "Nibak ayatnyoe hase teujok bukeuti bahwa hubongan Nabi Adam ngon Nabi Musa hana payah keuteuteume.
Phon nibak Kitab keuluaran, saboh phon nibak meuturot-turot nibak jai that keujadian nyang teutuleh seucara teurinci lam kitab Suci/Kudus sijalan ngon peu nyang geupeurintah le Po teu Allah bak Nabi Musa mangat teucetet. Nyang kheueh sabab jih na tabeuet: "Oh lheuehnyan meufeureuman kheueh TUHAN ubak Nabi Musa, Tuleh kheueh banmandum nyoe lam saboh Kitab sibagoe tanda peuingat, dan peuingat kheueh bak geulinyueng Yosua." (Keuluaran 17:14). Bak keunyataan jih tanyoe tateupeu bahwa, "Geucok kheueh (Nabi Musa) kitab Peujanjian nyan, laju geubeuet sira jideungoe le bansa nyan." (Keuluaran 24:7). dan "Nabi Musa laju geutuleh Peujanjian awaknyan phon bak teumpat peuniyoh ubak teumpat peuniyoh nyang laen lagee toh nyang ka geupeurintah le TUHAN." (Bilangan 33:2). Meunan cit na ta beuet: "Oh ka lheueh Nabi Musa seuleusoe geutuleh tutoe haba hukom kitab Torat nyan lam saboh kitab trok ubak haba nyang keuneu lheueh, lheuehnyan Nabi Musa geupeurintah ubak ureueng-ureueng Lewi tukang ba tabut peujanjian TUHAN, meunoe su jih, ' Cok kheueh kitab Torat nyoe laju keubah kheueh nyan bak bineh Tabut peujanjian TUHAN. Allah gata, mangat jeuet keusaksi nibak teumpat nyan ateuh gata." (Ulangan 31:24-26).
Allah meufeureuman ubak Yosua, "Bek kheueh tuwoe gata peugah kitab Torat nyoe, teuma manueng kheueh asoe jih nyan atawa pike kheueh asoe jih uroe ngon malam mangat gata tameubuet leubeh ate-ate paih lagee nyang na teutuleh lam nyan." (Yosua1:8). "Dan Yosua geutuleh banmandum nyan lam kitab hukom Allah." (Yosua 24:26). "Oh lheuehnyan Samuel geupeugah ubak bansa nyan keuhai hak-hak keurajeuen nanggroe. Laju geutuleh bak saboh piagam laju geukeubah di keue TUHAN." (1 Samuel 10:25). Oh karab abeh watee geumat keurajeuen le raja-raja, bak watee peumeurintah geumat le raja Yosia. Tulehsan-tulehsan suci nyan laju teuba saboh keubangketan iman watee geubeuet le Safan sidroe seukeutareh keurajeuen nanggroe, nyan paih lagee nyang geupeurintah le Hilkiah. Teuengku lmeum Agong nibak watee nyan. (II Raja-raja 22:8-13).
Nabi Yesaya geulakee ubak umat gobnyan mangat jiwoe lom ubak feureuman Tuhan ngon cara jibeuet mangat jeuet keubukeuti keusampoereuna jih. Gobnyan geupeugah: "Mita kheueh lam kitab TUHAN dan beuet kheueh: Saboh pih dan mandum makhlok nyan hana nyang tinggai dan nyang saboh hana gadoh nyang laen; sabab, meunan kheueh peurintah nyang jiteubiet lam babah TUHAN, dan ROH TUHAN keudroe ka geupeusapat awak nyan." (Yesaya 34:16).
Nabi Yeremia nyang geupeurintah le Allah laju geutuleh teuma nubuat-nubuat geuh lagee nyoe: "Cok kheueh geunulong kitab dan tuleh kheueh lam nyan banmandum tutoe haba nyang ka lon peugah bak gata/ Lon feureuman bak gata keuhai Israel, Yehuda dan banmandum bansa." (Yeremia 36:2).
Nabi Daniel meusaksi keuhai naseukah-naseukah Kudus/ Suci nyoe lam kitab nubuatan gobnyan, sira geupeugah lagee nyoe: "Ulon, Nabi Daniel Lon ngieng nibak sinamon kitab-kitab jeumeulah thon nyang meunurot Feureuman TUHAN ubak Nabi Yeremia teuma hase jeuet ateuh sinamon rungka-rungka reuloh Yerusalem, na kheueh tujoh ploh thon." (Daniel 9:2).
Bak watee keurajeuen Artahsasta, raja nanggroe Persia, Esra ngon Nehemia geupeupusat droe geuseulidek hukom Nabi Musa nyang geujok le Tuhan ubak awak nyan. Lam Alkitab na teutuleh lagee nyoe: "Sabab Ezra ka geupeuteutab ate keue geuseulidek kitab Torat TUHAN." (Ezra.7:10).
Lheuehnyan ta beuet lom lam kitab Nehemia lagee nyoe: "Dan wateenyan ngon meugumpoi kheueh mandum rakyat ngon cara meusigoe nibak leuen blah ukeue babah pintoe geureubang le... Teuengku lmeum Ezra laju geuba kitab Torat nyan ukeue jeumaat, na kheueh bahnyan ureueng agam meunan cit nyang inong lom tieb-tieb ureueng nyang deungoe ngon muphon. Gobnyan laju geubeuet padub-padub bagian nibak kitab-kitab nyan di keue babah pintoe geureubang le phon bungoh trok cot uroe." (Nehemia 8:1-3)
Feureuman TUHAN TROK Ubak Nabi Zakharia, su jih lageenyoe: "Meunoe kheueh feureuman TUHAN seumeusta alam, 'Pubeut kheueh hukom nyang biet-biet dan tunyok atawa peuleumah kheueh seutia ngon gaseh sayang ubak maseng-maseng awaknyan. Rupari awaknyan hana jitem pakoe, laju jipeukeumang bahoe jih sibagoe tanda meulawan jidhoe geulinyueng jih mangat bek jideungoe. Awaknyan geupeujeuet ate awaknyan kreuh lagee batee mangat bek hase jideungoe peungajaran ngon feureuman nyang geupeusampoe le TUHAN seumeusta alam meulalu roh Gobnyan ngon peurantara nabi-nabi nyang awai ilee." (Zakharia 7:8-12).
Hai di ateuh teupeugah ubak geutanyoe seucara trang bahwa Po teu Allah geukalon ngon punoh seulidek ateuh meukeumang jih Alkitab phon nibak geuneurasi trek ubak geuneurasi. Teu ielueham ureueng-ureueng kudus mangat geutuleh nubuatan-nubuatan awaknyan meunan cit peungajaran-peungajaran deumi mangat umat manusia nyoe jroh. Oh ka lheueh geupeutron hukom-hukom Gobnyan, Allah nyang udeb laju geuamiati mangat hukom-hukom nyan teupeulara paih lagee keuheundak ngon janji Gobnyan.
Alkitab meuasoe meubagoe peunyataan ngon janji Po teu Allah bahwa feureuman Gobnyan keukai na jih meunan cit hana meu-ubah-ubah. Dimiyueb nyoe padub-padub boh kutepan nyang tabeuet nyoe:
"Teuma gaseh seutia Lon hana Lon peujioh nibak jihnyan dan Ulon hana Lon peubuet jeuhet nibak hai Ulon seutia. Meunan cit hana Lon iengkeue janji nyang ka Lon peugah, dan meunan cit peue nyang teubiet nibak bibi Lon nyan pih hana Lon ubah." (Zabur 89:3-35).

"Sabab Ulon peugah teuma bak gata, 'Sigohlom gadoh langet ngon bumoe, saboh johtah pihatawa saboh titek pih hana teupeugadoh nibak hukom Torat sigohlom mandum nyan teujadi." (Matius 5:18).

"Ulon peugah bak gata: "Sikeubiet jih angkatan nyoe hana gadoh, sigohlom banmandum nyoe teujadi. Langet ngon bumoe teuma gadoh teuma tutoe haba Lon teutab na." (Matius 24:34-35). "Kitab suci hana hase jipeubateue." (Yahya 10:35).
Feureuman Allah ubak Nabi Yeremia, "Bek takot bak awaknyan sabab Ulon na meusajan gata keu Lon peu lheueh gata, meunan kheueh Feureuman TUHAN lheuehnyan TUHAN pih laju geusunyueng jaroe Geuh dan geuraba/geumat babah lon; TUHAN meufeureuman bak ulon; ' Sikeubiet jih, Ulon Kukeubah tutoe haba-tutoe haba Lon lam babah gata." (Yeremia 1:8-9).
Lheuehnyan ubak Hosea Gobnyan meufeureuman teuma: "Ulon meututoe bak: Nabi-nabi dan jai that-that ulon jok keumalon-keumalon meunan cit Lon jok miseue umpama ngon peurantara Nabi-Nabi." (Hosea 12:11).
Lheuehnyan Allah meufeureuman lom ubak Nabi Yesaya lageenyoe:"Na kheueh Ulon, nyoe kheueh Peujanjian Lon ngon awaknyan, feureuman TUHAN, 'Roh Ulon nyang jiduek lam gata meunan cit feureuman Lon nyang Lon keubah lam babah gata hana teutinggai babah gata dan babah keuturonan gata meunan cit babah keuturonan awaknyan, phon jinoenyoe trok siumu masa.'" Meunan kheueh feureuman TUHAN." (Yesaya 59:21).
Ubak Yehezkia Allah meufeureuman teuma lagee nyoe: "He aneuek manusia, beudoh dan dong kheueh laju, sabab Ulon keuneuk peugah haba ngon gata. Ulon kirem gata ubak ureueng Israel, ubak bansa nyang beurontak jilawan Ulon. ..Bek takot teukalon awaknyan meunan cit watee gata deungoe tutoe haba awaknyan. Peutrok laju tutoe haba Lon bak awaknyan, bahnyan jitem deungoe atawa hana jideungoe, sabab awaknyan na kheueh tukang beurontak. Peuhah kheueh babah gata dan pajoh kheueh peue nyang Ulon jok keu gata." (Yehezkiel 2:1-8).
Allah meufeureuman ubak Maleakhi, "Teuma gata laju sada, Ulon kirem peurintah nyoe ubak gata mangat jeuet peujanjian Lon ngon Lewi teutab jimat, Feureuman TUHAN seumeusta alam. Janji Ulon ngon jihnyan bak saboh pihak na kheueh keuhai udeb ngon seujahtra dan nyan Ulon jok bak jihnyan nibak pihak laen teunaga dan jihnyan takot keu Ulon meunan cit yoe ateuh nan Ulon. Peulajaran nyang beutoi na lam babah jih dan buet nyang jeuhet hana meuteume lam bibi gobnyan." (Maleakhi 2:4-6).
Meunan cit na lom Geumeu feureuman ubak Nabi Zakharia lagee nyoe: "Teuma mandum feureuman ngon nyang ka Lon peuteutab nyang ka Ulon peurintah ubak hamba-hamba Lon, nabi-nabi, peu kheueh nyan kon ka trok bak indatu gata? Ngon meutobat kheueh awaknyan sira jipeugah: 'Sibagoe nan TUHAN seumeusta alam na meukeusut keuneuk cok tindakan ateuh geutanyoe paih lagee pi-e geutanyoe, meunan kheueh Gobnyan geucok tendakan ateuh geutanyoe'" (Zakharia 1:6).
Nabi-nabi ngon Rasui Allah geukalon bahwa Allah ka meufeureuman ngon geujok ileuham awaknyan nibak geutuleh banmandum nubuat ngon ajaran nyan jeuet keusaboh hukom nyang keukai keue umat manusia. Dimiyueb nyoe kamoe kuteb padub-padub boh keusaksian awaknyan:
Nabi Daud geupeugah lagee nyoe; "Roh TUHAN meututoe ngon peurantaraan lon, feureuman Gobnyan na bak lidah lon." (II Samuel 23:2).

Nabi Yesaya geupeugah teuma: 'Sikeubiet jih bansa nyan lagee naleueng. Naleueng ka jeuet keutho, bungong jeuet keumala, teuma feureuman Allah tanyoe teutab keusiumumasa." (Yesaya 40:7-8).

Nabi Yeremia geupeugah teuma: "Oh ka lheuehnyan feureuman TUHAN trok bak ulon sujih lagee nyoe; 'Peu kheueh nyang gata kalon, he Yeremia?' 'Ulon kalon sibak-bak kayee badam.' Laju feureuman TUHAN ubak ulon: 'Get meuneungieng gata sabab Ulon siab sabe keuteupeubuet Feureuman Lon.'" (Yeremia 1:11-12).

Yehezkiel geupeugah teuma lagee nyoe: "Oh ka lheueh tujoh uroe teuka kheueh feureuman TUHAN ubak ulon', 'He aneuek manusia, Ulon ka lon keubah gata jeuet keu nyang keumiet / jaga Israel. Meunyoe gata tadeungoe sapeu-sapeu nibak feureuman Lon, peingat kheueh awaknyan ateuh nan Lon.'" (Yehezkiel 3:16-17).

Tuhan Isa meufeureuman ubak mured-mured Gobnyan, "Sabab kon gata nyang meututoe haba, teuma Roh Bapa Gata; Gobnyan teuma laju geupeugah haba lam tuboh gata (Matius 10:20).

Rasui Paulus geupeugah: "Tanyoe hana tateurimong roh donya, teuma roh nyang asai jih nibak Po teu Allah, mangat tanyoe tateupeue, peu nyang geukaronya le Allah ubak tanyoe. Dan sabab kamoe meutafeuse hai-hai rohani ubak awaknyan nyang na Roh. Kamoe peugah keuhai karonya-karonya Allah nyang tutoe haba nyang kon geupeurunoe ubak kamoe le hikeumat manusia, teuma le Roh." (I Korintus 2:12-13).

Rasui Petrus geupeugah: "Sabab gata ka teupeulahe lom, kon nibak bineh nyang pana, le feureuman Allah nyang udeb ngon nyang keukai. Sabab, 'Banmandum nyang udeb na kheueh lagee nalueneg dan banmandum keumuliaan Gobnyan lagee bungong naleueng, naleueng ka jeuet keu tho dan bungong ka jeuet keumala laju rhot, teuma feureuman TUHAN teutab keu siumumasa.'" (I Petrus 1:23-25). "Nyang phon that haroih gata teupeue bahwa nubuat-nubuat nyang na lam kitab suci hana jeuet teutafeuse meunurot kheun droe atawa meunurot keuheun dan droe. Bahwa hantom na nubuat jipeuhase le keuheundak manusia, teuma le sabab Roh Kudus nyang peuteuka nyan dan ureueng-ureueng jimeututoe ateuh nan Allah." (II Petrus 1:20-21).

Beuthoi FEUREUMAN  TUHAN
Teutab keue siumu masa
I  Petrus 1:25

Seujarah teucetet bahwa seujana-seujana nibak bideueng keuagamaan nyang saboh jameuen ngon Rasui-rasui dan nyang peusambat ngon nyang peutroh peulayanan rasui-rasui nyan lam geureuja nyan jai that-that geukuteb lam Alkitab, khuosos jih nibak kitab-kitab Injil nibak khutubah-khutubah meunan cit nibak kareuya-kareuya nyang gobnyan tuleh, sabab awaknyan ka yaken, bahwa kitab-kitab lnjil nyan na kheueh kitab ilahi nyang geu ileuham le Allah, le sababnyan kitab nyan hana hase jipeuleusu atawa teuhinda nibak jipeuleusu. Dimiyueb nyoe kamoe peugah na padub-padub droe ureueng lamkawan awaknyan:
Clement, Peupimpen geureuja Roma meubuet meusajan ngon Rasui Paulus lagee nyang na teutuleh lam Pilipi 4:3.
Dionysius, peumimpen geureja Korintus nyang meuninggai thon 100.
Hermas, nyang udeb saboh jameun ngon Paulus, geutuleh kitab lam lhee boh jiled ngon jai that geukuteb nibak Peujanjian Baroe.
Ignatius, sidroe ureueng nyang teupileh jeuet keupeumimpen geureuja di Antiokia 37 thon oh ka lheueh Isa Almaseh geu ek lam syeuruga.
Polikarpus, sidroe sahid, mured rasui Yahya dan pimpenan geureuja di Smyrna. Gobnyan meuninggai le sabab iman gobnyan (jianianya) nibak thon 166. Teuma saboh nibak dubnyan le kareuya tuleh gobnyan nyang teupeulara. Na kheueh saboh surat nyang punoh ngon kutepan nibak kitab-kitab Injil. Sibagoe seunamah jeuet teupeugah tokoh-tokoh geureuja abad ke II nibak Alkitab nibak teudukong ajaran awaknyan.
Papaias, sidroe peumimpen geureuja nibak Hierapolis, nibak daerah Phriygia (Turuki), meusyeuhu sidroe seujana nyang rayeuk that bakat nibak thon 110. Gobnyan meuturi ngon Polikarpus dan geutuleh tafeuse Alkitab lam 6 boh jiled. Gobnyan geupeugah bahwa kitab- kitab Injil nyang teutuleh lam basa Yunani na meuteume nibak geureuja dan teukalon bahwa kitab Markus, nyang tuleh Injil na kheueh rakan saboh buet Petrus dan Injil gobnyan jai that meuteume lamkawom ureueng Kristen.
Yustinus, sidroe sahid, gobnyan lahe thon 89, phon that gobnyan na kheueh sidroe malem nibak seumike nyang mantong kaphe. Keurinduan gobnyan keugeumita keubeunaren ka teupimpen gobnyan ubak iman Kristen. Malem pike nyang meusyeuhu nyoe geutuleh jai that kitab keugeubila iman Kristen nyang dasai jih nibak banpeuet boh Injil. Nibak saboh kitab gobnyan na geutuleh keuhai gobnyan geujak u Roma keugeujak saweue geureuja-geureuja nyang na disinan, u Aleksanderia meunan cit u Epesus. Gobnyan geucetet bahwa ureueng–ureueng Kristen nyang na lam daerah nyan geuseumah Allah ngon cara geubeuet kitab-kitab Injil ngon su nyang teuga nibak geureuja maseng-maseng.
Hegius na kheueh sidroe ureueng nyang meugah that "30 thon oh lheueh Yustinus. Keusaksian gobnyan jeuet keupeunteng that sabab meuneujak gobnyan di Palestina u Roma dan geumeurumpok ngon dubnyan le peumimpen geureuja. Gobnyan geukalon ureueng-ureueng Kristen dipat mantong geupurunoe saboh peungajaran ngon meudasai bak saboh hukom nabi-nabi ngon Tuhan Isa Almaseh.
Irenius, sidroe ureueng Yunani nibak Asia ubit lahe thon 140. Gobnyan jitamong lamkwan sidroe mured Polikarpus nyang ka lheueh jeuet keumured Yahya. Keugiatan gobnyan pusat jih di Lyon bak teumpat gobnyan teupeuteutab sibagoe peumimpen geureja. Nyang peusambat buet Bonitus nyang mate syahid thon 177. Gobnyan geutuleh saboh surat ngon kutepan-kutepan nibak kitab Injil. Nibak saboh teumpat nibak tulehsan geuhnyan geupeugah, "Kamoe hana meuteurimong keuseulamatan nibak sumber nyang laen seulaen nibak awaknyan nyang geupeusampoe Injil ubak maoe. Nyang phon-phon that jikhutubah dan oh lheuehnyan jituleh meunurot keuheundak Po teu Allah jeuet keudasai nibak tameh geungon tumpang iman tanyoe Sabab oh ka lheueh Almaseh geubeudoh gobnyan meuninggai, Allah laju geupeuleungkab rasui-rasui ngon kuasa Roh Kudus sampoe awaknyan jituri Injil seucara punoh ngon get that. Awaknyan jijak nibak u ujong u ujong (nyang bak watee nyan teuturi ngon ) donya teujak peusampoe haba get nibak anugeurah damai seujahtra surgawi nibak umat manusia. Maseng-maseng teuba Injil Allah."
Matius geutuleh Injil gobnyan keu ureueng Yahudi watee Paulus ngon Petrus na di Roma geupeusampoe Injil damai seujahtra dan geupeudong geureuja disinan, Watee gobnyan ka hana le, Markus, sidroe mured ngon rakan-rakan saboh buet ngon Petrus geutuleh Injil nyang asoe jih atawa inti nibak asoe jihnyan na kheueh keuhai khutubah Petrus. Lukas na kheueh sidroe tabib atawa dokto lom rakan saboh meuneujak ngon Paulus geutuleh Injil lagee peue nyang ka geupeurunoe le Paulus. Oh lheuehnyan, Yahya mured Almaseh ka lheueh geupeusadeue dada gobnyan ubak Gobnyan, geutuleh Injil watee gobnyan na di Epesus.
Seujana nyang paleng meugah nyoe geutamah teuma, "Ajaran-ajaran nyang geupeu peusampoe le rasui-rasui nyan, laju meukeumang bansigom donya. Mandum ureueng nyang mita keubeunaran laju meuteume dipat ajaran-ajaran nyoe teupeulara dan teuanggab kudus le tieb-tieb geureuja."
Gobnyan pih na geupeugah lagee nyoe: "Tanyoe jeuet tapeugah bahwa awaknyan nyan nyang ka geupeuteutab le rasui-rasui sibagoe peumimpen-peumimpen geureuja, tamong cit keunan banmandum nyang pubuet peulayanan nyan trok bak watee nyoe; dan tanyoe patot tapeugah syukoe ateuh na mata rante keuwibawaan nyoe dipat tanyoe ka tareurimong hikayat-hikayat nyang na lam geureuja dan ajaran-ajaran keubeunaran lagee nyang teukhutubah le kitab-kitab Injil.
Clement, peumimpen geureja di Aleksanderia udeb 16 thon oh ka lheueh Irenius. Gobnyan geukalon bahwa banmandum geureuja peucaya bak ban peuet boh Injil. Seujana nyang paleng meuseuyeuhu nyoe geukuteb le that ayat ban peuet boh Injil nyan watee gobnyan geupeurunoe dan le that karya tuleh gobnyan dan geuaku bahwa ban peuet boh Injil nyan na kheueh aseuli."
Tertulianus, lahe bak thon 160 dan wafeuet kira-kira thon 220. Seujana nyoe geutuleh keuhai rasui-rasui: "Yahya dan Matius geupeurunoe tanyoe keuhai iman. Lukas ngon Markus rakan saboh meuneujak awaknyan nyang keubeut teupeuseugar ngon teuileuham geutanyoe." Oh ka lheueh teuitong geureuja-geureja nyang geupeudong le Paulus di Korintus, Galatia, Epesus, Pilipi dan Tesalonika meunan cit geureja-geureuja nyang geupeudong le Yahya meunan cit geureuja nyang teupeudong le Petrus di Roma ngon Paulus gobnyan geupeugah, "Ban peuet boh Injil ka geupeuguna le geureuja yoh awaikon" Meunan cit geupeugah lom le gobnyan, "Kamoe sibagoe ureueng Kristen meuibadat meusajan dan teubeuet kitab-kitab kudus nyan dan teurawat iman kamoe, ngon nyan teupeubeudoh harapan kamoe meunan cit teupeukong harapan kamoe rot feureuman nyang suci nyan."
Ngon dasai nibak peue nyang ka teupeugah di ateuh nyan ka jeuet keuteucok keusimpolan bahwa:
Banmandum peumimpen Kristen, phon nibak awaknyan nyang saboh jameun ngon rasui-rasui meunan cit ngon nyang peusambong buet awaknyan, trok ubak seujana-seujana nyang paleng meusyeuhu, geupeugah ayat-ayat nyang paleng meukeunong/ meugah lam kitab Suci dan teukuteb nyan nibak meututoe awaknyan tieb-tieb uroe.

Keupeucayaan ubak Kitab Suci ngon kutepan-kutepan nyang na nyan jeuet teucok sibagoe gamba ubak keuyakenan awaknyan bahwa kitab Suci sibagoe nyang mat otritaih paleng panyang nibak teupeuseu leusoe nibak meubagoe hai nyang jimeudebat nyan seulawet nyoe

Awaknyan geupeutrang ngon geupeuphom ayat-ayat Kitab Suci nibak ibadah meusajan.

Awaknyan geutuleh tafeuse kitab Suci nibak padub-padubboh jiled teupeukong mangat teutab santeut sabe tulesan rasui-rasui lagee nyang geu Illeuham le Roh Kudus.

Banmandum ureueng Kristen, nibak awaiphon ka jimeuiman ubak kitab Suci ngon hana teukalon ubak soe jihnyan / keubansaan peue jih nyan atawa jiaku iman maseng-maseng.
Lamkawan pusaka nyang jlpeulara le ureueng Kristen na teuma seunalen-seuna tuha ( seunalen ka treb that), nyang seujarah teupeuget nyan ka teulewat atawa teuliengkeue meubagoe geunarasi jioh sigohlom teuka agama Islam. Lamkawan nyan na kheueh.
Seunalen Alekanderia, paih lagee banda (kota) teumpat lagee gobnyan. Seunalen nyoe na paleng ateuh nibak seunalen-seunalen nyang laen khusos jih nibak lhee boh seunalen nyang laen, dan atranyoe teupeuseumah atawa teujok ubak Raja Inggreh Charles I le Cyril Lucar, sidroe peujabat nibak banda Konstantinopel thon 1628. Seunalen nyoe teuba nibak Aleksanderia watee gobnyan jeuet keu Uskob agong disideh nyang geutuleh lam basa Ibrani nyang asoe jih banmandum asoe Alkitab, Peunajian Awai ngon Peujanjian Baroe. Bak leuen phon nibak catetan bineh na meuteume saboh tulehsan ubit nyang teutunyok bahwa banmandum asoe Alkitab nyan teutuleh ngon jaroe le sidroe inong bangsawan bansa Mouse nyang nan inong nyan Tagla nibak thon 325. Cyril geuboh keumeuntar nibak catetan bineh nyoe ngon tulehsan gobnyan keudroe, geupeugah bahwa nibak tanggai nyan beutoi lom paih lagee peundapat gobnyan. Seunalen nyoe teutuleh ateuh perkamen (Na kheueh keureutah nyang teupeuget nibak kulet beulatang) nyang lazem teupeuguna nibak watee nyan ngon dua boh kolom nibak tieb-tieb leuen ngon 50 boh bareh tieb-tieb kolom nyan. Seunalen nyoe mantong na teupamer nibak British Museum di London.
Seunalen Vatikanus teupeugah nan nyang lageenyan sabab teukeubah nibak peupustakaan Vatikan. Seunalen nyoe teutuleh ateuh perkamen nyang ceudah that ngon hijih ubit that. Tieb-tieb leuen na lhee boh kolom, maseng-maseng kolom nyan keu 42 boh bareh. Seunalen ka jitamong banmandum asoe Alkitab lam basa Yunani. Le seujana-seujana na peundapat. Naseukah nyoe teutuleh nibak thon 300.
Seunalen Sinaitikus, meusayeng ngon seunalen Vatikanus nibak hai umu jih sabab mungken bacut leubeh tuha nibak nyan. Seunalen nyoe rayeuk that guna jih keuteu peubandeng ngon naseukah-naseukah. Nyoe teuboh nan seunalen Sinai sabab atranyoe meuteume di Sinai le sidroe seujana bansa Jeureuman Tischendorf nibak biara St.Catherine nibak thon 1844. Nyan teutuleh nibak kulet beulatang rayeuk nyang kayem teupeuguna atawa teungui nibak wateenyan. Tieb-tieb leuen teubagi nibak peuet boh kolom. Nyoe sigoeguih keuteutunyok jameun meuh nibak wateenyan. Naseukah nyoe teupeuseumah le nyang teume nyan ubak Kaisar Aleksander nibak Rusia dan teukeubah disinan sampoe trok ubak revolusi Bolshevik dan oh lheuehnyan jibloe le British Museum di London dan teukeubah disinan trok bak wateenyoe.
Seunalen Ephraem, na teukeubah nibak peupustakaan Nasional di Pareh (Paris) dan asoe jih banmandum asoe Alkitab lam basa Yunani, Teutuleh ateuh nibak hi tulehsan nyang get ngon hana jioh hurof ngon tanda baca.(beuet). Hurof phon nibak tieb-tieb leuen, leubeh rayeuek nibak nyang laen. Naseukah nyoe teutuleh mungken thon 450.
Banmandum seunaleun tuha nyoe ka teubrie sibagoe teubantah ateuh nyang teupeugah lam Al Qur'an nyang meupeundapat bahwa Alkitab ka teupeuleusu, sigoeguih awaknyan teucok sibagoe bukeuti bahwa Alkitab na kheueh aseuli sabab teutuleh sigohlom na Al Qur'an. Alkitab nyang na nibak geutanyoe bak watee nyoe hana meulaen meubacut pih nibak seunalen-seunalen tuha nyan.
Geunulong-geunulong Qumran

Lamkawan hareuta karon nyang meuteume nibak atawa lam guha-guha Qumran thon 1947 na meuteume saboh naseukah mantong leungkab nibak kitab Yesaya, gobnyan sidroe nabi, teutuleh lam basa Ibrani ateuh kulet beulatang lam hi geunulong. Gaya teumuleh meunan cit ngon beundahara haba (tutoe haba) nyang na teutunyok bahwa naseukah nyoe teutuleh nibak abad nyang keudua sigohlom thon Masehi. Le seujana nyang ka geutilek meupeundapat bahwa naseukah nyan hana meulaen ngon nyang kana nibak geutanyoe jinoenyoe. Saboh seunalen nibak Kitab Imeum-Imeum (Imamat), Ayub, Zabur meunan cit ngon Habakuk meunan cit meuteume lam guha-guha Qumran nyoe. Asoe jih saban ngon asoe kitab-kitab nyan lagee nyang kana lam jaroe geutanyoe. Na teuma padub-padubboh dafeutar nibak Kitab Peujanjian Awai meuasoe banmandum kitab nyang hana na kheueh kitab Ester.

Geunulong-geunulong Arsoinoe

Nibak thon 1877 na meuteume sijeumeulah dukumen nibak Arsoinoe, blaih seulatan Kairo, (Meuse.Red). Atranyan teutuleh ateuh Papirus laju jiseubee lam anoe. Lam nyan na teuma meuteume seunalen Yahya atawa Injil Nabi Yahya nyang hana meulaen ngon nyang na nibak geutanyoe jinoenyoe.

Geunulong-geunulong Sinai

Baroe-baroenyoe na meuteume saboh geunulong atawa saboh seunalen ban peuet boh Injil ma basa Siria nihak biara St.Catherine di Sinai. Teutuleh nyan na jih kira-kira abad keu 5. Saboh seunalen nyang na kheueh teujeumahan nyang geupubuet le ureueng-ureueng Kristen nibak abad nyang keu II, nyang hana meulaen ngon versi Injil nyang na bak tanyoe jinyoe.

Ngon teumita dan meuteume geunulong-geunulong tuha nyoe ngon nyan teuma jeuet keutanda bahwa Alkitab nyan aseuli nibak cara nyang keubiet luwabiasa. Keubiet luwabiasa that dipat Kitab Illahi nyoe hase sapeuejak ngon seujarah trok ubak soai-soai ubit. Kamoe meuharab bahwa mantong le that meuteume lom teuma na lom. Seujana-seujana nyang teungoh meuuseuha ngon biet-biet that nibak buet-buet nyang geukueh le awaknyan keugeumita laju, dan nibak meubagoe peukara teuma teutunyok ubak saboh keunyataan bahwa hanale landasan nibak ureueng-ureueeng nyang galak jikritek meunan cit nyang teuntang/ jilawan Peunajian Baroe dan watee atranyan teutuleh. Hana peureulee teusangsi atawa khawate keuhainyan, keuhai sisuai nibak hase meuteume nyan ngon Alkitab ka jeuet keusaboh bukeuti paleng kong ateuh keuhai aseuli ileuham illahi dan keujujoeran nyang tuleh nyan.

Dr.Albright, sidroe malem nibak barang-barang tuha (purbakala) geupeugah, "Ngon na meuteume-meuteume nyang di Qumran nyan, ngon nyan teuma tanyoe hase yaken bahwa Peujanjian Baroe nyang na jinoenyoe saban ngon watee teutuleh dan asoe jih na kheueh seumeubeuet-seumeubeuet Almaseh ngon mured-mured Gobnyan. Watee teutuleh nyan na nibak priode phon thon 25 ngon 80."
Phon watee ilee, Kitab Suci ka jiseurang seuhabeh seunaga le kawom ateis ngon ureueng kaphe sabab hana sapeue kheun ngon peundapat awaknyan. Jai that lamkawan awaknyan jiuseuha ngon kreuh that mangat jiteume sapeue-sapeue nibak peuninggalan-peuninggalan tuha meunan cit prasasti-prasasti nyang meulaen ngon Kitab Suci, teuma, peu-peue nyang meuteume nyan seubalek jih leubeh teupeukong lom Kitab suci dan awaknyan keubiet meutamah keucewa. Prasasti-prasasti nyang jiteume le malem-malem beunda tuha di Palestina meunan cit di Mesopotamia, nyan banmandum teupeukong asoe, Alkitab lom sampoe ubak kawom ateis nyan jipeucaya (meuiman), sabab prasasti-prasasti jeuet keusamsi keuhai suci lom aseuli asoe Alkitab.
Le ureueng-ureueng malem ubak ileume purbakala kayem that meukeuyakenan bahwa tuleh teumuleh gohlom teupeuguna gohlom teupeuguna ldi Palestina sigohlom thon 540 Maseuhi. Nyoe meumakna bahsa Nabi Musa meusajan ngon nyang laen nyan nyang na lam Peujanjian awai hana geutuleh kitab-kitab nyang geujok bak awaknyan. Kawom nyang hana meuiman meupeundapat bahwa nyang tuleh Kitab Torat jipeurayeuk-rayeuk atawa jipujoe-pujoe peuristiwa seujarah meunan cit teupeutrok budaya nyang na niba Timu Teungoh nibak keumalon nyang hana paih (hana cocok) ngon kitab-kitab awaknyan ngon peu-peue nyang meuteume le malem-malem seujarah tuha.
Pakriban kheueh mantong, meuteume-meuteume nyang baroe nyoe ka teutulak ngon abeh mandum keuhai peundapat nyan watee awaknyan jipeuteugaiah lom keuhai aseuli aseuli kitab-kitab Illahi nibak teutuleh nyan keuhai budaya di nanggroe Meuse. Babilonia dan Siria. Dan jipeubeutoi peue nyang jipeugah keuhai Sanherib, Tiglant, Pileser, Nebukadnezar dan nyang laen-laen nyan.
Tanyoe wajeb meusyukoe ngon na jih meuteume-meuteume naseukah nyoe, tanyoe geubrie watee atawa keuseumpatan mangat jeuet takalon keudroe leumpeng-leumpeng nyang asoe jih surat-surat nyang ka lheueh geupuguna le Nabi Musa. Yosua, Yesaya, Samuel dan laen-laen. Meunan cit tanyoe teupeuyaken bahwa haituleh teumuleh ka meuteume seumeunjak phon Nabi lbrahim, Nabi Musa ngon Nabi Ayub meunan cit ngon Nabi Nehemia saban lagee nyang na jinonyoe.
Tanyoe pih meubahgia that lagee nyang geupeugah le Almaseh lagee nyoe, "Batee-batee teuma jipeugah haba", nyan ka teupeugeunab nibak watee geutanyoenyoe. Batee-batee nyan ka jimeututoe lagee meuteume jih prasasti-prasasti nyang na teutuleh di ateuh jih, jitamong keunan rab banmandum peuristiwa nyang na teupeugah lam Alkitab:
Kisah Peucebta.

Prasasti-prasasti Babilonia dan Asyur meuasoe ngon kisah-kisah peuncebta nyang nibak gileran jih saban ngon asoe Alkitab, nyang meulaen nibak padub-padubboh hai ubit. Alkitab na teutuleh: " Teuma Po teu Allah geupeujeuet beunda ngon peutrang bandua nyan rayeuek, na kheueh, nyang leubeh rayeuek jikuasa uroe dan nyang leubeh ubit jikuasa malam, dan meunan cit geupeujeuet teuma bintang-bintang" (Keujadian 1:16). Prasasti Babiloni su jih lageenyoe: " Po teu Allah geucebta nebulae ( na kheueh 'Sagob nyang meucahya') dan bintang-bintang". Meunan cit Alkitab teupeugah Allah geucebta beulatang peulara ngon beulatang meulata ngon meubagoe jeuneh beulatang kleut, meunurot jeuneh maseng-maseng" (Keuj.l :24), dan Prasasti Babilonia teupeugah lageenyoe: "beulatang-beulatang nyoe geucebta le dewa-dewa." ...Alkitab teupeugah lom, '"TUHAN Allah geubantuek hi manusia nibak tanoh". (Keuj.2:7), seudangkan versi Babilonia su jih lageenyoe: "dewa Mardokh geucebta manusia nibak asoe ngon tuleueng-tuleueng".

Monotheisme dan Polytheisme

Alkitab ngon teugaih teupeugah bahwa manusia ka murtad, ka jipeutuwoe Po teu Allah nyang udeb dan jipujoe dewa-dewa, nyang kheueh sabab jih nabi-nabi geuilah daya geupeuriwang awaknyan mangat jiseumah Allah mantong; laen haijih ngon kawom nyang hana jipeucaya meupeundapat laen, bahwa manusia phon awai kon ka jiseumah dewa-dewa nyang le. Peundapat nyoe teutab na lamkawan ureueng rame sampoe trok ubak Dr.Herbert sidroe ureueng ahli purbakala lom teuma Guree Syhiek nibak bideueng dan syur nibak Universitaih Oxford jitulak gobnyan. Gobnyan geupeugah bahwa keulazeman teuseumah ubak sidroe Tuhan nibak kawom bansa Sem dan Sumeria kana sigohlom keubiasaan teuseumah dewa-dewa.

Nyang-nyang meuteume nyangka u likot nyoe, hase teutulak waham nyang ka lazem lamkawan ceudekiawan nyang peugah bahwa keubiasaan teuseumah sidroe Tuhan lam agama Yahudi hana meuteume sigohlom hainyan geupeugah le nabi-nabi nibak abad nyang keutujoh (7) ngon abad keulapan (8) sigohlom Masehi. Na dan jai that ileuham teupeubeutoi bahwa Nabi Musa ka geupeurunoe keuesaan Po teu Allah sigohlom bansa Ibrani jitamong lam ,tanoh Kanaan.

Kisah Le Raya

Ieleume purbakala ka teubrie keugeutanyoe saboh hai kisah le raya (le beuna) nyang luwabiasa nibak prasasti-prasasti Babilonia, nyang paih lagee asoe kitab Keujadian. Bandua nyan teupeugah disinan bahwa le beuna nyan na paih lagee nyang geureuncana le Illahi. Bandua nyan nyang teupeugah tokoh nibak wateenyan atawa kisah nibak wateenyan nyang geu peuingat teuka bala raya lam donya; dan oh ka leueh geupeusampoe peuingat nyang peureulee nyan, gobnyan laju geupeuget saboh kapai keugobnyan meusajan ngon keuluarga geuh. Oh lheuehnyan gobnyan laju geupeu dieng beulatang-belatang lam kapai nyan sijudoe keue tieb-tieb jeuneh jih meukeusut jih mangat teupeulara keuturonan udeb awaknyan. Matee le beuna nyan ka surot, le pahlawannyan laju geupeu lheueh cicem-cicem mangat teuteupeue peu kheueh le ka biet-biet surot. Oh ka lheueh le beuna nyan hana le, gobnyan laju geupeuseumah keureubeuen ubak Po teu Allah nyang geujaweueb ngon geupeujanji keuseulamatan geugobnyan.

Ur Kasim

Sigohlom teupeuna atawa teupeubuet buet teukueh-kueh tanoh di Mesopotamia, le seujana-seujana Alkitab hana geuteupeue jai that keuhai meukeumang budaya ngon peuradaban nyang na disinan.Sibeuna jih ateuh atawa lam blang beulantara nyoe, ka lheueh na Keubon Syeuruga (taman firdaus) ngon krueng-krueng le jih ilee meunan cit na saboh banda rayeuk nibak saboh bansa ngon peuradaban nyang keubiet hireuen leumpah na (sabab get that). Teukhuh-khuh nyang laju jikhuh nibak teumpat nyoe inan teupeugah bahwa nibak jameun ilee sijeumelah ureueng Sumerea jijak ubak teumpat nyoe oh lheuehnyan laju teutab ngon geupeudong saboh keubudayaan nyang rayeuek. Nyan paih lagee agama awaknyan, ureueng Sumeria nyoe teuturi sibagoe bansa nyang jiseumah ubak dewa-dewa nyang le. Tieb-tieb keuluarga na dewa droe jih maseng-maseng. Hai nyoe jeuet keuteupeutrang pie Rahel watee gobnyan geucue dewa-dewa ayah gobnyan Laban sigohlom gobnyan geupeuplueng droe ngon lakoe gobnyan Nabi Yakub.

Ngon na teukhuh nyoe pih jeuet sibagoe bukeuti bahwa Nabi Ibrahim kon kheueh sidroe syeh nibak sukee teuaseng nyang tinggai jih lam khimah-khimah, teuma gobnyan jitamong lam saboh sukee bansa ngon peuradaban jih ka manyang that nyang udeb di Haran.

Banmandum nyoe paih lagee kitab Keujadian 11:28-31. Meunyoe tasimak meuneujak Nabi Ibrahim nyang meunan panyang that, laju deuh takalon bahwa bapak nibak ureueng nyang seutiawan nyoe geulewat Dothan, Bethel dan Shikkhem, banda-da banda lagee nyang teupeugah lam Alkitab. Seulaen nibak nyan ruengka-ruengka reuloh nyang na meuteume di Palestina lamhai ngon Alkitab nyan aseuli. Inan teupeugah bak saboh daerah nyang na nibak Laot Mate, bak teumpat Nabi Ibrahim na geutinggai sikeujab, nyang peunduduek disinan padek that meunan cit meubagoe ragam nibak jameun Nabi Ibrahim.

Kisah Nabi Yusuf

Nabi Yusuf na kheueh keureubeuen buet nyang keujam le syedara-syedara gobnyan keudroe. Gobnyan jipubloe ubak kafilah Meuse. Sabab gobnyan hana meusalah dan gobnyan na kheueh ureueng beutoi, Allah laju geupeujeuet peungalaman phet geuh nyan jeuet keubeureukat. Gobnyan jiteurimong dikeue raja Fira'un nyang oh lheuh nyan le Raja Fira' un nyan geubai'at gobnyan jeuet keue ulee beundahara neugahra lam nanggroe Mouse nyan. Kisah nyoe teupeubeutoi teuma nyang na meuteume lam leumpeng nyang meuteume lam jrat sidroe ureueng Meuse nyang meusyeuhu ngon meugah lom nyang udeb saboh jameun ngon Nabi Yusuf. Le seujana-seujana geukalon nibak meuteume leumpeng nyoe bahwa watee museum deuek nyang keubiet that gli nyang na teujadi nibak jauem ngon neugahra ka geubagi-bagi peunajoh nyang ka geupeusapat le beundahara nibak thon-thon meulimpah hase nanggroe dan sibagoe meuneubrie nanggroe geucok le neugahra hase atra keukayaan pribadi. Palorannyoe paih lagee nyang na teutuleh lam kitab Keujadian 47:18-22.

Bansa Ibrani jicok keunamiet di nanggroe Meuse

Saboh patong batee nyang jipeuget le bansa Ibrani nyang teungoh jipeudong saboh kuil keue Raja Fira'un nibak Jameun Thotmes III, meuteume di nanggroe Meuse. Nibak dubnyan le rhuengka-rhuengka nyang reuloh laen, laju meuteume binteh-binteh nyang teubaijih trok 8 gaki nyang teupeuget nibak jeumpung ngon tanoh kliet nyang teuadee mangat tho dimiyueb mata uroe nyang sou uem. Meuteumenyoe jeuet keusaboh keunyataan lagee nyang na meurumpok lam kitab Keluaran 5:7.

Jiteubiet bansa Ibrani nibak nanggroe Meuse.

Na saboh leumpeng nyang meuteume nibak Tell El Amarna thon 1888 ngon prasasti nyang teutuleh nibak gaya teumuleh tuha (kuno) lam (hi, bantuek baji), teupeugah bahwa Gubenur Palestina geukirem leumpeng-leumpeng nyan ubak Fira'un nyang asoe jih teulakee bantu (tulong) keuji muprang sabab jiprang le bansa nyang meugah ngon nan bansa Ibrani.

Nabi Musa ngon hukom Torat.

Na saboh peundapat nyang ka lazem jiteurimong le padub-padub droe seujana bahwa hukom Torat na oh ka lheueh jameun Nabi Musa. Teuma rot teumita ngon cara teukhueh rungka-rungka nyang reuloh di miyueb pimpenan Morgan thon 1884 teupeubeutoi Alkitab ngon cara geupeugah bahwa hukom Torat teujok rot Nabi Musa. Awaknyan meuteume saboh hareuta karon nyang na kheueh naseukah-naseukah nibak meuligoe Shusushan, lagee nyang teupeugah lam kitab Ester. Naseukah-naseukah nyoe keubiet that teupeukong lom asoe Alkitab keuhai hukom Torat nibak Nabi Musa.

Tutoe Alkitab keuhai padub-padubboh rumpon bansa tuha. (pateuen syiek)

Nibak Ras Shamra na padub ploh mil jioh jih di utara Lataqiah di Syria na meuteume beukaih-beukaih banda Ugarit. Banda nyoe teupeudong thon 2000 sigohlom Masehi. Meureutoh leumpeng-leumpeng nyang meuteume nyan paih lagee nyang teupeugah lam Alkitab keuhai bansa Het, Hewi dan Peris.

Leumpeng-leumpeng ureueng Meuse teupeugah bahwa bansa Het nyan na.

Hana treb teuma oh lheueh nyan, le malem-malem keuhai seujarah geusangsi teuma bahwa bansa Het nyan na, seudangkan Alkitab teutuleh bahwa Nabi Ibrahim geubloe saboh guha nibak Makhpela keuteumpat teupeukubu purumoh gobnyan, na kheueh Sarah. Keujadian 23:21. Keuhai sangsi ngon ragu-ragunyoe laju gadoih watee catetan keuhai bansa Het meuteume ateuh leupeng tuha bansa Meuse. Na saboh catetan lamkawan nyan teupeugah bahwa muprang nyang gunjak that bansa Het ngon pasokan Ramses II bak bineh Kadesh nibak thon 1287 sigohlom thon Masehi.
Al qur'an geupeugah teuma keuhai aseuli jih naseukah illahi. Awaknyan nyang beuet nyan teuma takjob ngon teuhireuen-hireuen ateuh keusaksian nyang jujoe nyan, meunan cit that-that trang ngon nyan teumahana peureulee le teutafeuse, peungakuan nyoe teuulang lom nibak padub-padub boh surat Gobnyan lagee nyang teupeugah dimiyueb nyoe:
"Sikeubiet jih kamoe ka kamoe peutron kitab Torat, lam nyan na peutunyok ngon cahaya (nur), dan nabi-nabi nyang tundok ubak Po teu Allah geumeuhukom ngon kitab Torat nyan, ateuh ureueng-ureueng Yahudi, dan (meunan cit) teuma ulama ngon ulee-ulee agama, sabab awaknyan jihafai kitab Allah dan awaknyan jeuet keusaksi ateuh nyang lageenyan bagoe" (Surat Almaidah 44). "Kamoe peutron lom berkas awaknyan ngon cara (teukirem) Isa Ben Maryam nyang geupeubeutoi (kitab) nyang na dikeue gobnyan, na kheueh Torat, dan kamoe jok keujih nyan kitab Injil, lamnyan na peutunyok ngon cahaya (nur) meunan cit teupeubeutoi (kitab) nyang dikeue gobnyan na kheueh Torat dan jeuet keuputunyok ngon peulajaran keu ureueng-ureueng nyang taqwa" (Surat Almaidah 46).

"Kamoe ka meupeutrok Kitab keue gata (ya Muhammad) ngon (teuba) keubeunaran nyang teupeubeutoi kitab nyang dikeue gobnyan meunan cit geu kawai teuma, le sababnyan hukom kheueh lamkawan awaknyan meunurot peue nyang geupeutron le Allah" ( Surat Almaidah 48).
Nibak ayat nyang teukuteb phon that, Alqur'an teupeusaksi keuaseulijih kitab Torat; saboh peubimbeng nyang beutoi nibak teuhadab ubak buet nyang sisat atawa buet nyang salah lom saboh cahaya (nur) nibak teupeugah keuhai masalah-masalah nyang haroh teugareh le nabi-nabi, nyan paih lagee kitab Allah nyang teupeucaya ubak awaknyan meunan cit keukeubeunaran keusaksian awaknyan keudroe. Ayat kutepan nyang keudua na kheueh sibagoe peunyataan bahwa Almaseh geupeugah kitab Torat nyan beutoi meunan cit ngon Injil Gobnyan nyan, nyang na kheueh peubimbeng, cahaya ngon peuingat, teupeubeutoi kitab nyang ka geupeutron leubeh awai nibak nyang ka awai, dan geutunyok jeuet keu nyang kawai nyan, lom siab geupeusidang le Allah ngon peue nyang geutunyok lam nyan, sikeubiet jih teutunyok ubak kitab Torat ngon Injil.
Nibak teupeusah kitab Torat ngon Injil, Al qur'an seulanjut jih teuhoi awaknyan nyang mumat ubak bandua kitab nyan, mangat jeuet teumumat-mat beukong nibak nyang teupeurunoe nyan lom teuma keuhai nyan na su lagee nyan.
"Peugah kheueh, 'He malem kitab, gata kon ateuh sapeue-sapeue (keubeunaran) laenhai meunyoe gata tatem turot kitab Torat ngon Injil dan peue-peue nyang geupeutron nyan ubak gata nibak Tuhan gata" (Surat Almaidah 68). Meunan cit le Al qur'an geupeuingat awaknyan nyang mumat bak Injil mangat jipeudong keuadelan nyang na lam kitab awaknyan lom cit teugamba teuma awaknyan nyang hana jipakoe hainyoe sibagoe ureueng meusalah. Geupeugah lom, "Bah kheueh malem Injil jimeuhukom meunurot nyang geupeutron le Allah lam Injil nyan. Barang sigasoe nyang hana meuhukom meunurot nyang geupeutron le Allah, awaknyan nakheueh ureueng-ureueng fas'ek" (Surat Almaidah 47).
"He ureueng-ureueng nyang meuiman, meuiman kheueh gata ubak Allah dan Rasui-rasui gobnyan dan ubak kitab nyang geupeutron le Gobnyan ubak Rasui geuh (Muhammad) dan ubak kitab nyang geupeutron sigohlom nyan. Barang sigasoe nyang kaphe (iengkeue) ubak Allah, mailakat Gobnyan, rasui-rasui Gobnyan dan ubak uroe kiamat (uroe dudoe,red), ngon nyan sikeubiet jih ka sisat jihnyan ngon sisat nyang 'jioh." (Surat Annissa 136).
Ngon dasai ubak peue nyang na di ateueh, ngon nyan trang kheueh:
Al qur'an teubrie naseuhat ubak ureueng-ureueng Kristen (ummat kitab), mangat teutab jimumat ubak peurintah kitab Torat ngon Injil, hainyoe jeuet keu saboh teuangkee (teuaku) leungkab nyang haroih jipatuh ateuh keuhai aeuli dan intergritaih bandua boh kitab nyan lagee toh bandua nyan jeuet keukuta (ngon peuteun) droe ureueng meuiman nibak keuseulamatan, nibak kheueh keubeunaran dan sigoe guih meuasoe peutunyok-peutunyok ngon prilaku nyang teupat.

Al qur'an geupeurintah bak mandum ureueng meuiman jitamong cit keunan kawom Muslem, peucaya lam Al qur'an meunan cit lam Kitab nyang geupeutron sigohlom nyan, miseujih Torat ngon Injil. Hainyoe ka jeuet keusaboh keuwajeban nyang trang nibak kawom Muslimin mangat geuteurimong ngon geupeucaya lsm Torat ngon Injil dan nyoe meumakna ka jeuet teupeubuet saboh ayat nyang na lam Al qur'an nyang teutuleh lageenyoe.
"Keue awaknyan ka kamoe brie / anugeurah Alkitab, hukom meunan cit ngon pangkat keunabian, meunyoe awaknyan kaphe (hana meuiman) ubak gobnyan, ngon nyan Kamoe ka kamoe keubah kawom nyang laen nyang bukon ureueng-ureueng kaphe. Awaknyan na kheueh ureueng-ureueng nyang geutanyok le Po teu Allah, le sababnyan seutot kheueh peutunyok awaknyan nyan" (Surat Al An'Am 89,90).
Al Qur'an jituri keumampuan wewenang Alkitab nibak teuukoe seucara beutoi hai-hai lam bideunge keurohanian, lagee nyang teupeugah ubak Muhammad.
"Pakriban kheueh awaknyan jilakee hukom bak gata, sabab bak bineh awaknyan na kitab Torat, lam nyan na Hukom Allah, oh lheuehnyan awaknyan meupaleng oh lheuehnyan. Kon kheueh awaknyan mandum ureueng-ureueng meuiman." (Surat Almaidah 43).
Ayat nyoe teutunyok bahwa awaknyan nyang mumat ubak peurintah-peurintah lam Alkitab, hana peureulee le jimita peutunyok-peutunyok nibak kitab nyang laen. Sabab awaknyan nyang meupaleng nibak kitab Illahi oh ka lheueh jimuphom ubak keubeunaran nyang na lam nyan, teugamba sibagoe ureueng-ureueng nyang hana meuiman.
"Peugah kheueh (ya Muhammad) Teuma gata tunyok kheueh (gata jok kheuh) saboh Alkitab nibak bineh Allah nyang leubeh get nibak bandua nyan. (Torat dan Al qur'an) (meunyoe na) ulon pih kusitot ngon jihnyan. Meunyoe gata ureueng beutoi" (Surat Al Qashash 49).
Ayat nyoe teujok peutunyok bak Muhammad, peue nyang haroih gobnyan peugah bak ureueng-ureueng nyang tulak haba saban lagee awaknyan ka jitulak meulakee Nabi Musa sigohlom nyan, miseujih keuteuba feureuman nibak Po teu Allah nibak teujok bembengan nyang leubeh trang lom nibak Alkitab ngon Al Qur'an.
"Kamoe hana meukirem sigohlom gata (ya Muhammad) seulaen padub-padub droe ureueng agam, nyang kamoe wahyu bak awaknyan. Le sababnyan gata tanyong kheueh ubak ureueng nyang malem kitab (Torat ngon Injil), meunyoe gata hana meuteupeue" (Surat An Nahl 43).
Lam kitab tafeuse Jalalaen teutuleh lagee nyoe: "Ureueng-ureueng nyang anut Hikeumah na kheueh ureueng nyang ka jimeurunoe Torat ngon Injil. Meunyoe gata gohlom tateupeue dan gata teuma leubeh tapeucaya awaknyan nibak mured-mured (peuimkot-peuikot) Muhammad" (Lalalan, leuen 357).
Sikeubiet jih ayat nyoe na kheueh saboh keusaksian nyang trang bahwa Rasui-rasui Allah meunan cit ngon Nabi Gobnyan nyang tuleh "Peuingat" ka geupeubuet ngon ileuham nyang geupimpen le Roh Kudus. Meusajan ngon ayat-ayat laen nyang takuteb, ayatnyoe teupeubeutoi bahwa Al Qur'an geukalon Alkitab tanyoe sibagoe peutunyok, trang peuingat, peurintah Allah ngon ileuham Gobnyan. Kon kheueh nyoe saboh peungakuan Al Qur'an bahwa Alkitab tanyoe na kheueh aseuli dan ngon nyan teuma hana teuseuleweng? Lam hainyoe awaknyan saboh kheun ngon rasui-rasui Almaseh nibak keusaksian awaknyan keuhai keuaseuli jih Alkitab meunan cit ngon peuwahyu jih. Rasui Paulus na geupeugah lagee nyoe:
"Banmandum tulehsan nyang geu ileuham le Po teu Allah keubeit rayeuk that syeufeu'at keuteupeurunoe, keuteupeugah salah droe, keuteupeuget pie nyang brok meunan cit keuteudidek ureueng nyang na lam keuadaan, nyang beutoi. Ngon nyan tieb-tieb ureueng na kheueh atra Po teu Allah ka geupeuleungkab teuma keutieb-tieb buet nyang jroh" ( II Timotius 3:16,17).
Nyoe kheueh sabab jih ureueng Kristen geuteurimong Peujanjian Awai nyang seuleusoe teususon nibak thon 400 sigohlom thon Maseuhi. Bansa Yahudi jipeuweuek Kitab Peujanjian Awai nyoe nibak lhee boh jeumba lagee teupeugah nyoe:
Kitab Torat, na limong boh kitab nyang geutuleh le Nabi Musa, na kheueh kitab Keujadian, Keuluaran, Imeum-imeum, Teubileueng ngon Teuulang, nyang phon awaikon ka teuanggab sibagoe kitab-kitab kudus (suci). Jihoreumat ngon jipujoe sabab meuasoe siploh peurintah Allah, meunan cit ngon janji-janji Gobnyan keumanusia.

Kitab Nabi-nabi, teupeuweuek teuma lam dua boh jeumba; na kheueh Kitab Yosua, Hakem-hakem, Samuel ngon Raja-raja nibak pihak laen. Lheuehnyan Kitab Yesaya, Yeremia, Yehezkiel, Hosea, Yoel, Amos, Obaja, Yunus, Mikha, Hanum, Habakuk, Zefanya, Hagai, Zakharia dan Maleakhi blah nyang laen.

Tulehsan-tulehsan lagee kitab Zabur, Amsal, Ayub, Daniel, Esra, Nehemia, Tawarikh, Kidung Agong, Rut, Peumoe bae (meuratok), Yeremia, Peukhutubah dan Ester. Seuhubongan ngon kitab-kitab nyang na nibak Peujanjian Baroe, seujana-seujana ka sipeue kheun, bahwa kitab-kitab nyan teutuleh ngon teususon bak watee le that mured Amasel nyang ka geudeungoe jikalon Gobnyan mantong udeb. Peujanjian Baroe teupeu weuek teuma lam padub-padub boh jeumba na kheuh nibak peuet boh.kitab Injil, Kisah Rasui-rasui, surat-surat Paulus, surat-surat Peutrus, Surat-surat Yakobus, Yahya, Yudas (Yahuza) dan kitab Wahyu.
Meunan kheueh saboh ringkasan asoe Alkitab nyang geupeuwahyu le Allah rot ureueng-ureueng suci Gobnyan. Allah ka geujaga nyan ngon peurati geuh keubiet rayeuk that. Gobnyan geupileh ureueng-ureueng seutiawan mangat jituleh peue-peue nyang Gobnyan peugah, meunan cit jitamong keunan keuteujeumah u lam meubagoe basa lam donyanyoe. Ngon nyan hana teuragule ngon meutabu (meusipreuek) Alkitab jinoenyoe, nyang meunurot hitongan na 1400 basa ngon dialek, nyan sibagoe bukeuti bahwa Allah ka geukawai ngon biet-biet teuliti keuhai feureuman Gobnyan meunan cit geujaga teuma keue siumumasa.
Sikeubiet jih bansa-bansa teuma jibeudoh laju gadoh, basa teuma mate meunan cit donya teuma meuubah, teuma Alkitab nyang leumpah ceudah nyan teuma teutab udeb (teutab na), sabab nyan asoe jih feureuman Allah keu tieb-tieb ureueng agam meunan cit ureueng inong, agam ngon inong, nibak meubagoe watee ngon teumpat, nyang ulon menkeusut na kheueh haba keuseulamatan rot Isa Almaseh nyang geupeujok keue mandum umat manusia; bah keue awaknyan nyang meuk ulet puteh itam meunan cit nyang meukulet puteh keumandum bansa. ngon basa. Na kuasa nyang udeb lam kitab Allah, nyang brie kuasa ubak mandum ureueng nyang jiteurimong Isa Almaseh sibagoe juree seulamat rot Iman, jipeujeuet keue aneuek-aneuek Allah.
Oh ka lheueh teupeutrang hai-hai nyang paleng peunteng lagee nyang ka teupeugah, kamoe pih meurasa peureulee teupeusampoe teumanyong ubak awaknyan nyang meupeundapat bahwa Alkitab nyan ka jipeuseuleweng, mangat jijok bukeuti nyang ilmiyah meunan cit ngon seujarah, keuhai dipat peuleusu nyan na.
Meunyoe awaknyan jipeugah peuristiwa nyan na sigohlom Almaseh, teuma jeunaweueb kamoe na kheueh Almaseh geukalon keudroe keuaseulijih Kitab Suci rot padub-padubboh cuntoh dimiyueb nyoe:
Ngon teukuteb nubuat-nubuat keuhai droe Gobnyan.

Miseujih nubuat nabi Yesaya nyang geukuteb le Almaseh lam Sinagoge di Nazaret nyang sujih na kheueh lageenyoe; "Roh Tuhan ALLAH na bak ulon, le sabab Tuhan ka geuurab ulon (geupeusijuek); Gobnyan ka geukirem ulon mangat lon peusampoe haba get keue ureueng-ureueng seungsara, dan teurawat / teupeuubat ureueng-ureueng nyang ate jih ka reumok, keuteupeu sampoe haba teupeubeubaih / teupeu lheueh ureueng-ureueng nyang na lam rumoh glab / peunjara, teupeusampoe thon rahmat TUHAN meunan cit ngon uroe teubalaih / uroe page Allah tanyoe, meunan cit mangat teupeumangat ate ureueng-ureueng nyang meukabong / meudukacita" (Yesaya 6l : 1-2).

Lukas, nyang tuleh kitab Injil geupeusampoe ubak geutanyoe, oh ka lheueh Almaseh geubeuet nubuat keuhai droe gobnyan, Gobnyan geupeugah ubak mandum nyang deungoe geuhnyan: "Bak uroenyoe geunab kheueh nastnyoe watee gala tadeungoe." (Lukas 4:21).

Ngon cara teubrie naseuhat keue bansa Yahudi jibeuet kitab suci meunan nan cit jitamah ileuleume peungeutahuan nibak gobnyan dan Gobnyan geupeugah:

"Gata taseulidek kitab-kitab suci, sabab gata tasangka bahwa le Gobnyan gata na udeb nyang keukai, teuma bahpih kitab-kitab suci nyan teujok keusaksian keuhai Ulon". (Yahya 5:29).

Ngon cara teuseugah ureueng Saduki sabab hana jiteupeue le awaknyan ate ateuh Kitab Suci watee gobnyan geupeugah bak awaknyan, "Gata sisat, nyang kheueh le sabab gata hana muphom Kitab Suci meunan cit ngon kuasa Allah." (Markus 12:24).

Ngon teupeuguna kitab Suci sibagoe sinjata keungon teulawan jirayu le iblih. Tanyoe tabeuet bahwa Almaseh geurasa keudroe ngon geulawan jirayu le iblih nibak padang guron atawa padang beulantara di Yordan ngon teukuteb ayat ayat Alkitab. Nibak godaan phon, Gobnyan geujaweueb, "Bahwa manusia udeb kon nibak ruti mantong, teuma manusia udeb nibak banmandum nyang geufeureuman le TUHAN" (Ulangan 8:3). Teuhadab ubak cubaan nyang keudua, jaweueb Gobnyan, "Bek kheueh gata ta ujoe TUHAN, Allah gata" (Ulangan 6:16). Dan teuhadab ubak cubaan nyang keu lhee Gobnyan pih meunang ngon geupeugah, "Na teutuleh, 'Gata haroih teumakot ubak TUHA.N, Allah gata, ubak Gobnyan mantong kheueh gata meuibadat'" (Ulangan 6:13).
Le Rasui-rasui Almaseh, meunan cit teusitot rot jak guree atawa teusitot bakat awaknyan ngon cara teukateb nubuat-nubuat Peujanjian Awai nibak teupeuyaken keuhai tulehsan-tulehsan awaknyan. Sibagoe cuntoh, watee teupeugah keuhai Yudas (Yahuda) mate Iskariot mate, awaknyan jipeugah, "Sabab na teutuleh lam kitab Zabur: Bah kheueh khimah-khimah jeuet keusungue, dan bah kheueh hana le nyang tinggai lam khimah nyan; lom bah kheueh jabatan geuhnyan jicok le ureueng laen." (Kisah Rasui-rasui 1:20 dan Zabur 109:8).
Watee awaknyan meututoe keuhai Roh Kudus nibak uroe Pentakosta, jipeugah, "Teuma nyan kheueh nyang geufeureuman le Allah ngon peurantara Nabi Yoel: Teuma nibak uroe-uroe keuneu lheueh meunan kheueh feureuman Allah bahwa Ulon teuma Lon rho Roh Ulon u ateuh banmandum manusia; ngon nyan aneuek-aneuek gata bah nyang agam meunan cit nyang inong teuma jimeunubuat dan nyang paleng phon that teuma meuteume jikeumalon-keumalon, dan ureueng-ureueng gata nyang tuha meuteume lumpoe atawa meulumpoe. Meunan cit u ateuh hamba-hamba Lon agam ngon inong teuma Ulon peuroe Roh Ulon nibak uroe-uroe nyan dan awaknyan teuma jimeunubuat" (Kisah Rasui 2:16-18 dan Yoel 2:28-29).
Mungken Almaseh ngon rasui-rasui Gobnyan nyang teu ileuham nyan haroih meuuseuha dan teupeubeutoi keurasulan ngon ajaran-ajaran Gobnyan ngon cara teukuteb Alkitab nyang ka teupeuleusu dan oh lheuehnyan geuyue ureueng mangat jibeuet ngon jimumat ubak peurintah-peurintah nyan nyang na lam nyan? Soe kheueh nyang jijeuet jipeugah bahwa Almaseh ngon Rasui Gobnyan gohlom jiteupeue na teupeuleusu sampoe akhejih teukuteb nyan sabab le hana jiteupeue awaknyan? Seukira jih na sidroe-droe ureueng atawa keupeucayaan nyang jimeuanggab lagee nyan, nyan meumakna jihnyan ka jipeubeutoi keuaseulijih nyang teuileuham ubak rasui-rasui meunan cit nabi-nabi nyan ka trang teutunyok ubak laloe jih Po teu Allah nibak geujaga Kitab Gobnyan. Leubeh nibak nyan, teuanggab nyang lageenyan bagoe keubiet leubeh jai teunoda atawa teupeukutoe ubak Al Qur'an, sabab jai that ayat-ayat nyang na lam nyan nyang jikalon keudroe keuhai aseuli Kitab Suci nyan.
Meunyoe na ureueng nyang jimumat ubak waham bahwa Alkitab nyan na jipeueusu, teupeugah bahwa bansa Yahudi ka jitamah ngon padub-padubboh bagian nibak Peujanjian Awai oh ka lheueh jameun Almaseh, teuma hainyan hana mungken teujadi sabab banmanddum Peujanjian Awai kana lam jaroe ureueng Kristen. Seukirajih hainyan pih teujadi, hainyan pasti teuma jipeugah le ureueng-ureueng Kristen, teuma dilikotilyan meunyoe awaknyan jipeugah bahwa ureueng Kristen nyang peuleusu Alkitab jeunaweueb kamoe na kheueh, useuha nyang lageenyan bagoe hana mungken, meunyoe biet na teujadi ngon hana teusaja, kon kheueh hainyan teuma jeuet keu alasan nyang kong ureueng Yahudi keujijak prang ureueng-ureueng Kristen ?
Meunyoe awaknyan nyang jipateh bahwa keubiet na "teupeuleusu" jeuet keupeundapat bahwa hainyan bahwa hainyan jipubuet le ureuang Yahudi ngon ureueng Kristen nyang ka sipakat dan oh lheuehnyan salengjirhom tanggong jaweueb keuhai teupeuleusu nyan, keubiet ka teupeu jeuet droe awaknyan keudroe sibagoe bahan keujihina, sabab ureueng Yahudi nyang yoh awaikon ka jimeumusoh ngon ureueng Kristen dan hana jiaku keuhai Almaseh teuka lom teuma, kateuntee teuma hana jimeusikutu ngon ureueng-ureueng Kristen.
Seukira jih keuhana mungken nyoe teujadi, peu kheueh hana ureueng Yahudi teuma jilakee mangat banmandum jeumba keuteupeu mulia Almaseh atawa nyang teusangkot ngon keuilahian Gobnyan dan mandum nubuat keuhai Gobnyan keuhai teujeuleuma dan keuhai lahe Gobnyan nyang ajaeb meusajan ngon nubuat-nubuat nyang na hubongan ngon peundeuritaan. Keuhai mate ngon keuhai geubeudoh lom teuma teupeu bateue? Sabab mandum jeumba nyang teupeumulia Almaseh nyan teutab na teukandong lam Alkitab, ngon nyan teuma mandum nyang teutudoh awaknyan nyan ka jeuet keubateue dan sagai-sagai hana lagot.
Disampeng nyan mantong na saboh fakta teuk nyang hana hase teubantah le nyang anut waham "teupeuleusu" nyoe, atranyan na kheueh; phon lahe waham keu Kristenan, banmandum Kitab lam Peujanjian Awai kana lam jaroe ureueng.Yahudi ngon Kristen nibak saboh basa nyang geutuleh le ureueng-ureueng kudus Allah. Seujana-seujana ka geutilek atranyan ngon ate-ate that ngon cara geupeu bandeng banmandum seunalen nyang na nibak blaih dua pihak laju meuteume disinan bahwa seunalen-seunalen nyan paih that saboh ngon nyang laen.
Lheuehnyan kamoe meurasa wajeub keuteumanyong Pajan teupeuleusu ateuh Injil nyan na? Peu kheueh sigohlom atawa oh ka lheueh na Al Qur'an geupeutron? Meunyoe awaknyan jipeugah nyan na jih sigohlom Al Qur'an, ngon nyan Al Qur'an teupeujeuet awaknyan teukem teuseungeuh ngon male, sabab Al Qur'an gupeurintah ubak Nabi Muhammad mangat geumita sinulong nibak awaknyan nyang beuet Alkitab nibak teuhadab ubak nyang ragu-ragu lageenyan bagoe: "Meunyoe gata ragu-ragu keuhai peue nyang ka kamoe peutron ubak gata, (Ya Muhammad), leubeh get gata tanyong hainyan ubak ureueng-ureueng nyang beuet Alkitab sigohlom gata" (Surat Yunus 94).
Po teu Allah na kheueh nyang Maha geuteupeue, dan keuteu peugadoh keuhai ragu-ragunyan hana mungken nibak keubeusaran Gobnyan. Gobnyan geuarah Nabi Muhammad mangat geubeuet kitab nyang ka teupeuleusu nyan.
Nibak teukalon keu aseulijih Alkitab nyan, lam Al Qur'an laju na teupeugah lom lageenyoe, "Kamoe ka meupeutron Kitab ubak gata ( Ya Muhammad) ngon cara (teuba) keubeunaran nyang dikeue nyan meunan cit teujaga nyan" (Surat Al Maidah 48). Sidroe tukang "kawai sikeubiet jih na kheueh "Nyang jaga", dan sidroe tukang jaga na kheueh sidroe tukang lindong kitab-kitab nyang teuka nibak Allah meunan cit hukom-hukom illahi ngon keubeunaran nyang na teukandong lamnyan.
Seukirajih dugaan teuga that ubak "teupeuleusu" na jih oh ka lheueh Al Qur'an, ngon nyan teuma tieb-tieb ureueng nyang jiaku "teupeuleusu" teungah jipeugah AlQur'an sikeubiet jih teungoh atawa Al Qur'an ka hana meuhase (gagal geupeujak tugaih gobnyan sibagoe nyang jaga. Ngon haba laen, seukira jih Kitab Torat ngon Kitab Injil teupeuleusu oh ka lheueh Al Qur'an, ngon nyan teuma anggapan nyang lageenyan bagoe na kheueh sinudoh atawa saboh sinudoh langsong ateuh umat nyang mumat ubak Al Qur'an, sabab geupeulaloe tugaih paleng phon nyang geuamanat le Al Qur'an. Awaknyan nyang sikeubiet na saboh atawa dua boh seunalen Torat ngon Injil jeuet cit leubeh nibak nyan sigohlom kitab-kitab nyan teupeuleusu. Sabab tugaih nyang jaga na kheueh haroih na sapeue-sapeu keuteujaga.
Tugaih nyang lageenyoe ka geupeubuet le ureueng Kristen. Watee meuteume nubuat-nubuat keuhai Almaseh, Tuhan awaknyan lam kitab Torat, awaknyan jipeujeuet droe gobnyan tukang jaga-tukang jaga ateuh ateuhnyan dan ka teuupaya nyang paleng get nibak teutabu atawa teupeumaklum tugaih ubak bansigom donya nyang teujeumah jih sampoe trok 1400 basa. Pakon kawom Muslimin hana geuupaya hai nyang saban seudangkan awaknyan yaken that bahwa Torat ngon Injil meuasoe nubuat-nubuat ngon fakta keuhai Muhammad !
Dimiyueb nyoe na padub-padubboh ayat keuhai keuaseulijih feureuman Allah:
"Sikeubiet jih ka kamoe peutron peuingat (Qur'an) dan kamoe peulara teuma." (Surat Al Hijr 9).

"Hana nyang hase jituka kalimat-kalimat Allah." (Surat Al Anam 34).

"Hana meutuka-tuka kalimat-kalimat Allah" (Surat Yunus 64).

"(Meunan kheueh) sunnah Allah (peuratoran Gobnyan) nyang ka lewat sigohlom nyan, dan gata hana meuteume sunnah Allah nyan meu-ubah-ubah. ("Meutuka-tuka)," (Surat AI-Fath 23).

"Ka tamat kheueh kalimat Tuhan gata ngon keubeunaran ngon keuadelan. Hana kheueh nyang ubah kalimat Gobnyan; dan Gobnyan Maha geudeungoe lom Maha geuteupeue" (Surat Al An'am 115).

"Beuet kheueh (ya Muhammad) peu-peu nyang teupeuwahyu ubak gata, na kheueh kitab Tuhan gata. Hana nyang ubah kalimat Gobnyan dan gata hana meuteume teumpat meulindong seulaen nibak Gobnyan" (Surat Al Kahfi 27).
Sinamon ayat-ayat diateuh nyan nyang asoe jih janji-janji Allah bahwa hana meusidroe pih nyang hase jiubah jituka feureuman Gobnyan, sabab Gobnyan kheueh nyang wahyu ngon nyang jaga teuma.
Oh ka lheueh meuteume landasan nyoe kamoe meurasa peureulee kamoe teuma nyong. Meunyoe na saboh kawan kawom Muslimin nyang teulaah Al Qur'an seucara teupeurinci meuheuet keuneuk meurumpok ngon kawom Kitab keugeutanyong sapeu-sapeu hai lagee hai keutuhanan, nibak meuneujak awaknyan laju meurumpok teuma ngon saboh kawan nyang meuwaham "teupeuleusu" dan jipeugah bak awaknyan, "Kamoe teungoh meujak ubak kawom Kitab lagee nyang geuyue le Al Qur'an keu kamoe jak tanyong padub-padubboh hai. Peu kheueh kawom nyang jianut teupeuleusu nyoe jijeuet peugah ubak awaknyan, "Bek, sabab kitab awaknyan na kheueh peuleusu ?" Seukira jih na mungken awaknyan jijeuet peugah lageenyan, pakriban teuma keududukan awaknyan nyang peucaya nyoe? Peu kheueh awaknyan jipateh nyang meuwaham "teupeuleusu" atawa jipateh ubak Al Qur'an nyang geupeugah, 'Jak tanyong kheueh ubak ureueng-ureueng ahli Kitab (malem kitab) peue-peue nyang kureueng trang ?"
Teumanyong nyang phon nyoe ka teuba tanyoe ubak teumanyong lheuehnyan teuma: Peue kheueh nyang teuma teujadi ateuh kawom nyang anut waham "Peuleusu" nyan, seukira jih ureueng-ureueng nyang hana jipateh / Peucaya nyang ha meuhase jipeujeuet waham "peuleusu" nyan oh lheuehnyan jirhom teuma sinudoh nyan nyang saban ateuh Al Qur'an ngon cara jipeugah, Al Qur'an pih ka jipeuleusu? Peu kheueh nyang teuma awaknyan peusampoe meunan cit sinjata peue teuma nyang awaknyan peuguna keu awaknyan hadab ubak ureueng-ureueng nyang hana peucaya nyan, oh ka lheueh jipeuget saboh-saboh sagai seunjata nyang geubrie le Allah lam jaroe awaknyan. na kheueh Janji Gobnyan bahwa Gobnyan teuma geujaga ngon geulindong Kitab-kitab Suci Gobnyan nibak meubagoe hi teupeuleusu ngon jiseuleweng ?
Teumanyong nyang keu lhee; Si keub peu kheueh nyang kayem geucok le kawom Muslimin nyang geuteurimong waham nibak ureueng-ureueng nyang meuwaham teupeuleusu nyang na hubongan ngon ayat-ayat Al Qur'an lagee teupeugah nyoe: Alif laam miin. (Allah nyang teupeue meukeusut nyan). Kitab nyan, Al Qur'an hana nyang teuragu nibak geuhnyan, jeuet keuputunyok nibak ureueng-ureueng nyang taqwa. (Na kheueh) ureueng-ureueng nyang meuiman. (peucaya) ubak nyang gaeb, geupeudong seumayang dan geunafeukah siladom reuzeuki nyang Kamoe jok ubak awaknyan. Dan ureueng-ureueng nyang meuiman ubak (Kitab) nyang teupeutron ubak gata (ya Muhammad) dan (Kitab-kitab) nyang teupeutron sigohlom gata, dan awaknyan yaken keuhai na (uroe) akhirat/ uroe page. Awaknyan ateuh peutunyok nibak TUHAN jih dan awaknyan kheueh nyang teupeugah sibagoe ureueng-ureueng nyang meunang."(Surat Al Baqarah 1-5). "Peugah kheueh: Kamoe ka meuiman ubak Allah ngon (Kitab) nyang geupeutron ubak kamoe dan peue-peue nyang ka geupeutron ubak Nabi Ibrahim, Ismail, ngon Ishaq, Nabi Yakub ngon aneuek-aneuek gobnyan, ( meunan cit ubak kitab) nyang geupeutron ubak Nabi Musa dan Nabi Isa, dan peu-peu nyang geupeutron ubak nabi-nabi nibak Tuhan awaknyan, hana kheueh kamoe peubeuda meusidroe pih lamkawan awaknyan, dan kamoe patuh ubak Allah". (Surat Al Baqarah 136).
Pakriban mungken bahwa Al Qur'an geupeurintah awaknyan nyang peucaya ubak peue nyang ka teupeugah lam nyan, mangat bek teupeubeda-beda Al Qur'an awaknyan ngon Alkitab atawa kitab-kitab nyang sigohlom nyan, meunyoe kitab-kitab nyang keuneu lheueh nyoe ka teupeuleusu ngon teuubah ? Kon kheueh teupeugah na teupeuleusu nyan na kheueh hinaan atawa teuhina ateuh keuhai beutoi ngon keujujoe jih Allah?
Cok kheueh padub-padubboh seujarah sibagoe cuntoh: Banmandum ureueng nyang beuet seujarah ka teuntee ka geumeurunoe bahwa ureueng-ureueng Kristen phon nibak jameun rasui-rasui trok ubak awai phon abad nyang keu IV oh ka lheueh Maseuhi, jideurita keunong seksa ngon jianianya lam jaroe ureueng kaphe ngon ureueng Yahudi. Awaknyan jihadabnyan ngon tabah saba dan jipeujeuet donya nyoe hireuen ngon kagom that, khusosjih le nyang ienanya awaknyan. Saboh hi keuhai tabah nyang lahe nibak iman awaknyan lam kitab Injil nyang suci meunan cit nibak teuseurah droe ubak prinseb-prinseb ilahi nyang na lam nyan.
Seujarah teupeugah ubak geutanyoe, bahwa awaknyan jihadab nyan ubak mate ngon sukacita nyang deuh nibak cinta gaseh awaknyan ubak Almaseh dan taat ubak peurintah Gobnyan ubak awaknyan mangat seutia ''trok an mate" Jai that lam kawan nyan nyang teupeurhot ubak hi teuanianya nyang paleng ekujam ateuh droe awaknyan keudroe, sabab jitulak jiiengkeue ubak Almaseh atawa Injil Gobnyan ngon geusaja geupileh mate ateuh nekmat udeb nyang sikeujab nyoe.
Singkab kheueh seujarah keu Kristenan dan gata laju meurumpok ngon dubnyan le saksi nyang jiseksa dan hana jitem teurimong teupeubeubaih sabab sabab awaknyan jipandang ukeue nibak keubangketan nyang leubeh get. Peu kheueh hase sidroe-droe ureueng jipeucaya bahwa ureueng-ureueng Kristen nyang ka geupeubuet keureubeuen afong lageenyan bagoe, nyang ka meudeurita ngon tabah sabab le prinseb-prinseb Injil teuma meutualang teupeu peuleueu Injil awaknyan ?
Peu kheueh ureueng Kristen jipeubiyeue sidroe-droe ureueng peumantong pangkat jih atawa keududukan jih jiubah saboh tutoe haba mantong nibak Injil Allah, seudangkan awaknyan na peurintah rasuli nyang sujih lageenyoe:
"Teuma bahpih kamoe atawa sidroe-droe malaikat lam syeuruga nyang geupeu sampoe ubak gata saboh Injil nyang meulaen ngon Injil nyang ka kanoe peusampoe ubak gata, teukutok kheueh jihnyan" (Galatia 1:8).
Kamoe keuneuk tanyong ubak mandum peunganut waham "peuleusu" Peue kheueh nyang jeuet teurangsang ureueng-ureueng Kristen jipeuleusu Alkitab jihnyan ? Peu kheueh na rangsangan nyan leubeh nibak awaknyan leubeh nibak nyang jigalak ubak atawa nibak ndeb keukai awaknyan ? Tuhan ngon nyang teuboih nyang jiseumah ngon roh meunan cit ngon darah nyang rho meutreb-treb jitamong cit banmandun nyang meyuen keu awaknyan, ka teuboh materai peujanjian Gobnyan ngon awaknyan ngon saboh peuingat rot rasui Yahya, rasui Almaseh nyang seutia, nyang geupeugah, "Ulon meusaksi ubak mandum ureueng nyang jideungoe tutoe haba nibak nubuat kitab nyoe:"Meunyoe na sidroe-droe ureueng jitamah sapeue-eapeue nibak tutoe haba nyoe, teuma Allah teuma geutamah ubak jihnyan bala nyang rayeuk that nyang na teutuleh lam kitab nyoe. Dan meunyoe sidroe-droe ureueng jipeukureueng sapeu-sapeue nibak tutoe haba-tutoe haba lam Alkitab nyoe, teuma Allah teuma geucok nibak gobnyan bak kayee keuhai udeb nibak banda kudus, lagee nyang na teutuleh lam kitab nyoe." (Wahyu 22:18-19).
Meunyoe tukang yue-yue waham teupeuleusu na jih oh ka lheueh Al Qur'an, dugaan awaknyan ka jeuet keurapoh ngon fakta-fakta nyang dasai jih ubak keubeunaran lagee nyang teupeugah nyoe:
Keukristen na meutabu nibak le that neugahra, lagee, Anatolia, Arab, Afrika Utara, Persia, India, Italia, Perancis, Spanyol, Inggreh ngon Jeureuman. Peunkheueh jitamong lam akai keuteuduga, bahwa banmandum ureueng Kristen nibak daerah nyoe saboh watee meurumpok bak saboh teumpat laju jipeuna saboh hase meurok pakat nyang situju teuubah Injil ?

Ureueng-ureueng nyang ka jitamong agama Kristen nibak neugahra-neugahra nyang teupeugah di ateuh nyan hana meubasa boh atawa kon saboh basa teuma jai that basa nyang jipeuguna. Alkitab nyang teungoh na lamkawan awaknyan atawa lam basa awaknyan nyang meulaen nyan ka jeuet keusaboh nyang jisituju keujijak peumaklum Kitab Suci saboh keumustahelan, peuteuk Lon awakayan hana saleng muphom basa maseng-maseng.

Bak abad nyang keu IV oh ka lheueh thon Maseuhi, ureueng-ureueng Kristen laju teuweuek-weuek lam meubagoe geulongan nyang meulaen waham ajaran jih. Tieb-tieb kawom jidukong paham jih ngon dasai ayat-ayat Alkitab. Haitoh na jih ngon jai that diskusi teusangkot ngon masaalah teutafeuse meunan cit keuhai meusidang keuteupeugah/ teupeubicah hai-hai nyang meubeda-meubeda nyan Saboh lamkawan meusidang nyan na kheueh nyang paleng peunteng na kheueh meusidang Nicea nyang teutob ngon cara teupeurhot hukoman ateuh Arius ngon peuikot-peikot gobnyan.
Ngon teukalon hai-hainyoe, teuma nyang jipeugah bahwa ureueng-ureueng Kristen ka sipakat jiubah Injil, hana hase jipeuteuen. Kamoe keubiet that na hak keukamoe tanyong teumanyong ubak awaknyan nyang meupaham "teupeuleusu" dan teulakee awaknyan mangat jipeugah watee ngon teumpat jipeuleusu nyan. Hainyan peureulee jitamong cit keunan ureueng- ureueng nyang pubuet peuleusu nyan lom pakriban proses na jih buet meupakat nyan.
Donya hantom na kureueng malem-malem seujarah nyang jujoe nyang geukeubah peuristiwa seujarah lam tulehsan-tulehsan nyang paih lagee urotan jih. Peu kheueh hase sidroe-droe ureueng jipeugah nan sidroe malem seujarah peue kheueh jihnyan sidroe kaphe, Yahudi atawa Muslim nyang ka lheueh geupeugah atawa geuusui bahwa ka lheueh na saboh peuristiwa meusidang (meurok pakat) nibak manusia (ureueng-ureueng) ateuh rhueng bumoe nyoe nyang jipangkee agama Yahudi atawa Kristen, nyang meulaen ngon keupeucayaan ngon basa dipat saboh tendakan nyang hana sipatot jih ateuh feureuman Allah jipubuet? Meunyoe biet hainyoe teujadi (na) peue kheueh hana meusidroe ureueng nyang jikeubah saboh atawa leubeh nibak seunalen aseuli dan jiteupeue hainyan jibeudoh jipeugah keuhai sisat ureueng Yahudi dan Kristen nyan?
Meunyoe hainyoe biet-biet na nyan ka teuntee teuma na menteuntang kawom Yahudi ngon Kristen meuakhe ngon buet hana waja ateuh Hukom Allah sibagoe imbalan jih.
Nibak bab-bab nyang ka lheueh, Al Qur'an ngon trang that geuaku Torat ngon injil sibagoe Feureuman Allah lom teupeugah ngon jeulaih that bahwa Feureuman Allah nyan hana hase teuubah. Meunyoe keusaksian ganda nyoe beutoi, ngon nyan teuma hainyoe jeuet sibagoe peurintah sibagoe keusimpolan bahwa Torat ngon Injil hana teupeuleusu, sigohlom meunan cit oh ka lheueh na Al Qur'an.
Sibagoe cuntoh seujana-seujana Muslim di India oh ka lheueh geuseulidek keu hainyoe seucara rinci teukalon nibakasoe Al Qur'an awaknyan sada bahwa Alkitab Peujanjian Awai ngon Peujanjian Baroe, hantom na teuubah, jigantoe atawa jipeuleusu lagee nyang ka lazem jih teujamin, teuma na peutunyok ngon na jih saboh kawom ureueng Yahudi nyang meubuet hana ate-ate ( teugeusa-gisa) nibak jitafeuse nyan.
Seujana-seujana nyang seutia nyoe jimeudasai ubak keuyakenan jih awaknyan ateuh tafeuse seujana-seujana Muslem nyang na keuhai ayat-ayat Al Qur'an lagee Al Razi, Al Jalalan dan Abu Jakfar At Tabarani, dimiyueb nyoe kamoe kuteb padub-padabboh nibak nyan:
"...Lamkawan ureueng-ureueng Yahudi ( na saboh kawom) nyang jiubah tatoe haba (Allah) nibak teumpat nyang sikeubiet jih, lom awaknyan jipeugah: Kamoe deungoe (tutoe haba droeneueh, ya Muhamnad), teuma kamoe doraka dan deungoe kheueh hana teudeungoe, dan awaknyan jipeugah): 'Ra'ina' (jaga kheueh kamoe) ngon cara jiputa lidahjih lom jiteunak agama" (Surat An Nisa' 46).
Makna nibak nyang geupeutrang le Al Razi nyan keuhai ayat nyoe na hubongan ngon na jih saboh kawom ureueng Yahudi nyang lazem jih jibak ubak Mabi Muhammad keujijak lakee jeunaweueb ateuh padub-padubboh teumanyong jih nyang keubeit kayem that geujaweueb le Muhammad.
Al Jalalan meunoe teuma geupeutrang keuhainyan khusos jih keuhai ayat nyan lagee nyoe su jih: Saboh kawom ureueng Yahudi jiubah padub-padubboh tutoe haba nyang na lam kitab Torat nibak tutoe haba nyang aseuli, khusos jih nyang na hubongon ngon Nabi Muhamaad. Awaknyan jipeugah bak Nabi Muhammad, meunyoe Muhammad geupeurintah ubak sapeue-sapeue , " Kamoe deungoe, teuma kamoe doraka". Meunan cit awaknyan jipeugah bak gobnyan, "Deungoe kheueh ngon hana teudeungoe" nyang makna jih, "Gata hantom na tadeungoe sapeue" Akhejih awaknyan jipeugah bak gobnyan, "Rai 'na", lam basa arab nyang makna jih, "Deungoe kheueh kamoe" teuma jipeuguna sibagoe hi atawa bantuek nibak basa awaknyan. Meunan kheueh cara jih awaknyan jiputa lidah dan jimita Islam (Jalalan 112).
Lam tafeuse At Tabarani na teuma kamoe beuet lagee nyoe: bahwa kawom Yahudi teungoh jikutok ngon jisinggong peurasaan Nabi Muhammad ngon tutoe haba tutoe haba nyang paleng brok, su jih na kheueh: "deungoe kheueh kamoe lagee ureueng nyang hana geulinyueng, lagee deuh jih sidroe-droe ureueng nyang teungih jihina ureueng laen, 'Deungoe kheueh, kira jih Allah geupeujeuet gata tuloe!" sabab tutoe haba "Ra'ina" lagee toh nyang jitafeuse (teukuteb Ibn Wahb) sibagoe jideungoe haba nyang salah''!
Meunurot uraian di ateuh nyan bahwa Kawom Yahudi hantom na jipeugadoh sapeue-sapeue nibak naseukah Kitab atawa jitamah sapeue-sapeue nibak nyan, awaknyan teuma jiubah makna tutoe haba ngon cara jiputa lidah (meusilek lidah). (At Tabarani 8:433).
"He malem kitab, sikeubiet jih ka trok bak gata sidroe Rasui kamoe nyang geupeu trang ubak gata keuhai nyang le kamoe som nibak Kitab ( Torat ngon Injil), meunan cit teupeu meu'ah nibak nyang le nyang laen" (Surat Almaidah 15).
Ar Razi geupeugah nibak nyang geuurai le gobnyan keuhai ayat nyoe, nyang na hubongan ngon ureueng-ureueng Yahudi, watee geubeuet kitab Torat (Ulangan 22:23-24) jiputa lidah awaknyan lom jiubah makna ngon cara jigeulawa batee "ngon cara teuseunuet".
At Tabarani geupeutrang teuma keuhai ayat nyoe ngon cara geupeugah bahwa ureueng-ureueng Yahudi geujak meurumpok ngon Nabi Muhammad keujijak tanyong soai, "Teurhom ngon batee". Awaknyan meurumpok bak saboh rumoh dan Muhammad laju geutanyong bak awaknyan, "Soe nyang paleng carong lamkawan gata?" Awaknyan laju jitunyok Ibn Suria. Lheuehnyan Muhammad laju geutanyong bak ureueng nyan, "Peue kheueh gata nyang paleng carong lamkawan gatanyoe?" Le Ibn Suria laju jipeugah bak Nabi Muhammad ngon cara jimeulakee mangat banmandum nyang jitanyong bak gobnyan. Nabi Muhammad geupeugah lom, "Peu kheueh gata nyang paleng carong lamkawan awaknyan ?" "Meunan kheueh meunurot awaknyan", Jaweueb Ibn Suria. Lheueh nyan Nabi Muhammad laju geupaksa awaknyan ngon nan Gobnyan nyang bri kitab Torat ngon teupeumanyang Gunong Tur, Gobnyan meunan geupaksa that ngon saboh janji meusajan nyang teupeujeuet Ibn Suria yo meukot-kot sira jipeugah, "Kawom inong bansa kamoe ceudah-ceudah that, hukoman teurhom ngon batee seumaken meutamah-tamah lamkawan kamoe. Keuteu peuseulamat jiwa awaknyan, kamoe pileh rot nyang leubeh paneuek (nibak hukom) ngon cara teupeu rhot sireutoh goe teuseunuet teutamah lom ngon teucukoe ok bak ulee".
Oh lheuehnyan Nabi Muhamnad geupeurintah awaknyan mangat jirajam jihnyan ngon batee (At abari 11:116). "Awaknyan hana jipeumulia Allah meunurot nyang subeuna jih, watee awaknyan jipeugah. Allah hana geupeutron sapeue pih ateuh manusia, peugah kheueh: Soe kheueh nyang peutron Kitab nyang geuba le Nabi Musa sibagoe alat ngon peutrang lom peutunyok keue manusia? Gata peujeuet kitab nyan ateuh padub-padubon keureutah, gata peugah siladum nyan dan gata som teuma nyang le teuma".(Surat Al An'am 91).
Al Baidawi, Al Razi dan At Tabari sapeue kheun bahwa nyang teumeukeusut ngon teuubah nibak teumpat nyoe na kheueh saboh tafeuse nyang teutafeuse atawa saboh hi tafeuse nyang salah ateuh fakta ngon cara teupeuguna padub-padubboh jeumba/ bagian nyang na lam kitab Torat, meukeusut jih na kheueh, anaknyan meuheuet jikeuneuk tunyok / peuleumah ngon bangga ubak ureueng-ureueng Yahudi bahwa awaknyan kheueh nyang tuleh kitab Torat nyan nibak geunulong-geunulong perkamen meunan cit teupeugah teuma le that hai keuhai tulehsan gobnyan ubak ureueng rame. Teuma sigoe guih keuteutob jai that hai nyang jitamah ubak geunulong-gunulong nyan, ngon lageenyan awaknyan laju jiteuen atranyan nibak rakyat ba.
Kamoe sapeue kheun bahwa buet nyan na kheueh saboh tendakan nyang hana teupujoe ngon hana mencupa. Teuma, "teusom" perkamen ka teuntee teuma meulaen ngon teugantoe naseukah."...Na kheueh gata meuharab, bahwa awaknyan jimeuiman ubak gata dan sikeubietjih saboh kawom nibak awaknyan jideungoe feureuman Allah, oh lheuehnyan jiubah oh ka lheueh jipike teuma, padahai awaknyan jiteupeue." (Surat Al Baqarah 75).
Tafeuse At Tabari geupeugah teuma lageenyoe: "Padub-padub droe ureueng agam nyang malem jipeugah bak Nabi Musa, 'Peue kheueh hana mungken kamoe ngieng Allah ( keuagongan ngon keumuliaan Gobnyan) le sababnyan bah kheueh kamoe meudeungoe feureuman Gobnyan watee Gobnyan meufeureuman ubak Droneueh'. Nabi Musa laju geulakee idin ubak Po teu Allah dan ubak Gobnyan gobnyan meufeureuman, 'Nyoe' yue kheueh awaknyan jipeugleh droejih, jipeugleh peukayan ngon puasa.' Laju awaknyan jipubuet lagee nyang geupeurintah nyan dan oh lheuehnyan Nabi Musa geuba awaknyan u Gunong Tur. Watee sagob jitron sampoe abeh jitob bansaboh tuboh awaknyan, nabi Musa laju geudeungoe peurintah dan awaknyan reubah hana meudaya. ' Lheueh nyan Allah meufeureuman ubak Nabi Musa dan awaknyan jideungoe feureuman nyang asoejih meurintah ngon teutam keuhai banmandum nyan. Nabi Musa geuriwang lom bak awaknyan u teungoh-teungoh bansa Israel. Oh ka trok keudeh, siladum laju jiubah peurintah nyang ka geujok le Po teu Allah ubak awaknyan".
Ngon dasai nibak keuteunrangan-keuteurangan nyan, deuh teukalon na padub-padub droe Yahudi nyang carong jiubah makna tutoe haba nyang awaknyan deungoe oh ka lheueh jimuphom, dan nyang laen teutab jimumat laggee / lagee peue nyang ka jideungoe nyan. ( At Abari 1,334).
"...Lamkawan ureueng-ureueng Yahudi na nyang deungoe-nyang deungoe nyang laen atawa nyang deungoe keu kawom laen nyang hana jijak ubak gata (ya Muhammad). Awaknyan jiubah tutoe haba nibak teumpat jih" (Surat Almaidah 41).
Tafeuse Al Jalalan genpeutrang keuhai ayat nyoe lagee nyoe:
"Ayat nyoe teupeugah keuhai saboh kawom ureueng Yahudi Khaibar nyang hana jitem peurhot hukoman ngon cara "teurhom ngon batee" ateuh dua droe umat awaknyan nyang ka meukawen. Awaknyan jikirem saboh deuleugasi / utosan nibak Quraidha ubak Nabi Muhammad keujijiak tanyong hi hukoman nyang patot teupeu rhot ateuh bandua ureueng nyan nyang paih lagee asoe kitab Torat nyang na hubongan ngon hukoman''teu rhom ngon batee". na kheueh hi. teuubah nyang jitudoh nyang na hubongan ngon peusan-peusan ureueng-ureueng Yahudi Khaibar ubak deuleugasi nyan, "Meunyoe Nabi Muhammad geujok hukoman "Seunuet", teurimong kheueh, teuma meunyoe gobnyan geupeu rhot hukoman "rhom ngon batee" ate-ate kheueh tateurimong nyan." (Al Jalalan 150).
Mungken teumanyong nyang dimiyueb nyoe paih teutanyong disinoe:
"Soe kheueh lamkawan ureueng-ureueng Yahudi nyang jipeuleusu kitab Torat lom watee jauen toh nyan na ?" Ar Razi geupeugah teuma seucara khusos awaknyan udeb saboh jaun ngon Nabi Muhammad. Teuma gobnyan geutilek nibak jiled lhee nibak kitab tafeuse Al Qur'an nyang geutuleh le gobnyan, bahwa "teupeuleusu nyan meumakna teupeugadoh ubak ragu-ragu nyang hana meuguna. Teubeuet naseukah meunan cit teupeugah teuma asoe jih seucari hana beutoi ngon teujeumah-teujeumah peuleusu ngon nyan teupaksa meusilek lidah lagee nyang jipeugah le kawom bidat sipanyang seujarah ateuh ayat-ayat nyang meuteuntang ngon waham-waham awakayan nyang ka teuntee.
Disinoe kamoe hana meumeukeusut keuneuk bila keuhai jujoe kawom Yahudi. Kamoe meuharab mangat teumaklum bahwa ureueng-ureueng Yahudi hana jijeuet ubah asoe kitab Torat. Hainyan hana jitamong lam dafeutar nyang geutudoh le Al Qur'an. Disampeng nyan mantong na saboh hai teuk nyang peureulee kamoe peusampoe bahwa Al Qur'an hantom na geutudoh ureueng-ureueng Kristen ngon cara jiputa balek Injil.
Pakriban mantong kamoe meurasa peureulee kamoe peugah ngon keubiet brat ubak awaknyan nyang na paham "teupeuleusu" Alkitab nibak hai asoe jih atawa awaknyan nyang teutab krueh jianggab bahwa naseukah aseuli Alkitab ka hana mungken meuteume. Bahwa anggapan nyang lageenyan bagoe keubiet that-that meulawan ngon asoe Al Qur'an nyang nibak hakekat jih teupeugah bahwa Alkitab nyan na kheueh aseuli lom leupah nibak meubagoe buet teupeuleusu. Kamoe meucok keusimpolan bahwa saboh lamkawan tugaih nyang paleng phon na kheueh bahwa Al Qur'an na kheueh keugeubeubeutoi Alkitab.
Sikeubiet jih, hana meusidroe pih jipateh bak Allah, kitab-kitab ngon Rasui-rasui Gobnyan, jijeuet hubongkan Po teu Allah, nyang punoh keumuliaan nyan ngon saboh keunyataan bahwa Gobnyan ka ka geupeutron Al Qur'an sibagoe bukeuti bahwa Kitab nyang jipeuleusu ngon jiseuleweng, na keusampoereuna ngon keulestrarian Torat ngon Injil.
Feureuman Tuhan:
"Feureuman Allah udeb ngon khong lom leubeh tajam nibak peudeueng meumata dua toh mantong." (Ibrani 4:12).
"Feureuman ulon nyang teubiet nibak babah lon, … hana teuma jiriwang ubak ulon ngon sia-sia? Teuma nyan teujadi ngon teupubuet peue nyang ulon lakee? Lom teuma meuhase nibak peue nyang ulon yue bak jihnyan." (Yesaya 55:11)
"Meunyoe teusingkeb, Feureuman-feureuman droeneueh teubrie trang." (Zabur 119:130)
Peumbaca nyan budiman, Oh ka lheueh gata meurunoe bak kitab ubit nyoe dan gata beuet meubagoe hai, jinoe kamoe peugah teuma rengkasan atawa keusimpolan nibak asoe kitab nyoe. Hai nyang kamoe peugah nyoe hijih keuhai teumanyong bak gata ngon meukeusut magat gata hase taujoe ieleume gata keudroe.
Peu kheueh asoe nubuatan nibak akhe Alkitab ?

Peu kheueh nyang geukeutubah le Nabi Nuh, dan watee jameun peue ?

Kitab peue kheueh nyang teupeuphon catetan-catetan seujarah nyang seucara teulaten teutuleh lam Alkitab ?

Peu kheueh nyang geumeurunoe le Ezra ngon jumot that meunan cit le Nehemlia nibak jameun Artahsastra, Raja Persia ?

Peugah laju saboh nibak dubnyan le keusaksian Allah keuhai feureuman nyang Gobnyan peugah nyang hatom na gadoh !

Peugah kheueh saboh nibak keusaksian Allah keuhai Nabi-nabi Gobayan.!

Peugah laju sidroe nibak nabi-nabi ngon Rasui bahwa Allah ka geumeututoe ngon Awaknyan !

Padubna le kheueh jeumeulah seunalen tuba nyang na nibak Geureuja Kristen dan peue kheueh nan-nan nyan ?

Padubna le naseukah Alkitab tuha nyang ka meuteume trok bak watee nyoe?

Peugah kheueh saboh nibak naseukah Alkitab nyan meunan cit tanggai jih.

Arkiologi na keusaksian meumakna ateuh Alkitab. Pakriban peundapat gala ?

Peugah laju saboh ayat Al Qur'an nyang teupeugah Alkitab nyan beutoi.

Kitab Peujanjian teubagie lam padubboh jeumba ?

Padubboh asoe kitab lam Peujanjian Baroe.

Peue kheueh hase nyang geuteume le seujana Muslem di India ?
Kamoe preh surat ngon jeunaweueb gata ateuh peue-peue nyang kamoe tanyong nyan. Keu 12 boh jeunaweueb nyang beutoi gata meuteume saboh kitab laen sibagoe hadiyah.
Tuleh kheueh nan ngon alamat gata ngon trang laju gata kirem ubak: